The Top 5 Most Pest-Resistant Cannabis Strains
Are aphids swamping your fan leaves? Are fungus gnats running wild in the root zone? Whatever pests you find yourself frequently putting up with, you can send them packing by selecting the right genetics. Get to know the most pest-resistant strains on the planet to improve the odds of a successful yield, both indoors and outdoors.
By
---
Are you sick of the sight of aphids? Are you at your wits' end with fungus gnats, whiteflies, and leaf miners? You don't need to put up with these cannabis-loving critters any longer! By selecting the right strains, you can drastically decrease the odds of pest infestations. Below, you're going to discover the most pest-resistant weed varieties you can get your hands on.
---
1. Special Queen 1

Damn, this plant looks good! Special Queen 1's dense buds will decorate your grow room or garden with attractive hues of purple and yellow. Despite pulling in plenty of beneficial insects with her good looks, she boasts surprisingly good resistance to various pest species. If you're tired of watching your weed plants buckle under pest pressure, then sow these seeds to maximise your chances of success.
Our skilled breeders created this variety using parent strains Power Bud and Skunk—two cultivars that also put up one heck of a fight against herb-munching insects. If you grow her indoors, where you'll naturally deal with fewer pests, you'll watch her peak at a height of 140cm and produce up to 550g/m² after a flowering time of 8–9 weeks. Outdoors, she'll surge to 270cm and churn out 500–550g/plant.
Equipped with a THC content of 18% and an arsenal of earthy and fruity terpenes, Special Queen 1 delivers a long-lasting and physically relaxing high ideal for the evenings.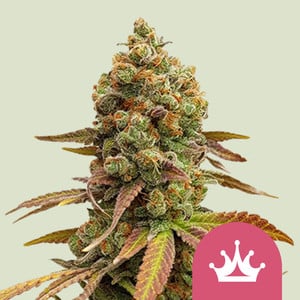 | | |
| --- | --- |
| | Power Bud x Skunk |
| | 500 - 550 gr/m2 |
| | 80 - 140 cm |
| | 8 - 9 weeks |
| | THC: 18% |
| | |
| --- | --- |
| | Sativa 50% Indica 50% |
| | 500 - 550 gr/plant |
| | 200 - 270 cm |
| | Late September |
| | Long Lasting , Physically Relaxing, Powerful |
2. Hyperion F1

Some traditional strains do a great job at battling pests, but none of them quite defy grazing insects like F1 hybrid cannabis cultivars. Among these varieties, Hyperion F1 ranks as one of the most pest-resistant varieties. Royal Queen Seeds created this beast using pure parent lines that descend from Amnesia, Lemon, and the Spanish autoflower Sin Tra Bajo Auto.
Because she's a product of inbred lines (IBLs), Hyperion F1 possesses hybrid vigour. Not only does this mean that her plants are highly uniform, but they're also genetically superior when it comes to driving away pest species. She produces higher quantities of cannabinoids and terpenes than your average strain—the very secondary metabolites that are responsible for putting insects off of their food.
As one of the most resilient weed varieties, you can expect near-effortless yields every time you grow Hyperion F1. This speedy auto bursts from sprout to harvest in around 80 days. Her buds are loaded with THC alongside delicious terpenes such as myrcene and farnesene. Brace yourself for an energising and motivating high that will help you to lock in on your goals for the day.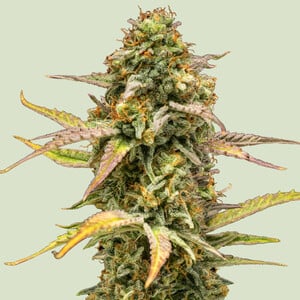 | | |
| --- | --- |
| | Amnesia x Lemon x Sin Tra Bajo Automatic |
| | 50 - 55 days |
| | THC: Very high |
| | Laughter, Motivating , Physically Relaxing, Sleepy |
| | 80 - 85 days after sprouting |
3. Medusa F1

So, you struggled with pest issues last season? Before you decide to retreat indoors indefinitely, know that you can work around this problem by simply opting for more pest-resistant varieties. Send Medusa F1 to the front lines, and you'll almost certainly bag yourself a rewarding yield in around 72 from sprouting. This tough cookie descends from pure parent lines that are related to the productive indica Sugar Magnolia and the speedy hybrid American Beauty.
Medusa F1's dense colas are coated with a thick layer of trichomes that work overtime to pump out a phytochemical-rich resin. This viscous substance lines the outside of buds and possesses volatile molecules that force pests to look elsewhere for a meal. If you're particularly concerned about the insect issue in your garden, you can also buffer Medusa F1's innate resistance by sowing companion plants such as basil, dill, and borage in close proximity. These species draw in predatory insects that will help to reduce pest numbers.
Impressive pest resistance aside, Medusa F1 will also blow your mind after harvest time. Enjoy a stoning physical effect fuelled by high levels of THC, myrcene, and farnesene.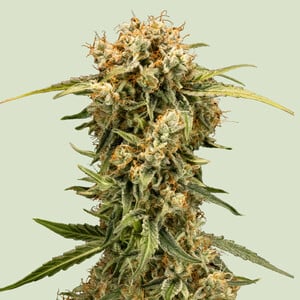 | | |
| --- | --- |
| | Sugar Magnolia x American Beauty |
| | 40 - 45 days |
| | THC: Very high |
| | Balanced, Creative, Physically Relaxing, Sleepy |
| | 70 - 75 days after germination |
4. Milky Way F1

It doesn't matter where you grow this variety, Milky Way F1 will demonstrate superb pest resistance in grow tents, greenhouses, polytunnels, or when planted directly in the ground. Aphids, spider mites, and fungus gnats are all less likely to inflict major damage on this variety thanks to her hybrid vigour and rich arsenal of defensive chemical compounds.
Milky Way F1 inherited these traits from IBLs related to Blue Mammoth, Blue Dream, and Sin Tra Bajo Auto. This fast-growing F1 hybrid maintains a medium height and serves up a rewarding yield in as little as 74 days post-germination.
If you're a fan of warm, physical, and fuzzy effects, then you'll get along just fine with Milky Way F1. Her flowers produce a wealth of metabolites, including THC, CBG, myrcene, pinene, caryophyllene, and limonene. As well as providing sweet and fruity tastes, these chemicals converge to produce a deeply relaxing body high that will plunge you into the present moment.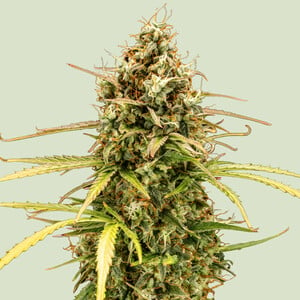 | | |
| --- | --- |
| | Blue Mammoth x Blue Dream x Sin Tra Bajo Auto |
| | 42 - 45 days |
| | THC: Very high |
| | Creative, Euphoric, Physically Relaxing |
| | 70 - 75 days after germination |
5. White Widow

For growers in hot dry regions, sure, you've an abundance of sunlight, but winds can dry out plants. Combined with high temperatures, it can make for a very high maintenance hands on grow. Worse, insects might be a real threat during a long hot summer, even indoors. You need something special if you want easy cannabis cropping in these conditions. You need White Widow.
A gooey coating of resin gives White Widow its characteristic frosty appearance in bloom. Moreover, it's an excellent defence mechanism against bugs and some invasive fungi. Also, White Widow is an indica hybrid with an excellent tolerance for high temperatures, and can endure those summer heat waves.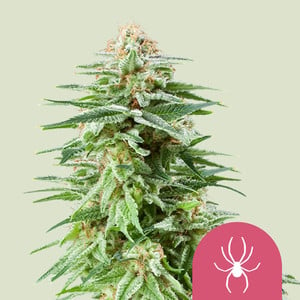 | | |
| --- | --- |
| | White Widow S1 |
| | 450 - 500 gr/m2 |
| | 60 - 100 cm |
| | 8 - 10 weeks |
| | THC: 19% |
| | |
| --- | --- |
| | Sativa 50% Indica 50% |
| | 550 - 600 gr/plant |
| | 150 - 190 cm |
| | Early October |
| | Powerful , Stoned |
Most of our cannabis strains are pretty tough cookies, but the 5 strains above are especially rugged. All 5 are high-grade and hard as nails. Harvest heavier yields without the headaches. Get a few of these beans in your grow show pronto!