The Cannabis Market And Feminism: Women Leading The Way
What is cannabis feminism? Well, some activists are claiming that women have the potential to really influence the cannabis industry by engaging the wellness scene and deconstructing the stigma surrounding cannabis and its use in a woman's life.
---
With the continuing acceptance of cannabis as both a recreational and medicinal substance in certain regions of the world, a growing number of companies and businesses are sprouting in order to embrace the economic advantages of entering the cannabis markets. With large amounts of innovation taking place, from ways to grow and methods of consumption, the cannabis markets are displaying another unique characteristic, at least in the eyes of some.
Some figures within the scene are stating that the cannabis market has the potential for being the first billion dollar industry that is comprised and controlled primarily by women.
In 2013, the cannabis industry produced a staggering worth of 1.8 billion dollars within the United States, rising to a massive 5.4 billion in 2015. New Frontier is an organisation dedicated to producing data regarding analysing the cannabis industry. The CEO, Giadha DeCarcer, has stated, "The cannabis industry is so new that there are very few barriers to get in, especially for women."
WOMEN GROW
Another organisation, named Women Grow, are attempting to lead the charge to make this idea possible. Their website states, "On the first week of EVERY month... we'll welcome 1,500+ women into the cannabis industry... in 35 cities."
Women Grow express that their organisation was created to connect, educate and inspire the next generation of leaders within the cannabis industry. Women Grow was founded in 2014 in Denver as a for-profit entity, hoping to catalyse an influential movement led by women to ensure the end of cannabis prohibition on a national scale within the United States.
Women Grow state, "Together we have more power. As the cannabis industry grows on a national and global scale, women have the opportunity to build a new American industry from inception and redefine the workplace to create environments in which we can flourish and define our own destiny, and cultivate the next generation of industry leaders."
Interestingly, according to Marijuana Business Daily, 36 percent of all executives within the cannabis market are reported to be women.
26 year old Jessica Assaf, who attended Harvard Business School, has big goals involving women and the cannabis industry. A former beauty activist, Assaf has worked for some large beauty brands in the past and has launched her own line of beauty products that feature single ingredient facial oils.
Assaf told Well And Good in an interview that one of her ambitions is to help cannabis in becoming an accepted, mainstream and incredibly presented wellness product.
Cannabis definitely seems to have the potential to reach this state, so much that government bodies no longer hinder such progress with prohibition.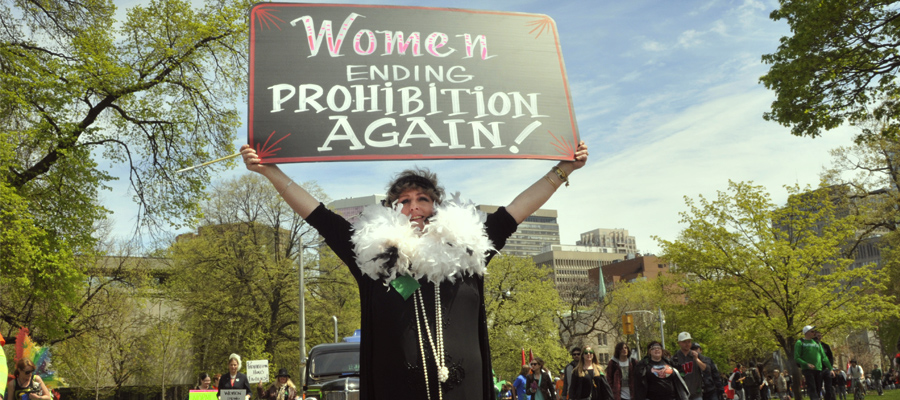 CANNABIS FEMINISM?
As well as this ambition, Assaf has another goal. She desires to reduce the stigma that surrounds cannabis and its relationship with women. She raises an extremely important point in her interview:
"Why is it so easy for so many women to get a prescription drug for pain or sleeping issues, yet it is still so difficult to explore the medicinal potential of this plant? Why is it that I am still embarrassed to be the only person eating edibles at a party? I realised that my new mission is to educate women about the health benefits of cannabis and create safe spaces for men to try healthy cannabis products for the first time."
With prohibition starting to dwindle, it has by no means been completely erased as a threat that could cut people off from cannabis as a medicine, wellness products and lifestyle choose by the many people who choose to use it.
For this reason, tackling the cannabis issue on all fronts is a necessity. Women's relationship to the herb may very well form a strong frontier that, along with other factions, brings down prohibition permanently.
This is why the work of Assaf, as well as others, is critical. Such moves act as game changers by changing how cannabis is perceived, and how it can be applied to so many areas of society as a whole.
In the interview, Assaf goes on to add that many consumers of cannabis products such as pills, tinctures, and topicals seem to experience better results using them when compared to pharmaceuticals handed out to them by their doctor when it comes to conditions as serious as anxiety, PTSD, and even epilepsy.
Assaf seems to have summed up her goal here under the name of cannabis feminism. Well, what exactly is this? This is the term described in the words of Assaf, "It is a movement of women reclaiming the power of cannabis and returning the plant to its feminine life-nurturing potential. Essentially, we want to change the face of cannabis and normalise its use so more women are open to exploring the health benefits of the plant".
Assaf even goes as far as stating that cannabis feminism raises the opportunity for female to take control of the cannabis industry, with the potential of it becoming the first billion-dollar industry run by women.
This goal seems large, and potentially isolationist in the eyes of some. However, its gleaming positive side is that it is strengthening the link between cannabis as a health giving herb and its utilisation's in women's lifestyle and wellness products.