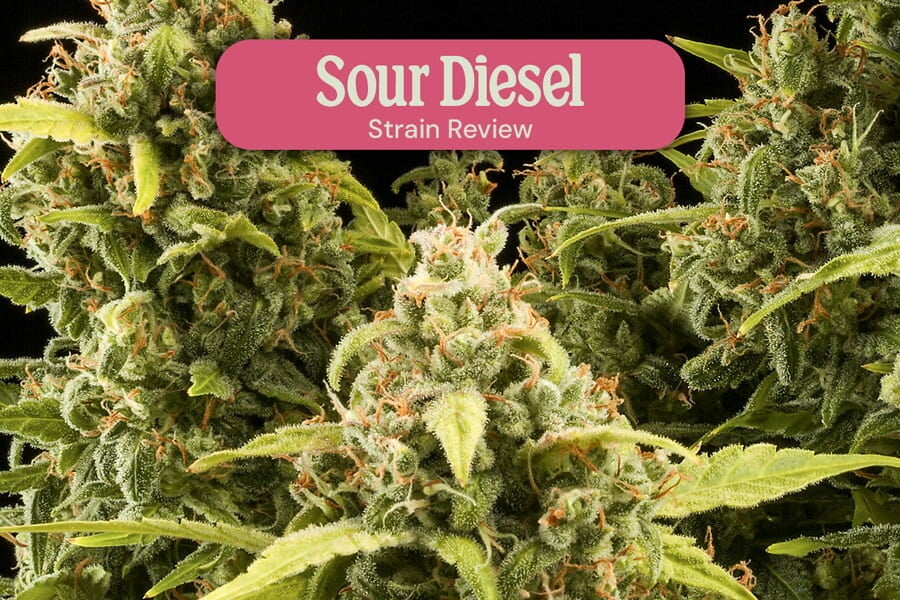 Sour Diesel Feminized Cannabis strain
Sour Diesel has been deemed one of the 25 greatest strains of all time. Her unique aroma and undeniable sativa high are responsible for her esteemed status within the world of weed.
By
---
Sour Diesel is a strain familiar to cannabis lovers all around the world. It could easily be called one of the most beloved and well-known strains in existence, and it has the _High Times_ approval to back it! Listed as one of the magazine's 25 Greatest Strains of All Time, the publication went so far as to claim that Sour Diesel would have a spot on this list for eternity.
THE ENIGMATIC GENETICS OF SOUR DIESEL
Despite its widespread recognition, the precise origins of Sour Diesel remain a topic of debate. It has roots on the East Coast of the United States, but there is little certainty regarding the parent strains used to create this legend. Some breeders argue that Sour Diesel is simply a distinct phenotype of the strain Diesel, whereas others claim it was born out of a cross between Chemdawg and Northern Lights. Others refute both of these statements, instead believing that Sour Diesel inherited genetics from Original Diesel and the progeny of Northern Light, Shiva, and Hawaiian.
The exact lineage of Sour Diesel may always remain a mystery, but its genetic makeup has remained more or less consistent. The cultivar is sativa-dominant, and RQS' classic version of Sour Diesel contains 70% sativa genetics and 30% indica.
THE EFFECTS OF SOUR DIESEL: A SOCIAL AND STIMULATING HIGH
The sativa dominance of Sour Diesel gives rise to a stimulating and clear-headed high, powered by 19% THC. This high THC value, in combination with her sativa leanings, makes for a fast-acting and long-lasting experience, which can still be enjoyed without losing the ability to function. This is mood-boosting cannabis for sure, and many users report euphoria and temporary relief from low mood and stress.
These cerebral effects boost cognition and plunge the user into a social and talkative mood—traits that make Sour Diesel a great strain to smoke during social gatherings and parties. Her effects can help break the ice and melt away formerly awkward social barriers. She's also a great smoke to partake in with your closest crew to philosophise and dive into some deep conversation.
The stimulating effects are capable of increasing productivity, and go hand-in-hand with a cup of coffee in the morning. An increase in alertness makes the high almost performance-enhancing when it comes to completing daily tasks and creative projects. Many users also speak of an aphrodisiac quality that sparks libido. This makes her a superb strain for couples that like to smoke together among the sheets.
Sour Diesel is notorious for inducing cases of cottonmouth. This occurs when THC binds to cannabinoid receptors in the salivary glands and signals a decrease in saliva. Although this sensation can be a bit annoying at times, it's the perfect excuse to prepare a large pitcher of ice-cold fruit juice before a smoking session.
After an hour or two, depending on how much you choose to smoke, the sativa effects begin to subside, and the less powerful, but still very apparent, indica effects take hold. The medium level of CBD also makes itself known at this point, as the high gently tapers off into a soothing after-glow. If you're in the middle of a busy work day, then it's time to smoke or vape a little more. If you're at home, maybe it's time for a restorative power nap.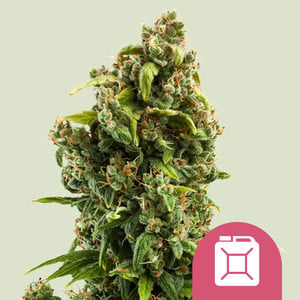 | | |
| --- | --- |
| | Original Diesel x (Northern light x Shiva x Hawaiian) |
| | 475 - 525 gr/m2 |
| | 90 - 160 cm |
| | 10 - 11 weeks |
| | THC: 19% |
| | |
| --- | --- |
| | Sativa 70% Indica 30% |
| | 550 - 600 gr/plant |
| | 150 - 200 cm |
| | Late October |
| | Clear, Physically Relaxing |
THE TASTE AND SMELL OF SOUR DIESEL: THERE IS NO COMPETITION
As mentioned, Sour Diesel earned her place among the 25 Greatest Strains of All Time. _High Times_ even raves that there is no better flavour than Sour D in the cannabis world—and they aren't wrong! Pressing your nose against a bud will send a distinct scent of diesel rushing into the olfactory system. This same sensation also takes hold of the taste buds when these flowers are smoked, vaped, or infused into edibles. Although the smell and taste of diesel might seem unappealing to the uninitiated, additional terpenes combine to create something truly spectacular and undeniably unique.
Laboratory analysis has revealed a complex terpene profile within the flowers of Sour Diesel. One of the most prominent is myrcene, a molecule that endows the strain with earthy and musky scents and encourages a stoning and joyful effect. Another one is limonene, which adds a hint of citrus to the mix. Caryophyllene is another major terpene within the strain that generates scents of black pepper and rosemary. All of these herbaceous, earthy, and fruity notes combine to create something that's not sweet, but not altogether savoury either.
GROWING SOUR DIESEL: LARGE AND REWARDING YIELDS
Sour Diesel is a pleasure to grow—especially for a sativa. She has a relatively short flowering time, produces compact, spherical buds, and offers substantial harvests. Indoors, plants can reach up to 160cm in height, although training techniques like ScrOG can keep her closer to one metre. On the other hand, if you have enough space to let her flourish, go right ahead! Indoor plants produce a satisfying yield of up to 525g/m² after a reasonable flowering period of 9–11 weeks.
Outdoor plants can easily soar to a greater height of 200cm. This requires more maintenance in terms of pruning, but the yield makes the additional work worthwhile. She'll pump out up to 600g/plant, ready for the chop in late October. Sour Diesel prefers a mild climate, so keep this in mind if you're aiming to push production to its limit.
DIESEL AUTOMATIC
Diesel Automatic condenses the best traits of Sour Diesel into a smaller, faster, and easier to grow specimen. Royal Queen Seeds' breeders brought this stimulating strain to life by crossing the legendary Diesel with Cannabis ruderalis. The progeny emerged with a genetic profile of 40% sativa, 30% indica, and 30% ruderalis.
Diesel Automatic produces tall and dense flowers decorated with solid orange pistils and plenty of glittering trichomes. These glands work hard during the flowering phase to produce a THC content of 14%. Although this quantity won't blast your mind to the moon, it delivers a moderate high that hits the sweet spot between sobriety and overwhelm. Enjoy this functional high during the day to give your creativity and cognitive function an edge.
Diesel Automatic remains small and easy to manage in all settings. Indoor plants produce 325–375g/m² and peak at a height of 70cm. Outdoor plants grow to a slightly taller height of 110cm and offer a rewarding 60–110g/plant. Expect to harvest your bounty a mere 8–9 weeks after germination.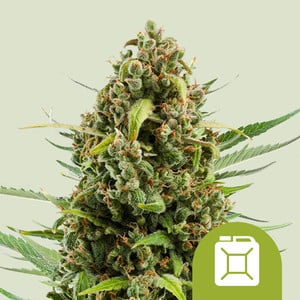 | | |
| --- | --- |
| | Diesel x Ruderalis |
| | 325 - 375 gr/m2 |
| | 40 - 70 cm |
| | 8 - 10 weeks |
| | THC: 14% |
| | |
| --- | --- |
| | Sativa 40% Indica 30% Ruderalis 30% |
| | 60 - 110 gr/plant |
| | 60 - 110 cm |
| | 13 to 14 weeks after sprouting |
| | Calming, Clear |
A TIMELESS CLASSIC EVERY GROWER SHOULD TRY
Sour Diesel hasn't reached her level of fame and prestige for nothing—she earned it! Whether you are a new grower in search of a favourite strain or a veteran sativa-lover seeking something old-school, Sour Diesel will deliver. Her motivating high and unrivalled flavour are waiting to be explored. Have some stash jars at the ready to store her bountiful haul.