How Medical Marijuana Saves the Lives of Many War Veterans
There is increasing evidence that the use of medical marijuana is extremely beneficial for treating war veterans.
---
According to Veterans and PSTD, approximately 20 percent of Iraq and Afghanastan veterans suffer from Post Traumatic Stress Disorder (PTSD), one of the qualifying disorders that allows veterans in some states to obtain a medical marijuana prescription. In addition to the frequency of PTSD among veterans, many returning from war also suffer traumatic brain and other injuries that leave them with chronic pain, another primary condition that authorizes them for medical marijuana. Doctors often prescribe large quantities of different medications to combat the different symptoms that veterans suffer as a result of injury or PTSD, and often the drugs have such debilitating side effects, the veteran avoids taking them. Veterans who have obtained a medical marijuana prescription say that, often, even small amounts of marijuana relieve anxiety and pain with fewer side effects than traditional medications.

MEDICAL MARIJUANA AND CHRONIC PAIN
For veterans who suffered injuries during combat, such as traumatic brain injury, dealing with chronic pain becomes a daily battle. A Canadian study found, in 2010, that three puffs of marijuana per day helps people suffer less pain and sleep better. Sleep disorders are another problem that many war veterans suffer. The study concluded that cannabis provides relief from pain in patients who have limited relief from other treatments, a problem that plagues veterans, according to reports. Scott Murphy of Newton, Massachusetts began using medical marijuana after injuries he sustained in a motorcycle accident were aggravated during his military service. The pain reached the point it was affecting his walk, and he says that medical marijuana eases that pain better than other forms of pain medication.
MEDICAL MARIJUANA AND PTSD
Murphy also sites PTSD as a primary reason that medical marijuana could be a lifesaving treatment for many returning war veterans. He sites the case of a fellow veteran who was discharged from the Army for misconduct with clear signs the soldier was suffering from PTSD. At 22 years old, Murphy's friend and fellow soldier committed suicide, and Murphy believes that a supervised marijuana treatment might have saved the man's life. Susan Tackitt, whose companion of 30 years, Lynn Morse, says that Morse was introduced to marijuana while in the military during the 1960s, and as long as he was able to use the drug, he was able to function and cope. A drug bust in his town frightened him to the point that he contacted his local VA hospital who placed him on psychotic drugs. The drugs prescribed by the VA hospital caused Morse to suffer depression, lose his drive, and he eventually died on October 19, 2006 in the VA intensive care unit. Tackitt says that the use of medical marijuana may have kept him alive, and now speaks often on the benefits of the drug.



MEDICAL MARIJUANA AND SUICIDE
Statistics show that suicides among US military veterans are increasing, and some claim that there has been as much as a 20 percent higher incidence of veteran suicides since 2007. One reason that some experts feel is the reason for the increased suicide statistics is an increase in prescriptions for powerful mood-altering drugs, such as Lorazepam, which often have dangerous side effects, including an increased risk of suicide. Another reason is that veterans, whether they served in Iraq, Afghanastan, Korea, Vietnam or other countries, have a tendency to self-medicate. This often leads to lethal combinations of alcohol and multiple prescribed medications. In many of these cases, medical marijuana could eliminate the need for self-medications, but many veterans worry about zero-tolerance policies in the military, which sometimes cause them to lose other medical treatments due to the use of cannabis. However, recent reports indicate that the military is changing its view of medical marijuana as a valid treatment for PTSD in light of recent studies showing the tremendous benefit cannabis offers to those suffering from the disorder.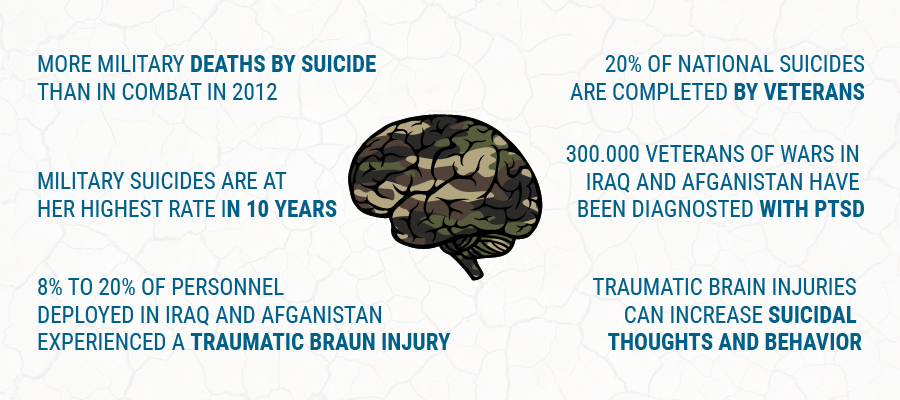 As research increases on the benefits of medical marijuana, the lifesaving benefits it brings to war veterans also increases. As a natural substance that combats chronic pain and symptoms associated with PTSD, along with the recent decision by the Veterans Administration to relax their policies on the use of the drug among veterans, medical marijuana is an increasingly more popular treatment for veterans suffering from those debilitating conditions.