Grape Ape: A Delicious and Soothing Strain
Delicious fruity terpenes. A supremely soothing high. Dense colas coated in trichomes. Has Grape Ape won your heart yet? This progeny of cannabis royalty stormed onto the scene after winning several key awards, and hasn't gone anywhere since! Discover what makes this mouthwatering cultivar so popular among smokers and growers alike.
By
---
Things are about to get real fruity up in here. Forget about savoury, gassy, and earthy flavours for a second. Right now, we're about to delve into some of the sweetest tastes that any cannabis strain has to offer. As her name implies, Grape Ape pulls no punches when it comes to lighting up the taste buds with refreshing fruity nuances.
But this indica phenom pleases more than just the palate. Her heavy body high vanquishes tension and leaves users feeling mellow and content. Overall, she makes for one heck of a smoke after a busy and stressful day. In the grow room or garden, Grape Ape puts on quite the show with mesmerising shades of purple and a canopy packed with frosty colas. Now that you're acquainted, get to know Grape Ape on a deeper level below.
---
Where Did Grape Ape Come From?
Unlike some cannabis varieties, the origins of Grape Ape are rather well-documented. Breeders at Apothecary Genetics first brought the strain into existence. This seed company started cultivating the herb in the early 1990s from their headquarters in Gig Harbor, Washington. As well as creating varieties high in THC and CBD, they've also honed in on rare cannabinoid profiles featuring the likes of CBN, CBG, and CBC.
Since the inception of Grape Ape at the hands of Apothecary Genetics, the team at Barney's Farm have also tried their hand at improving these genetics. This high-status seed bank has gained an impressive reputation since kickstarting their company in 1986, and continues to churn out Cannabis Cup winners.
Genetic Roots: What Are Grape Ape's Parent Strains?
So, is Grape Ape indica or sativa?
After combining Mendocino Purps, Skunk #1, and Afghani, the breeding team that created Grape Ape eventually produced a stable strain bearing a heavily indica-dominant genetic profile.
Learn a little bit more about these fine parent strains below:
Mendocino Purps

This beautiful purple cultivar stems from Mendocino county in Northern California. As a former High Times Strain of the Year contender, this variety won favour among cannabis users for its stoning effect and caramel coffee flavour.

Skunk #1

A legend in the cannabis world, this timeless strain serves as the genetic foundation for countless varieties. Skunk #1 descends from landrace genetics and offers an electrifying and creative high.

Afghani

This ancient landrace from the mountains of Afghanistan boasts some serious hardiness. As a pure indica strain, she passed down a compact structure to Grape Ape.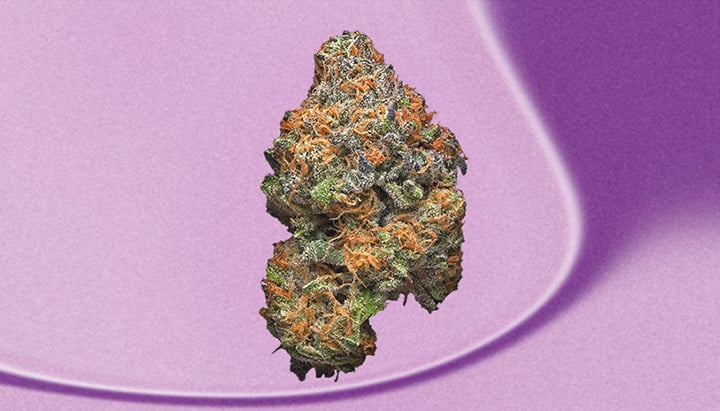 The Popularity of Grape Ape
It didn't take long from the inception of Grape Ape for the strain to gain a huge growership. Initially, cultivators found themselves drawn to this variety because of her legendary lineage. However, she became even more popular after her first competition wins at the Green Cup in both 2005 and 2006.
Going forward, Grape Ape also managed to secure first place for Best Concentrate at the High Times Medical Colorado Cup in 2011. Quite the track record, don't you think? Nowadays, you'll find Grape Ape just about everywhere; look out for her buds in dispensaries and her seeds in seed banks.
What Terpenes Are in Grape Ape?
Grape Ape packs a lot of sweet, fruity flavours and aromas. With this in mind, it's no surprise that myrcene ranks as the most dominant terp in the strain. Also found in mango and hops, myrcene produces a relaxing sensation, and some evidence suggests that it can assist THC's absorption across the blood–brain barrier.
Next in line, we have pinene. Found in abundance within pine essential oils, this molecule synergises with cannabinoids to produce a clear-headed effect. Ongoing studies are looking to see if pinene helps to reduce the short-term memory impairment brought on by THC. Finally, caryophyllene—found in abundance in black pepper—contributes a soothing physical effect.
The Aroma and Flavour of Grape Ape
You're aware of how the terpenes in Grape Ape may impact the effects of the strain, but what about the flavour profile?
Below are the main notes contributed by each terpene:
Myrcene:

This terpene brings plenty of rich, fruity notes to the fore—including the strain's namesake grape flavour.

Pinene:

Pinene contributes some seriously piney flavours, as well as hints of rosemary. It's not overpowering—just enough to complement the decadent fruity sweetness.

Caryophyllene:

Spicy and peppery, caryophyllene adds a pinch of savoury to the equation. You'll barely detect it in the flavour profile, but you'll certainly feel its soothing effects.

Effects: Is Grape Ape Strong?
Grape Ape clocks in with a moderately potent THC content of 18%. However, certain phenotypes have been recorded to exhibit THC levels as high as 35%! That said, such figures are largely an anomaly. After taking a few hits of Grape Ape, you'll feel a relaxing high begin to work its way across your body, as your mind releases all its worries from the day. When consumed in quantity, this happy, relaxing effect can become more sleepy and narcotic, and you're likely to experience a severe case of the munchies. Overall, Grape Ape is a good variety to enjoy whenever you don't have any obligations for at least the next several hours.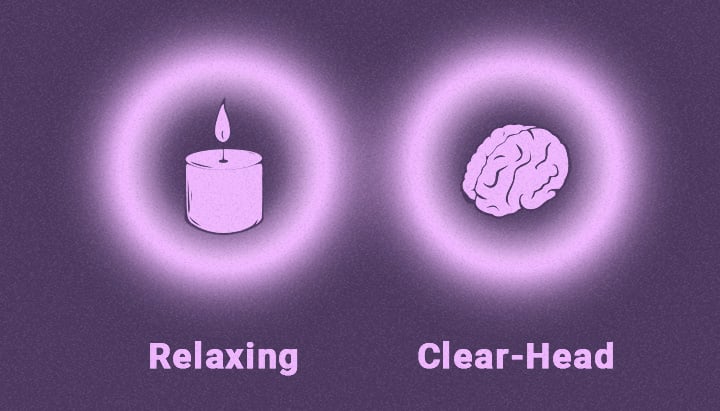 Grape Ape: Morphology and Growing Traits
Grape Ape tastes superb and soothes from head to toe, but how does she perform in the grow room? And is the strain suitable for beginners?
As an indica-heavy variety, this cultivar maintains a small and compact shape, making her easy to manage and conceal. Her hardy landrace genetics also endow her with good resistance to pests and diseases, meaning beginners have a greater chance of success. Overall, novice growers should certainly consider Grape Ape when earning their green fingers.
Plants rarely exceed 120cm in height, and applying low-stress training will keep them even shorter. Despite their size, they pump out a large yield of resinous buds after a flowering time of only 7–8 weeks. If cooler nighttime conditions are provided during the late flowering stage, Grape Ape's buds may develop an appealing purple colouration.
RQS Strains That Descend From Grape Ape
At Royal Queen Seeds, our breeders have developed quite the sweet spot for Grape Ape. So much so, that they decided to use these genetics to create several delicious descendants. Check out Sweet ZZ, for example—the RQS version of the legendary Zkittlez. This progeny of Grape Ape and Grapefruit produces gorgeous purple colas and an impressive THC content of 22%. Likewise, Sweet ZZ Automatic offers an equally delicious taste, but produces buds only 9–11 weeks after germination.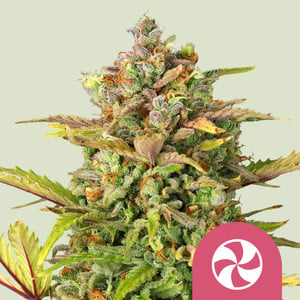 | | |
| --- | --- |
| | Grape Ape x Grapefruit |
| | 550 - 600 gr/m2 |
| | 80 - 140 cm |
| | 7 - 9 weeks |
| | THC: 22% |
| | |
| --- | --- |
| | Sativa 20% Indica 80% |
| | 500 - 550 gr/plant |
| | 160 - 200 cm |
| | Late September |
| | Calming, Stoned |