G Pen Elite 2 Vaporizer Review
Competition remains high among portable dry herb vapes. Buyers are spoilt for choice with devices that boast unique and attractive traits. The G Pen Elite 2, expertly engineered by Grenco Science, stands out among this crowd. Highly portable, good-looking, and quick to heat up, this device serves as a trusty companion for vaping on the go.
By
---
What do you like to vape? If you've sworn your allegiance to dry herb, then the G Pen Elite 2 will serve you as a trusty companion both on the road and at home. This sleek and ergonomic device offers flexible temperature ranges, a colourful display, buttery smooth vapour quality, and even WiFi connectivity.
---
What Is the G Pen Elite 2
If you ever got high using the G Pen Elite vaporizer, then you'll expect big things from the G Pen Elite 2. Fortunately, this new spin on a legendary device does not disappoint. The dry herb vape offers an expansive temperature range, high-quality build materials, silky smooth vapour, and a bright full colour TFT display. Throw excellent portability into this mix and you end up with one of the very best cannabis vaporizers available for both home use and hitting chambers on the road. But the G Pen Elite vaporizer offers more than these core traits. WiFi connectivity, a built-in pick tool, haptic feedback, quick charging, and rapid heat-up times make it stand out from other dry herb devices.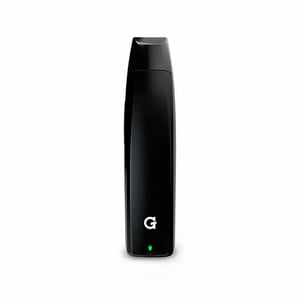 | | |
| --- | --- |
| | Conduction & Convection |
| | 23 x 3.1 x 10.8 cm |
| | 120 gr |
| | 200° – 428° F / 93º – 220º C |
| | 30 - 60 sec |
Inside the box
When you order the G Pen Elite 2, you'll find these additional pieces of kit in the box:
1 × hemp travel case

1 × USB to USB-C charging cable

1 × G Pen Elite silicone sleeve

1 × pick tool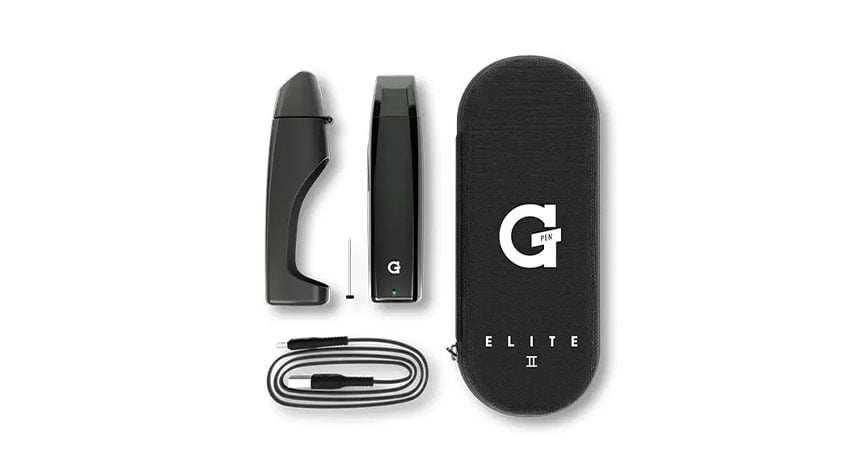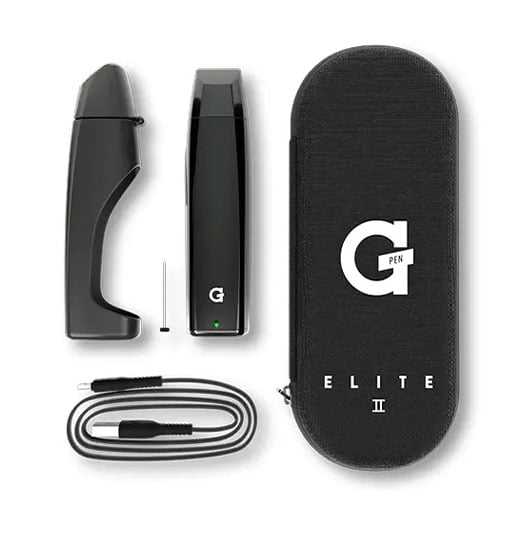 G Pen Elite 2 Build Quality
The G Pen Elite 2 vaporizer boasts superb build quality; it feels sturdy and ergonomic in the hand. The aluminium body makes the device lightweight and lends to its portability. The addition of the silicone sleeve helps to insulate the device while offering a layer of protection and improved grip. Made from the most durable monolithic ceramic, the zirconia mouthpiece possesses incredible heat-resistant properties which adds to the comfort of taking hits. Internally, the G Pen Elite 2 features a hybrid heating system as well as a spiral ceramic air path that contributes to the buttery smooth vapour that this device produces. Ergonomic button placements make this vape effortless to operate, and the colourful display brings life to this device and separates it from its monotonous counterparts.
⌛ How to load the G Pen Elite 2 vaporizer
The G Pen Elite 2 features a ceramic oven with a 0.5g capacity. Depending on the cultivars you like to smoke, it'll hold enough material to get you sufficiently elevated from a single session. Before loading the device, run your flower through your favourite grinder to produce a coarse powder; this will assist the vape in heating all of the material evenly and allow you to pack in as much flower as possible.
After grinding your bud, it's time to load the G Pen Elite 2. Simply pop off the magnetic zirconia mouthpiece to expose the oven and place your ground flower inside. Give your bud a light tamp down to pack it to maximum capacity, but don't apply too much pressure or you'll compact your weed and risk uneven heating of the material.
🔥 How to use the G Elite 2
To fire up your G Pen Elite vaporizer, simply press and hold the power button for five seconds. When done correctly, you'll see the Grenco Science logo appear followed by the temperature display. Use the plus and minus buttons to select your desired temperature. You have a lot of choices here; the device allows users to select temperatures between 93–221ºC, giving them full control of the cannabinoids and terpenes they want to target and the smoothness of the vapour they're about to inhale. Once selected, tap the power button twice to start the heating process. The G Pen Elite 2 only takes 30–40 seconds to fully heat up the oven, so you won't have to wait too long before tasting those terpenes. The haptic feedback will let you know when to take a hit in the form of a slight vibration.
There you have it. You won't have trouble figuring out how to operate this user-friendly device. However, if you want to personalise your experience, you can take extra steps to get this vape working just the way you want. Press the power button five times to enter the menu system. Here, users can choose to switch off convection heating, adjust the session timer anywhere between 1–5 minutes, select custom temperature scales, adjust the brightness of the display, and check for firmware updates that download via WiFi.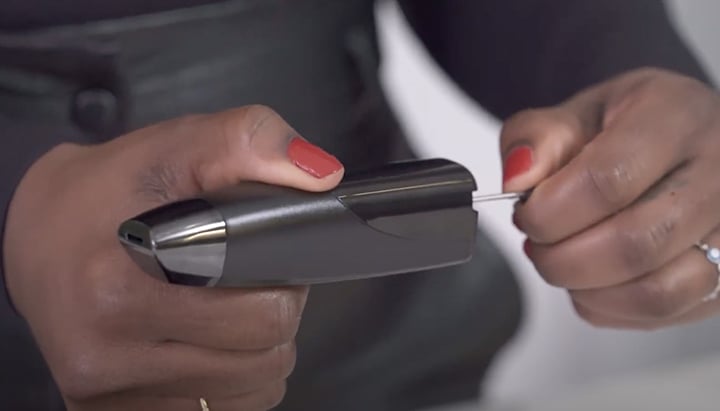 👜 Portability of the Elite 2
The G Pen Elite 2 vaporizer features excellent portability. The narrow body, cylindrical shape, and smooth outer surface enable the vape to slide effortlessly into pockets, pouches, and bags. The device also fits nicely into the palm of a single hand, meaning you'll have no trouble carrying and hitting this vape while hiking trails, chilling at the beach, or chilling on your couch or office chair. With a length of 11.7 cm, a width of 3cm, and a depth of 2.8cm, you won't have any trouble taking the G Pen Elite 2 anywhere you see fit.
🔋 Battery life of the G Pen Elite 2 vaporizer
Portability offers vape users a lot of freedom, but it doesn't amount to much without good battery life. Fortunately, the G Pen Elite 2 vaporizer delivers on both fronts. The device's 2100mAh battery packs enough juice to facilitate 6–9 sessions, depending on the temperature settings used. Altogether, that's more than enough to see you through a day trip and even a night camping. If you're heading out for longer than this, simply bring a power bank along for the ride for extended vaping. Before heading out, you'll need to insert the USB-C charger for 2 hours to leave with a fully-charged battery.
G Pen Elite 2 Performance
The G Pen Elite 2 vaporizer delivers. This dry herb vape wins over many users thanks to its relatively long battery life, short charging time, and rapid heat-up times. But the vape offers more than these basic functions. The hybrid heating system features both conduction and convection elements. The conduction aspect works to heat up and liberate terpenes and cannabinoids from material close to the oven walls. In contrast, the convection system sends hot air through the centre of the materials, ensuring no desirable phytochemicals get left behind. However, enter the menu settings and you'll see an option to turn off convection heating. We find convection contributes to smooth and thick clouds of vapour, but the option is there if you want to toggle it.
The G Pen Elite 2 also boasts a useful battery-saving mode. If you somehow forget to hit your device after it heats up, the vape will stop heating and enter standby mode. After entering this mode, if the device doesn't detect an attempt to reheat the oven, it will shut off entirely.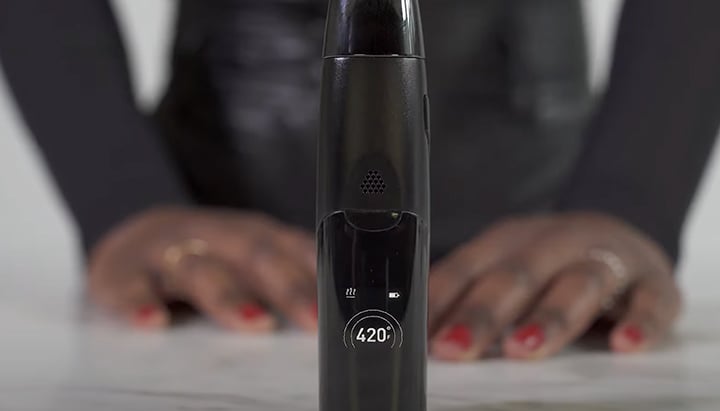 Maintenance: How To Clean the G Pen Elite 2 Vaporizer
Taking good care of your vape will help to increase its longevity and enable those tasty terpenes to come to the fore during each use. Thankfully, it doesn't take much to keep the G Pen Elite 2 squeaky clean. Slotted into the base of the device, you'll find the handy pick tool that will help you clear out the bowl after each session. Following this, detach the mouthpiece and separate the zirconia section, spiral air path, and screen and place it into an isopropyl bath overnight along with the pick tool. To clean the rubber attachment, simply dab some tissue paper into some isopropyl and give it a good wipe down. Rinse all of these components thoroughly before reassembling them.
Who Should Buy the G Pen Elite 2 Vaporizer?
Anybody that values a sleek, portable, and high-performing vaporizer. The bright and colourful TFT display, intuitive controls, and detailed menu settings make this device a pleasure to use. The ability to scroll through such an expansive temperature range also gives users full reign over the phytochemicals that want to target. The large oven capacity, long battery life, and rapid heat-up times serve as additional benefits that will win over anybody who loves vaping on the go.