Will Cannabis Topicals Make You Fail A Drug Test?
Passing a drug test could mean the difference between having a job and being unemployed. With medicinal users caught between a rock and a hard place, will the use of cannabis topicals make you fail a drug screening for THC?
By
---
Cannabis topicals are an incredibly useful way to get localised pain relief and reduce inflammation. With the market expanding rapidly, their use is becoming significantly more widespread, even extending outside of traditional cannabis users.
While a large number of these topicals feature very little THC, many users are worried about the potential risks that accompany them and whether they could trigger a positive result on a drug test. These are just a couple of the challenges faced by patients using marijuana to manage pain in a society still largely unreceptive to their needs.
WHAT ARE TOPICALS?
"Topical" is a term used to describe products applied to the surface of the body. Balms, ointments, lotions, and salves are all included in this category. What makes them unique is that rather than being consumed orally, they are applied directly to the skin. For that reason, they are not taken as a recreational drug, but instead for exclusively therapeutic use.
With a localised application, sufferers can target specific areas of trouble, supporting mild pain relief and reducing inflammation. It is the nature in which they are absorbed through the skin, however, that has raised questions about their safety. Will users get high as a result? And furthermore, would that cause a positive reading on a drug test?

WILL TOPICALS GET YOU HIGH?
Topicals are infused with a variety of cannabinoids. The most common is CBD, which does not contain any of the psychoactive properties that cannabis is renowned for. Instead, it is utilised for its medicinal benefits. However, some topicals do contain other cannabinoids like THC and CBN. Given that THC is the key psychoactive component in cannabis that enables users to get high, it is understandable that some remain sceptical about the use of topicals.
The thing is, our skin acts as a protective barrier, which it does an excellent job at. To give you an example of how topicals cannot get you high, consider rubbing alcohol. Those who apply alcohol to a cut are still able to drive afterwards without fear of being over the legal limit. This is because it cannot be absorbed into the bloodstream through their skin. Cannabis topicals work on the same principle. The cannabinoids bind to receptors in our skin, muscle tissue, and nerves, but get absorbed before they could permeate through our skin into the bloodstream. THC only gets users high when it reaches our brains, something it cannot do through the surface of the skin.
CAN TOPICALS CAUSE USERS TO FAIL A DRUG TEST?
With topicals unable to get users high, it would stand to reason that it's not possible to fail a drug screening as a result of their use. In principle, this is true; but there are some caveats. This study from 2017[1] confirmed that topicals containing THC did not cause a positive test in both blood and urine.
The caveat is transdermal patches. These work in the same way as a nicotine patch, providing patients with a strong dose of the active ingredient that is absorbed into the bloodstream through the skin. As such, use of THC-rich cannabis patches is likely to result in a failed drug test.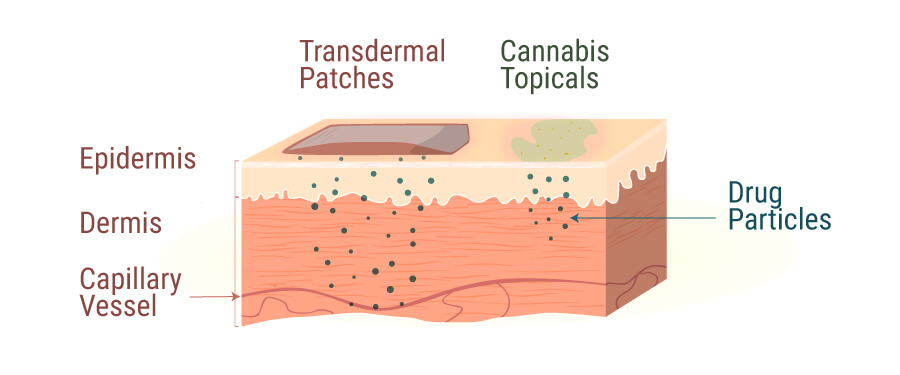 ALWAYS ERR ON THE SIDE OF CAUTION
Depending on the method of drug testing, cannabis can be detected in your body months after it was last smoked or ingested. A hair follicle test will retain trace elements of THC for up to three months. If you have switched to topicals as a means of receiving pain relief without smoking cannabis, then it's worth establishing when you stopped to identify if you are at risk of failing a test.
We know topicals should not test positive, as long as transdermal cannabis patches are avoided, but you should always handle them with care regardless. Contact with your eyes or mouth may cause trace amounts of THC to enter your bloodstream and trigger a positive reading. It is all too easy to rub your eyes or bite your nails after applying a topical and put your chances of passing at risk. Using gloves and washing your hands thoroughly after applying medicated lotions will help to avoid the threat.
External Resources:
Topical Application of THC Containing Products Is Not Able to Cause Positive Cannabinoid Finding in Blood or Urine - PubMed

https://www.ncbi.nlm.nih.gov