Watermelon Cannabis Strain
With dark purple buds and a striking watermelon flavour, this variety offers something more exotic than most cultivars. Her looks alone are enough to set her apart, but you'll know you've truly found something special after taking that first hit. Fruity profile, high level of THC, and a muscle-melting high await.
By
---
Cannabis strains don't get much fruitier than Watermelon. This heavily indica-dominant hybrid almost lets you know that you're about to get stoned before you even take a hit. Her dark purple and green buds combined with aromas of fruit and sweetness just scream red eyes and couch-lock. Our breeders designed this strain to please the indica lovers out there and they definitely succeeded in their mission. If you enjoy smoking in the evenings to unwind and chill out, then you need to consider adding Watermelon to your cannabis collection. Get to know everything about this strain, including her genetic background, her flavours and effects, and how to grow her to achieve best results.
---
Watermelon's Genetic History
Watermelon weed is a treat for your taste buds. But where does this impressive trait stem from? Well, Watermelon variety within the Royal Queen Seeds catalogue comes directly from Watermelon OG S1, created by crossing the original Watermelon with itself to amplify desirable traits. But the original Watermelon strain didn't come out of nowhere; she's the progeny of two very flavourful cultivars. Which exactly? Unfortunately, nobody knows! The genetic background of Watermelon remains shrouded in mystery; an anonymous breeder created her somewhere in a secret garden and never claimed credit for their masterpiece. However, with access to the strain herself, we do know that she features an indica-dominant genetic profile, exerts a stoning and euphoric high, and packs serious quantities of fruity terpenes.
Flavour, Aroma, and Potency of Watermelon
Many cannabis strains have snappy names, designed to capture consumer attention, but that don't accurately capture their characteristics. In the case of Watermelon, her title sums her up perfectly. The blend of terpenes and other aromatic molecules produced by her dense layer of trichomes converge to create aromas and flavours that couldn't be closer to those experienced after cutting open her namesake fruit. These flavours come in strong when smoking, but nothing compares to vaping these buds at lower temps and experiencing all that they have to offer. If you're a budding cannabis chef, whip up a batch of cannabutter and incorporate Watermelon's flavours into sweet dishes, such as brownies, for a fruity kick.
Watermelon offers a wonderful sensory experience, but she's much more than just a flavoursome smoke. Shortly after her terpenes greet your taste buds, you'll feel her potent body high starting to creep in. You see, Watermelon weed combines a vastly indica-dominant genetic profile with a THC content of 22%. These traits fuse and create a deeply relaxing and stoning high that melts the muscles, stills the mind, and brings about a tangible sense of peace. As you probably guessed, this strain goes down best on quiet afternoons and relaxing evenings. Far from a wake and bake variety, Watermelon will have you wanting to hit the pillow. Take these buds on camping trips, evening strolls, and blissful beach sessions. Oh, and you'll need a good few snacks to satisfy the ravenous munchies that show up as her effects begin to wane.
Growing Watermelon
Watermelon sure sounds great, but how does she perform in grow tents, greenhouses, and the great outdoors? If she's won you over so far, then you'll be pleased to know that she doesn't disappoint when harvest time swings around. This cultivar maintains a medium size which makes her a good choice for growers dealing with limited space (and those looking to maintain a low profile). Her relatively brief flowering time also means she delivers results faster than many other photoperiod varieties after transitioning from veg to flowering.
If you have a preference for growing cannabis indoors, chances are that Watermelon will integrate into your setup well. She grows to a height of 80–130cm which makes her much easier to tame than more sativa-dominant varieties. If you need to keep her on the smaller end of the spectrum, she responds well to techniques such as LST, topping, and mainlining. As well as limiting size, these methods do a good job of creating a more uniform canopy and boosting productivity. Treat your Watermelon weed to powerful lights and proper nutrients and you'll receive up to 500g/m².
If you're the type of grower who prefers to cultivate outside in the elements, know that Watermelon performs well here, too. When growing in large containers, raised beds, or directly in the ground, she'll reach taller heights of 150–200cm. You can let her do her thing and develop one large central cola, or top her early on for more uniform flowers later down the line. If you're dealing with bagged compost or poor garden soil, we suggest adding rhizobacteria and mycorrhizal fungi to your growing medium to infuse it with life. These critters will help prevent disease, ramp up nutrient uptake, and accelerate the breakdown of organic matter. Watermelon's short flowering time means she's suitable for regions that experience short summers. Prepare to harvest 450–500g per plant during the month of October.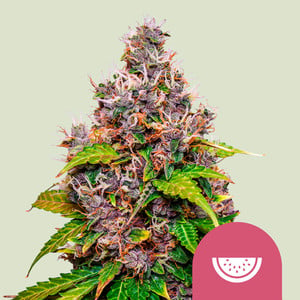 | | |
| --- | --- |
| | Watermelon OG S1 |
| | 450 - 500 gr/m2 |
| | 80 - 130 cm |
| | 7 - 8 weeks |
| | THC: 22% |
| | |
| --- | --- |
| | Sativa 20% Indica 80% |
| | 450 - 500 gr/plant |
| | 150 - 200 cm |
| | October |
| | Calming, Physically Relaxing, Sleepy |
Watermelon Automatic
Do you prefer the short life cycles of autoflowering plants? Do you need smaller specimens to remain as stealthy as possible? If you're an auto grower through and through, you can still enjoy some of the best traits of the original Watermelon with Watermelon Automatic. This stunning variety boasts gorgeous shades of purple, a THC content of 20%, and unmistakable flavours of watermelon. Our breeders crossed Tropicanna Cookies with Lemon OG to create this variety, which became one of our most potent and popular autos.
Despite her smaller size, she still provides a rewarding stash come harvest time. Indoor plants grow to 80–110cm and churn out up to 500g/m². Their outdoor counterparts grow to a height of 120cm and produce between 50 and 90g per plant at the end of the growing cycle. Adding to all of her attractive qualities, you'll only have to wait 8–9 weeks after sprouting to start trimming and drying Watermelon Automatic's buds.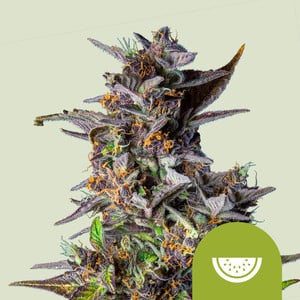 | | |
| --- | --- |
| | Tropicanna Cookies x Lemon OG |
| | 450 - 500 gr/m2 |
| | 80 - 110 cm |
| | 6 - 7 weeks |
| | THC: 20% |
| | |
| --- | --- |
| | Sativa 20%, Indica 75%, Ruderalis 5% |
| | 50 - 90 gr/plant |
| | 100 - 120 cm |
| | 8 - 9 weeks after sprouting |
| | Calming |
Watermelon Weed: Brace Your Taste Buds for Impact
Both Watermelon and Watermelon Automatic rank among the tastiest strains around. Many cultivators opt for these varieties because of their terpene profiles alone. However, they offer much more than mere taste. With stunning purple inflorescence, high levels of THC, and great yields, they truly tick all of the boxes and offer a complete package.