Top 5 Low-Odour Cannabis Strains to Stay Stealthy in 2023
Hidden tent? Check. Concealed corner of the garden? Check. Small and compact strains? Check. You've ticked all the boxes for a stealthy setup, but you're struggling to contain those skunky smells! These low-odour strains will help you solve that problem and keep your green-fingered activities as secretive as possible.
By
---
You've gone to great lengths to keep your cannabis growing operation stealthy. However, you keep running into the same problem during the flowering stage: intense and obvious skunky aromas. Don't worry, we've got the solution.
Low-odour strains help to keep the weed smell to a minimum. Combined with other stealthy practices, they'll ensure your grow operation remains ultra-discreet. While these strains still pack some seriously tasty terpenes, they lack other chemicals that underpin the signature pong of weed.
Known as volatile sulphur compounds, these molecules possess a skunky, even oniony, aroma. Many cannabis strains are loaded with these phytochemicals, which makes them stink—and potentially give your position away. Thanks to genius breeders, you now have access to strains that lack these compounds and therefore produce little to no odour. Check out some of the best low-odour weed varieties below, as well as some tips for keeping your grow as private as possible.
1. Northern Light
Indoor growing of this classic strain is, by design, easy for the novice grower. The spicy, earthy aroma of Northern Lights sometimes has fruity undertones when smoked. When it is growing, however, the smell is more generic. Grow this discreetly, and you will still yield sticky, resinous buds. The THC content often surpasses 20%, providing powerful indica effects which relax the body. Aside from producing strong yields in 7–9 weeks, it makes a great mother plant, aiding in the continuation of low odor cultivation.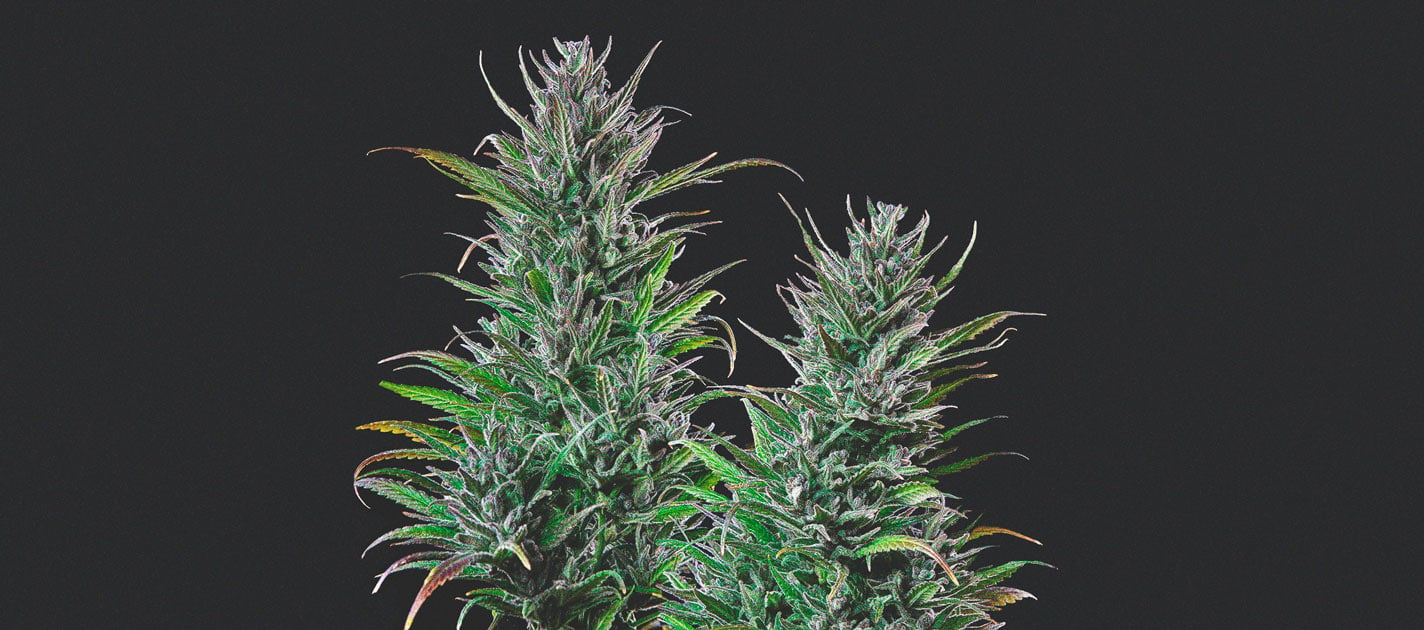 2. Epsilon F1 Hybrid Seeds
You needn't sacrifice quality in the name of odourless weed. In fact, you open yourself up to growing some of the most high-performing varieties available. As one of the first true cannabis F1 hybrids, Epsilon F1 impresses cultivators with her outstanding vigour, big yields, and excellent uniformity. Unlike most cultivars on the market, F1 hybrids aren't actually "strains". Rather, they are the direct progeny of two pure inbred parent lines. F1 hybrids themselves are not bred further; their parent lines are sustained in order to constantly create new waves of F1 offspring.
Although Epsilon F1 contains plenty of moreish terpenes—including myrcene, farnesene, limonene, caryophyllene, and ocimene—it is considerably low in the volatile sulphur compounds that really stink out your grow room or garden.
Aroma aside, Epsilon F1 performs excellently in pretty much any environment. As an F1, she possesses hybrid vigour that makes her more resistant to certain diseases and adverse weather conditions. If you're searching for weed that doesn't smell, choose this variety to receive a hefty haul of potent buds after a rapid growing cycle of only 60 days. Her complex terpene profile will not only light up your tongue with tastes of blueberry and lavender, but will also contribute to a heavily stoning yet creative high.

3. Royal Jack Auto
Harvest this plant within 70 days and enjoy a very pleasant high from Royal Jack Auto. It is an autoflowering variety of Jack Herer, named after the cannabis activist whose tireless energy for cannabis legalization is reflected in the uplifting buzz of its sativa high. Ruderalis genetics make growing this strain a lot easier. The smell is also not that strong compared to other strains. It will produce a more sweet, fruity scent verging on caramel, but it's subtle. This strain also owes heritage to the dazzling sativa White Widow, ensuring a shimmering body high once ingested.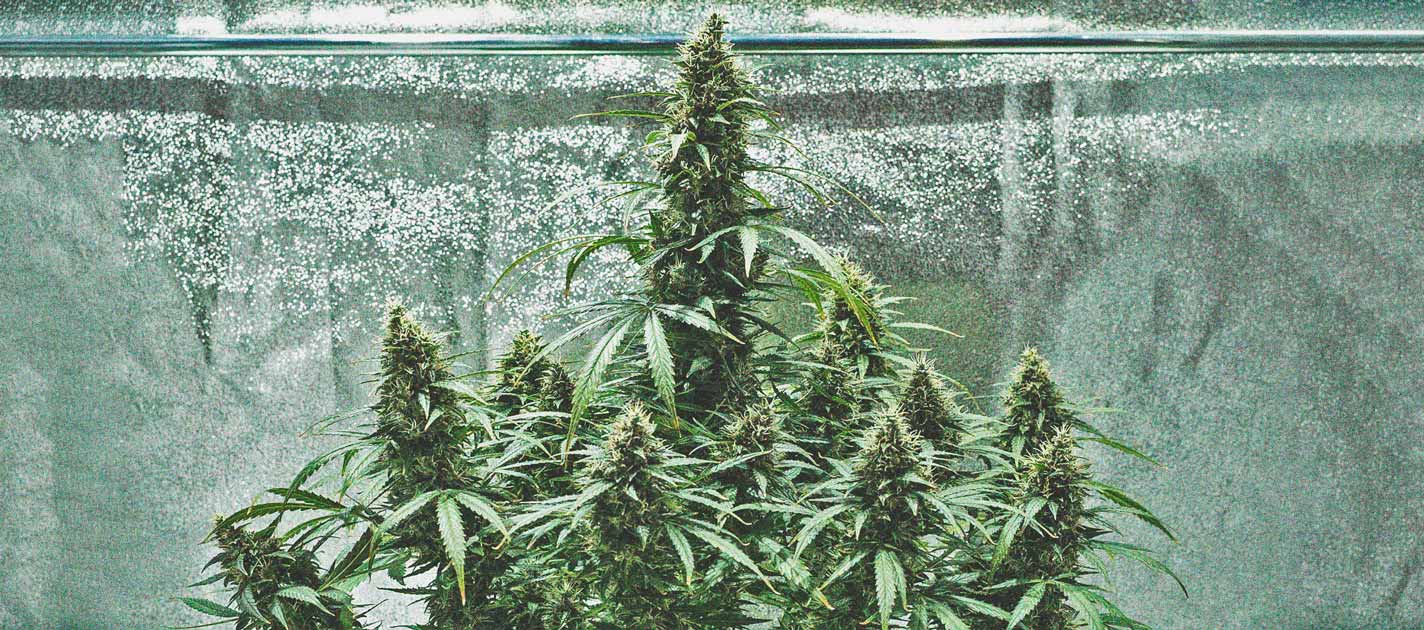 4. Apollo F1 Hybrid Seeds
Apollo F1 is another industry-first true F1 cannabis hybrid. Royal Queen Seeds crafted this variety by harnessing Lemon, Black Domina, and Sugar Magnolia genetics. Using these ancestors, they conducted an intensive programme to create highly stable and pure inbred lines. After achieving ideal parent lines, they crossed them and birthed this vigorous progeny. Much like Epsilon F1, she isn't classed as a standard cannabis "strain". This autoflowering F1 hybrid produces some of the thickest and most resinous buds you've ever seen. However, they don't smell so strong that they'll give your growing position away.
Also low in volatile sulphur compounds, Apollo F1 flowers are more subtle to the nose, but still very flavourful. High levels of the terpenes caryophyllene, farnesene, myrcene, and terpinolene ensure complex tastes that won't leave you disappointed. Load these flowers into a vape to experience hints of vanilla and pine at their strongest. As far as effects go, Apollo F1 will leave you feeling motivated and creative. Her high levels of THC hit hard and fast, so take things slow and sensible if you have a low tolerance, and reserve these buds for evenings and days off to avoid getting into any sticky situations.
Equipped with impressive vigour, this low-odour hybrid thrives both indoors and outdoors. Treat this autoflowering variety to high-quality organic nutrients and adequate light, and she'll reward you with XXL yields 75–80 days following sprouting. Dry these buds correctly and cure them over several weeks to unlock their true flavours.

5. Quick One
Quick One is a variation on Lowryder, which is famous for its very fast flowering time and subdued scent. The ruderalis genetics of this plant keep it short; in other words, discreet and manageable. It rarely grows taller than 75cm, which is quite small. Sprinting to the harvest finish line in an impressive 6–7 weeks, Quick One is so resilient she can even be grown in colder climates. She also has one of the mildest odors of any cannabis plant. Her non-distinct, fruity scent won't give the game away. Get growing for a soothing indica buzz.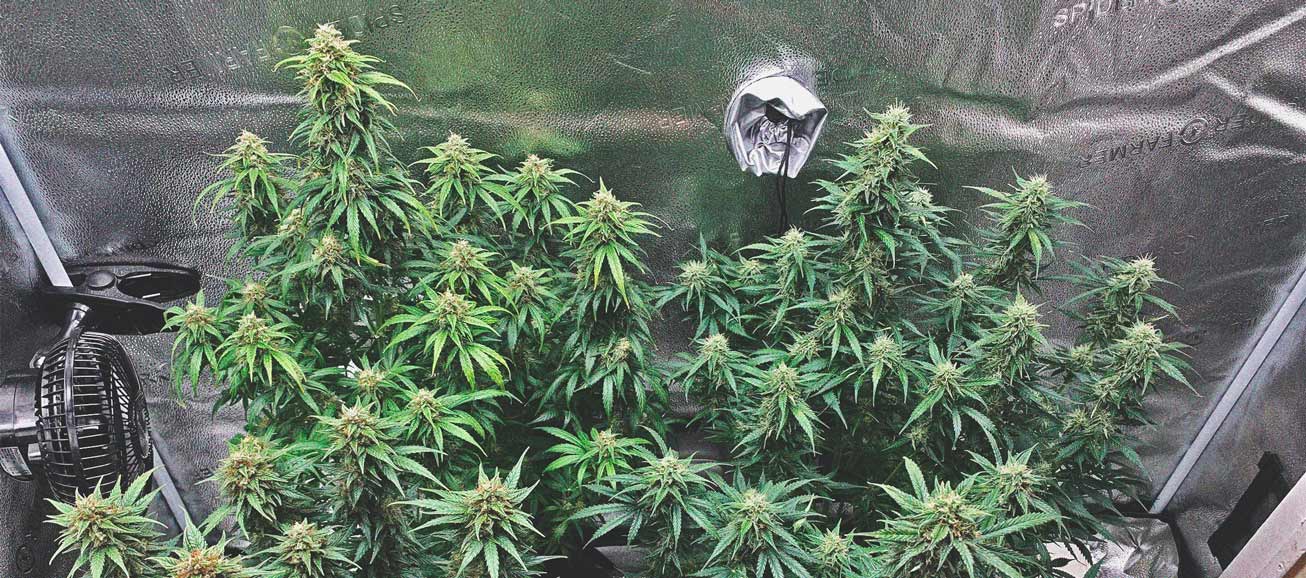 Tips for Growing Low-Odour Weed Strains
Remember that these varieties are low-odour, not no-odour. Although they smell much less potent than other cannabis cultivars, they still put out a bit of an aroma. Luckily, there are several steps you can take to make your growing space almost entirely "skunk-proof". Combine the tips below with the low-smell strains above to bring the stealth of your setup to new heights.
Combine Carbon Filters With Low-Odour Strains
Carbon filters are a must within any indoor growing space. This piece of kit works in tandem with an extractor fan to pull suspicious aromatic chemicals out of the air. Essentially, the extractor forces airborne terpenes and other volatile compounds through the filter. Thanks to the large surface area of the activated carbon molecules within, these chemicals become trapped and don't enter the air outside.
Keep Your Grow Tent Sealed
Extractor fans work well, but they lose their effectiveness if you have holes or openings in your grow tent. You can use duct tape to seal up any tears and openings to prevent terpenes and volatile sulphur compounds from entering the outside world.
Invest in an Air Purifier
Air purifiers work relatively well at scrubbing the air of smelly molecules that have the potential to land you in trouble. They tend to feature several layered filters that clean the air of particles as it travels through. They're effective at reducing the smell of a growing space, but they certainly aren't fail-safe. However, throw some low-odour weed into the mix, and you're onto a winner.
Harness the Power of Companion Plants
If you're growing outdoors, then you can use other aromatic plants to mask the smell of your low-odour varieties of choice. Plants such as basil, peppermint, lavender, rosemary, and pineapple sage are packed with terpenes and other smelly molecules that help to mask skunky aromas.
Use Low-Odour Weed to Bring Stealth to New Heights
You've taken all of the steps to keep your grow room as safe as possible, but the outrageous skunky smells during the flowering phase always put you on edge. Worry not. Combine your previous practices with the low-odour weed varieties and tips detailed above, and you'll have done everything in your power to keep your growing operation under the radar.