Honey Cream Feminized Cannabis seeds
The toast of Spain, Honey Cream feminized induce seeds create a mellow and productive cannabis strain, experts say. This classic marijuana strain originated in Spain and has spread across the globe
---
HONEY CREAM INDICA IS GOOD MEDICINE
The toast of Spain, Honey Cream feminized induce seeds create a mellow and productive cannabis strain, experts say. This classic marijuana strain originated in Spain and has spread across the globe in no time. It is a pure indica hybrid combining Maple Leaf Indica, White Rhino and BlueBlack. The Maple Leaf is most excellent, an Indica strain with big buds, plump leaves and coated with trichome crystals. Maple Leaf originated in the Hindu Kush of Afghanistan. The herb tastes sweet with an orange twist. Many say it is an aphrodisiac, very relaxing with a mellow body buzz, The White Rhino cross is a hybrid between white Widow and an unnamed North American Indica. The buds are bushy in the tough strain Like Maple Leaf, White Widow originated in Afghanistan as well as North America. It also has been grown in Brazil and India. It adds a medicinal boost to the medicine. Users like the soothing effects of the plant that alleviates aches and pains. For a final flourish, the BlueBlack mixed in the Honey Cream Indica hybrid blend is a skunk weed adding a hint of fruity pebbles and grapes to the mixture with an euphoric, stress-fighting Indica-based hybrid flower. Honey Cream represents a fine bending of some of the world's most classic Indicas with its sweet, earthy high. Enjoy it as an after dinner type strain producing a happy and productive medicinal high. Many consider it heavy yet relaxing, a panacea for physical ailments and boost for mental activities.

Honey Cream combines the best of the best with a hybrid vigor. The taste is complex and sweet with a strong palate and body. The name stems from the rich, caramel aroma. The Royal Queen seeds create a classic, easy to grow and maintain Indica dominant plant that is squat, growing close to the ground for added yield and potency. It looks bushy while developing a op-heavy canopy. The plant's buds glisten while the trichomes and THC bearing resin glimmer on the stems. It grows in the classical Indica style with short, bushy body providing super-resinous buds. Using a 600-watt lighting system produces an indoor growing season of around two months before going into harvest mode. A typical plant should produce about 500 grams of potent flower. Growing enthusiasts able to wait longer can probably look at more than a pine of bud and smoke. Growing Honey Cream outdoors has its own set of advantages should outdoor space be available. Typically, the strain will produce similar yields, but must be harvested in early fall for best results. Honey Cream reaches a height of between 100 to 140 centimeters, produces a very high THC level and is available in seed packs of one, three, or five feminized seeds.

Reviews for this strain have been overwhelmingly positive with the folks at Medical Marijuana Strains Dot Com giving it an A- grade. Germination rates are flawless, people say. It's extremely sticky and growers across the planet have been noting the aromatic smell and taste. The latest research shows the mixture to be 90 percent Indica and about 10 percent Sativa. Reviewers found the taste to be a smooth mixture of sweetness and spice with a hint of skunk and dung. It goes down smoothly with creamy vanilla hash dashes. Effects are quick and potent or as one reviewer says, you sit and stay put. It works great for evening use with people finding great results while reading, watching TV, making love and listening to music It comes on fast and strong with just a few hits helping the medicine go down. People with post traumatic stress syndrome, or PTSD, have found good results from Honey Cream while it also works great to relieve stress, stimulate appetite and numb pain.

While many people smoke or digest Honey Cream, savvy users look to vaporizers for best results. The strain works even better when vaporized. Vaporizers are the best way to get all the THC and eliminate any extraneous plant matter from lungs. Vaporizers have come down a lot in prices and pack the mot potent THC use per punch. Boosting the vaporizer temperature to around 180 to 240 degrees centigrade yields great results. This eliminates the toxic material while allowing the psychoactive THC ingredients to hit the lungs cleanly and powerfully. Lab research from California NORML and the Multidisciplinary Association for Psychological Studies, or MAPS, has shown vapors efficiently provide the top effects of cannabinoids while eliminating smoke toxins. Cannabis smoke does contain toxins that are harmful to lungs and respiratory systems. These include very carcinogenic properties like polynuclear aromatic hydrocarbons that are produced through combustion. The cool, clean vapors produced by burning the psychoactive are more pleasing to the palate and taste while delivering the top medicinal and psychological effects.

While vaporizing is the latest and best way to get all the flavor and efficacy along with directly ingesting Honey Cream Indica through addition to food, candy and drinks, smoking works, too, if you must. The final effects yields a balanced high that is strong with a candy-like taste. It smells like a good incense or scented candle rolled into one medicinal experience. A deep, long-lasting high, the journey with Honey Cream begins with Royal Queen feminized seeds. The caramelicious stock has been active for 15 years and known for top quality THC content typically reaching 17 to 20 percent of dried bud. It's perfect for tight indoor growing spaces although also flourishes in any growing environment and outdoors. The strain can produce as much as two pounds of dried bud following a typical fast-growing indoor season of eight to nine weeks. Honey Cream is the Indica hybrid strain of the future available today from Royal Queen. It's sticky icky dank and gooey with top-rate medicinal value and a distinctive caramel flavor everyone loves.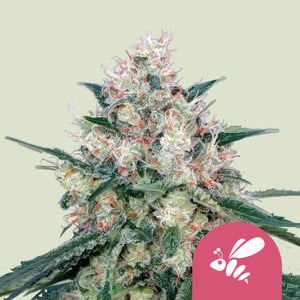 Honey Cream has an intense, sweet sugary, almost caramel-like aroma. The flavour, while not as sweet as the aroma, is sweet and almost earthy. Due to its complex genetics, a variety of tastes and smells can come from these plants, but the sweet, creamy caramel aroma overpowers all.
BUY HONEY CREAM SEEDS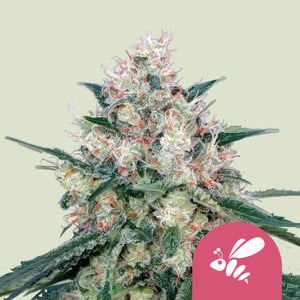 Honey Cream has an intense, sweet sugary, almost caramel-like aroma. The flavour, while not as sweet as the aroma, is sweet and almost earthy. Due to its complex genetics, a variety of tastes and smells can come from these plants, but the sweet, creamy caramel aroma overpowers all.
BUY HONEY CREAM SEEDS