Honey Cream: Sweet In Every Way
Honey Cream is a complex blend of reputable strains—namely, BlueBlack, Maple Leaf Indica, and White Rhino. In Spain, where it was first grown, people have embraced Honey Cream with open arms, but the rest of the world has some learning to do. Offering waves of indica relaxation and a sweet flavour, Honey Cream hits as smoothly as the real thing.
By
---
If you looked at a dessert menu and noticed that Honey Cream was one of the options, we imagine that'd be your choice. We'd suggest sticking with that instinct the next time you're looking for a strain to grow. The gorgeous, nuanced, and satisfyingly sweet Honey Cream is an excellent addition to any grow room or garden. It was born in Spain and is loved in its home country, but it's about time it took the world by storm.
HONEY CREAM'S GENETIC BACKGROUND
One of the main things we love about this strain is its complexity. Honey Cream has its roots in not one, not two, but three different predecessors. What's even better, they all have a lofty reputation in their own right.

The first ancestor, BlueBlack, is a cross of Blueberry and Black Domina, both heavyweights themselves. It's a heavily indica-leaning strain, famous for its sweet and spicy berry flavour. The second, Maple Leaf Indica, descends from a landrace Afghani indica strain known for its powerful body high. The last parent, White Rhino, has Afghan, Brazilian, and South Indian heritage. It's praised for hitting smokers hard and fast, following up with a wave of euphoria.

• Honey Cream is a genetic blend of BlueBlack, Maple Leaf Indica, and White Rhino.
EFFECTS OF HONEY CREAM
Even with a moderate 16% THC, Honey Cream packs a punch. With all three parents being indicas, you would be right to expect a stoning and relaxing experience with this strain. Whether you need to unwind after a long day or autumn asleep faster than usual, this should be what you reach for. It's good for more than just getting couch-locked, too. More and more medicinal users have begun picking up this strain to tackle their symptoms. People dealing with insomnia, chronic pain, and even muscle tension have found relief with it, and new research is always emerging.

• Honey Cream hits the user with a stoney, sleepy high, with some using it to relieve their symptoms as well.
FLAVOUR AND AROMA OF HONEY CREAM
We're sure your mouth started watering as soon as we mentioned the name. Don't worry, ours did too. As far as the flavour is concerned, a blend of sweet and earthy sensations are the first you'll notice. The aroma, though, is the real showstopper and the reason for the name. In an instant, the room gets filled with an all-consuming sweet scent infused with what seems like honey or caramel. There are other scents and tastes dancing around those, but the sweetness makes them all rather subtle.

• Honey Cream has a sweet and earthy flavour with aromas of honey and caramel alongside other subtle hints.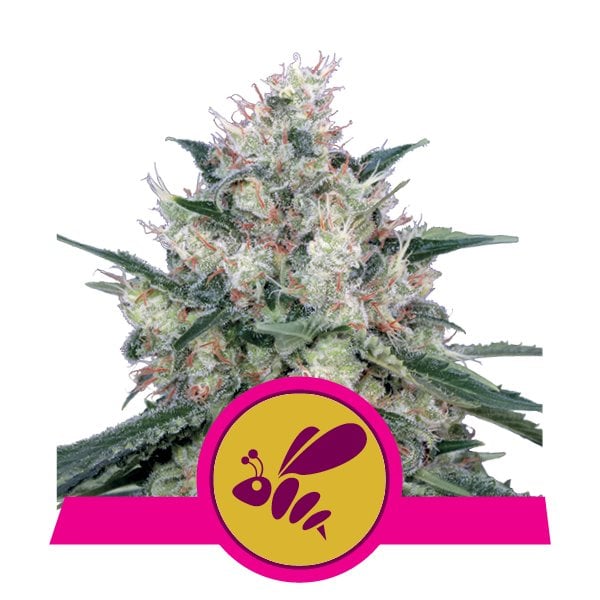 Honey Cream
BlueBlack x Maple Leaf Indica x White Rhino
500 - 550 gr/m2
60 - 100 cm
6 - 7 weeks
THC: 16% (aprox.) / CBD: Medium
| | |
| --- | --- |
| | 35% Sativa, 65% Indica, 0% Ruderalis |
| | 625 - 675 g/per plant (dried) |
| | 180 - 250 cm |
| | Early October |
| | Psychedelic high |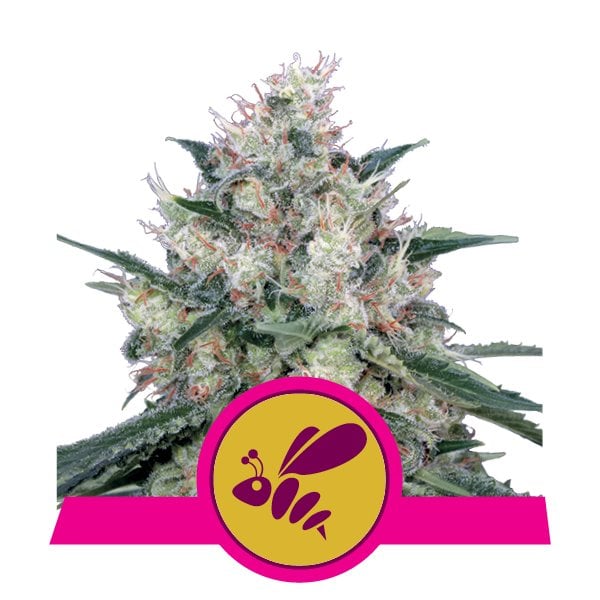 | | |
| --- | --- |
| | BlueBlack x Maple Leaf Indica x White Rhino |
| | 500 - 550 gr/m2 |
| | 60 - 100 cm |
| | 6 - 7 weeks |
| | THC: 16% (aprox.) / CBD: Medium |
| | |
| --- | --- |
| | 35% Sativa, 65% Indica, 0% Ruderalis |
| | 625 - 675 g/per plant (dried) |
| | 180 - 250 cm |
| | Early October |
| | Psychedelic high |
HONEY CREAM'S GROWING TRAITS
If you're familiar with how other indicas grow, you've got a sense of how Honey Cream will look. It'll be relatively short, reaching 160cm maximum indoors and 2.5m outdoors, but it isn't a slouch with the output. It gets pretty bushy throughout, but it's absolutely massive at the top, boasting dense, long-running colas. When all is said and done, you'll be able to harvest up to 550g/m² indoors and 675g/plant outdoors. Thanks to recent developments with the strain, the flowering time is shorter than ever. So fast, in fact, that it's ready after 6–7 weeks of flowering! If you're growing outside, note that this means your harvest time is in early October. Don't rush it too much, though; letting it go a little longer will lead to larger yields.

• Honey Cream grows like a classic indica.
• You can harvest her 6–7 weeks after the flowering phase begins.
ON A FINAL NOTE...
We don't imagine you needed much convincing to choose a strain called "Honey Cream", but hopefully this overview inspired you. Bringing deep relaxation, a sweet taste, and an even sweeter scent to the table, you can't go wrong here. Coupled with the fact that it finishes quicker than most, Honey Cream is truly tough to beat.

• With a quick grow time, calming effects, and sweet scents and tastes, Honey Cream is a top-tier strain.