How To Make A Healthy Raw Cannabis Smoothie
Marijuana is a superfood all by itself, packed with vitamins and essential oils. Here is how to turn it into a healthy, raw smoothie.
---
Some scientists are beginning to believe that raw, inactive cannabinoids may have a lot of potent anti-inflammatory properties to offer, maybe even more than their active counterparts. As the name suggests, these are cannabinoids in their raw, base form within the plant. The most abundant of which are THCA and CBDA. These are normally converted to THC and CBD through heating when consumed. However, some are choosing to skip the decarboxylation process, and use their cannabis raw. For those looking to explore the raw power of cannabis, we have put together a quick and easy raw cannabis smoothie recipe.
This is a medium-thick green smoothie that's packed with nutrition and anti-oxidants. It's easy to make, but you'll need to gather a few ingredients first. This makes enough for two big cups.
Note: a completely raw cannabis smoothie won't get you high.
YOU WILL NEED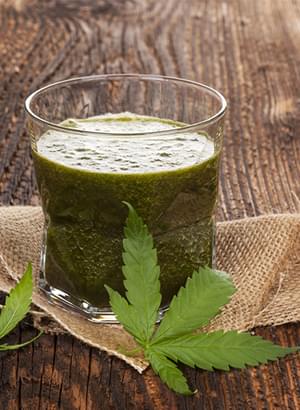 A handful of ice cubes
Up to 15g raw cannabis trim, leaves and/or bud (stalks removed)
A few sprigs of parsley (stalks removed)
A generous handful of washed spinach leaves
A large, ripe avocado (remove skin and seed)
A handful of blueberries
A quarter of a cucumber
600ml freshly squeezed apple juice
A good squeeze of lemon juice
A generous pinch of powdered turmeric
A pinch of hemp seed
2 tsp baobab powder
2 tsp powdered green superfood complex - we recommend this one
1 tsp coconut oil – if you want to add a buzz to your smoothie, use a cannabis infused coconut oil!
INSTRUCTIONS
Just add it all to your blender, switch it on, blend till smooth, pour it out, and enjoy! Simple! You may want to pass the liquid through a sieve if you want the smoothie to be completely smooth.
To complement the cannabis, the other ingredients in the recipe have energy boosting, anti-inflammatory properties, and taste great together too. Avocado provides a nice creamy base for the marijuana taste to sit in, and the sweet flavour of blueberry and apple provide a crisp finish. The combination of superfoods will cleanse your gut and give you glowing skin - so you feel fresh inside and out. I like to drink one after my morning yoga; it leaves me feeling clear-headed and energised, and fills me up all the way to lunchtime.