Blue Mystic: Bred For Flavour And Relaxation
If you enjoy a deeply stoning high paired with fruity flavours, then look no further. Blue Mystic possesses these traits and then some. The indica-dominant hybrid will lull you into a comforting couch-lock.
By
---
Royal Queen Seeds created Blue Mystic using genetics from two of the world's cannabis meccas: Amsterdam, and the West Coast of the US. Our breeders blended Blueberry and Northern Light—legendary names in the weed scene—with the intent to birth an indica-dominant cultivar loaded with flavour.
IMPRESSIVE FAMILY TREE: GENETIC ANALYSIS OF BLUE MYSTIC
In order to forge an indica specimen unparalleled in its stoning body high and fruity tastes, it was only natural that we selected one of the most sumptuous strains of all time.
Blueberry is an award-winning veteran known for her striking, sweet taste. She's pleased the palates of many, but she's known for much more than her flavour. Blueberry is a deeply stoning cultivar that boasts a high THC content. A couple of tokes is all it takes before a wave of sedation takes hold, leaving users glued to their seats. This soothing, all-encompassing effect helped her emerge victorious at the 2000 High Times Cannabis Cup, topping the leaderboards in the Best Indica and Best Overall Strain categories.
Blueberry was crafted by the so-called "Willy Wonka of pot"—pioneering West Coast breeder DJ Short—during the 1970s. He harnessed exotic landrace and hybrid varieties from Thailand and Afghanistan to fabricate this explosion of flavour.
The breeders at RQS figured the only way to improve upon these genetics was to merge them with something equally as stoning. Blueberry's effects are already intense, and only the likes of Northern Light could enhance them.
Northern Light is a quintessential classic. This pure indica variety has been well and truly stoning smokers for decades. She is known for her bulbous, resinous flowers that, once lit, make for a hard-hitting and long-lasting body stone. Northern Light's exact genetic lineage remains a mystery, although she's thought to descend from Afghan and Thai landraces as well.
A STONING AFTERNOON DELIGHT: EFFECTS OF BLUE MYSTIC
The combination of these two classics created a high-THC titan capable of diffusing even the most stressful of days. An 80% indica genetic profile and a THC level of 18% make for a blissful experience. Shortly after inhalation, users will feel their eyelids begin to droop as a wave of relaxation breaks across the body.
Blue Mystic releases tension from the muscles and kindles the appetite. Brace yourself for a case of the munchies so severe that even the fullest of fridges will look semi-bare.
Physical effects aside, Blue Mystic also imparts some interesting effects on the mind. It doesn't take much—a few tokes from a blunt or a single bong bowl—to feel a creeping euphoria set in. This substantial elevation in mood induces a frenzy of creativity that is markedly performance-enhancing for artists, musicians, and writers.
Overall, Blue Mystic is an ideal strain for lazy afternoons and evenings spent in solitude. Her high brings time to a standstill and allows for moments of reflection. If you have a hammock, string it up, because it's time to zone out therapeutically.
Her flowers also produce a medium level of CBD, adding to the "entourage effect" potential of this strain.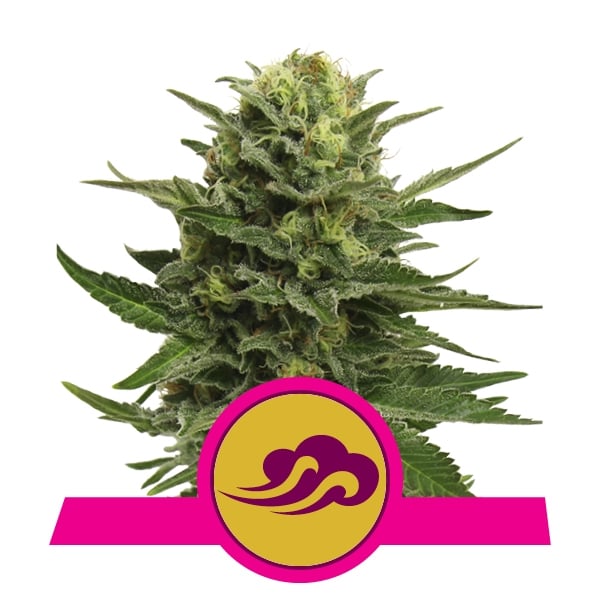 ç
Blue Mystic
Blueberry x Northern Light
375 - 425 g/m2
60 - 100 cm
8 - 9 weeks
THC: 18% (aprox.) / CBD: Medium
| | |
| --- | --- |
| | 20% Sativa, 80% Indica |
| | 400 - 450 g/per plant (dried) |
| | 180 - 220 cm |
| | October |
| | Stoned |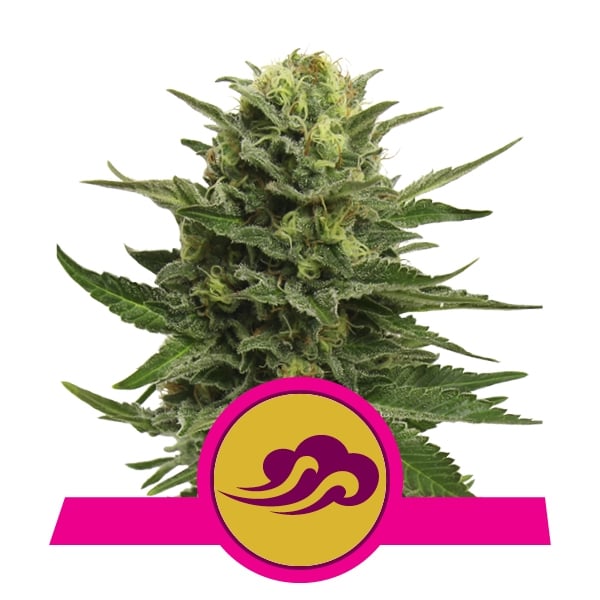 | | |
| --- | --- |
| | Blueberry x Northern Light |
| | 375 - 425 g/m2 |
| | 60 - 100 cm |
| | 8 - 9 weeks |
| | THC: 18% (aprox.) / CBD: Medium |
| | |
| --- | --- |
| | 20% Sativa, 80% Indica |
| | 400 - 450 g/per plant (dried) |
| | 180 - 220 cm |
| | October |
| | Stoned |
A PLATTER OF WILD BERRIES: FLAVOUR OF BLUE MYSTIC
Blueberry is debatably one of the best-tasting cultivars available. Blue Mystic inherited her tantalising terpene profile—a cocktail of caryophyllene, humulene, and myrcene.
Caryophyllene is a sesquiterpene that provides notes of spice and pepper. The molecule is also known for its anti-inflammatory and analgesic potential.
Humulene generates earthy, musky, and spicy flavours. The molecule is detectable in the signature flavours of hops, sage, and ginger.
Myrcene offers tastes of fruits, earth, and cloves. This terpene is also thought to enhance the effects of cannabinoids like THC via a synergistic effect.
Together, this triad of tasty terpenes forms a rich, fruity taste. Flavours of wild blueberry and flowers stand out in the blend.
FAT BUDS THAT ARE FAST TO BLOOM: GROWING BLUE MYSTIC
Blue Mystic tolerates indoor and outdoor environments well, and performs best in a mild climate. She produces tall, tapered colas rife with trichomes and spiky sugar leaves. For a photoperiod strain, Blue Mystic boasts a rapid flowering time. This trait makes her ideal for impatient growers or those living in regions with short summers.
Indoor plants yield between 375–425g/m² and maintain easily manageable heights of 60–100cm. Plants cultivated outdoors provide up to 450g/plant and climb to greater heights of 180–220cm. Blue Mystic features a flowering time of 8–9 weeks, with outdoor plants ready to harvest during October.