6 TikTok Accounts to Watch When High
TikTok? Isn't that the app filled with cringe dancing videos? Well, yes, but there's a bit more to it than that. With over 1 billion annual users, TikTok has something for everyone. Here, we're going to walk you through six of the best TikTok accounts to watch while stoned. Your red eyes are about to widen in amazement.
By
---
---
Many social media platforms lead us down scroll holes. One minute you're sat on the toilet, doing your business, and the next, you find yourself waking up from a thirty-minute trance of prank videos in the depths of TikTok. This more recent social app harnesses the power of an AI algorithm to show you exactly what you want to see.
Sure, this catchiness has obvious downsides, but it provides stellar entertainment after a fat joint or packed bowl. The short and snappy videos make for frequent dopamine hits that are all the more pleasurable while stoned. Below, we're going to show you six of the best TikTokers to check out while high.
However, we need to give you a heads up. Don't expect to find much cannabis content over there. TikTok has a particularly stringent cannabis policy; the mere sight of buds or smoke is enough to get a video pulled. However, some great cannabis-related TikTokers are allowed on the platform, and we mention a couple below, alongside a list of insanely entertaining and jaw-dropping content. Enjoy!
Cheech and Chong
Why not take a trip down nostalgia avenue with Cheech and Chong? Chances are you laid eyes on their films before you even smoked weed! You won't find the duo hitting bongs or rolling blunts, thanks to TikTok's anti-weed policy, but you'll still enjoy watching them reflect on years gone by, hang with B-Real, and generally goof around. Roll a couple of joints, find a cosy spot, and spend some time scrolling through their account that entertains over six million followers.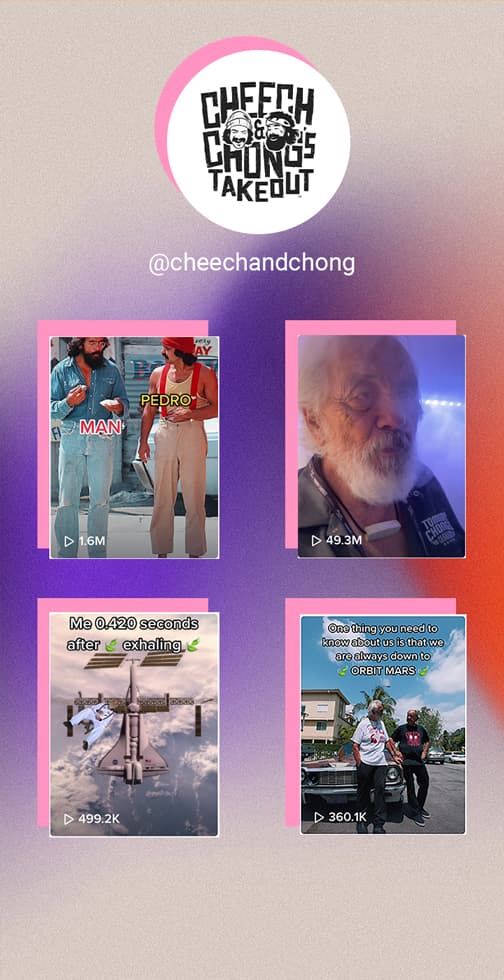 Tardibabe
Are you ready to have your mind blown by this TikToker? You might not think about it often, but we're constantly surrounded by countless microorganisms. Some of them live in the environment around us, and others in our guts and on our skin! Tardibabe does a superb job of exposing these little critters and allowing us to see them up close and personal. Watch micro-animals known as tardigrades move around, gaze upon single-celled organisms swimming through the microverse, and check out what microbes are living in your bathroom sink.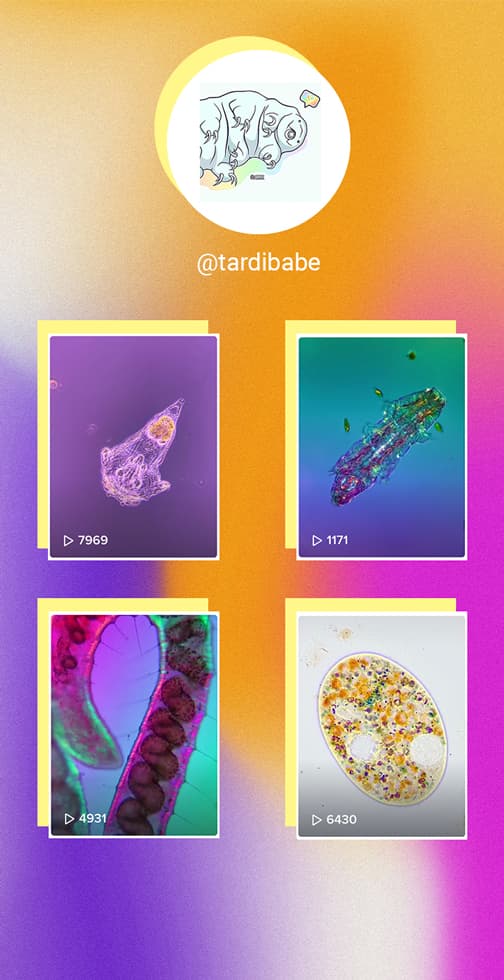 Unseen Wonders
We've peered into the microverse, now let's zoom out and soak in the macro. Cannabis adds an element of awe to everything, from music and food to landscape views. While nothing beats physically travelling while high, soaking in some of the best views our world has to offer from the comfort of your couch certainly makes for a good alternative. Unseen Wonders will blow your stoned mind over and over again with popular bucket list experiences, places you likely haven't heard of, and locations that barely seem real. Sit back, live vicariously for a moment, and find some inspiration for your next adventure.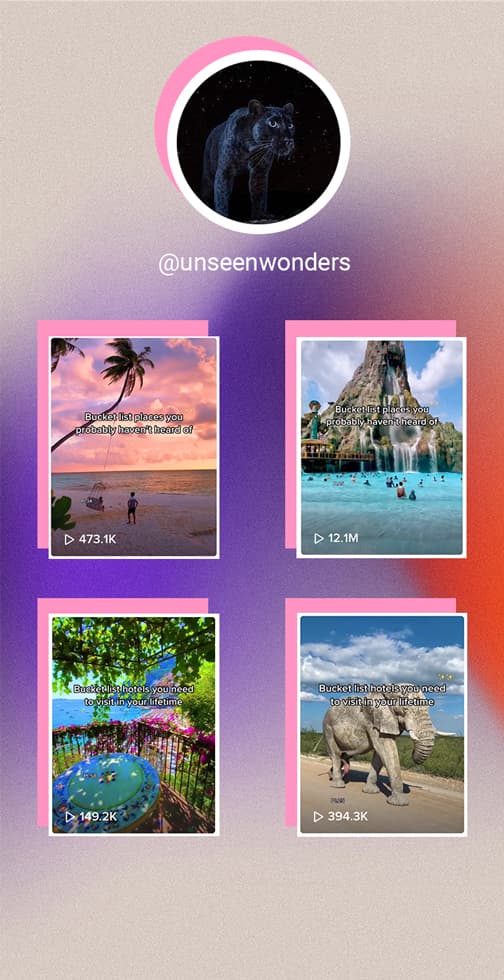 Codi Peterson (Cannapharmd)
If you've just blazed an energising cultivar, you're likely in the mood to use your brain and learn something. If that's the case, why not level up your cannabis knowledge with Codi Peterson? As a paediatric pharmacist with a Master of Science degree specialising in medical cannabis, Codi knows a thing or two about weed, the endocannabinoid system, and human health. His short and concise videos break down big topics, such as cannabinoids and terpenes, into neat packages of information made easy to understand by colourful visuals. Listen to Codi talk about edibles, THC metabolism, decarboxylation, and much more.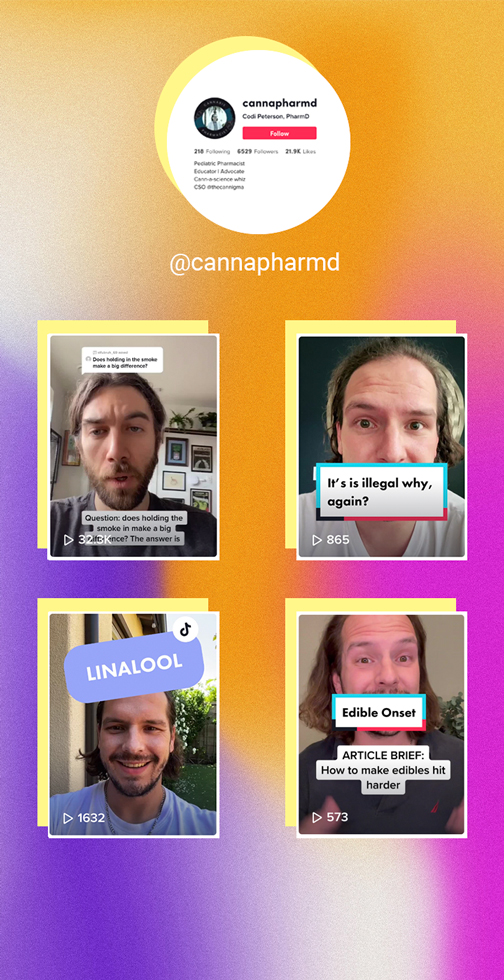 MycoLyco
You need to take another hit before this one; you're about to watch MycoLyco make plants and mushrooms sing. Both of these kingdoms of life seem primitive to the naked eye, but there's certainly a lot more going on beneath the surface. This TikTok user helps to shine a light on the hidden complexity of plants and fungi using synthesisers that detect biological pulses. After running the signals through modifiers, he creates videos that put the alien-like sounds produced by these life forms on full display. Watch cordyceps mushrooms scream and reishi mushrooms produce trippy frequencies.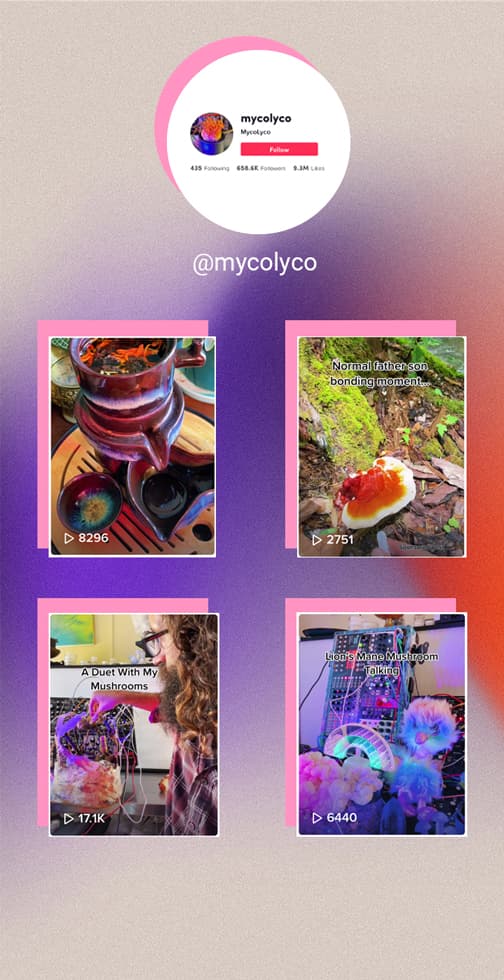 Mezerg
Have you ever heard the sound a theremin makes? You're about to. These futuristic instruments consist of two antennas; one controls pitch while the other influences volume. Both antennas possess an electromagnetic field. The hands of a skilled musician are able to move in such a way that generates sweet, sweet music. Mezerg has managed to master the theremin, and his wizardry will blow your cannabinoid-influenced mind. He's produced many masterpieces, but nothing quite compares to this groovy jam with his drummer by his side.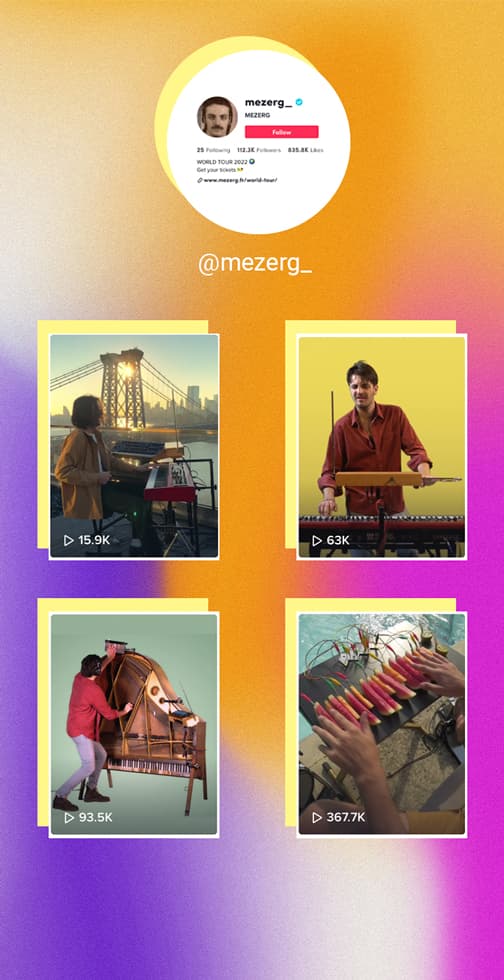 Are You Ready to Embrace the Scroll Hole?
Are you stoned out of your mind with nothing else to do? Then why not embrace the scroll hole for a while? Despite the obvious downsides of social media and AI-driven dopamine loops, TikTok certainly provides some incredible entertainment when the time is right. Where else can you watch mushrooms sing, humans make music using energy fields, and pharmacists wax scientifically about cannabis all in the same place?