RQS Takes Home Best Seed Bank At Indicasativa Trade Fair
RQS is humbled to attend the vast array of trade fairs, conferences, and B2B events that happen across Europe. Each one represents a step forward for the European cannabis industry, but one in particular is fighting exclusively for the rights of the Italian cannabis community. Continue reading to find out what Indicasativa trade fair is all about.
By
---
WHAT IS THE INDICASATIVA TRADE FAIR?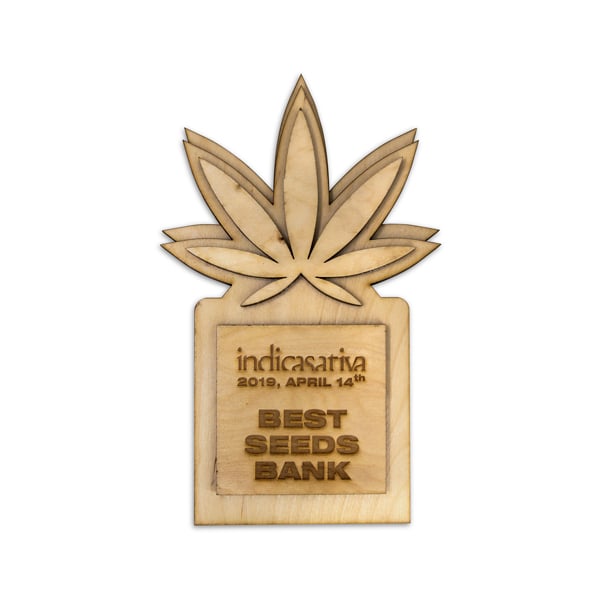 Set in the picturesque city of Bologna, the Indicasativa trade fair is an international event devoted to all things cannabis. The three-day event represents the ongoing fight for legalization of marijuana in Italy. Although medical and industrial use is permitted in the country, cultivation of cannabis for personal use is met with strict penalties. By hosting an event on Italian soil, and celebrating every facet of cannabis cultivation, the dedicated community is putting their quest for legalization directly under the spotlight.
Aside from the political motivations behind Indicasativa, the trade fair allows people from all over Europe to come together and celebrate the possibilities cannabis can offer. Indicasativa was jam-packed with events, live music, educational talks and award ceremonies.
RQS WINS ITS SECOND AWARD OF 2019
They say good things come to those who wait, but at RQS, we like to think that good things come to those who work hard every day to provide a premium quality product. That means a total devotion to the best cannabis genetics the industry has to offer, and a collection of the internet's most comprehensive growing advice via our regular blog posts. Having customers come back time and time again is an indication that what we're doing is working, but at international events, we get the chance to be recognised by like-minded industry experts.
The Indicasativa trade fair was one such opportunity as Royal Queen Seeds took home the "Best Seed Bank" award. Up against some of the biggest names in Europe, this marks a significant milestone. To make the award doubly sweet, this is the second time this year that RQS has been recognised as an outstanding seed bank. Only a few weeks earlier, we took home "Best Seed Bank" at Spannabis in Barcelona. Both are a sign of good things to come in 2019, and show that hard work, every day, pays dividends.

AWARD CEREMONIES WEREN'T THE ONLY ACTIVITIES TAKING PLACE
For the thousands of people who attended, award ceremonies were not the only thing on the agenda. Over 200 exhibitors offered edibles, seeds, cooking lessons, workshops, cannabis-related goods, and of course, plenty of entertainment. There were also several seminars and talks taking place, mainly around how the Italian cannabis industry can move forward in both medical and recreational markets. To see everything the Indicasativa trade fair had to offer, be sure to check out their website and Facebook page for some fantastic videos that highlight the diversity of the event.
INDICASATIVA REPRESENTS SOMETHING MUCH BIGGER THAN JUST A TRADE FAIR
As we have already mentioned, this particular trade fair is of enormous significance to the Italian community. The legal situation surrounding cannabis in Italy is a confusing one, and there is still a considerable stigma attached to its use. Despite the advancements made in research regarding the medicinal and social impact of cannabis, severe penalties await those who grow the plant for personal use.
As more nations wake up to the positive impact cannabis can have, it is events like the Indicasativa trade fair that are needed to convince those entrenched in views of days past. Thankfully, medical cannabis is available via a prescription from a doctor, although the lack of a local supply means patients have to pay a premium for any cannabis treatments. With events like Indicasativa growing in attendees every year, pressure continues to grow for the Italian government to take note of the issue. RQS is incredibly proud to have not only won an award, but to have been a part of this landmark event.