Are Weed Seeds Legal in the United States?
If you live in the United States and plan on growing weed, you're probably wondering if you're even legally able to buy seeds. While the federal government doesn't mind, state laws range from liberal to tyrannical. Find out everything you need to know about buying weed seeds in the US below.
By
---
If you're planning on growing cannabis in the US, it's important to understand the laws of your region. Regulations for cannabis cultivation can vary between federal and state governments, leading to differences in its legal status. Even though, in many cases, individuals are permitted to grow cannabis even for recreational purposes.
But what about the possession of cannabis seeds? We're going to clear things up for you.
If you're worried about simply possessing cannabis seeds in the US, we have good news for you. The Drug Enforcement Agency (DEA)—the wing of the federal government tasked with scheduling illicit substances—confirmed[1] that cannabis seeds have the green light back in 2022. For growers in the United States, that means that purchasing, possessing, and collecting cannabis seeds counts as a legal action in the eyes of Washington DC.
---
Federal Laws Regarding Buying Weed Seeds
Is it illegal to buy cannabis seeds in the United States? Let's assess the federal situation first. Unless you're experiencing transient short-term memory impairment from all the THC in your system, you'll remember the news we gave you seconds ago. Let's dissect this a bit more. The DEA views all cannabis plants that aren't classified as hemp (those with a THC content of over 0.3%) as not allowed drugs that deserve prosecution. However, cannabis plants only start to produce meaningful levels of THC in the flowering period. So what about weed seeds?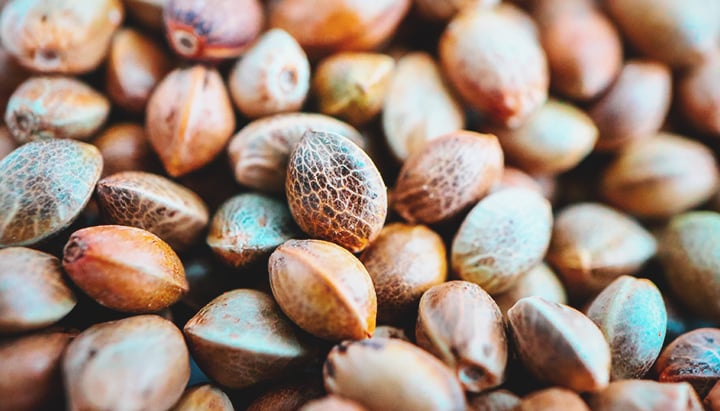 Prior to germination (the emergence of a taproot from a seed casing), cannabis seeds contain no THC; they lack the anatomical and physiological components required to create the precursor to the molecule—THCA. This means that weed seeds autumn outside of the Controlled Substances Act (CSA). Simply put, they're not viewed as banned substances in the eyes of the DEA. However, this quickly changes following attempts to germinate and grow them out. The DEA specifically states that all seeds, tissue culture, and plant material with a THC content of less than 0.3% autumn clear of the CSA. As soon as your plant starts to pack on size and produce enough THC, it crosses this threshold and enters murky territory.
State-by-State Laws Regarding Cannabis Seeds
The United States operates quite differently from many of its Western counterparts. While the federal government has authority over matters that affect the entire nation, individual state governments are largely left to run their own territories. However, federal and state laws sometimes clash, leading to confusion and legal loopholes. For example, in some occasions, boots of DEA officers have kicked down the doors of cannabis dispensaries operating in legal states. There remains a dichotomy when it comes to cannabis, but what about weed seeds?
Some state laws diverge from the federal view of cannabis seeds. Thankfully, a long list of states have legalized cannabis cultivation; some for medical use only, and others for recreational use. These territories include Alaska, Nevada, Oklahoma, Oregon, Vermont, New York, Montana, Washington, Rhode Island, Virginia, and 14 other states.
If you live in a state that views cannabis cultivation is not allowed, as a grower, it's your responsibility to read up on state laws and to review the risks involved to avoid getting bothered for ordering seeds.
How To Get Weed Seeds In The US
There are a wide range of seed banks in the United States and several generations of heritage breeders that have carried the torch throughout prohibition to create some truly exceptional varieties. Royal Queen Seeds brings the latest trends from the US and the timeless classics from Europe to growers in the country. With access to some of the best genetics available, growers can elevate their cannabis cultivation to new heights.
We offer a huge range of weed seeds, from small and speedy autos to reliable feminized strains, regular varieties ideal for breeding, high-CBD cultivars perfect for keeping your head clear and the latest F1 Hybrid game changers.
At Royal Queen Seeds, we pride ourselves on our quick and transparent shipping. Depending on your state, you can expect your order to arrive within 4-9 working days. We ship to all states in the US, with the exception of Kansas and Kentucky.


Growing Cannabis From Seeds in the United States
Once you find your perfect strain from the RQS catalogue (you can use our Seedfinder to make the process as smooth as butter), you'll want nothing more than to get seeds in the soil and await some frosty buds. While your seeds are germinating, there are a few things you should consider to vastly improve the odds of success. Check them out below:
Where to grow: First, you need to decide if you want to grow indoors, outdoors, or in a greenhouse. Grow indoors if you desire superior stealth and control over environmental variables, but remember that you'll need to pay for lights and electricity. Plants grown outdoors have more space to grow and cost less to manage, but you'll need an exposed spot that receives 8 hours of direct sunlight each day.
The climate can vary greatly depending on your location, but you don't have to worry. Our detailed guides on the specific climate of your US region have got you covered. RQS outdoor guides provide essential information and practical tips to help you grow your crops successfully. Consult our guides to achieve optimal growth and a successful harvest
Equipment: Indoors, you'll benefit from investing in the best lights you can afford, smart pots or fabric pots, and fans. Outdoors, you can't go wrong with a large watering can, a hoe and shovel, and a polytunnel if it lands within your budget.
Fertility and feeding: We recommend using organic nutrients wherever possible. They increase soil fertility over time by sustaining key microbial life. Start a worm bin, begin composting all of your kitchen waste, and learn to master the art of mulching.
Harvesting: When it comes to harvesting your precious buds, you'll need a sharp pair of trimming scissors to cut the sugar leaves away from your buds. Plus, you'll benefit from a large working space and a tray to collect your trim.
Drying and curing: After harvesting, you'll need to start the process of using a Herb Dryer. Next, load your buds into some curing jars and inset some Moisture Fighters to keep your weed safe from mould.

Cannabis Seeds Are Edging Closer to Liberation
The DEA's decision to give cannabis seeds the all-clear paints a rather optimistic picture. Although certain state laws prevent growers from growing weed seeds, residents in over half of the states have the freedom to buy seeds and grow the herb. Things are changing, not just in the US, but across the world.
External Resources:
DEA Confirms that Cannabis Seeds, Tissue Culture, and Other Genetic Material Are Not Necessarily Controlled under the CSA » Law Offices of Omar Figueroa

https://www.omarfigueroa.com