AMG (Amnesia Mac Ganja): Fuel Your Brain
AMG was carefully crafted to produce a sativa high that shocks the system. Start your day with AMG and a cup of coffee to ensure you tick all of your goals off that list!
By
---
AMG (Amnesia Mac Ganja) is a sativa-dominant lady that ramps up cerebral activity with her high THC content. She has successfully dominated the competition scene for several years in a row, wowing judges with her electric effects and sensational flavours. Say what you will, but her achievements speak for themselves!
AMG: GENETIC BACKGROUND
AMG is a sativa-dominant cultivar featuring 80% sativa and 20% indica genetics. A legendary breeder by the name of "The Ganja Man" worked hard to craft this variety. With the desire to deliver an ideal daytime smoke, this wizard of propagation merged two powerful sativas: Amnesia and Mexican Haze.
Amnesia is a devilishly strong sativa strain that first appeared during the mid-90s. Before long, the strain was known all over the world for her sweet tastes and euphoric effects. Her THC content of 25% and high productivity were inherited from parent strains Neville's Haze and Enemy Of The State.
The Ganja Man decided to use Mexican Haze genetics to infuse his creation with even more sativa genetics. This old-school cultivar produces tall colas, enormous amounts of THC, and a spicy terpene profile.
After crossing both strains and stabilising the progeny, the legendary breeder unleashed AMG unto the world! She provides a long-lasting high that keeps the mind clear and awake.
• AMG is an 80% sativa-dominant cross between Amnesia and Mexican Haze.
EFFECTS OF AMG
AMG—in true sativa fashion—turns on the light switch of the mind. You'll notice a change in your thinking pattern within minutes of hitting a bong or smoking a joint. The brain breaks out of cycles of rumination and into a space of free thought. Creative ideas run wild, and you'll be able to approach problems and worries from an entirely new angle. AMG makes a perfect smoke when there's something on your mind. Spark a fat joint with a close friend and get to work figuring it out! If you're not in the mood for pondering, she's also a fantastic strain when working long hours. Her motivating high will enable you to keep focused for long periods of time. Just put on some headphones, and the most mundane of tasks will become an enjoyable chore!
Her bright and lively high also has therapeutic value. It can temporarily snap the mind out of depressive moods and states of anxiety. She's also effective at easing aches and pains and boosting the appetite.
• AMG offers an upbeat, motivating, and mood-boosting effect enjoyed by both recreational and medicinal users.
FLAVOURS AND AROMAS OF AMG
During the flowering phase, AMG emanates waves of fruity zest and spice. When she's ready to smoke, her terpenes light up the taste buds with citrus, earthiness, spices, and fruit, courtesy of her proud parent strains. High levels of limonene dominate her terpene profile. The molecule contributes to tastes of citrus and anxiolytic effects.
• AMG boasts a spicy and fruity flavour and aroma.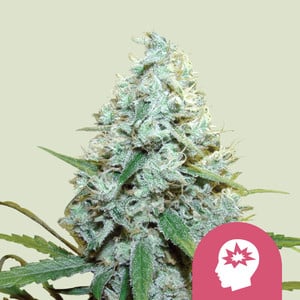 | | |
| --- | --- |
| | Amnesia x Mexican Haze |
| | 450 - 500 gr/m2 |
| | 80 - 120 cm |
| | 10 - 11 weeks |
| | THC: 22% |
| | |
| --- | --- |
| | Sativa 80% Indica 20% |
| | 550 - 600 gr/plant |
| | 140 - 200 cm |
| | October |
| | Balanced, Clear, Stoned |
AMG GROWING TRAITS
AMG's sativa genetics come to the fore in her morphology. She produces thin-fingered fan leaves and tall colas. Her buds house manifold trichomes and taper from a broad base into a narrow point. Yellow-brown leaves form a nest for her frosty flowers. AMG grows well both indoors and outdoors and produces rewarding outcomes in both environments. Indoor plants peak at a height of 120cm and yield 450–500g/m². You'll have access to these resinous flowers after a flowering time of 10–11 weeks. Plants grown outdoors reach a taller height of 2m and produce a substantial return of 600g/plant. Sharpen your trimmers for harvest time during October.
• AMG grows like a typical sativa.
• She has a lengthy flowering phase of 10–11 weeks.
ONE FOR THE DAYTIME SMOKERS
If you use cannabis throughout the day, you need to grow AMG. She's a strain designed for active sativa lovers who spend their days staying physically and mentally active. Use these energetic flowers to get your day started, and blaze them again whenever you need a pick-me-up. If you want to take things a step further, infuse her tasty terpenes into edibles for an even more intense experience!