Solomatic CBD Medical Cannabis Seeds
Cannabis often provides profound moments of insight. However, sometimes the effects of THC distract and divert. Solomatic CBD offers huge amounts of cannabidiol alongside almost no THC, allowing users to pursue creative thoughts and cognitive tasks completely unimpeded. Enjoy these effects alongside refreshing flavours of fruit and pine.
By
---
Increasing demand for CBD-rich strains continues to drive breeders to achieve new heights. Our team at Royal Queen Seeds are proud to have created a strain that boasts one of the highest CBD levels on the market. Solomatic CBD produces resin that contains 21% of the sought-after cannabinoid, alongside almost non-existent levels of THC (1%). This cultivar exerts a clear-headed and grounding effect. Find out everything you need to know about this exciting variety below.
Solomatic CBD: a Look at Her Genetics
Solomatic CBD attributes her enormous cannabidiol levels to parent strains with similar genetics. In order to maximise CBD production, our breeders selected not one, but two parents rich in this cannabinoid. They crossed Asia CBD Autoflowering and Diesel CBD over several generations, before developing a stable and reliable progeny.
Diesel CBD brought large harvests and substantial size into the equation, whereas Asia CBD Autoflowering speeded up the growing cycle and made Solomatic easy to grow for beginners and veteran cultivators alike. Solomatic CBD inherited the best traits from each variety, resulting in a speedy autoflowering strain with sky-high CBD levels and a complex terpene profile. Overall, her genetic profile features 70% indica, 20% sativa, and 10% ruderalis genetics.
Growing Solomatic CBD — Speed and Productiveness
Solomatic CBD brings numerous advantages to the table when it comes to cultivation, all of which stem from her cannabis ruderalis lineage. The inclusion of these genetics gifted the cultivar with the autoflowering trait, allowing her to course through the entire growing cycle in a matter of weeks.
Growers should expect to see flowers start to emerge around four weeks after germination, and prepare to harvest mature buds four weeks after that. Her impressive brevity appeals to growers dealing with limited space, and those that value stealth and privacy. Growers can easily cultivate a single Solomatic CBD plant in a small converted cupboard or box, and she'll happily fend for herself out in a covert guerrilla growing location.
Indoor growers can expect plants to reach anywhere between 50 -100 cm. If space allows, Solomatic CBD will produce a large central cola if left unchecked, along with a canopy full of smaller flowers. Leaving her to her own devices, she still produces fantastic yields and makes things much easier for total beginners.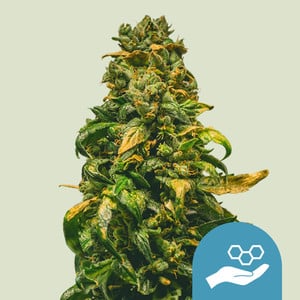 | | |
| --- | --- |
| | Diesel CBD x Asia CBD Auto |
| | 150 - 200 gr/m2 |
| | 50 - 100 cm |
| | 7 - 8 weeks |
| | THC: 1% |
| | |
| --- | --- |
| | Sativa 20% 70% Indica 10% Ruderalis |
| | 30 - 80 gr/plant |
| | 60 - 100 cm |
| | 10 – 11 weeks after sprouting |
| | Clear, Light |
Cultivators with some experience can utilise LST to keep Solomatic CBD at the shorter end of the spectrum, while still achieving great yields. Plants produce between 150 - 200g/m². The combination of moderately powerful LED lights, organic nutrients, and a regular watering schedule will help growers max out on yields. The strain will provide a canopy of mature flowers 10–11 weeks after germination. This pace also makes her extremely attractive to both stealth and commercial growers.
When grown outdoors, Solomatic CBD reaches slightly taller heights of 60–100cm. She grows well sowed directly into garden beds and containers, although she favours a mild climate and will reach her true potential in a greenhouse or a polytunnel. Regardless of where you choose to grow her, be sure to sow companion plants in close proximity to aid her throughout the growing cycle. Species such as marigold and peppermint help repel troublesome pests, whereas lavender and lemon balm help to draw in beneficial insects and boost biodiversity.
Expect yields of 150–200g per plant from outdoor plants. Because this strain remains relatively small compared to large photoperiod varieties, growers can cultivate multiple strains in a single garden bed and rake in substantial yields at the end of the growing season.
The Effects and the Complex Terpene Profile of Solomatic CBD
Solomatic CBD offers the clarity and peace of mind of a typical high, only without the side effects of THC. Her calming properties help increase focus and tame the nerves, making her an ideal smoke before meetings, presentations, and long days of mentally taxing work. Many users also opt to blaze these flowers when pursuing creative projects, to catalyse a crystal clear thought process without the distracting elements that THC sometimes brings.
These flowers produce a complex phytochemical cocktail, and each molecule contributes to the overall experience. CBD plays the primary role in the mix and makes up 21% of the chemical profile. Next in line, a broad spectrum of aromatic terpenes contribute dynamic flavours and aromas of pine, ginger, citrus, fruits, and sweetness. These molecules synergise with CBD to deliver the characteristic effects of this strain. Finally, THC makes up the tail end of the cocktail, with only 0–1% of the cannabinoid present. This quantity plays a subtle, sub-threshold effect.
Solomatic CBD: A Superb Source of CBD
Solomatic CBD offers some of the highest levels of CBD on the market. The strain delivers a warm and grounding effect while allowing the mind to remain clear and fully functional. Each plant provides a significant yield in a minimal amount of time without much effort at all. She's ideal for beginner growers and cultivators in search of an excellent source of cannabidiol.