Painkiller XL
The plethora of cannabis strains out there offer different types of experience. Some strains catapult the mind into the cosmos, whereas others help keep the feet firmly on the ground. Painkiller XL autumns into the latter category. This soothing variety utilises enough THC to induce an uplifting high, and enough CBD to keep the mind thinking clearly.
By
---
Painkiller XL features a finely tuned phytochemical profile designed to interface with the endocannabinoid system in a multifaceted manner. Equal quantities of THC and CBD produce a euphoric psychoactive effect, while allowing the mind to remain clear and functional. Whether smoked first thing in the morning or last thing at night, Painkiller XL delivers an ample dose of comfort and inspiration.
Painkiller XL: A History Stemming from Juanita la Lagrimosa
Painkiller XL descends from a lineage of legendary CBD genetics—the breeders at RQS selected Juanita la Lagrimosa as one of the parent strains in order to ensure a CBD-rich background. This strain underpins many of the famous CBD varieties on the market today and helped the cannabinoid proliferate across cannabis culture.
Our experts doubled down on these cannabidiol-rich genetics. They decided to cross the famed variety with Respect 13—the progeny of Juanita la Lagrimosa and Cannalope Haze. As a sativa-dominant, award-winning cultivar, the latter introduced an exciting energetic high and a fruity terpene profile to the mix. After crossing, stabilising, and perfecting this genetic pairing, our breeders established Painkiller XL as a reliable strain consisting of 75% sativa and 25% indica genetics.
Growing Painkiller XL
Painkiller XL rewards growers with satisfying results in a variety of environments. Although she thrives in a mild climate, her adaptable traits enable cultivators to obtain generous harvests also in cooler outdoor settings.
Despite maintaining a small stature throughout the entire growing cycle, indoor plants still pump out large quantities of flowers. Plants grow no taller than 100cm, and techniques such as LST and mainlining will keep them at lower heights of 60cm. Growers looking to keep their botanical activities private value Painkiller XL for this reason. After a flowering time of 8–9 weeks, she'll provide a yield of 500–550g/m².
Outdoor plants do well in both containers and raised beds. Plants placed in small pots will peak at a height of 120cm, whereas those grown in larger containers will spread their roots and climb to 150cm. With access to plenty of sun throughout the day, Painkiller XL will put out up to 550g per plant, ready in late September. Be sure to sow protective companion plants, such as basil and lavender, early in the season to keep bothersome insect species at bay.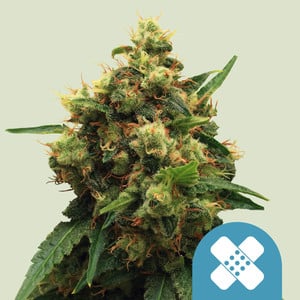 | | |
| --- | --- |
| | Respect 13 x Juanita la Lagrimosa |
| | 500 - 550 gr/m2 |
| | 60 - 100 cm |
| | 8 - 9 weeks |
| | THC: 9% |
| | |
| --- | --- |
| | Sativa 75% Indica 25% |
| | 500 - 550 gr/plant |
| | 120 - 150 cm |
| | Late September |
| | Clear, Physically Relaxing |
Effects and Flavours of Painkiller XL
Peace of mind. Euphoria. Clarity. These states best describe the effects of Painkiller XL. With a CBD:THC ratio of 1:1, this strain provides a perfectly balanced high that places the mind in the present moment and puts ruminating thoughts to rest. Her flowers produce roughly 9% of each cannabinoid, enough to fuel transient moments of enhanced creativity, while keeping the user grounded and functional.
Painkiller XL makes for an excellent smoke throughout the day and allows you to remain energised and focussed. Pour a fresh cup of coffee every time you pause for a smoke session to amplify her cerebral effects.
Outside of work and creative endeavours, Painkiller XL also works well during physical activity. Her sativa dominance sharpens the mind and helps you to loosen up and enjoy every moment while out on the trail. Plus, her balanced cannabinoid profile helps to hone in that mind-muscle connection when inhaled right before a gym session.
Her small yet dense flowers develop impressive amounts of trichomes. These crystalline structures also pump out high levels of terpenes that contribute flavours of citrus and diesel to each hit.
Cannabinoid Balance for Concentration and Clarity
The phytochemical equilibrium within these buds launches the mind into a state of functionality and focus. While users need to carefully consider when to smoke certain strains, Painkiller XL remains fair game all day long—she'll only help to enhance whatever activity you're currently immersed in.