How A Continuous Flow Hydroponic System Can Help You Grow Better Cannabis
A continuous flow hydroponic system cycles nutrient-enriched water around your plants' roots. These systems recycle and reuse the same water, thus making them more efficient and less wasteful when compared to traditional growing methods.
By
---
Hydroponics is the preferred growing method for many cannabis cultivators. And it's not hard to see why. When compared to soil, hydroponic media tend to produce better results while using fewer resources. Moreover, hydroponic systems typically require less sustained effort and time commitment on behalf of the grower.
For their part, continuous flow hydroponic systems utilise a constant flow of nutrient-rich water to grow plants. While more complex, these systems typically produce better results than other hydro systems that simply use stagnant water reservoirs.
WHY HYDROPONICS?
While growing your cannabis hydroponically may be a bit more difficult in some respects, it can certainly be rewarding. If grown correctly, hydro plants typically produce higher yields than those grown in soil.
Moreover, fewer resources are required to grow hydroponic plants successfully. This is because hydroponic systems deliver nutrients to your plants much more efficiently than soil. As such, you should expect your plants to not only grow faster, but also bigger. The streamlined nutrient delivery of hydro setups is usually expected to result in 20–30% higher yield come harvest.
Hydroponic systems tend to reuse resources as well. By using the same water over and over, they will cut down on the amount needed over the lifetime of the plant. Additionally, hydroponic growing is much more efficient. By just regularly checking lighting, ventilation, water, pH, and nutrient levels, you can ensure your plants will keep growing with minimal fuss.
HYDROPONIC SYSTEMS
NFT
DWC
EBB & FLOW
CONTINUOUS WATER FLOW
X
NOT CONTINUOUS WATER FLOW
X
X
ROOTS SUBMERGED
X
X
X
ROOTS MISTED
KEY
Lowest maintenance
Cost effective
Largest yield
Additionally, hydroponic systems tend to do a better job of protecting plants from threats such as pests and diseases. This is because hydro systems are sealed, closed off, and less susceptible to invading threats. Cannabis is especially known for its sensitivity to impurities in the soil. As such, growing cannabis hydroponically can be a much more reliable and less frustrating experience than growing in soil.
WHAT IS A CONTINUOUS FLOW HYDROPONIC SYSTEM?
A continuous flow hydroponic system is just that—a hydroponic system that utilises a continuous flow of water and nutrients to grow plants. The never-ending stream of water flows around the root systems of the plants, allowing them to absorb what they need from it.
However, the way that water is managed and recycled, and the rate at which it happens, tends to differ from system to system. For instance, some systems save space by using one large water reservoir for numerous plants. The larger the reservoir is, the easier it is to manage temperature, nutrients, and pH levels. Moreover, the fewer reservoirs you use, the easier the whole process becomes.
As opposed to a hydroponic flood and drain system (ebb and flow), the water used in a continuous flow system is constantly flowing and being recycled, not drained all at once. This is the basic difference between continuous flow systems and other kinds of hydroponics.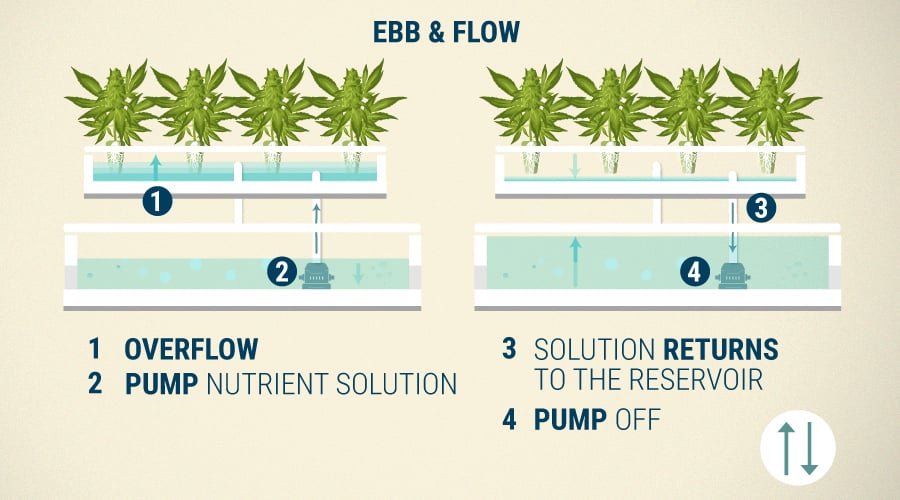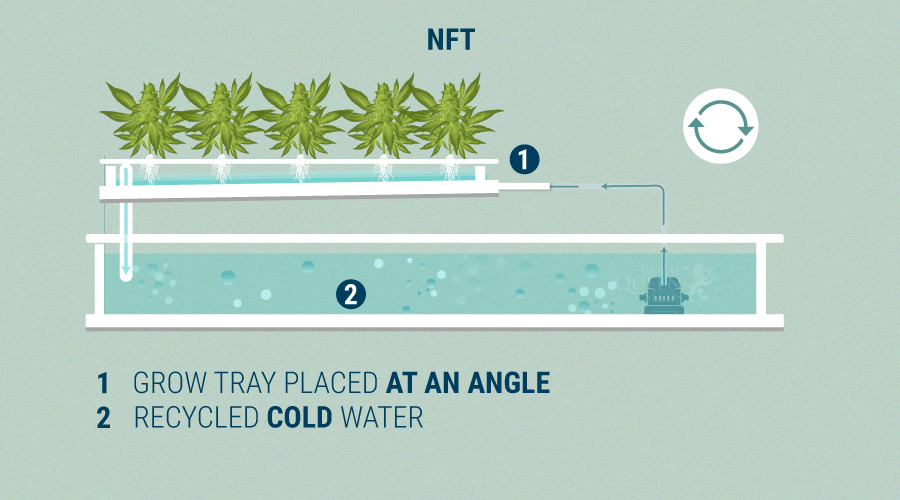 WHAT IS THE NUTRIENT FILM TECHNIQUE?
The nutrient film technique (NFT) is a hydroponic method that's considered to be a derivative of other continuous flow systems, and many growers believe it is the best one.
The NFT system relies on a low flow of water that is constantly being recycled into a hydroponic reservoir. The nutrient-enriched water is circulated around the root systems of the plants; however, the roots are only partially suspended in the solution. Only the tips of the roots are submerged in water, allowing them to feed. The majority of the root system is suspended in the air, giving it access to the oxygen the plant needs for growth. In other hydroponic systems, this effect can be achieved through the use of an air stone or an air pump.
The same design is typically applied to all NFT systems. It is usually recommended that your system features a slope at a ratio of between 1:30 and 1:40. Keeping the system tilted will make sure the water has a flow pattern, and will prevent nutrient film from getting clogged up in depressed areas of the system. The slope can be provided naturally by a floor, or can be achieved through the use of racks or benches.
The main disadvantage of using an NFT system is the risk of all your plants dying should something happen to the system's ability to function. For example, an extended power outage will surely result in plants rapidly drying out. Because of this, some people consider NFT to be an "all your eggs in one basket" method. While you may not be able to control the electricity, installing a water monitor and regularly checking your system's filters and pumps can help to prevent similar outages.