How to Create Your Dream Stoner Room
Where do you enjoy blazing the most? While mountains, beaches, and forests are idyllic, we can't always access them. Many cannabis users decide to take things into their own hands and create stunning stoner rooms right at home. If you're looking to create a space for you and your friends to kick back and blaze, then this is the guide for you.
By
---
---
A stoner room provides the perfect environment to blaze up in solitude or with a group of friends. These spaces are tailored to set the scene for the most pleasurable smoking experience possible. Stoner rooms feature comfortable furniture, mesmerising wallpaper and lighting, gadgets, eye-catching decor, and smoking accessories that make rolling, conversing, and spacing out effortless, while expressing the unique personality and creativity of the designer.
As you can see, there's a lot to consider when creating a stoner room. You first need to decide the core vibe you're going for, and what furniture, artwork, and decor will help you hit the nail on the head. But don't fret; this process should be a fun one. Below, we cover everything you need to contemplate when setting out on this endeavour.
The Function of a Stoner Room
Stoner rooms have one core purpose: they are designed to optimise the cannabis experience. They provide shelter from the elements during bad weather, and act as a safe haven in areas still under prohibition. Housing all of the creature comforts that are required when getting stoned, from snacks and fluids to music and speaker systems—stoner rooms are kitted out.
These domains should also cater to you and your crew's preferences. If you like to play video games when high, your stoner room will probably feature a few consoles and a large monitor or wall projector. If you prefer to delve inwards, you'll likely want yoga mats and meditation cushions all over the floor, and candles wherever they'll fit.
Where to Set Up a Stoner Room
You like the idea of creating a stoner room, but where should you set it up? Consider the most convenient and acceptable location in your house. Setting up a stoner space in a garage will provide you with a good amount of room, but things can get cold in the winter if you live up north.
Lounges and living rooms provide a great location, and will likely have a lot of comfortable furniture to lay the foundations for your creation. But you might find yourself having to sell the idea to roommates or partners to transform the most frequented room in the house.
Realistically, your bedroom will serve as the easiest area to convert into a stoner paradise. It's probably already packed with smoking gear, comfortable chairs, a computer, and other things you can put to good use. Plus, you likely won't need the permission of others to see your project through to completion.
What Does a Stoner Room Need?
This all comes down to personal preference, and we'll cover specific smoke room ideas in just a moment. But first, let's look at a few core factors everybody creating a stoner room should consider to optimise the experience:
Window coverings: Is your stoner room in the middle of the countryside or the bowels of a capital city? Are you able to smoke freely without fear of persecution, or does your country still vilify people for using weed? If you need to keep things stealthy, consider putting up some blinds, throws, or blackout curtains.
Lights: You're going to need a light source for those nighttime sessions. The light you choose all boils down to the mood you want to create. Go for LED strips under shelves and overhangs for a gentle glow, or a high-powered bulb in the middle of the room if you and your friends like to play board games or any other activities that require strong illumination.
Furniture: Are you a minimalist, maximalist, or somewhere in between? Do you prefer blazing in solitude or filling the room with as many buddies as possible? If you have a lot of friends who smoke, you're going to need at least a few sofas and spare chairs. If you find yourself with just a partner, you might not need additional furniture; a bed and a couple of chairs will suffice.
Ventilation: The party has to end at some point. When it does, you'll probably want to fill your room with fresh air to purge that smoky smell. If your room has windows, you'll get enough of a draught to get the job done. However, investing in a large fan will accomplish this faster.
Size: You can't do much to control the size of your chosen room. However, you can decide how much of the room you want to utilise for this purpose. If you want to maintain privacy in a specific area (let's say your bed, for example), you can put up some room dividers.
Floor: The floor can make or break the aesthetic of a room. Pull up that old, dingy carpet and replace it with whatever fits the vibe best. Rustic wooden floorboards can add serious character to a room. A big, fluffy carpet will also maximise comfort (and see its fair share of ash and ember).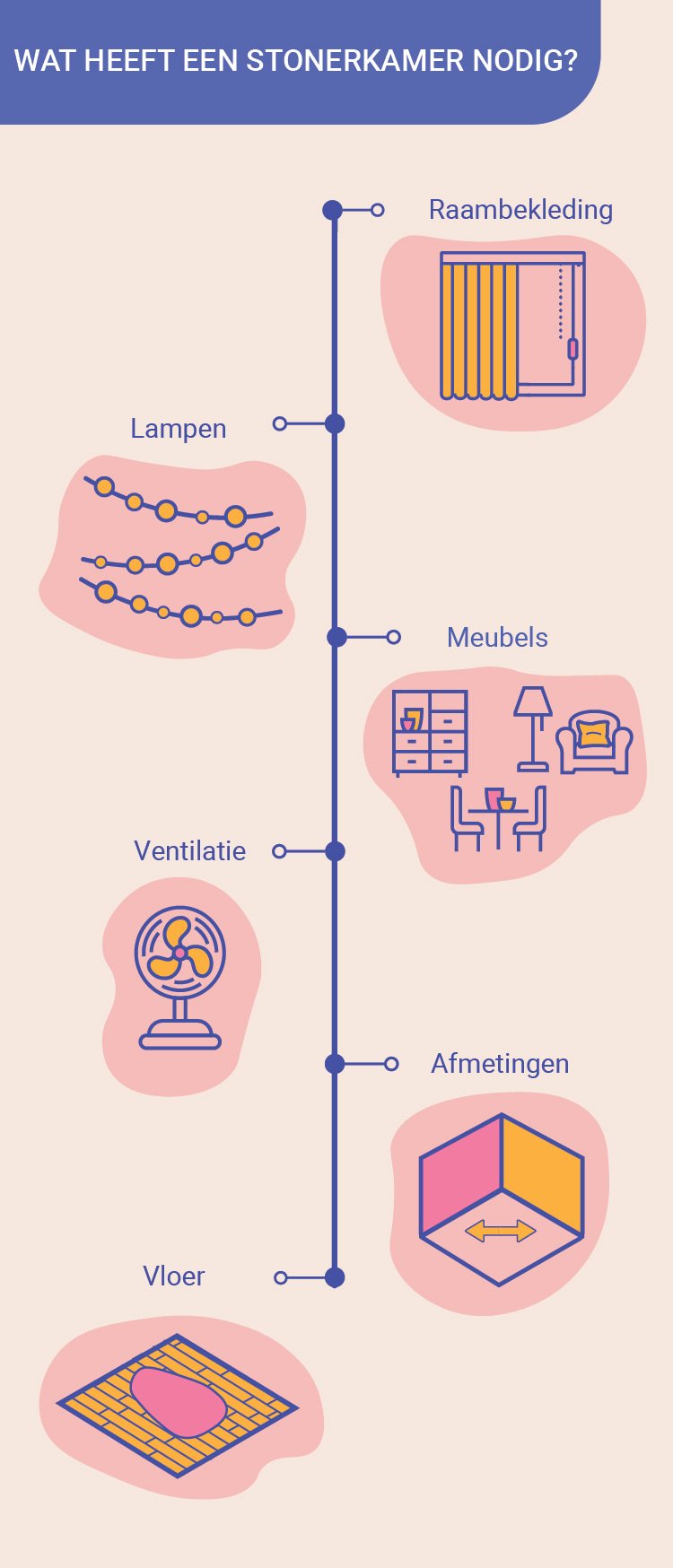 Examples of Stoner Rooms
Do you feel the creative juices flowing? No two people are alike, nor two stoner rooms. Making a weed room gives you the chance to unleash your personality. Here are three smoke room examples to help get the ball rolling.
Creative Stoner Vibe Room
Some people can't help it after hitting a joint; the herb supercharges their cognition and has them reaching for notepads, guitars, drumsticks, and paintbrushes. If you're one of these people, then you'll want to make your stoner room a place that facilitates such pursuits. Add the following elements to make the ideal creative space:
Furniture: This all depends on your creative outlet, but you'll most likely need a desk. Writers and painters need a station to work at, and musicians a place to position their recording and mixing equipment. A comfortable and ergonomic chair will also maximise comfort and reduce the effects of long periods of creating.
Lighting: Certain lighting helps to put some people in a creative mood. You can achieve this by placing LED strips under shelves, on top of wardrobes, and anywhere else you see fit. You'll also need a strong desk light or spotlight over your creative space when you really need to concentrate.
Flooring: Does flooring influence creativity? Not on its own, but it adds a significant touch to an area designed to kindle your creative juices. The flooring all depends on your taste. Exquisite rugs might help to inspire you to spend more time in your special place, whereas others will prefer big, fluffy, and warm rugs.
Ventilation: To keep your head clear, you need to free the room of smoke after blazing. A small desk fan will help to push smoke away from your vicinity and also keep you cool and productive on those warm days.
Unique additions: Add anything else that helps to bring your creations to life. Bring in a canvas, recording equipment, guitar stands, and even a typewriter if that's your thing. It'll also help to place your desk next to a window with a view, for those moments when you're battling artist's block.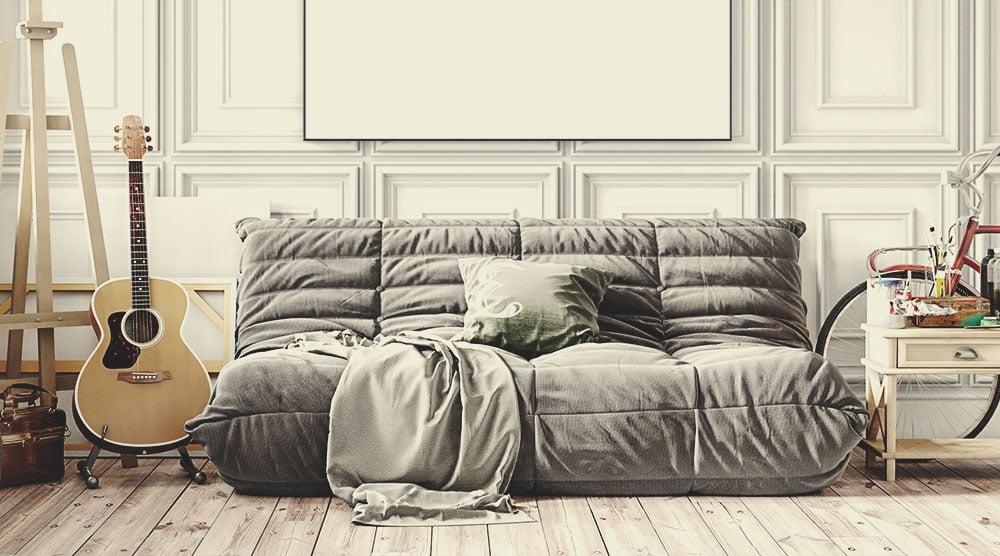 Relaxation Stoner Vibe Room
Perhaps you don't want a creative hub. Maybe you're simply after a stoner room in which you can really relax with friends? If this sounds like you, consider the options below:
Furniture: Think cosy. Why settle for rigid chairs when you can fill your space with bean bags, pouffes, and comfy sofas?
Lighting: Go for something moody, relaxing, and trippy. Think LED strips, star projectors, pulse tubes, and LED ring lamps.
Flooring: A thick, fluffy carpet will bring relaxation to maximum levels. It'll require more thorough cleaning, but it'll pay off when it comes time to hit some stoning strains and chill out.
Ventilation: A room full of friends can quickly create a hotbox effect. You'll want to choose a room with windows, and use a couple of fans to keep the air moving.
Unique additions: Add anything else to make the space more cosy and entertaining, such as board games, consoles, projectors, black light posters, and eye-catching artwork or decor.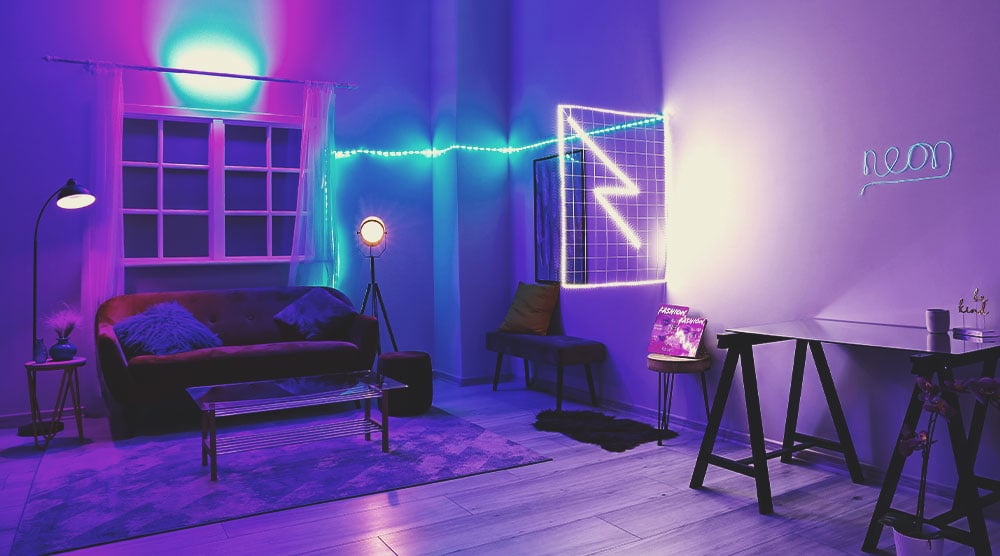 Sport Stoner Vibe Room
Some people simply don't enjoy sitting around doing nothing, even when high. If you like to keep your body and mind occupied with physical movements, we have a stoner room idea for you:
Furniture: To achieve a sport stoner room vibe, you'll need a few yoga mats and meditation cushions dotted around. Floor-level sofas will also provide somewhere to relax after a session while fitting the aesthetic perfectly.
Lighting: During the day, let natural light flow through the blinds and gaps in curtains as much as possible. After sunset, light aromatherapy candles to create a natural and meditative ambience. Spotlights in the ceiling can also be used to create a strong light source when needed, while still looking nice.
Flooring: A hard, rustic wooden floor will suit the room perfectly and provide a firm surface for physical activities such as yoga and callisthenics.
Ventilation: Again, opening windows and using a powerful fan will help to remove the smell of terpenes and sweat from the air.
Unique additions: Now comes the fun part. Add everything you need to help you carry out your desired activity, including speakers, instruments, massage oils and a massage table, foam rollers, pull-up bars, and weight equipment.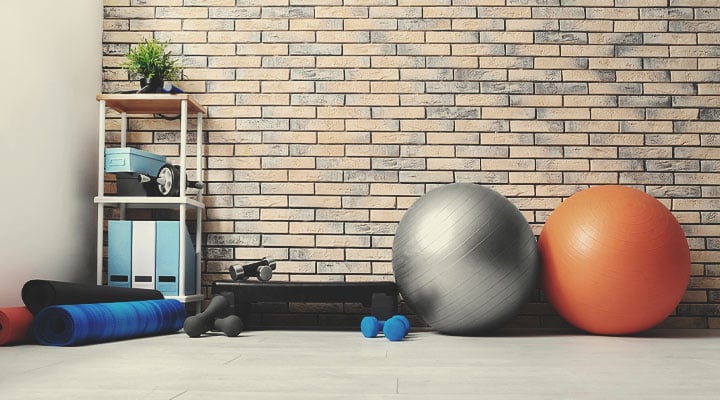 The Icing on the Brownie: Items to Complete Your Weed Room
Now that you have your vibe in mind, there are a few more additions you can make to finish things off.
First of all, every smoking room can benefit from candles and incense. No matter the vibe you're going for, these will add a magical touch perfect for getting high.
You can also add some functional appliances, such as a kettle and a mini-fridge to keep everything you might need close by, such as beer, chilled drinks, and tea-making equipment.
Finally, go all out on the decorations. Hang up paintings and posters, meditation beads, and some of your best printed photography.
Key Smoking Accessories for Your Weed Room
Of course, no smoking room is complete without an assortment of smoking gear. Choose items from the list below, and add them to a cabinet or cupboard, ready for action:
Papers: You're going to need either smoking papers or wraps to craft joints or blunts. RQS Hemp Rolling Papers are a great sustainable option.
Rolling trays: Choose rolling trays that match your room's vibe. The RQS Wooden Rolling Tray suits meditative and minimalist rooms, whereas the RQS Metal Rolling Tray better suits more casual spaces.
Pipes: Cannabis users are spoilt for choice when it comes to pipes. Choose from glass, metal, and wooden models.
Bongs: Bongs don't only help you get high, quickly, but they also serve an ornamental purpose. Large glass rigs add a beautiful edge to any room, regardless of the overall look.
Vapes: If you frequently pack your stoner room with friends, go for a communal vape, such as the Volcano Hybrid. If you prefer to vape solo or in smaller numbers, consider smaller, handheld models.
Watch Your Stoner Room Come to Life
You now have plenty of ideas to make your dream stoner room come to fruition. Decide the overall vibe you want to shoot for, and go for it. Choose the appropriate furniture to bring the space to life. Remember, you don't need to get everything done all at once. Take things one step at a time, and you'll find yourself blazing in a beautiful environment before you know it.