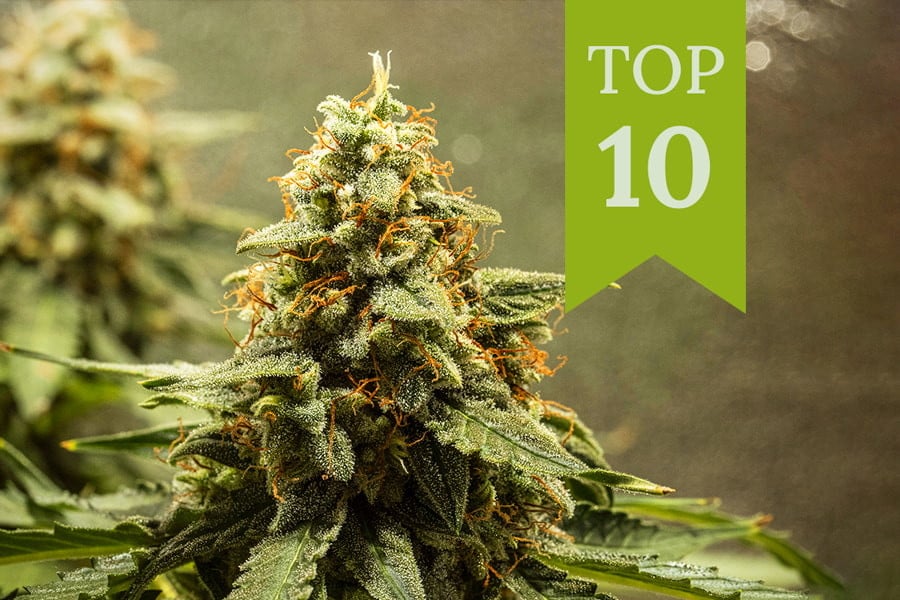 Top 10 Autoflowering Strains of 2022
Despite your success this outdoor growing season, the approaching autumn never fails to bring with it a yearning to keep cultivating. So, why not grow the best autoflowers of 2022 indoors? Below, we introduce you to the top 10 autos that will help to keep your fingers green—and mind elevated—throughout the cooler months.
By
---
Autoflowering cannabis strains are renowned for their resilience, speed, and overall ease. These traits make them ideal for beginners, experienced growers seeking an easy stash, and those seeking to optimise turnover.
Autoflowering cultivars are predisposed to flower based on age, as opposed to a change in the light cycle. Most varieties surge from seed to harvest in 8–10 weeks and reach a small to medium height that makes them easy to manage and conceal.
Many growers previously associated autos with low-grade weed, and viewed their speed as a trade-off for potency. However, innovative breeders have created a new wave of strains that boast rapid flowering times alongside THC and CBD levels—not to mention flavours—that rival many photoperiod strains.
Check out the best autoflowering strains to cultivate in 2022 below.
1. Royal Gorilla Automatic
Not long ago, some growers would turn up their noses at those who chose to grow autoflowers. The reason behind this is that early autos simply couldn't match the yield, potency, and flavour of photoperiodic strains. Today, no one would dare say anything bad about Royal Gorilla Automatic, a dank auto that is more than deserving of the spotlight. This uber-potent lady from the US West Coast is a cross of Royal Gorilla, Royal Cookies, and ruderalis. She has been finely tuned for exceptional performance, beastly potency, and top resin production. Not to mention, she delivers up to 400g/m² of dense bud indoors—all within a short 8–10 weeks from seed.
Royal Gorilla Automatic boasts an impressive 20% THC, so she can deliver a real knockout punch. She starts you out with a happy, heady euphoria that makes way for an incredibly relaxing couch-lock. Smoke (or vape) the girl, and you will taste Diesel flavours with citrus, pine, and fruity notes.

2. Green Gelato Automatic
Green Gelato Automatic represents the new standard for autoflowering genetics. She packs all of the best traits of a high-quality photoperiod strain into a small and easy-to-grow package accessible to novices and those limited by space.
As the progeny of Green Gelato and Cookies Auto, Green Gelato Automatic descends from a prestigious line of THC titans with tantalising terpene profiles. Her tapered, light-green buds pack a massive THC content of 24%, which synergises with earthy and sweet terpenes to provide an energising and motivating head high.
Indoor plants won't surpass 120cm in height, but still churn out an impressive 375–450g/m². Plants grown outdoors in containers and raised beds peak at 120cm as well, offering a return of 100–175g/plant. Prepare to harvest her aromatic buds 9–10 weeks after germination.

3. Triple G Automatic
Many growers start to feel those post-harvest blues as the outdoor season comes to a close. However, strains like Triple G Automatic offer hope. When the autumn and winter approach, you have the option of obtaining another harvest within a matter of weeks by switching things up and growing indoors. Many autoflowering strains offer good results in tents and grow rooms, but Triple G Auto really stands out thanks to her rapid growing time, compact size, and ample THC content. Harnessing parent strains Triple G and Big Skunk Auto, our breeders managed to create a quick and compact cultivar that outperforms many autoflowers and photoperiods with a THC content of 20%. Throw in a sweet and chocolatey terpene profile, and you have one seriously stoning phytochemical cocktail. Reserve these flowers for lazy afternoons and evenings to enjoy their euphoric effects.
If you're looking for discretion, then you just found it! As one of the best autoflowering strains for covert growers, this little pocket rocket will churn out up to 500g/m² while remaining at a height of 60–120cm. Prepare to harvest 10–12 weeks following germination.

4. Cookies Gelato Automatic
High levels of THC; beautiful purple buds; jar-filling yields—Cookies Gelato Automatic has it all! This well-rounded cultivar ticks all of the boxes that make for a great indoor option. How did a single strain end up with such an impressive bundle of traits? Our breeders crossed Cookies Gelato and Big Skunk Auto, resulting in a progeny with 75% indica genetics, 20% sativa, and 5% ruderalis. After hitting blunts and bongs packed with these flowers, you can expect a creative and stoning high paired with flavours of cookies, earth, fruit, and honey.
Cookies Gelato Auto serves as the perfect option for your indoor growing space following the end of the outdoor season. This strain reaches a height of 90–140cm; use training techniques to keep her at the lower end of this spectrum. You can expect to start harvesting and trimming frosty purple buds in as little as 10 weeks following sprouting. Make sure you have enough jars to store up to 500g/m².

5. Amnesia Haze Automatic
The original Amnesia is a famous sativa with a cult following. Her euphoric high and unique flavour are the reward for what many would describe as a difficult growing process. Most Hazes need around 12 or more weeks to flower, and their size and nutrient demands can be an issue too. Luckily, Amnesia Haze Automatic by Royal Queen Seeds is here to save the day! This fabulous autoflowering variant does away with the long wait, instead requiring only 80–85 days from germination. Moreover, she will remain at a convenient height of 80–150cm, which makes her very manageable.
Amnesia Haze Automatic provides the same superb heady effect that made her big sister so famous—a high that is as cerebral as it is uplifting. Another highlight is her classic Haze aroma that blends earth and citrus notes to max capacity. As long as you make sure not to overfeed her, growing (and enjoying) Amnesia Haze Automatic will be a breeze.

6. Fat Banana Automatic
Fat Banana Automatic puts the power of new-school autoflowering genetics on display. Royal Queen Seeds teased out the best traits of Fat Banana and Cookies Auto over several generations and stabilised them in a reliable phenotype.
They settled on a final version of the strain that features small and compact buds bursting with THC. At first glance, these blossoms seem innocent. However, her THC content of 22% swarms the CB1 receptors with only a couple of hits. Within a matter of seconds, her phytochemical cocktail of cannabinoids and earthy terpenes cast a stoning effect over the body and mind.
Indoor plants peak at 100cm and provide a rewarding yield of 375–450g/m² after 9–10 weeks post-germination. Outdoor plants reach a similar height and produce 90–175g/plant.

7. Purple Queen Automatic
Purple Queen Automatic puts on a show during the flowering phase. This mellow auto produces thick and glistening buds that boast fantastic shades of purple, dark green, and orange. Bring these flowers to your group smoking sessions to amaze your botanical buddies.
Looks aside, Purple Queen Auto provides an exceptionally chilled-out experience. Her moderate THC level of 16% converges with fruity terpenes to provide a deeply relaxing physical high.
Watch these mesmerising purple buds emerge at the end of a rapid growing cycle of 8–9 weeks. Expect to harvest 350–400g/m² from indoor plants topping out at 90–130cm. Outdoor plants provide 100–150g/plant and perform best in polytunnels and greenhouses.

8. HulkBerry Automatic
The original HulkBerry pushed the boundaries of cannabinoid production and amazed the European cannabis world with her hard-hitting highs. Royal Queen Seeds managed to capture the best elements of this legendary high in an autoflowering strain.
After crossing HulkBerry with Diesel Automatic, the progeny emerged as a sativa-dominant variety boasting long, tapered flowers with a THC level of 21%. Opening a stash jar full of these buds releases a wave of sweet and fruity terpenes into the air, which gives a hint of the flavours to come.
HulkBerry Auto thrives in a mild climate and does particularly well in grow tents and greenhouses, where she reaches a height of 80–120cm. Indoor plants produce 450–500g/m² and respond well to LST. Outdoor plants offer 100–150g/plant and do well when interplanted with companion species such as basil. You can expect to make the chop just 8–9 weeks after your seeds germinate.

9. Mimosa Automatic
Named after a deliciously refreshing drink, Mimosa Automatic wakes up the mind, turns on the senses, and blasts the CB1 receptors with THC. Her dense and trichome-laden flowers boast a huge THC content of 21%, making her one of our most powerful autos available. Her sativa-dominant genetics mean every inhalation contributes towards an exhilarating high ideal for daytime use or creative projects.
Prepare your stash jars for a rewarding yield of 350–400g/m² when growing this strain indoors. If you grow her outdoors, plant her alongside companion species such as lavender for extra pest protection. Expect a yield of 90–130g/plant ready to harvest only 10 weeks after germination.

10. Watermelon Automatic
Watermelon Automatic combines high levels of THC with medium quantities of CBD to exert a grounding and comforting high perfect for any time of day. As her fruity name suggests, each puff of this strain delivers strong notes of refreshing watermelon to the taste buds—use a vape to get a true appreciation for the flavour she has to offer. You're in for a jaw-dropping experience come harvest time. Even if you're growing other gorgeous strains in close proximity, Watermelon Auto's deep purple tones and thick layers of resin will steal the show. But these dense colas don't just look good—they also contain an impressive THC content of 20%.
At a height of 80–110cm, you'll have no problem managing this variety in the grow room. The best part? You'll get to start trimming up to 500g/m² of buds in as little as 8 weeks after your seeds sprout.

Have you found a favourite that you want to grow from our list of top autoflowers? For even more choices, check out all the cannabis strains in the Royal Queen Seeds catalogue! RQS offers not just top autoflowers, but also feminized cannabis seeds and CBD-rich medicinal cannabis seeds.
Happy growing!