Like many of the best cannabis strains coming out these days, Sour Diesel comes straight from California. It is a favourite with many smokers and growers. These powerful American genetics will grow well indoors around the world; outdoors, on the other hand, they need a warm climate, similar to California or Spain.
This is a mostly Sativa strain which shows in both its growth structure and the strong high effect it gives when consumed. The plant develops its resinous buds and powerful aroma over a 10-week flowering period. This is after a recommended 3-to-4 week vegetative period. These plants will grow to a height of around 100-130 cm, with some stretching during early flowering.
Sour Diesel is a very pungent, aromatic strain. Heavy chemical, herbal and sour flavours come from its glistening buds. When grown well, it will give yields of 450-600 grams per square metre. This is both a yield in quantity and quality, producing high-quality, resinous, aromatic buds. Full Diesel power!
THC:

19%+-

CBD:

Medium

Yield Indoor :

475-525gr m2

Yield Outdoor:

550-600 grams per plant dried

Height Indoor:

90 - 160 cm

Height Outdoor:

150 - 200 cm

Flowering time:

10-11 Weeks

Harvest month:

Late October

Genetic Background:

Original Diesel x (Northern light x Shiva x Hawaiian)

Type:

Sativa: 70% Indica: 30%

Effect:

Physical, clear high



By Ximeek D. on 05/Dec/2016 :

Title : Sour sour
Comment : Yeah super bêle croissance comment on mes des photo:/

By Arash F. on 02/Dec/2016 :

Title : Very Spicy
Comment : Great Taste!

By guillaume B. :

The customer has rated the product but has not posted a review

By Raphaël D. on 25/Nov/2016 :

Title : Thanks
Comment : Un tout grand merci pour ses quelques graines gratuites .

By rebar K. on 07/Nov/2016 :

Title : sour disel
Comment : einer der leckersten sour disel die ich je hatte sehr lecker und schnell gewachsen. Geruch und aussehen original sour disel weiter so RQS sehr gute preisleistung

By Jean-pierre F. on 28/Oct/2016 :

Title : Sour diesel
Comment : Merci encore à Royal queen seeds pour cette superbe variété. Hâte de la goûter avec impatience. Merci pour cette graine cadeaux.

By Dan M. on 26/Aug/2016 :

Title : A
Comment : Super livraison rapide germination 48h et resultats en 3 jours wwooww hate de deguster ce produit

By MMJ S. on 23/Aug/2016 :

Title : Top quality meds and buds,hemp oil,wax,hash, pains killer and others available
Comment : Top quality meds and buds,hemp oil,wax,hash, pains killer and others available Email [email protected] for more info.products are of highest quality, purest, cleanest , dried,cured and trimmed to perfection.

By Héctor G. on 09/Aug/2016 :

Title : Rica,cerebral y productiva!!
Comment : La he cultivado varias veces.100% de germinación y facil de cultivar.Buena producción y colocón muy simpático que te deja hacer una vida normal...De mis favoritas!!

By Marc C. on 08/Jul/2016 :

Title : Very good strain
Comment : Excellent plant

By Florian C. on 05/Jul/2016 :

Title : Sour Power!
Comment : Awesome strain! Be careful with water and nutrients. She don´t like it in huge amounts like an Ak for example. She breaks very easy. Be careful if you scrog. 4 out of 5 popped out and everyone is very the same (height, smell, looking and flowers). Thank you Royal Queen Seeds!

By Daniel S. on 13/Jun/2016 :

Title : Sehr gut
Comment : Super Keimrate fast immer 100%. Sollten aber spätestens mit 50cm in die Blüte, da sie nochmal gut 2/3 in der Blüte an höhe machen. Auch als Anfänger sollten 0,8-1,0 Gramm pro Watt/m² drin sein.

By Michel L. on 28/Apr/2016 :

Title : Sour diesel
Comment : Goût particulier (diesel) peu prononcé, accroche dans la gorge mais sinon bonne qualité

By Margherita G. :

The customer has rated the product but has not posted a review

By Matteo S. on 22/Mar/2016 :

Title : Sour Diesel
Comment : Super Geschmack und Effekt. Die Sorte ist einfach zum growen und liefert einen guten Ertrag. Eine meiner Lieblingssorten :)




You can't post a review because you are not logged as a customer

Log in / sign up
We do not ship this product to the following countries:
United States, Argentina
CUSTOMERS WHO BOUGHT THIS PRODUCTS ALSO BOUGHT:
Sour Diesel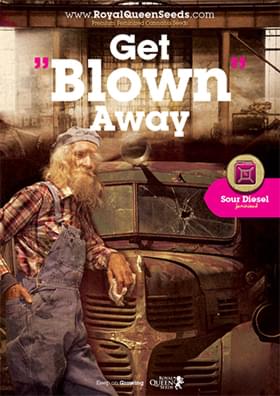 Get blown away with Sour Diesel
The hybrid is also known as Sour D, and it is supposedly a cross between the infamous 91 Chemdawg and a Northern Lights x Super Skunk strain. 91 Chemdawg was originally found in a bag that was sold at a Grateful Dead show, and the strain made its way to the West Coast during the early 90s. Sour Diesel blends the best qualities of old-school Sativas with just the right amount of Afghani Indica to make it a high yielder that is ideal for indoor or outdoor gardens. The finished buds are known for their fact-acting high that has a dreamy quality.
Disclaimer
All cannabis seeds sold at Royal Queen Seeds are solely for personal use. We do not supply seeds to large scale or commercial growers. We reserve the right to refuse sale if we suspect this term is being breached.