10 Cannabis-Infused Products You Need To Try
Cannabis has come a long way from the days of only existing in plant form. Now, with modern extraction technology, we can infuse cannabinoids into all sorts of things, from skin care products and makeup to food and drinks. In this article, we'll be checking out the best cannabis-infused products on the market today!
By
---
Explore the vast world of cannabis-infused products.
---
The recent re-legalization of cannabis in countries such as the United States and Canada has opened the door for a renaissance in weed technology. This competitive emerging market has led to the creation of all sorts of technologies—from high-tech vaporizers to pure distillate and ingenious cannabis edibles.
Twenty years ago, the cannabis industry as we know it today was merely a dream in the heads of wishful stoners. During this time, users only had access to medium-quality flower and little else. Now, the cannabis industry offers products that slot into every facet of everyday life. An extensive range of lifestyle and women's products means cannabinoids have a place in everybody's handbag, backpack, and kitchen cupboards.
Cannabis-Infused Products, Sorted by Category
The cannabis industry is sweeping into the worlds of women's self-care, hygiene and food (to name a few). Whether you want lotion, makeup, cologne, or madeleines, you can find nearly any sort of cannabis-infused product your heart desires. Below are just some of our favourites aimed at a wide range of consumers in the cannabis community.
Self-Care
Along with keeping us healthy, self-care products allow for small rituals that bring peace of mind and keep us grounded. Self-care products truly go hand-in-hand with cannabis to enhance these acts of self-love and relaxation.
Hair Serum
Hair serum will add a vibrant and healthy glow to your lovely locks. With plenty of different formulas available, these products give smoothness and strength to the hair. All the while, they'll also protect it from heat and prevent messiness and frizzing. Many companies now incorporate cannabis seed oil into their hair serums, which offers a stunning shine without any grease or heaviness.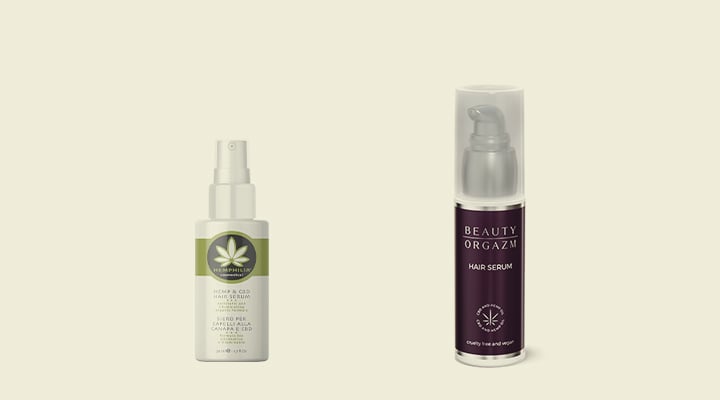 Bath Salts
While many athletes and gym-goers love weed already, we bet they haven't considered bathing in it. We also bet those people haven't heard of THC bath salts. Run a warm bath, throw in a handful of THC-infused bath salts, and feel your muscles thank you for it. Just as THC helps the mind unwind, it also soothes the muscles and makes them feel loved.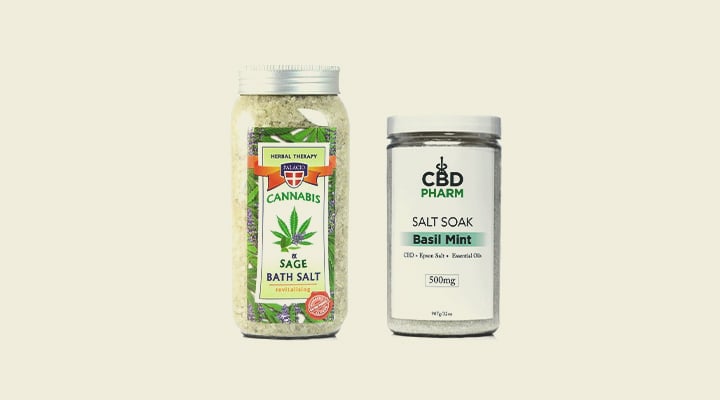 Candles
Cannabis candles are the perfect way to fill your home with a familiar aroma. These glowing sticks of goodness won't get you stoned, as they don't contain any THC. Instead, they're loaded with terpenes that smell just like some of the tastiest strains on the planet. These aromatic molecules also produce their own unique effects on the mind and body.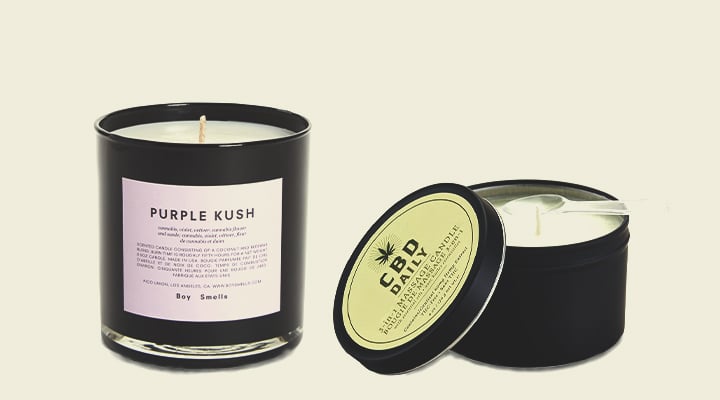 Skin Care
Skin care products have taken a turn down the natural and organic route in recent years. Showing numerous potential benefits for our skin, cannabis has been added to many cosmetic products.
THC, CBD, and other cannabinoids work with the endocannabinoid system in the skin to keep it vibrant and healthy. Since the cannabinoids in skin care products do not enter the bloodstream, you can enjoy all the holistic benefits, without the high.
Facial Oils
Many facial oils contain shea butter, vitamin E, and minerals. These natural substances help to tone the skin and make it shine. CBD works perfectly to support these rejuvenating nutrients. End your evening with a CBD facial oil to wake up with refreshed and hydrated skin.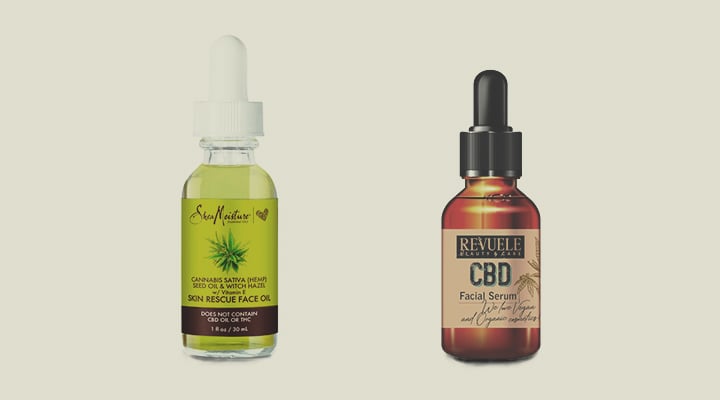 Cleansing Soap
With a bottle of CBD-infused soap, you don't even need to add an extra step to your routine to enjoy the benefits of cannabinoids. In our opinion, a warm shower and a lathering of CBD is a superb way to start or end your day. Use it just like normal soap, and enjoy stepping out of the shower with silky smooth skin.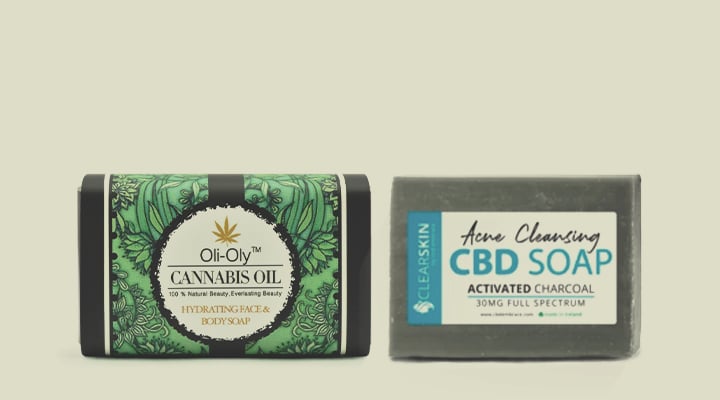 Face Masks
There comes a time—maybe once a week, maybe once a month—when you deserve to sit back with a face mask.
Various companies have created hydrating CBD face masks that can help keep your complexion balanced and revitalised. Apply a thin layer across the forehead, cheeks, jaw, and nose before kicking back to relax.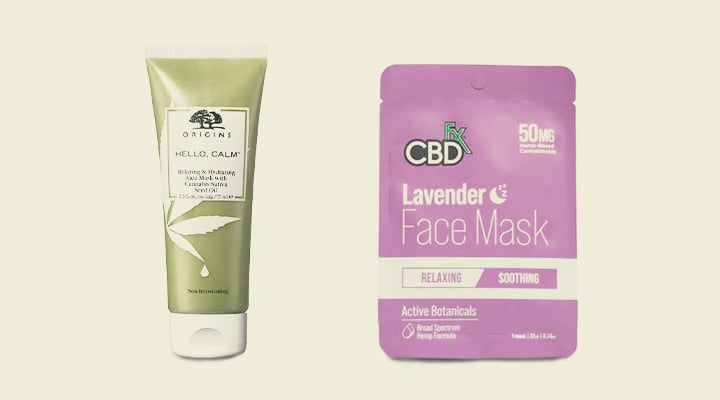 Skin Cream
Our facial muscles work overtime to help us communicate and express our feelings. Show yourself some love with a cannabis skin cream that relaxes and soothes those muscles while hydrating your skin.
Cannabis skin cream formulas largely contain CBD, along with other natural herbs, to get the job done. However, some companies also include a dash of THC for added cannabinoid action.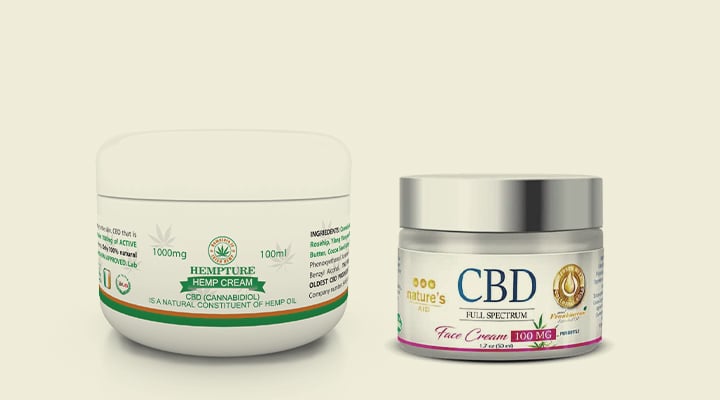 Makeup
Yes, believe it or not, cannabis makeup is a thing! Show off your love for the herb with Blueberry Kush highlighter, bring your lips to life with hemp lipstick and lip scrub, and enhance your features with a cannabis-infused pallette.
Perfume/Cologne
While smelling like cannabis isn't usually flattering, some cannabis cologne or perfume could elevate your personal aroma.
High-end cannabis perfumes and colognes boast sophisticated blends of violet, jasmine, rose, and cannabis. If your partner or love interest has a soft spot for the herb, they'll find these sprays utterly irresistible. The addition of CBD oil in some of them could also leave your skin feeling bright and appreciated.
Scents you can expect to see infused with cannabis include:
Sandalwood
Patchouli
Cedarwood
Citrus
Grapefruit
Ginger
Orange flower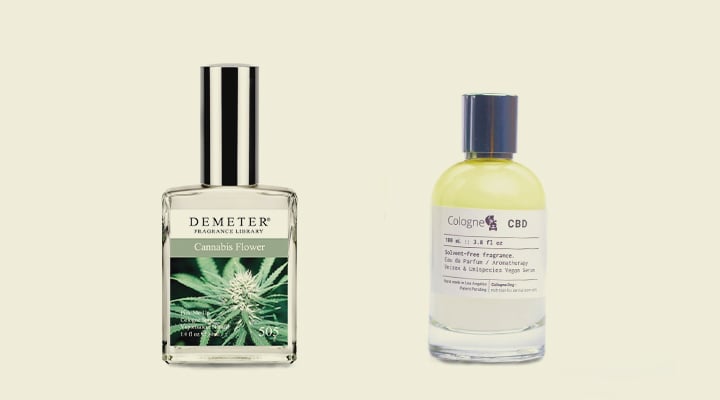 Lube
Lube already makes sexual experiences more pleasurable, but the addition of cannabis takes things up another notch.
While it seems weird to infuse lube with weed, science shows it's not as crazy as it sounds. See, the vaginal canal features a mucus membrane through which substances like CBD can easily diffuse.
In turn, the addition of CBD into lube adds a moisturising and soothing effect. Other preparations use a combination of coconut oil, tea tree oil, and THC for sensual enhancement.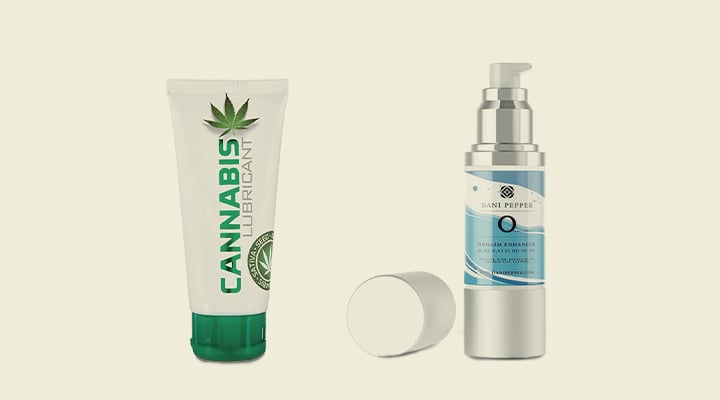 Tampons
Humanity has long used cannabis to address menstruation. Even Queen Victoria was reported to use the herb to take the edge off menstrual symptoms.
Tampons containing THC and CBD are designed to enter the bloodstream through the mucus membrane, as we detailed earlier. As the cannabinoids target the endocannabinoid system, some women report that it offers a degree of relief.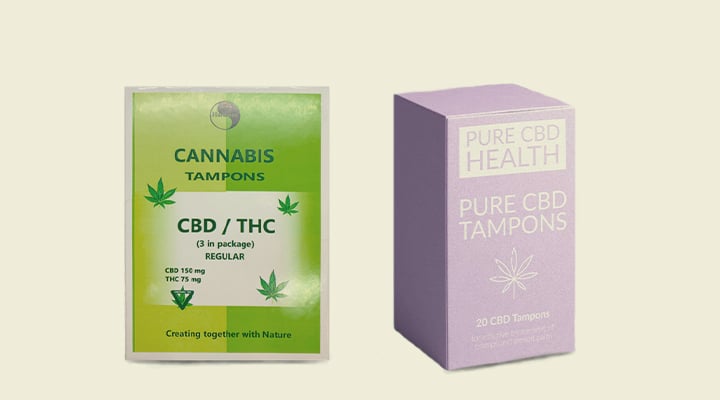 Coffee
For many, trying to alter the coffee experience would be deemed sacrilege. However, they just haven't tried it with cannabis yet. If it's CBD-heavy, you'll enjoy a focused, mellowed-out coffee buzz. Coffee containing THC will slap a smile across your face and get you in the mood to conquer your day. Many brands out there offer cannabis coffee products, from instant pods for Keurig dispensers to roasted beans infused with CBD.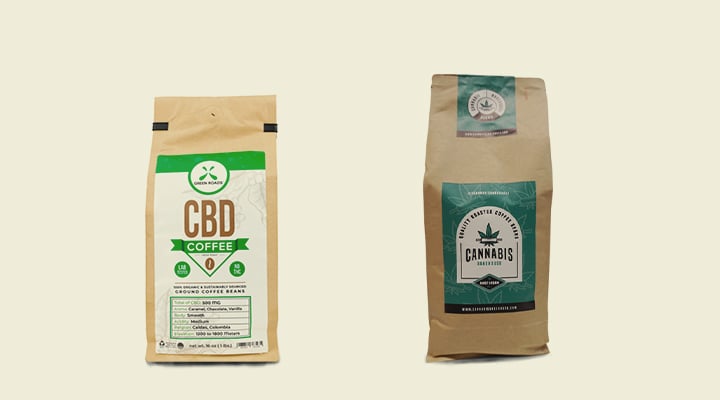 Snacks
Snacking on sugary and salty treats is usually a post-cannabis activity, but modern innovations offer us a way to enjoy both at the same time.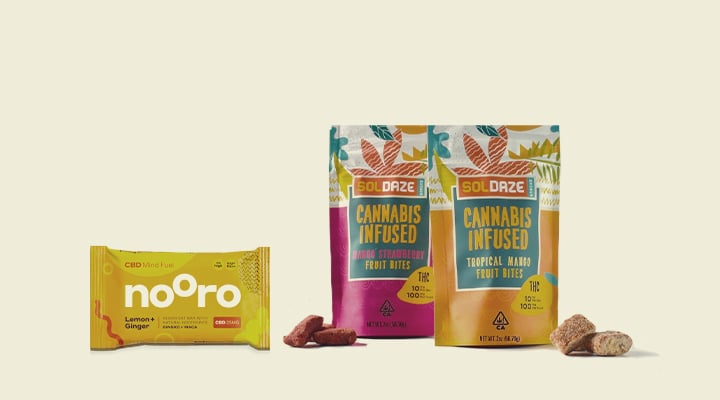 Croissants
If you consider yourself a baking aficionado, why not give canna-croissants a try? Just whip up some cannabutter, then use it in your recipe like you regularly would.
Keep in mind, though, that croissants require a lot of butter, and edibles can get really strong. To stay safe, make a less potent cannabutter when you plan on whipping these up.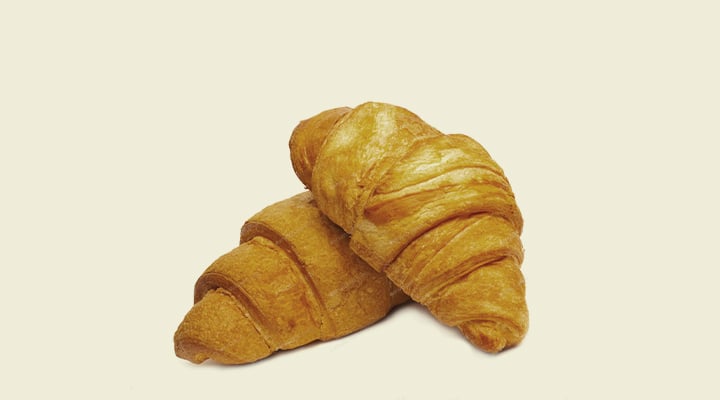 Madeleines
Sugar? Check. Zest? Check. Eggs? Check? All you need is butter, and you've got a classic madeleine. Why not use cannabutter instead? Dip one of these mouth-watering bites into your cup of coffee and enjoy the sweet, potent high that follows.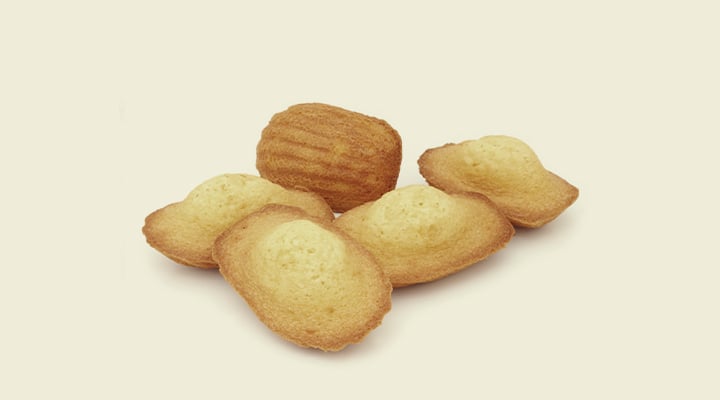 Pretzels
This versatile snack comes in all shapes and sizes, from small and salty to massive and sweet. Several companies, taking note of the obvious appeal, have updated these beloved snacks by infusing them with THC. No matter what kind you enjoy, there's a version that gets you high.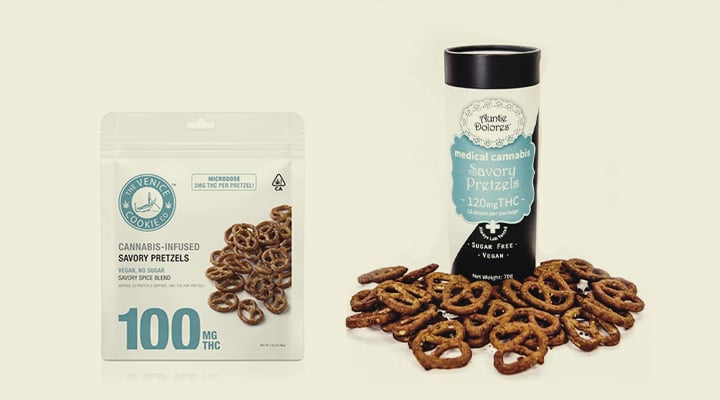 Sea Salt Potato Chips
What better way to satisfy a craving for savoury treats than with some sea salt potato chips? You might only be able to get these pre-made, but we're sure there are ways to whip them up at home with slight revisions on classic recipes.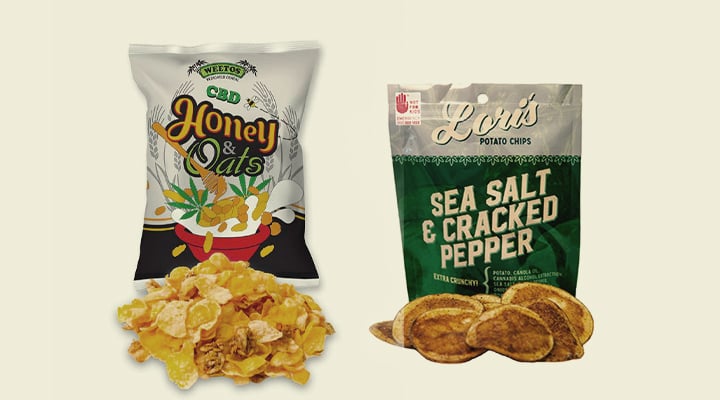 Gum
Cannabis gum is perhaps one of the most discreet ways to enjoy cannabis. Chew some on the train or in the office for a powerful dose of CBD and THC to put your mind at ease.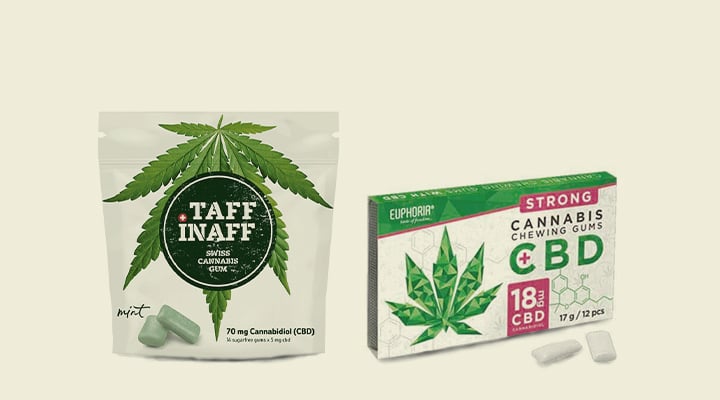 Gummies
If you told a cannabis smoker in the 90s that they were a couple of decades away from retail outlets selling cannabis gummies, they'd probably laugh. In this modern era, though, you can swipe packs of THC or CBD-infused gummies almost as easily as the regular kind.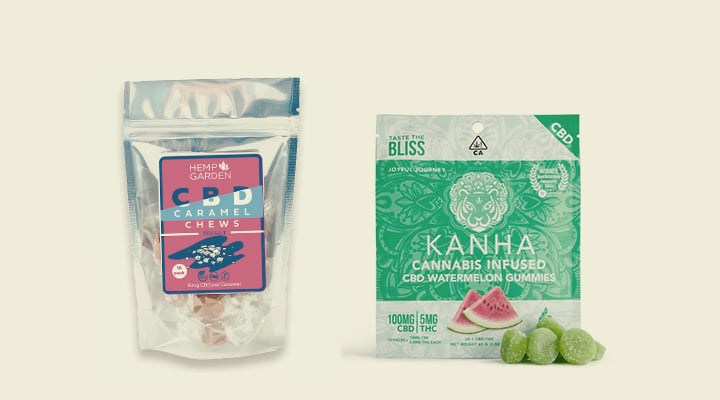 Mints
Freshen your breath and soothe your mind with some THC mints! They deliver small doses with each piece that'll mellow you out while igniting your mouth with a cool, refreshing flavour.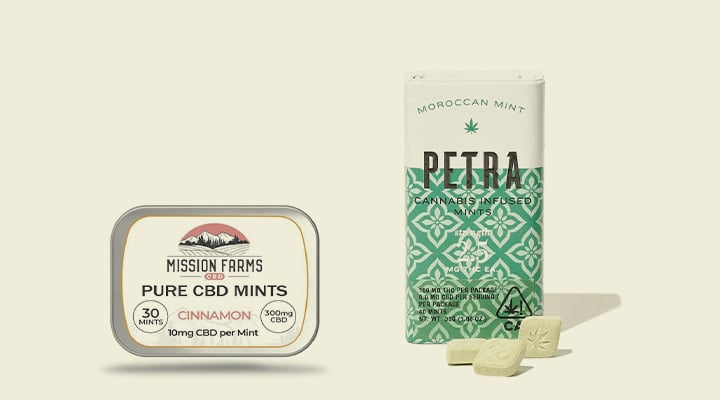 Alcoholic Beverages
Cannabis and booze can seem like a lot at once, but you shouldn't knock it until you try it!
As it turns out, cannabis and alcohol can balance each other out quite well—when used in moderation. Alcohol keeps the conversation flowing and cannabis keeps things chill and relaxed.
Beer
Cannabis-infused beer comes in both THC-rich and CBD-rich varieties. THC-infused beer adds a light yet noticeable high that elevates the mind and relaxes the body. Most bottles, for reference, contain 5–10mg of the cannabinoid. In turn, CBD withholds the high while offering an equally mellow experience, perfect for a nice day in the sun.
Most cannabis beers are IPAs featuring flavourful hops. Interestingly, hops, like cannabis, contain terpenes like humulene and myrcene that enhance the effects of THC and CBD.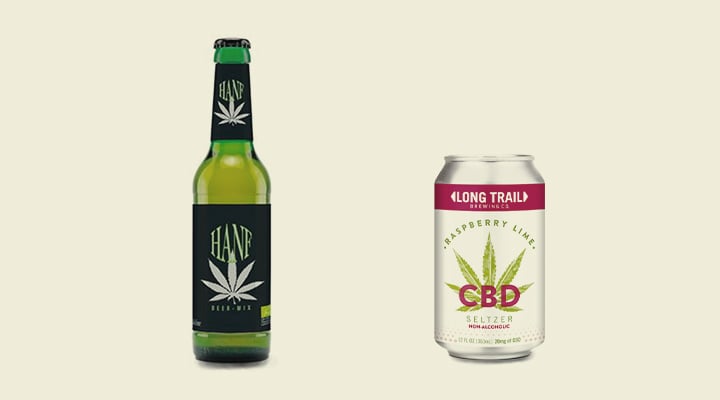 Wine
When we talk about weed wine, we're not talking about cheap beverages whipped up in someone's kitchen. In fact, you'll have a hard time telling the difference between these and some of the best wines you can find. In case you doubt us, consider that most cannabis wines originate in California, a state famous for its world-class vineyards.
You'll choose from deep reds to light whites, most of which average out at around 5mg of THC per glass. Sit back in the sun, and enjoy the magical union of grapes, alcohol, and cannabis.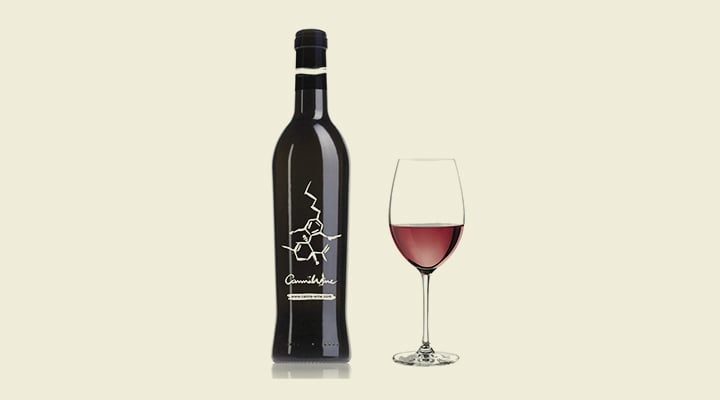 Hot Pot Sauce
Add mild heat and several milligrams of THC to pasta, meat, egg, and chicken dishes with cannabis hot pot sauce. Set your tongue ablaze and your neurons alight with this delicious preparation. Fun fact: capsaicin—the molecule responsible for the heat of peppers—also interfaces with the endocannabinoid system!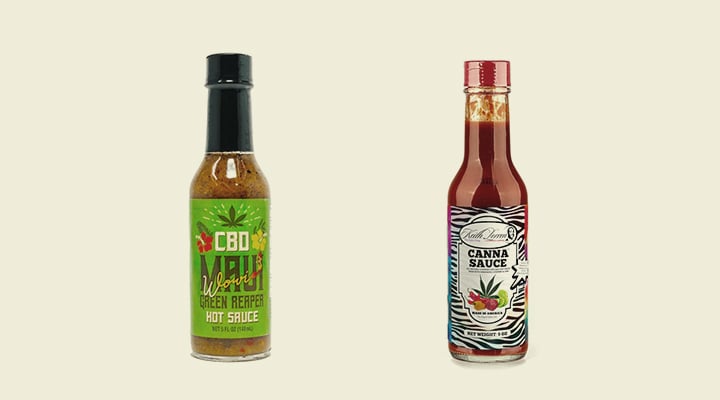 Brace Your Receptors for a Cannabis-Infused Future
As cannabis makes its way into almost every consumable product, the industry will continue to boom. Legalization in the US and Canada has set the stage for what the rest of the world will enjoy soon. As several countries within Europe have begun to relax their cannabis laws, companies have gotten ready to supply new customers with new cannabis-infused food, drinks, and cosmetics. In other words, the future is green!