It's not Social Media it's,"Sinsemedia"
Royal Queen Seeds brings you the finest sinsemilla on social media with the official RQS Twitter feed. We want to connect with cannabis growers and users globally, and what better place to meet than Twitter? Any place, any time, any internet connected device, and you can find the latest tweets from Royal Queen Seeds at your fingertips. Follow us on Twitter and connect with the hottest cannabis seedbank in Europe. Let's get together on "sinsemedia."
Sharing is caring, and we've got plenty of cannabis content to share with our followers. We're tweeting everything from stash pics to marijuana reports, and all topics in between. Royal Queen Seeds' followers are cannabis connoisseurs, ordinary decent stoners, pro-growers, home growers, and we want you too! Don't worry, we are not a cult and our feed is not a cannabis data dump. We want to build the greatest cannabis community on Twitter, but we need your help.
MUCH MORE THAN WEED PORN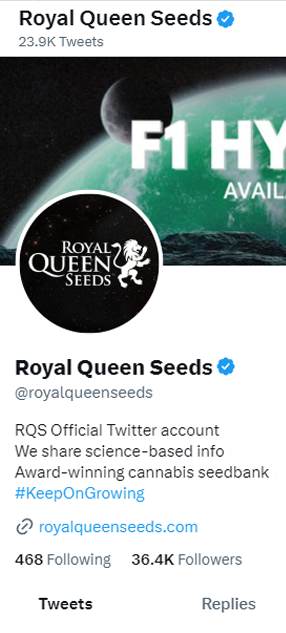 Of course, we have a never ending stream of hardcore bud porn to whet your appetite and keep you feeling 420 all day every day. But that's not all we have to offer our Twitter followers. The Royal Queens Seeds Twitter feed is for all kinds of medical and recreational tokers. We like to tweet something appealing and of interest to the most diverse, weed-loving community possible.
Twitter is no place to be long-winded. When you follow the Royal Queen Seeds twitter feed, you get the straight dope in 140 characters or less. Everyone is busy. We are all on the move to varying degrees these days. Luckily, our feed will keep you updated on-the-go from your mobile device, or perhaps just bring a smile to your face with a classy pic of the crop.
When we are not tweeting updates on our latest cannabis creations or reviews from our catalogue of modern classics, we will also keep you updated on all things about Royal Queen Seeds. We will be tweeting upcoming contests, giveaways, exclusive discounts, new strain releases, and still more!
Be the first to hear about Royal Queen Seeds news and announcements by following the RQS Twitter feed. We are setting the standard for feminized cannabis seeds, constantly researching and developing fire genetics. The master breeders at RQS have developed highly-potent recreational cannabis strains, specific medical cannabis strains, and have even entered uncharted territory with next-gen autoflowering varieties. Follow us and join the dankest Royal family in the cannabusiness.
Last, but definitely not least; Twitter is a great place to contact us and share your comments. Your feedback - the good, the bad, and the ugly - is important to us. We are ready and waiting for it on Twitter.