Its true genetics are unknown. Some say OG Kush is a mix of ChemDawg with a Lemon Thai and Pakistani Kush. Others say that it's just a special cutting of ChemDawg from the early 90s. Even the meaning of the name OG has been debated; with some saying it means Original Gangster. However, now, because of its origins, most people agree it means Ocean Grown.
One thing that is not debated is the popularity of this feminized cannabis strain. From Hollywood movie stars and rappers to medical marijuana users, OG Kush is loved by many. The most obvious trait of OG Kush is its strong, unique, very dank, slightly citrus aroma, almost like fuel or strong detergent. The flavour of OG Kush is equally as strong and dank, with a long-lasting aftertaste.
OG Kush is an extremely strong cannabis strain, with most experienced smokers listing it as one of their favourites. The effect is as strong physically as it is mentally. Though its effect is like an Sativa, the strain's genetics are mostly Indica. The effect is as strong and complex as the flavour. OG Kush takes around 8 weeks to flower and on average the yield is 65 grams per plant.
OG Kush is known to stretch slightly during growth but soon starts to fill out during flowering. Generally, it will reach a height of 90 to 160 cm. Its buds are large and dense, lime green clusters covered with a large amount of resin. There are many good reasons why OG Kush has become so popular. Now available as a feminized variety from Royal Queen Seeds, so you can try out this amazing strain yourself.
THC:

19%+-

CBD:

Medium

Yield Indoor :

425-475gr m2

Yield Outdoor:

500-550 grams per plant dried

Height Indoor:

90 - 160 cm

Height Outdoor:

180 - 220 cm

Flowering time:

7-9 Weeks

Harvest month:

October

Genetic Background:

Chemdawg x Lemon Thai x Pakistani Kush

Type:

Sativa: 25% Indica: 75%

Effect:

Relaxing and full of flavour



By Ximeek D. on 05/Dec/2016 :

Title : Au top
Comment : Reçu vite og Kush qui veut tester le boss

By Manconi N. on 29/Nov/2016 :

Title : Top Anzuchtergebniss
Comment : 10 von 10 Samen sind ohne jeglichen Aufzuchtschnickschack aufgegangen. Letztendlich sind 9 Pflanzen bis zur Ernte mit hervorragenden Ergebnis durchgekommen. Gerne wieder!!

By Thomas B. on 29/Nov/2016 :

Title : Everything good so far
Comment : Thanks Royal Queen Seeds, everything good so far.

By Raphaël D. on 25/Nov/2016 :

Title : Tres belle variété
Comment : Une variete que je recommande a tous Tres productive

By MMJ S. :

The customer has rated the product but has not posted a review

By kari Y. on 22/Nov/2016 :

Title : OG KUSH ROCK
Comment : all seeds germinated. 3/3 feminized seeds all of then look unite and sturdy. Taste is sweet and kush.

By alexandre M. on 21/Nov/2016 :

Title : OG KUSH 1
Comment : VERY GOOD STRAIN GOOD BUDS TOP QUALITY

By COLM F. on 14/Nov/2016 :

Title : O.G. Kush
Comment : Started growing 4 days ago. Got 5 seeds 3 came up. Looking forward to seeing how they do. All the best ELVIS. THANK YOU,THANK YOU,THANK YOU VERY MUCH.

By Anthony R. :

The customer has rated the product but has not posted a review

By Dave G. on 07/Nov/2016 :

Title : Og kush
Comment : One of the best strains ever. Top qaulity in fact everything from royal queen seeds represesnts top qaulity!

By Mark H. on 07/Nov/2016 :

Title : Bin beeindruckt !!!
Comment : Super einfach zu growen, hat alles super funktioniert. Hatte schlechte Vorrassetzungen gab aber super leckeres Gras !

By Petri S. on 07/Nov/2016 :

Title : nice
Comment : good seeds well working 3/3

By Goran D. on 03/Nov/2016 :

Title : OG Kush
Comment : This has to be one of my favorite strains and super easy to grow.My last lady was done flowering in 7 weeks and she was heavy weight in high department.I will buy more of OG Kush seeds from Royal Queen Seeds for sure.Keep growing.

By Ludovic E. on 03/Nov/2016 :

Title : fumer des agrumes
Comment : excellente fumée et gout exotique

By Sebastian S. on 28/Oct/2016 :

Title : Nice
Comment : Looking good until now. Fast Shipping




You can't post a review because you are not logged as a customer

Log in / sign up
We do not ship this product to the following countries:
United States, Argentina
CUSTOMERS WHO BOUGHT THIS PRODUCTS ALSO BOUGHT:
Original Gangster Kush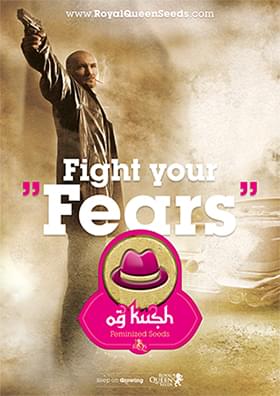 In the world of marijuana, OG Kush is one of the most famous and well-known strains available. In fact, it's considered to be one of the eight ultimate Kush varieties. The precice origin and genetics of OG are a bit hazy. Many people believe that the popular strain was first developed in California, which would offer a fitting explanation for the first half of its name. It was long thought that "OG" meant "original gangster", but the name is now thought to stand for "ocean grown", which would make sense if it was developed on California's coast.
Disclaimer
All cannabis seeds sold at Royal Queen Seeds are solely for personal use. We do not supply seeds to large scale or commercial growers. We reserve the right to refuse sale if we suspect this term is being breached.