Top 9 Cali Weed Strains of 2023
When you think of California, what comes to mind? Sure, the state boasts great wine and near-endless sunshine, but it also produces some of the finest weed on the planet. Keep reading to discover the best Cali weed seeds you should grow and smoke in 2023.
By
---
California has gained a reputation for its sunny weather, fine wine, stunning National Parks, and bucket-list landmarks. If you know anything about cannabis, you'll also know that many of the best weed strains originate from this self-titled 'Golden State'. And, thanks to relaxed legislation and a progressive cannabis industry, Cali continues to produce some of the sweetest and strongest buds on the planet.
The Best Cali Weed Seeds of 2023
So, you're in the mood for something strong, sweet, and productive? Well, you're in the right place! Here are our top Cali weed seeds of 2023:
Cereal Milk
Cereal Milk descends from a highly regarded lineage, with her direct parent strains, Y Life and Snowman, passing down outstanding levels of THC (23%) and plenty of sugary sweet terpenes. These attractive purple-green buds also possess a flavor seldom found in other cultivars—vanilla. Indoor plants peak at a height of 54.6 inches and produce a rewarding yield of 17.6 oz/m². Those grown in a sunny spot outdoors produce up to 23.8 oz and are ready to harvest in October.
Biscotti
We're not exaggerating when we say Biscotti ranks as one of the tastiest cannabis strains in existence! This indica-dominant hybrid offers delicious cookie flavors alongside fruit, pepper, and even hints of diesel! The legendary Gelato 25 underpins Biscotti's Californian roots, with parent strain Triangle Kush passing down incredible levels of THC. It only takes a couple of hits to feel Biscotti's cerebral, uplifting, and creative high take hold. Grow this lady indoors, and you'll harvest up to 17.6 oz/m² after 8–10 weeks of flowering. Outdoors, she'll grow to 70.2 inches and offer up to 21.2 oz.
Gushers
Gushers descends from two geographically opposing parent strains. West Coast Cali breeders created Gelato #41 by crossing Sunset Sherbet and Thin Mint Cookies, whereas Florida-based breeders gave rise to Triangle Kush. Thankfully, Triangle Kush passed down high levels of myrcene, the fruity terpene that makes Gushers' buds so soothing and moreish. Overall, this indica-dominant progeny possesses a mighty THC content of 24% and exerts an uplifting yet physically relaxing experience. Gushers also performs great both indoors and outdoors but really comes into her own in the garden. Here, expect to harvest up to 24.7 oz during early October.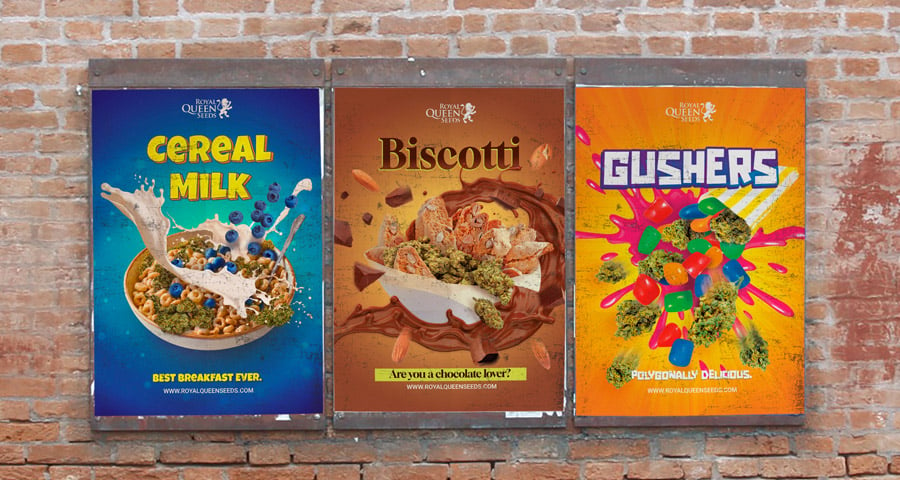 Wedding Cake
As the progeny of Girl Scout Cookies and Cherry Pie, it is no surprise that Wedding Cake's buds are rammed full of sweet and sugary terpenes. Her dense and tall colas offer a giggly and social high fueled by a THC content of 20%—enough to get you buzzed without tipping you over the edge. The Cali titan Girl Scout Cookies passed down plenty of myrcene and caryophyllene—two terpenes that make this high incredibly relaxing. When it comes to productivity, expect up to 17.6 oz/m² and 21.2 oz from indoor and outdoor plants, respectively.
Wedding Cake Auto
If you're a fan of the original Wedding Cake, but cannot stand waiting, you'll get on just fine with Wedding Cake Auto. By crossing the original with BF Super Auto 1, our breeders created a compact, quick, and reliable cultivar with equally potent buds and delicious terpenes. Indoors, plants maintain a stealthy height of 2 – 2.3 feet, making them perfect for converted cupboards and small grow tents. Place her under reliable lighting, and you'll harvest 14.1 – 15.9 oz/m² in as little as ten weeks after sprouting. Cure these flowers well to unlock moreish flavors of candy, citrus, fruit, and pine.
Apple Fritter
Say hello to Apple Fritter, a simply scrumptious indica-dominant hybrid that blossoms mouthwatering nuggets glazed with sugary and fruity-tasting trichomes. It took a special pairing to create this progeny, namely Sour Apple and Animal Cookies. Together, these powerhouses passed down a notable THC content of 24%, sweet, earthy aromas, and an uplifting and giggly high perfect for parties. Indoors, you can expect to yield up to 15.9 oz/m² from well-fed cultivars. Outdoors, plants do well in areas with short growing seasons, and come early October, produce 450–17.6 oz/plant.
Apple Fritter Auto
Apple Fritter Auto offers all of the benefits of the original strain but in a fraction of the time. By crossing Sour Apple Auto with Animal Cookies, our skilled breeders engineered a delicious variety that ranks as one of the most potent autoflowering strains available. This indica-dominant hybrid harnesses up to 23% THC and a battery of fruit and candy-like terpenes to produce a euphoric and creative high. Apply low-stress training techniques to keep plants as small as 23.4 inches and expect up to 15.9 oz/m² indoors and 6.3 oz from outdoor specimens.
Runtz
Somewhere between the early and mid-flowering stage, you'll notice Runtz's alluring characteristics start to emerge. While the sheer density of stigmas gives buds a somewhat fluffy texture, the beautiful contrast of almost neon-like colors makes them a sight to behold. Not only did legendary Cali strains Gelato and Zkittlez pass down these good looks, but they infused their offspring with insane THC content (up to 27%). Take things one puff at a time, and you'll enjoy a fast-acting high and intense waves of euphoria.
Runtz Auto
After becoming thoroughly impressed with the potency and productivity of the original Runtz, our breeders had little choice but to create an autoflowering version of this masterpiece. In steps, Runtz Auto, a simple pairing between Royal Runtz and a cannabis ruderalis strain. And, while her moderate THC content (up to 19%) may not seem overly impressive, it's paired with complementary terpenes such as myrcene, ensuring it still delivers a hard-hitting and efficacious high. This lightning-fast variety explodes from seed to harvest in as little as ten weeks, providing up to 15.9 oz/m² indoors and 3.5 oz outside.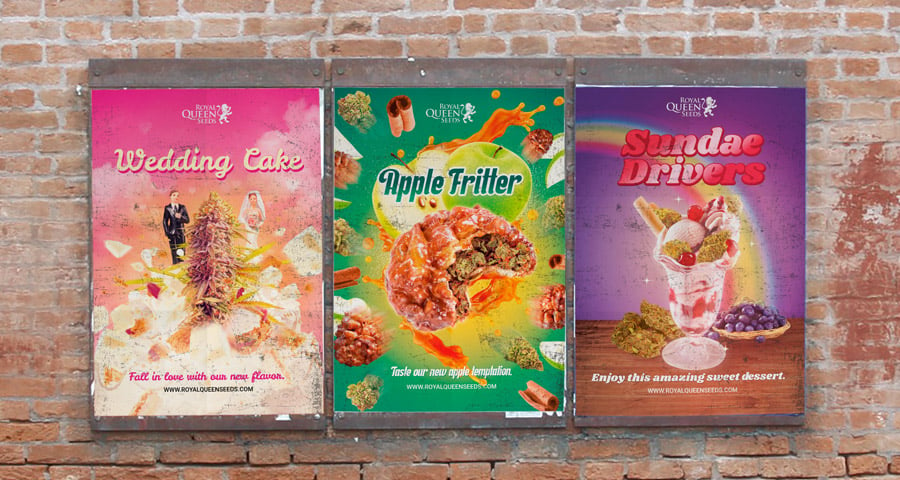 The RQS Catalog Contains America's Finest
As a leading European seed bank, you'll find some of the continent's finest genetics within our catalog. However, at RQS, we also recognize the legendary status of many US-based genetics. Thanks to our skilled breeding team, we've procured the best Cali strains and put our own spin on them. All the varieties above descend from west coast royalty, a trait highlighted in their THC content, sugary terpenes, and productivity in the garden and grow room.
Still, the list doesn't end there. Other Cali weed seeds in our collection include Wedding Crasher and Mimosa. We also offer American weed strains from outside the sunshine state, including Sundae Driver, Skywalker, and Watermelon. To get a true appreciation for these genetics, why not put them to the test in your growing space and smoking room today!