Top 5 Cannabis Strains For Improving Focus
Not all cannabis strains will get you stoned. In fact, some set your mind ablaze with creative ideas. If you use cannabis for clarity, focus, and lucidity, then you need to try these 5 strains. They're high in THC, packed with flavourful terpenes, and will catapult you into action. Smoke them alongside a cup of coffee in the morning!
By
---
Cannabis is often associated with relaxation. The image that comes to mind for many is a red-eyed person sunk deep into a couch, their hand in a bag of chips. Although there are a variety of strains that will produce a deeply stoning effect, there are an equal amount that do the opposite. Many cannabis strains are stimulating, energetic, cerebral, and induce a cognitive high that boosts creativity, focus, and concentration.
---
What Are the Best Strains for Focus and Creativity?
These cannabis strains are ideal before sitting down for long periods of work, programming, writing, making music, and creating art. University students may find these strains of weed to help them study. Creative and athletic individuals alike may also use them to boost awareness, enter flow states, and possibly improve performance. This list has been carefully curated from our catalogue according to effect. It highlights cultivars that are clear, light, uplifting and primed for focus.
While sativa strains are primarily known for providing an energetic lift, indica-dominant hybrids also have their place on our list. Ultimately, the cannabinoid and terpene profile of a cultivar dictates whether it's relaxing and/or stimulating. With that said, here are our top 5 best strains for focus.
1. Cereal Milk
Let us introduce you to one of the best strains for focus. What do you have planned for the day ahead? Do you have numbers to crunch and spreadsheets to fill? Or perhaps you're hitting the gym or heading to hike some trails? No matter what your day will entail, Cereal Milk will help you to stay in the zone and remain as productive as possible. Our breeders created this variety by crossing parent strains Y Life and Snowman. The result? A well-balanced strain with 60% sativa genetics and 40% indica. Cereal Milk produces some seriously good-looking buds featuring a green core, gorgeous dark purple edges, and a generous coating of frosty trichomes. A THC level of 23% makes for a fast-acting high that will immediately boost your focus. Her tasty terpenes offer hints of vanilla and blueberry, and add another layer of mental stimulation.
This scrumptious strain grows to 140cm indoors and produces a rewarding yield of 450–500g/m² after a flowering time of 8–10 weeks. Outdoors, she'll peak at a height of 200cm and produce up to 675g/plant during October.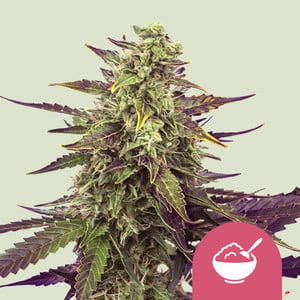 | | |
| --- | --- |
| | Y Life (Girl Scout Cookies x Cherry Pie) x Snowman |
| | 450 - 500 gr/m2 |
| | 80 - 140 cm |
| | 8 - 10 weeks |
| | THC: 23% |
| | |
| --- | --- |
| | Sativa 60% Indica 40% |
| | 625 - 675 gr/plant |
| | 160 - 200 cm |
| | October |
| | Creative, Focus , Long Lasting |
2. Sweet Skunk Automatic
A mix of Early Skunk, Critical, and ruderalis, Sweet Skunk Automatic is a triple threat that logs in at 10% sativa, 60% indica, and 30% ruderalis. This strain has a taste and effects profile similar to Early Skunk, while Critical and ruderalis deliver added resilience. The result is a hardy plant that can grow in almost any environment. Users can expect a clear, uplifting high and pungent, earthy aromas with a sweet finish. Sweet Skunk Automatic has a moderate THC content that nevertheless packs a punch. However, its effects don't land too heavily, leaning instead toward a motivating boost of concentration and clarity.
This strain produces compact plants, even outdoors. With a height ranging from 40–100cm, Sweet Skunk Automatic is perfect for small balconies, gardens, or grow rooms with limited space. This intrepid little cultivar matures very quickly and is ready to harvest just 11–12 weeks after sprouting. With proper conditions and care, plants can yield 450g/m² indoors and 60–110g/plant outdoors.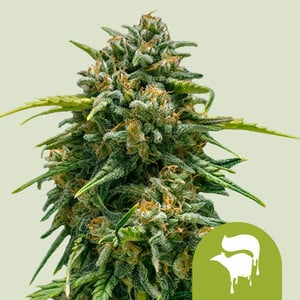 | | |
| --- | --- |
| | Early Skunk x Critical x Ruderalis |
| | 400 - 450 gr/m2 |
| | 40 - 80 cm |
| | 8 - 9 weeks |
| | THC: 15% |
| | |
| --- | --- |
| | Sativa 10% Indica 60% Ruderalis 30% |
| | 60 - 110 gr/plant |
| | 60 - 100 cm |
| | 11 - 12 weeks after sprouting |
| | Clear, Uplifting |
3. Apple Fritter
Sometimes work doesn't seem too appealing. Whether you have to write a paper, file your taxes, or simply clean your house, it's easy to become distracted. But not anymore. Fire up a joint or bowl of Apple Fritter flowers to change your mindset instantly. As the lovechild of Sour Apple and Animal Cookies, this strain possesses huge levels of THC and lots of tasty terpenes. These compact buds might look innocent, but they're armed with a THC content of 24%. It takes seconds to feel her energising effect set the nervous system ablaze. Keep smoking, and you'll feel the floodgates open and creative ideas pour in. Flavours of candy, earth, and fruit make joints hard to put down!
When growing Apple Fritter indoors, expect plants to peak at 120cm and provide up to 450g/m² after a flowering time of 8–10 weeks. Outdoors, she'll grow up to 150cm and churn out 450–500g/plant. Prepare to harvest her sticky buds in early October.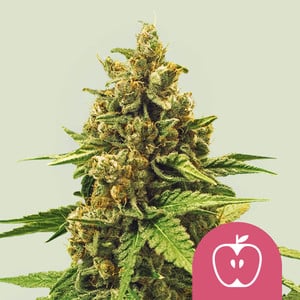 | | |
| --- | --- |
| | Sour Apple x Animal Cookies |
| | 400 - 450 gr/m2 |
| | 80 - 120 cm |
| | 8 - 10 weeks |
| | THC: 24% |
| | |
| --- | --- |
| | Sativa 40% Indica 60% |
| | 450 - 500 gr/plant |
| | 120 - 150 cm |
| | Early October |
| | Creative, Uplifting |
4. Stress Killer Automatic CBD
Stress Killer—the name says it all. The penultimate strain on our list offers a 1:1 THC:CBD content. The balance of cannabinoids produces a light and airy high that won't weigh you down or stir up anxiety. Stress Killer Automatic CBD is perfect for breaking cycles of procrastination and progressing through stressful tasks. Its sativa-dominant effects offer focus and clarity via relaxation—helping your mind to stop spinning so you can focus on more important things. A boost of motivation and clarity are mirrored in this strain's bright, citrusy aromas.
This incredibly versatile autoflowering cultivar is the child of Lemon Shining Silver Haze and Juanita la Lagrimosa. Grown indoors, plants reach a height of up to 140cm, with an impressive yield of 500g/m². Outdoors, they can tower up to 160cm with yields of 160g/plant. Stress Killer Automatic CBD grows best in a climate with long summers. With a short flowering time of 7–8 weeks, this strain will race from seed to harvest in around 11 weeks.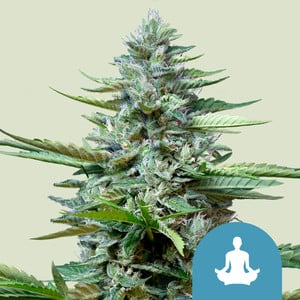 | | |
| --- | --- |
| | Lemon Shining Silver Haze x Juanita la Lagrimosa x Ruderalis |
| | 450 - 500 gr/m2 |
| | 90 – 140 cm |
| | 7 - 8 weeks |
| | THC: 11% |
| | |
| --- | --- |
| | Sativa 60% Indica 30% Ruderalis 10% |
| | 110 - 160 gr/plant |
| | 120 – 160 cm |
| | 11 - 12 weeks after sprouting |
| | Clear, Focus |
Buy Stress Killer Automatic CBD
5. Joanne's CBD
When focus is the goal, some people prefer to avoid the psychoactive effects of THC altogether, emphasising instead other cannabinoids. Enter Joanne's CBD—a polyhybrid strain that produces 13–18% cannabidiol (CBD) with minimal traces of THC. Its effects are clear and light, leaving you centred and focused, but not high. This strain is ideal for meditation and helping to switch focus away from daily stressors.
Joanne's CBD has quite the pedigree, as the child of Juanita la Lagrimosa and Session. Juanita is a High Times Cannabis Cup multi-award winner, thought to be the first ever strain to reach a CBD content of 15%. Session is an imposing hybrid that produces a colossal yield. The inclusion of Session boosts this cultivar's size and productivity over Juanita la Lagrimosa's modest yields. Indoors, Joanne's CBD will reach a middling height of 80–120cm with yields of 550g/m². Outdoors, however, it towers at 180cm, yielding up to 475g/plant. With a short 7–8-week flowering period, Joanne's CBD will quickly envelop you in serene clarity with sweet, fruity, peppery aromas.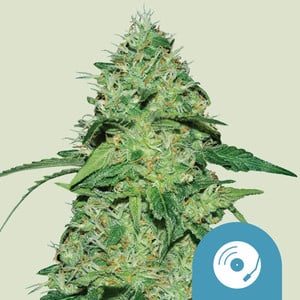 | | |
| --- | --- |
| | Session x Juanita la Lagrimosa |
| | 500 - 550 gr/m2 |
| | 80 - 120 cm |
| | 7 - 8 weeks |
| | THC: 0,25 - 0,75% |
| | |
| --- | --- |
| | Sativa 75% Indica 25% |
| | 425 - 475 gr/plant |
| | 140 - 180 cm |
| | Early October |
| | Clear, Light |