Mimosa: A Potent, Pretty, and Flavourful Strain
Does Mimosa deserve a place in your grow room or garden? You're about to find out. Once you discover her complex terpene profile, high THC content, and gorgeous aesthetics, it'll be hard to turn her down. But before you put seeds in the soil, learn about Mimosa's genetic background, effects, and how to grow her for the best results possible.
By
---
---
Mimosa ranks as one of the best-looking strains in the Royal Queen Seeds catalogue. However, while her shades of dark green, purple, and orange are more than enough to secure a place in many gardens and grow rooms, upon digging deeper, there is much more to love about Mimosa. A high THC content, fruity terpenes, and large yields make her a beloved sativa-dominant hybrid among all manner of growers. Continue reading to discover her genetic background, flavours and aromas, and how to grow the feminized and autoflowering versions of this scrumptious cultivar.
Mimosa Genetic Background: Clementine x Purple Punch
How did our breeders go about creating such a flavourful variety? Well, it all started with selecting the appropriate parent strains for the job! In their hunt for a terpene powerhouse, our team kicked things off with Clementine. This sativa-dominant strain imparts an energising and cerebral high from attractive, compact buds that glisten with their heavy trichome load. High levels of THC, 1% CBG, and large amounts of terpinolene add flare to any smoke.
After recruiting Clementine, our breeders selected Purple Punch to add even more flavour and slightly more relaxing effects to the progeny. This indica-dominant strain brings a long list of desirable traits to the table, including high quantities of beta-caryophyllene and, of course, dazzling purple hues.
After crossing Clementine and Purple Punch and stabilising the offspring, our breeders successfully brought Mimosa into the world—a 70% sativa-dominant hybrid ready to impress.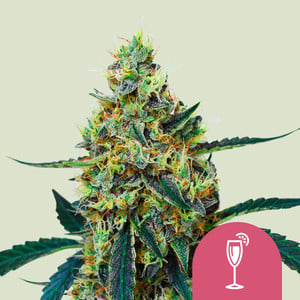 | | |
| --- | --- |
| | Clementine x Purple Punch |
| | 350 - 400 gr/m2 |
| | 60 - 80 cm |
| | 9 - 10 weeks |
| | THC: 22% |
| | |
| --- | --- |
| | Sativa 70% Indica 30% |
| | 500 - 550 gr/plant |
| | 80 - 100 cm |
| | Middle of October |
| | Creative, Laughter |
Flavour, Aroma, and Effect of Mimosa
There's a lot to take in when gazing upon a Mimosa specimen. Her dense canopy, luscious fan leaves, and shades of purple and green quickly grab the attention. However, her core characteristics are made possible by something much smaller and humble. Those tiny glandular trichomes manufacture a unique chemical cocktail bearing significant levels of terpinolene, beta-caryophyllene, and myrcene. These terpenes converge to provide fruity, earthy, and sour flavours and aromas. These tastes are detectable when smoking, but really pop when inhaled through a vape.
Alongside her terpene profile, Mimosa develops a hefty THC content of 22%. This concentration places her firmly in the middle-ground between classic strains and mind-blowing new-school creations. In any case, Mimosa provides a fast-acting and long-lasting high that elevates the mind and inspires creativity. You'll feel waves of motivation and inspiration course through your nervous system after only a few hits. She comes on pretty heavily, but as long as you take things slow, she rarely overwhelms, making her a functional choice during the morning or afternoon.
Growing Mimosa
Although her final product proves itself more than worthy, how does Mimosa perform in the grow room or garden? To put it simply, you're in for an easy ride, great yields, and a lovely view. Mimosa weed grows great both indoors and outdoors. Regardless of location, she'll maintain a small and compact size; cultivators looking to keep a low profile love this cultivar for this very reason.
Indoors, Mimosa plants reach heights of 60–80cm. You can either let them adopt their natural shape with one central cola, or top and perform LST to boost production and keep them slightly smaller. Such an easily manageable size makes Mimosa the perfect choice for cultivation in smaller grow tents and converted cupboards. Overall, you can expect a yield of 350–400g/m² after a flowering time of 9–10 weeks.
Mimosa performs equally well, if not better, outdoors, but requires a fairly long growing season to reach her full potential. Plants grow to slightly taller heights of 80–100cm and produce up to 550g/plant. Employ pruning and defoliation to create an even and aerated canopy, and to minimise the threat of mould, especially in rainy regions. Cultivating a polyculture using companion plants will also increase your chances of excellent results by attracting predatory insects that help to keep pests at bay.
Mimosa Automatic: Mimosa in a Hurry
Upon the world welcoming Mimosa with open arms, we decided to create an autoflowering version to make this specimen accessible to individuals with less time to spare. Mimosa Automatic boasts many of the key traits of the original, only she's easier to grow, tolerates adverse conditions well, and, of course, does not require a change in light cycle to flower. On top of this, Mimosa Automatic delivers a great harvest in a fraction of the time. Furthermore, our breeders managed to preserve the dazzling colours and high THC levels of the original. Prepare for an uplifting and clear-headed high fuelled by a THC content of 22%.
Interestingly, Mimosa Automatic grows taller than the original feminized photoperiod strain. Indoor plants peak at a height of 150cm and produce 350–400g/m². Those cultivated outdoors grow to 160cm and churn out up to 130g/plant. Have your stash jars ready after only 9–10 weeks after germination.

Mimosa: A Fruity Purple Wonder
Mimosa brings something new and exciting to the grow room. This stunning variety will steal the show with flecks of purple and green, but her power really lies in her trichomes. Enjoy an uplifting cerebral high matched with earthy, fruity, and sour notes. Blaze her during the day for laser-like focus, or later on in the evening to pursue creative projects with passion and flare.