Medical Mass: Enjoy Everything Cannabis Has to Offer
Some cannabis strains offer heaps of THC, while others are CBD-exclusive. Then there are those that offer a balance of both major cannabinoids. Enter Medical Mass, an indica-dominant hybrid with a 1:1 ratio of THC:CBD. Learn everything this strain has to offer in our review below.
By
---
A review of Medical Mass—a 1:1 CBD:THC hybrid.
---
From the union of the pleasantly pacifying Critical Mass and a CBD-dominant strain comes Medical Mass. But, unlike its Critical Mass parent, which renders users plopped in a stationary position for hours, Medical Mass will do just enough to give you a much-needed pick-me-up.
If you're more into marijuana's holistic attributes, without feeling the hard hit of intoxication, this is the ideal strain for you.
Medical Mass: Genetic Analysis
As the name suggests, this particular strain is a favorite amongst holistic cannabis users because of its high cannabidiol content. It's one of those perfect 1:1 CBD:THC blends that will give you just the right amount of psychotropic effects.
You don't have to worry about going off the rails with Medical Mass. If you're the type to get hit by paranoia easily, this one won't be a trigger for you. The amount of CBD in this strain gets the job done well.
As far as THC content goes, Medical Mass clocks in at around 10%. And, if you love your cannabidiol, you will love this strain and its 11% CBD content. If anything, this is more wholesome than intoxicating. The sativa to indica breakdown is 40% to 60%, respectively, so expect to move at a bit of a slower pace with this one.
Growing Medical Mass
If you plan to cultivate your very own Medical Mass plants, you can very much do so with ease. With an average height of 2 – 3.3 feet indoors, spatial limitations won't be a problem. You may, however, want to allot a little more room to accommodate its impressive yields of up to 19.4 oz/m².
If you prefer outdoor growing, you'll be equally impressed with this plant. With the ability to grow up to 1.5 metres in height, it can yield up to 19.4 oz/plant. Given that much dried bud in your hands, you can very well have your own miniature version of Pablo Escobar's herb garden. Guerrilla growers, rejoice!
This strain has a slightly longer flowering time than average, at 10–11 weeks. However, given the sophisticated cannabinoid profile developed by this strain, it's worth the couple extra weeks of waiting. If you plan to harvest outdoors, you'll be able to do so before the inclement weather of fall takes over.
Effects of Medical Mass
Instead of the hard kick that many THC-dominant strains give, you'll instead feel a slight nudge upon taking the first few tokes of Medical Mass. It is a creeper that will sink in slowly, but surely. And don't expect that much of a cerebral hit; this strain is all about soothing the body.
Did we already mention how perfect this strain is for the daytime? Medical Mass won't get you to the point of drowsiness and couch-lock. Instead, it will give you just the right amount of buzz you need to get through the day.
And, if you happen to be down in the dumps, this would be the perfect strain to boost your mood. Most of its users are satisfied with how it can put a smile across their faces after just a few hits. You likely won't get the full euphoric experience, but you will be uplifted nonetheless.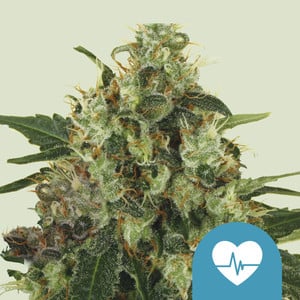 | | |
| --- | --- |
| | Critical Mass x CBD dominant plant |
| | 18 to 19 oz/m² |
| | 2 to 3 feet |
| | 10 - 11 weeks |
| | THC: 10% |
| | |
| --- | --- |
| | Sativa 40% Indica 60% |
| | 18 to 19 oz/plant |
| | 4 to 5 feet |
| | Late September |
| | Calming, Physically Relaxing |
Medical Mass: Aroma and Flavor
As described by its champion breeders at Royal Queen Seeds, you'll be met with a "cocktail of aromas" once you light up Medical Mass. It does have a slight hint of sweetness, but floral notes dominate. Even with its highly aromatic nature, the smell of the herb isn't overpowering or off-putting.
In terms of taste, you will pick up a pleasant sweetness that's more honey-like than sugary. That pronounced flavor will linger on your lips and mouth, which adds to the overall experience.
The taste alone is a huge reason Medical Mass is a favorite among users, whether for therapeutic or recreational purposes. Whether you choose to use a dry herb vaporizer, a bong, or roll it up in a spliff or blunt, it will be a party in your mouth.
Medical Mass: Aromatic and Delectable With a Satisfying Kick
Regardless of why you choose to enjoy it, Medical Mass is the perfect companion to go with. It does enough to lift your spirits, without sending you to paranoia country. It'll also leave a flavor in your mouth that you wouldn't want to fade away. For any herb-loving individual out there, that's a win-win.