How to Host a Cannabis-Friendly Party
A cannabis-themed party may seem like a fun venture to partake in, but hosting one does have its fair share of challenges. To make for smooth sailing, consider these weed party ideas and tips for before, during, and after your event!
By
---
So, you've decided to throw a cannabis-themed party. The mere idea of it does seem fun. Like-minded, herb-loving individuals gather together for a night of laughter and new memories. Maybe you'll even make new friends along the way.
It's one thing to be a mere attendee, and it's another to play the role of host. This title comes with hefty responsibilities, and if worst comes to worst and everything goes south, you take all the heat.
At this point, you're probably feeling a bit pressured to deliver. But never fear! In this article, we share some helpful tips and advice so your weed-themed party goes off without a hitch! Whether it's your first time hosting or you're a veteran of herbal entertaining, there's always something new to learn.
Why Throw a Weed-Themed Party?
Despite marijuana's surge in mainstream popularity, weed-themed parties aren't a hugely common occurrence. For one, not everybody partakes. Second, there are still regions around the world where cannabis use comes with major sanctions.
But a marijuana-themed party is a great way to bond with fellow herb lovers. It won't get you hammered like when you do tequila shots at regular house parties. Instead, you end up laughing all night at mundane things. From here, new, long-lasting friendships are born.
And if you're able to host a successful event, you ought to pat yourself on the back. But do expect to follow through with round two, because people will now hold you in high regard.
Weed Party Ideas
Weed parties—or any party for that matter—aren't an affair where you go in and just "wing it". There needs to be proper planning and preparation, depending on the theme.
Here are some ways to approach each type of cannabis party.
There's nothing a stoner friend would appreciate more than a cannabis-themed birthday party. You're essentially giving them two of their favourite things in the world: weed, and a celebration surrounding them!
First and foremost, you must select the ideal strains. You don't want everyone to be locked in a stationary position all night, so perhaps pass on a heavy indica high in Myrcene for now. Instead, go with an uplifting sativa full of Limonene to put your guests in a more social, euphoric mood.
The second thing to take care of: the munchies. Have a variety of sweet and savoury treats for your guests to dig into. You wouldn't want to leave everyone hanging when it kicks in and you have nothing to serve, now, would you?
Lastly, don't forget the baked treats. Sure, you can go with regular space cakes and cookies, but if you really want to impress, try your hand at a weed-infused birthday cupcakes! Your non-smoking, cannabis-loving guests would appreciate that greatly.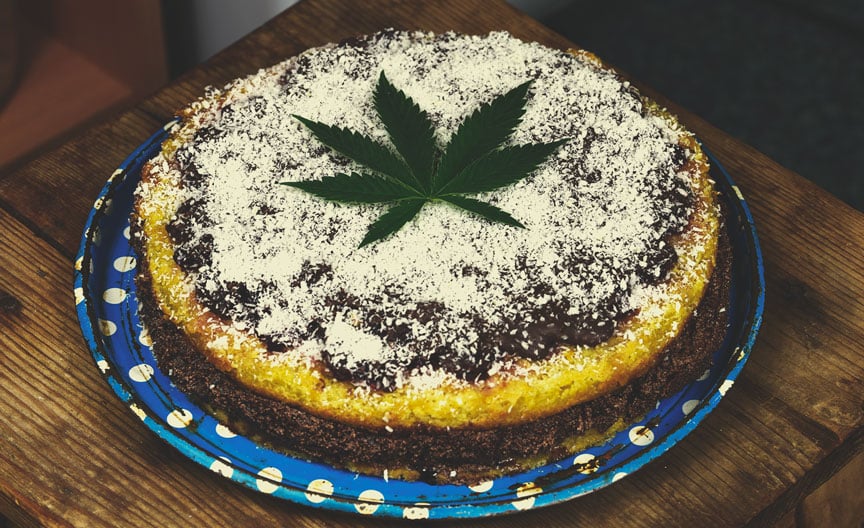 Weed-themed Christmas parties take a potentially mundane affair and turn it into something truly festive. Exchanging gifts and wishing each other a happy holiday certainly becomes much more enjoyable with a little buzz from your favourite herb.
Of course, everyone expects a Christmas party to be sufficiently festive, so don't forget your ornaments, lighting, and appropriate music. Make everyone feel that it is indeed the most wonderful time of the year!
Christmas parties are also the best time to let your edibles recipes shine through. There are a million Christmas cookie recipes out there, and each is begging to be infused with cannabis. Just be sure to let your guests know beforehand so someone doesn't down a dozen cookies accidentally. Want to really go for festive gold? How about making some THC-spiked eggnog?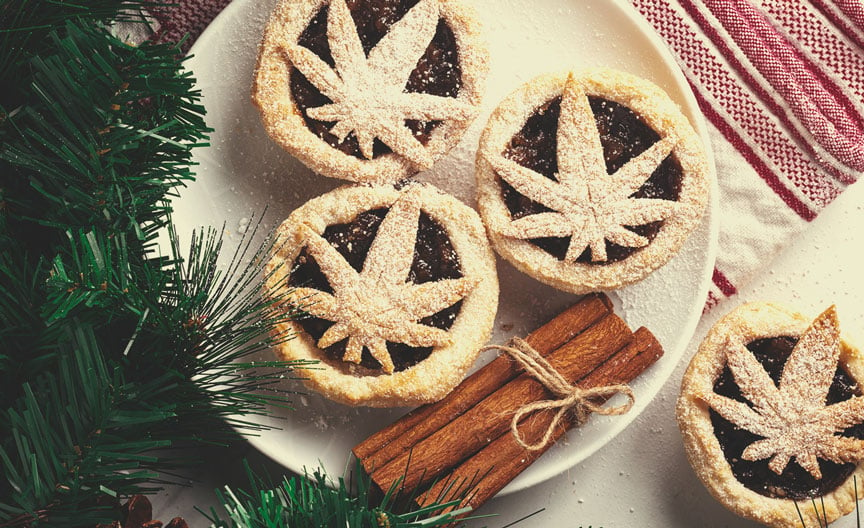 Dinner parties can be a casual event, or more formal—it's up to you and your guests! Regardless, for this occasion, it's helpful to have a designated weed station, as this will help to mitigate confusion and a mess. Stock this station with lighters, papers—anything you need to successfully enjoy a toke. If smoking inside, place ashtrays at key locations and crack open some windows to keep things clean and enjoyable.
When it comes to catering for your guests, note if there are any non-smokers or non-users expected to attend, as this will dictate your offerings. Consider having some edibles for those who don't smoke, and perhaps some cocktail supplies or weed-free refreshments to keep your non-cannabis-using guests happy.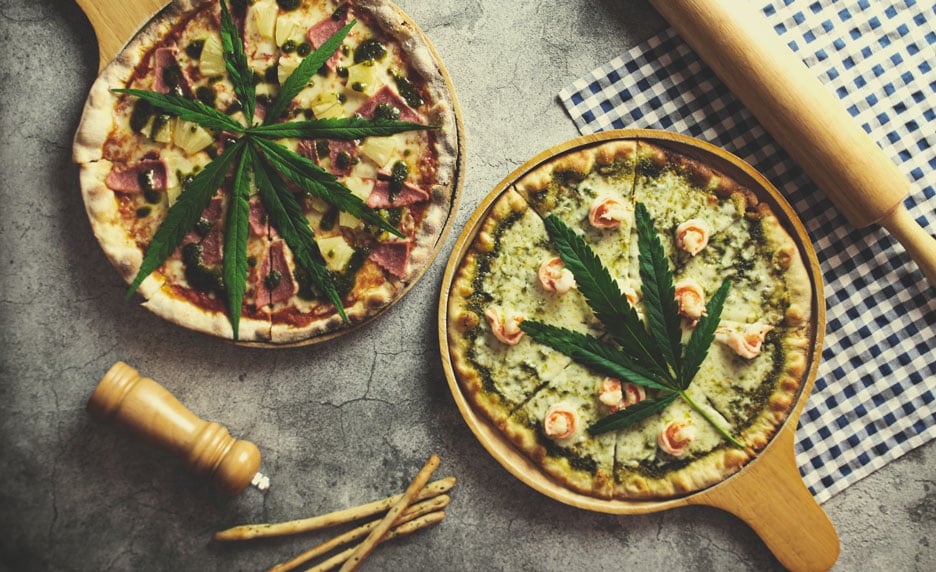 Preparing for a Weed-Themed Party
Now, let's talk about the actual preparations required for a weed-themed party.
Just like lighting, music always plays an important role in any social situation. It sets the tone of the environment, and ultimately, everyone's mood.
Poor song choices could easily dampen the vibe, so don't let a random playlist take over, as you can still run into some weak tunes.
To avoid this issue, make a playlist in advance! Pick songs that are known to bring good vibes. You can never go wrong with lo-fi beats to generate a mellow atmosphere, or you can up the energy with some house-inspired pop. It's up to you! If you're worried about satisfying everyone's taste, invite your guests to collaborate on a playlist beforehand so each person gets a turn choosing some songs.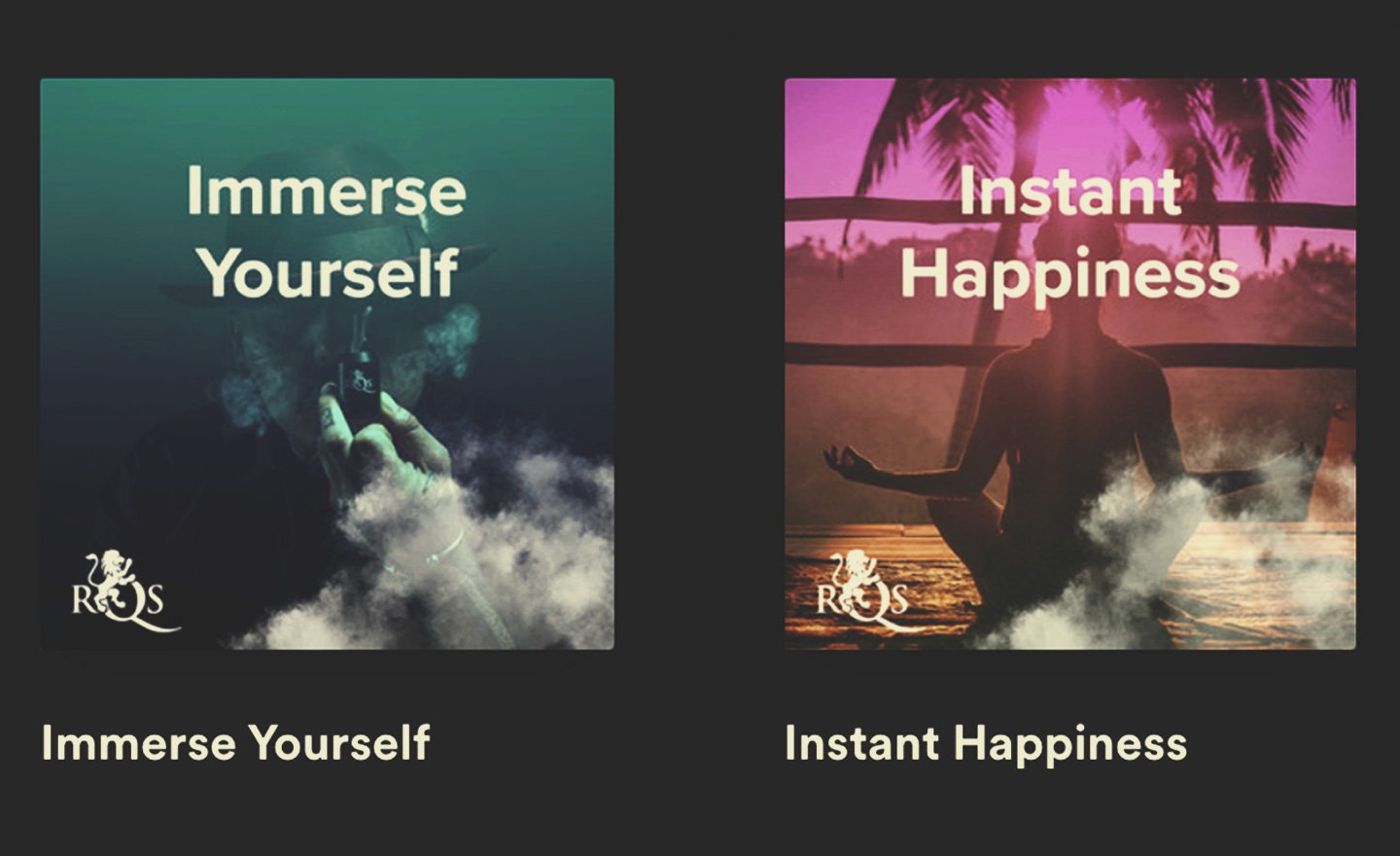 While some can mix the two substances and be just fine, others aren't as prepared to handle the effects of being crossfaded. It can dull the senses further and potentially incapacitate some of your guests.
To be on the safe side, stick to a glass or two of something like beer or wine. Hold off on the harder stuff, and keep drinks to a minimum. If you're itching to make some fun cocktails, consider going the "virgin" route or switching out the alcohol for a few drops of CBD oil.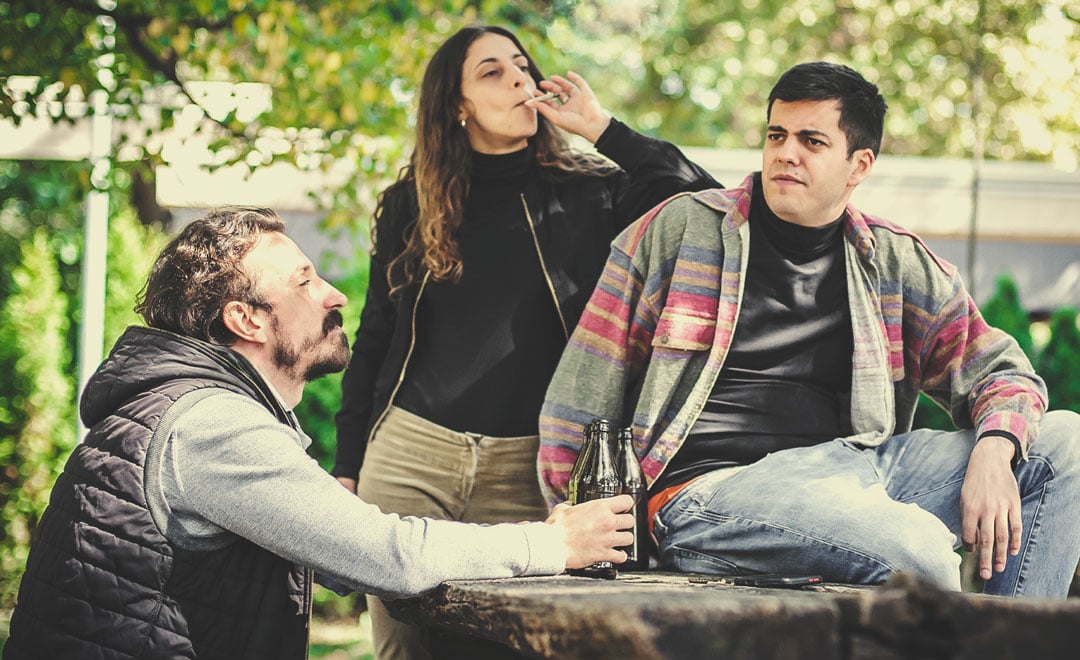 Laughter is always a great accompaniment to cannabis. And one of the best ways to induce it is to provide extra entertainment during smoke sessions.
Board games and card games are always a hit. But if you don't have them on hand, you can always go with some of the classics, like charades or pin the tail on the donkey. For the latter, perhaps swap out the titular donkey for a picture of something funnier and more relevant to you and your guests.
All you need is a little creativity to pull this off. But if all else fails, you can always run to the internet for help.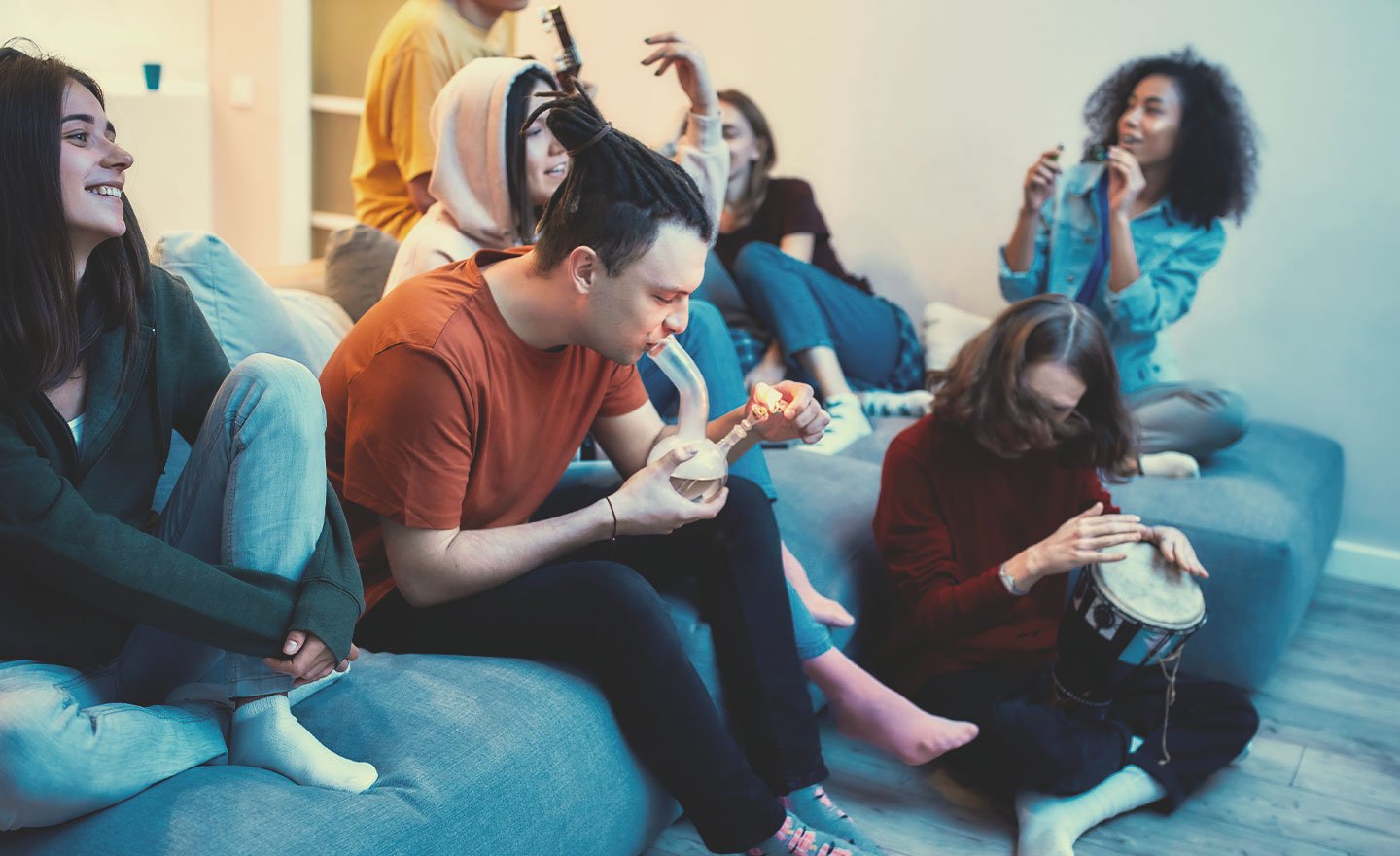 During the Weed Party
Now, here are some tips for how to handle yourself during the actual party.
Always Remember to Puff, Puff, Pass
It is called "puff, puff, pass" for a reason. You take two generous hits, then you pass it to the next person. Whether the circle moves clockwise or counterclockwise depends on what you decide beforehand.
Taking too many hits or holding onto a joint won't win you any new friends. If it's your first time being invited to one of these parties, it might also be your last.
If you genuinely don't know what to do, just emulate your peers. You'll get it right soon enough.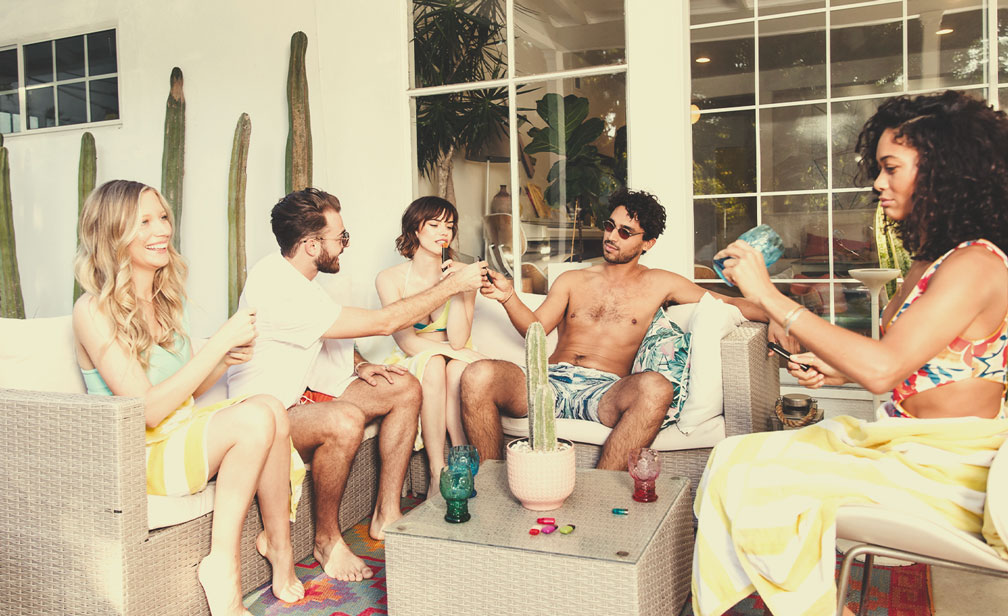 Tread Lightly With Edibles
There's a reason many people stay away from edibles. Even a ganja master like Snoop Dogg says no to cannabis in edible form because "they have no off button". But for those who aren't fans of smoking, this is often the best option.
So if you choose to go with edibles, remember to tread lightly. About half of a space cookie can leave you in flight for several hours. And if you're not used to this sensation, it can send you into a horrible state of paranoia.
As a rule of thumb, a safe dose for beginners is about 2.5–5mg of THC. Be sure to read your labels before consuming.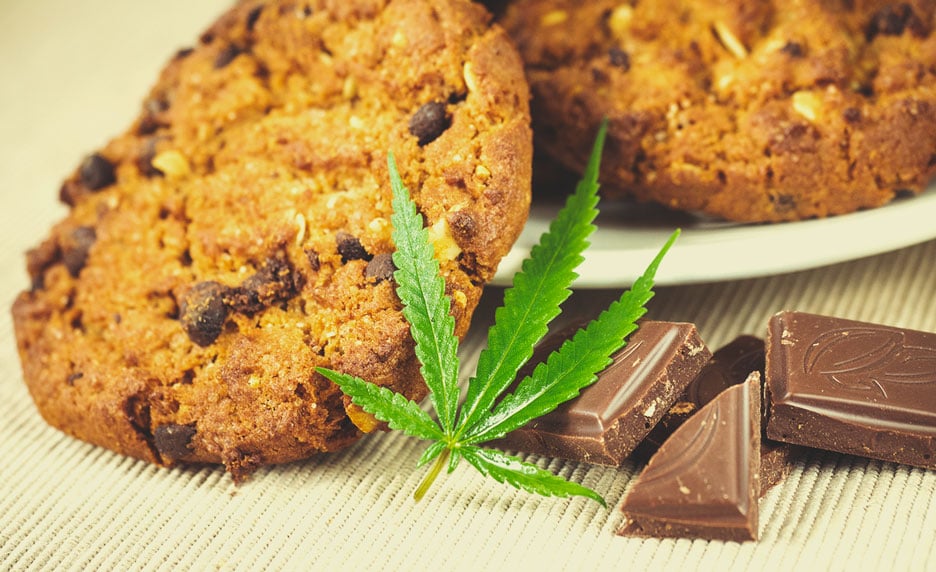 Practise Common Stoner Etiquette
There is basic etiquette, like listening before speaking and showing gratitude toward a friendly gesture. But there's also basic stoner etiquette that many cannabis veterans already know and practise.
A good example is keeping saliva levels low, as much as possible. Whether you're passing a joint or a bowl, keep things as dry and fluid-free as you can.
Speaking of pipes, it's also basic etiquette to fill up the bowl if the rotation ends with you. This is done out of respect for the person next to you.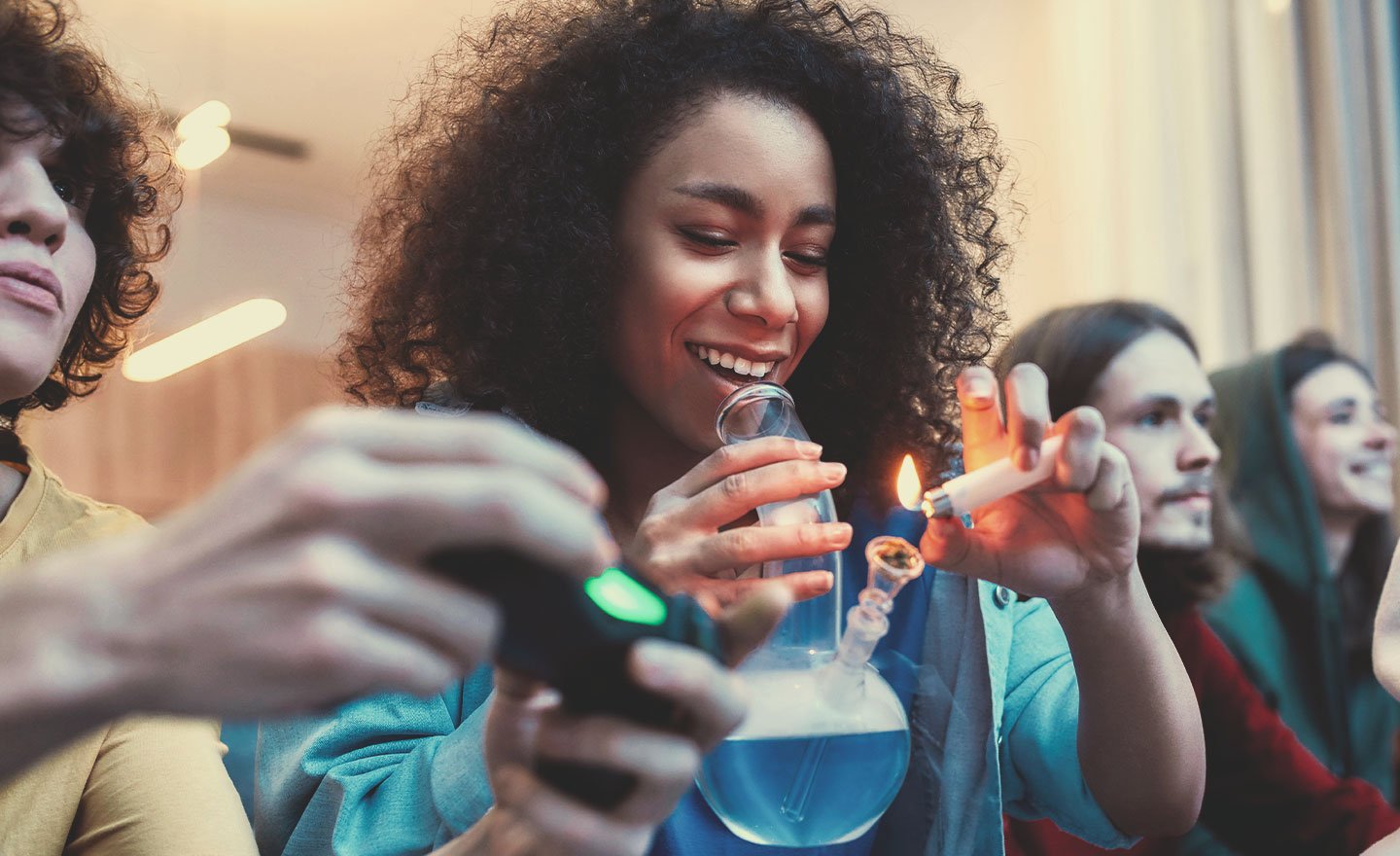 After a Weed-Themed Party
The party's over, and everyone's preparing to head home. Here are some tips to end the night smoothly.
Cannabidiol is a great equaliser, as it helps to balance out THC's psychotropic effects. For your guests who tend to be a bit edgy after a night of smoking, this should help ease them down.
CBD comes in various forms, like oils, gummies, and gel capsules. Pick the one most suitable for your situation. Gummy bears are always a hit!
Offer Transportation Options
If you have enough room for interested parties to stay over, that can be a good option for some. But if you don't, prepare to offer transportation options.
Once you've sobered up, you can drop them off if they don't live too far. But if none of you are fit to drive, call them a ride. It's the proper thing to do, and that act of kindness will be deeply appreciated.
As kids, we were all delighted whenever we took home a goodie bag from a birthday party. This can also be applied to your cannabis-themed parties.
A goodie bag doesn't have to be extravagant. Some funky lighters and stickers should do the trick. And if you happen to have homegrown buds, you can put them in little baggies for a take-home. CBD gummies make a great feature here too!
Throwing a Marijuana-Friendly Party: Let the Good Times Roll
Ultimately, weed parties are about having the time of your life and meeting new people while enjoying the magic herb. And you can ensure a great time by keeping these tips in mind. Whether it's your first weed party or your 100th, they will always apply.