How And When To Transplant Cannabis Seedlings
The seedling phase is arguably the most important of the entire cannabis life cycle. Whether you grow from seed or clone, the hands-on part of cultivation begins with seedlings. Transplanting is all important. Get it wrong, and the crop could be lost. Get it right, and grow great ganja with this guide.
By
---
---
THE IMPORTANCE OF CARING FOR CANNABIS SEEDLINGS
Post-germination or post-cutting, your bean or sprout needs a place to take root. The prime objective for the cannabis plant during the seedling stage is the development of a healthy root zone. If your seedlings struggle now, it's likely they may never completely recover, and even more likely they won't reach their full potential. Worst case scenario, seedlings die off and the grow is over before it's even started.
THE OPTIMAL CONDITIONS FOR SEEDLINGS
Cannabis seedlings need to be treated delicately. Mind your marijuana like babies. If seedlings need support, prop them up with a toothpick or a cocktail stick and some soft gardening wire.
An 18-6 light schedule is considered the sweet spot by most growers. White light is preferred. The source of light should be CFL, MH, or LED. If you have a sunny windowsill, it can work in a pinch.
Roots grow in the dark. That's why we advocate 18-6 or 20-4 over a nonstop 24-hour light cycle. High humidity, ideally around 70% RH, and temperatures in the 20–24°C range make for a perfect seedling habitat. A propagator, thermo-hygrometer, and a spray bottle of water are the tools to help you dial it in.
Stretchy or floppy seedling growth can be due to genetics. Often, it's an indication the grow lamp is positioned too far away from the canopy. A cool white 250W CFL can comfortably hang 15cm above a dozen or more seedlings without scorching leaves.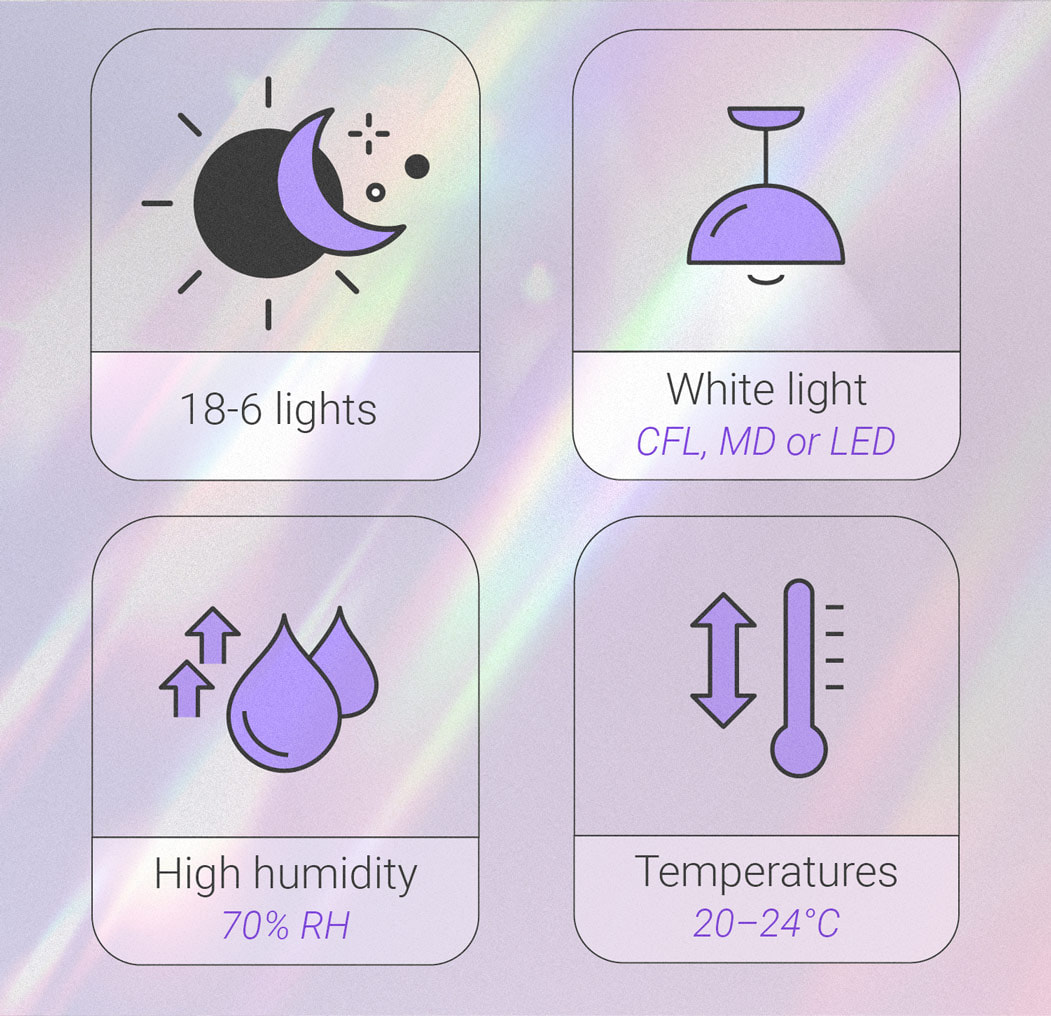 WHAT'S THE BEST STARTER SUBSTRATE?
The medium must be wet, not waterlogged. An effective wet-dry cycle is the goal. Remember to resist the temptation to overwater. Better to mist plants with a sprayer if you are not sure. Touch the medium to feel how dry it is and keep RH high.
Before we go into the specifics, we need to be clear that starting in one medium and switching to another can be hazardous. Keep it simple and keep it consistent. You can't start seedlings in soil and transplant later into a DWC bucket.
CUBES, CUPS, AND SMALL CONTAINERS
Rockwool cubes and blocks are made for hydroponic growers. Start your seedling in a small cube and it couldn't be easier to transplant later. Simply cut a cube-sized chunk out of a larger block and insert. The process can be repeated with minimal stress to plants.
Unfortunately, rockwool is a really bad idea for soil growers, even the smaller sized blocks. Invariably, the block retains more water than the surrounding soil. Green, sludge-like algae growth soon becomes a problem. Sure, sometimes you can get away with the tiny cubes, but why take the risk?
An oxygen-rich medium that drains well is the ideal mix for soil and/or coco growers. Between these two growing styles, there is the most overlap during the seedling stage. Peat or coco cubes are easy to use and relatively inexpensive. Similar to a rockwool block, you can visually monitor root development as the white spaghetti strands protrude from the cube. Growers, both organic and hydro, working with clones report the highest success rates using the cube-sized starter mediums.
Many soil and coco growers use cups or small plastic pots as starter containers, typically, anywhere in size from 0.5–5l. Lightly fertilised soil mixed with perlite or coco coir mixed with 30–50% perlite are the most common blended media for seedlings. So long as the base of the container has plenty of drainage holes and the interior can hold the volume of medium required, it can serve as a starter pot. Don't be afraid to improvise. Poke a few holes in the base of a paper coffee cup with a pin and it becomes a pot.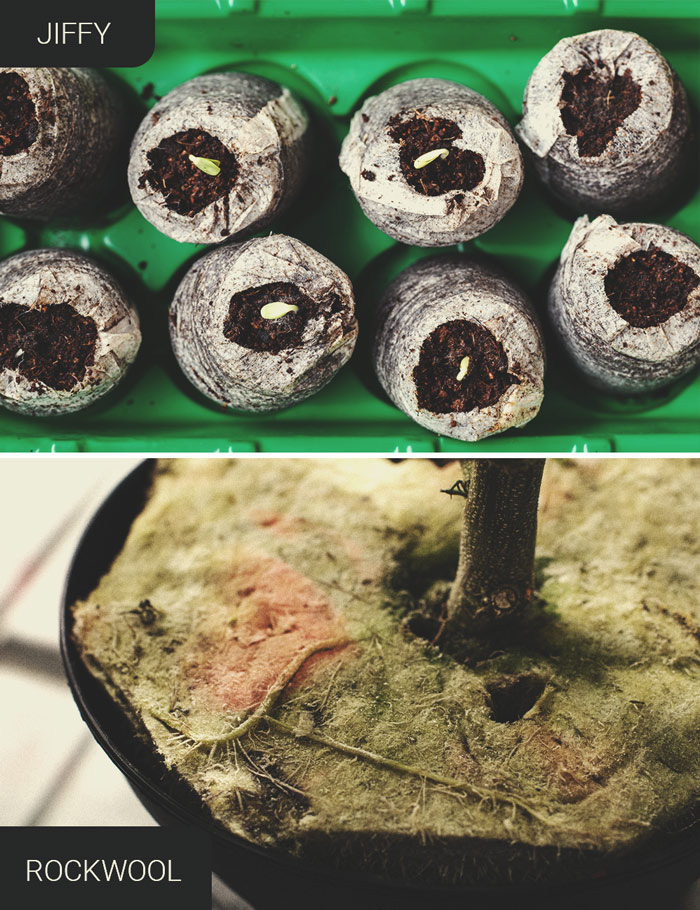 WHEN TO TRANSPLANT SEEDLINGS
The right time to transplant your seedlings is just before they outgrow their current container. With cubes, you can see roots poking out telling you it's time to pot up. When you start with a cup or small pot, you are relying on above-ground cues. Typically, when the set or sets of true leaves of the seedling have spread out to cover the circumference of the container, it's time. Also, vertical growth will be an obvious indicator.
Don't wait too long to transplant. Rootbound plants will take time to recover and may be permanently stunted. In general, it takes 7–10 days for a seedling to take root and outgrow small starter pots of 1l or less.
HOW TO TRANSPLANT SEEDLINGS
Cubes are the easiest to work with. Either cut a hole to size in a bigger block, or burrow a hole into the medium with your fingers and insert for a snug fit. Potting up takes a little more finesse. First, don't fill your large container all the way to the top. Leave room so you can water properly later. If you pack the pot all the way to the top, water will mostly run off and not reach the roots.
Next, make an impression in your large container with another small pot, or the one with the plant in it if you don't have any others. Make this impression in the medium after you have watered it. This creates a perfect imprint for the transplant.
It's best to wait until the medium in the small pot is dry before going for a transplant. Wet soil can fall apart in chunks as you fumble with the sopping mud. Now, turn the dry plant upside down, and firmly pat the bottom. Grasp the plant stem from the base and ease the compacted medium out of the container in one piece. Some topsoil will spill, but don't worry.
Finally, gently slide the plant, roots first, into the large container. Replace the lost topsoil or coco with a handful or two over the top and add a little more water. That's the secret to stress-free transplanting.

POTTING UP VS BEGINNING WITH BIG POTS
If your final container size is up to 11l, you have the option to sow seeds directly. This is only a viable option when growing from seed. Clones will not take root in such a large container. Initially, seedlings in large pots will grow more slowly than those in smaller containers. After a few weeks of vegetative growth, the difference is negligible.
If you don't transplant, then you eliminate the risk of transplant shock. But you also limit the potential of your cannabis plants. That being said, a first and final transplant is sometimes the best option for autoflowering strains with a short life cycle.
Unless smaller plants are advantageous due to limited grow space, bigger is always better. Transplanting is not something beginner growers should avoid. The only way to learn is by doing. If you ever want to grow marijuana monsters, you need to master transplanting seedlings.