Indoor Cannabis Growing: Relative Humidity and Temperatures
The most refined techniques to grow cannabis become irrelevant when relative humidity and temperatures are not being controlled – learn more about these two major factors.
By
---
---
Final results of an indoor grow are greatly influenced by the way growers keep in control of parameters that influence their plants growth. There are two basic factors that can easily be forgotten when we're busy thinking of other ways to increase yields, size, and overall health of our plants – temperature & relative humidity. This blog summarizes ways to keep both of these factors within an optimum range, and provides specific information what conditions should be maintained to achieve best results.
HOW TEMPERATURES AND HUMIDITY LEVELS INTERACT
It's important to know that humidity levels and temperatures are closely related to one another. When we talk about humidity, we usually mean relative humidity (RH), which is the ratio of partial pressure of water vapor to the maximum vapor pressure of water at the same temperature. You get the whole idea when knowing the basic principle that warm air holds more water vapor than cold air. This is one of the reasons why it's necessary to extract a lot of warm air from our grow room, and ideally allow cool air to enter – warm air simply holds too much water vapor in it.
HUMIDITY LEVELS AND TEMPERATURES: FROM SEEDLING TO HARVEST
We need to define what humidity and temperature control actually means when growing cannabis. It makes sense to divide the life of cannabis plants into 4 different stages in which humidity levels, and temperatures, should be adjusted to ensure healthy growth. Don't think that humidity and temperature control is complicated and not worth it! It's generally very easy, and more about keeping parameters within a certain range, and as constant as possible.
The first thing you need to do is to buy a hygrometer and thermometer, preferably a digital one with memory function, also showing maximum and minimum values of the past. Some hygrometers aren't the most accurate, so don't bother having several devices in your grow room to compare values. Now that we're able to closely monitor our conditions, we can get to the essence of humidity and temperature control – the actual humidity levels and temperatures we aim for.
1. Seedling Stage
Seedlings and clones like high humidity levels of 65-70%
Reason: The root system is not established
High humidity levels allow water intake through leaves
Temperatures with lights on: 20-25 C° (lights off: 4-5 C° lower)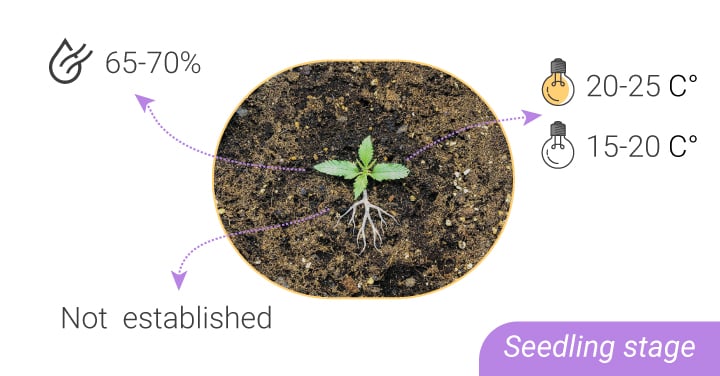 2. Vegetation Period
Humidity levels can be lowered by 5% each week (acceptable range: 40-70%)
Temperatures can be increased a little bit (no obligation)
Reason: Roots absorb more water; evaporation through leaves cools plant(s)
Temperatures with lights on: 22-28 C° (lights off: 4-5 C° lower)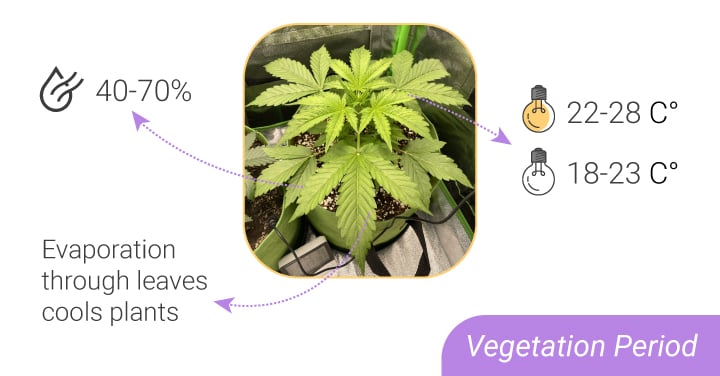 3. Flowering Period
Humidity levels need to be lowered to 40-50% (extremely important)
You can get away with 55% (anything over 60% is real bad)
It's best to slightly lower temperatures in flowering
Temperatures with lights on: 20-26 C° (avoid high temperatures)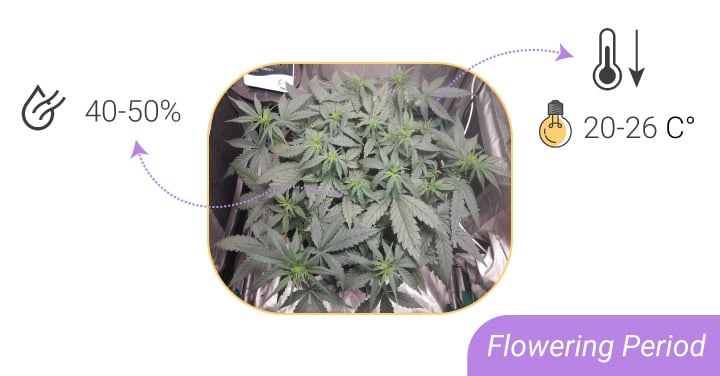 4. Late flowering (1-2 weeks before harvest)
The following steps are no necessity, but can improve yield, flavor and appearance
Bring down humidity levels as much as you can: 30-40%
Lower daytime temperatures, and also increase the temperature difference (day/night)
Temperatures with lights on: 18-24 °C (lights off: minus 5-10 C°)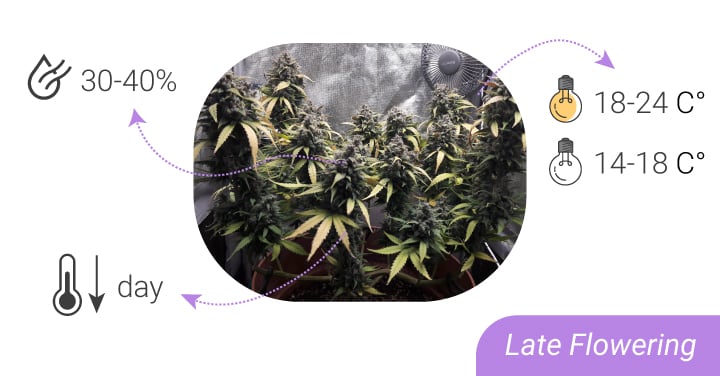 ADJUSTING HUMIDITY LEVELS AND TEMPERATURES
We've got a pretty good idea on humidity levels and temperatures we aim for. Now it's time to get to the practical part, and to find ways to bring things back in balance when they're not. Most growers will struggle to keep both relative humidity and temperatures down, which is of primary importance in the flowering period – we got that. In some colder regions, and depending on the lighting solution, the opposite scenario might be the case, and temperatures or humidity levels must be raised.
Remember the basic principle that warm air holds more water than cold air? Keep this in mind, and be aware of the fact that relative humidity and temperatures interact with one another.
A. WAYS TO LOWER HUMIDITY
Run you existing tube vent on higher velocities or upgrade (air exits tent AND the room it is placed in!)
Increase fresh/cool air supply (e.g. active air intake by 5.5 inches case fans for PC's)
Try to water your plants right after lights are switched on
Spend money on a decent sized dehumidifier (the small ones can't hold enough water)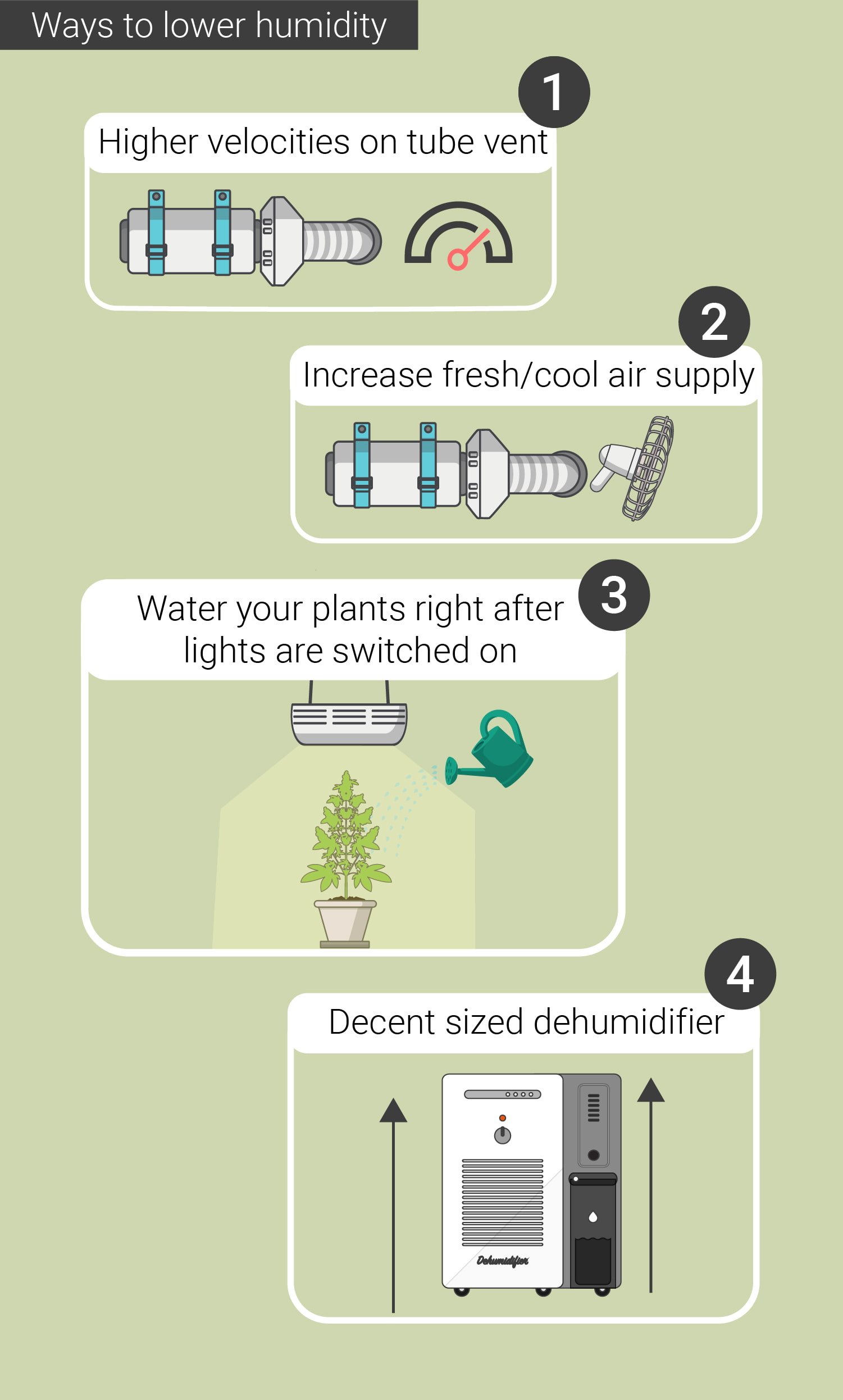 B. WAYS TO LOWER TEMPERATURES
Just like lowering humidity: Increase the total airflow in your room by allowing more warm air to be extracted, and more cool air to enter (higher velocities or bigger tube vent)
Always have "lights off" during the day, and "lights on" at night
When you grow with HPS lights, consider using a cooltube
Install an air conditioning unit (AC's will also lower humidity levels)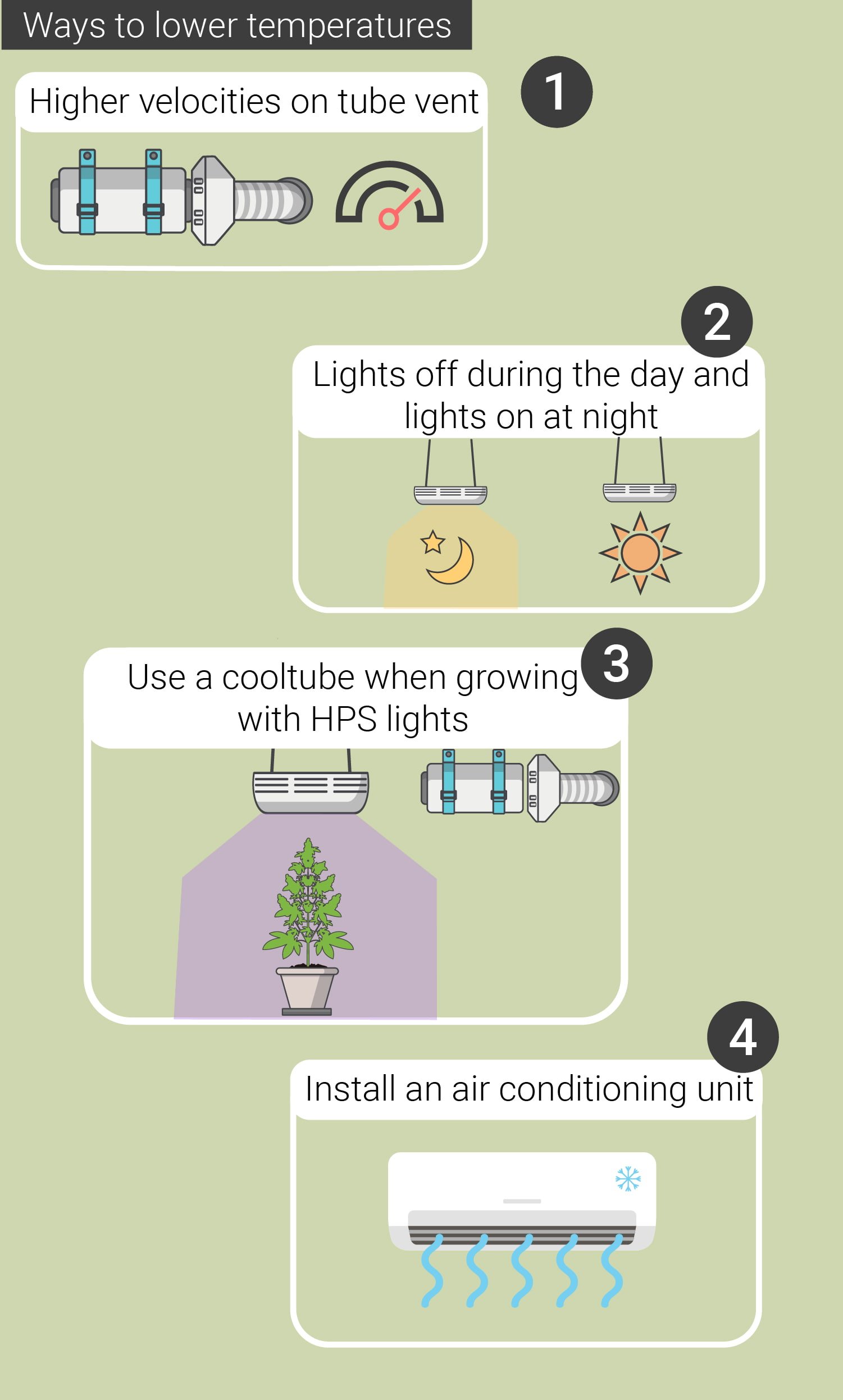 C. RAISING HUMIDITY
Manually increase humidity levels with a spray bottle (It won't last long)
Keep the surface of the soil moist, but not wet
Hang wet towels/cloths in your grow room or put open water containers in it
Invest money in a humidifier with a large water tank (small ones demand constant refills)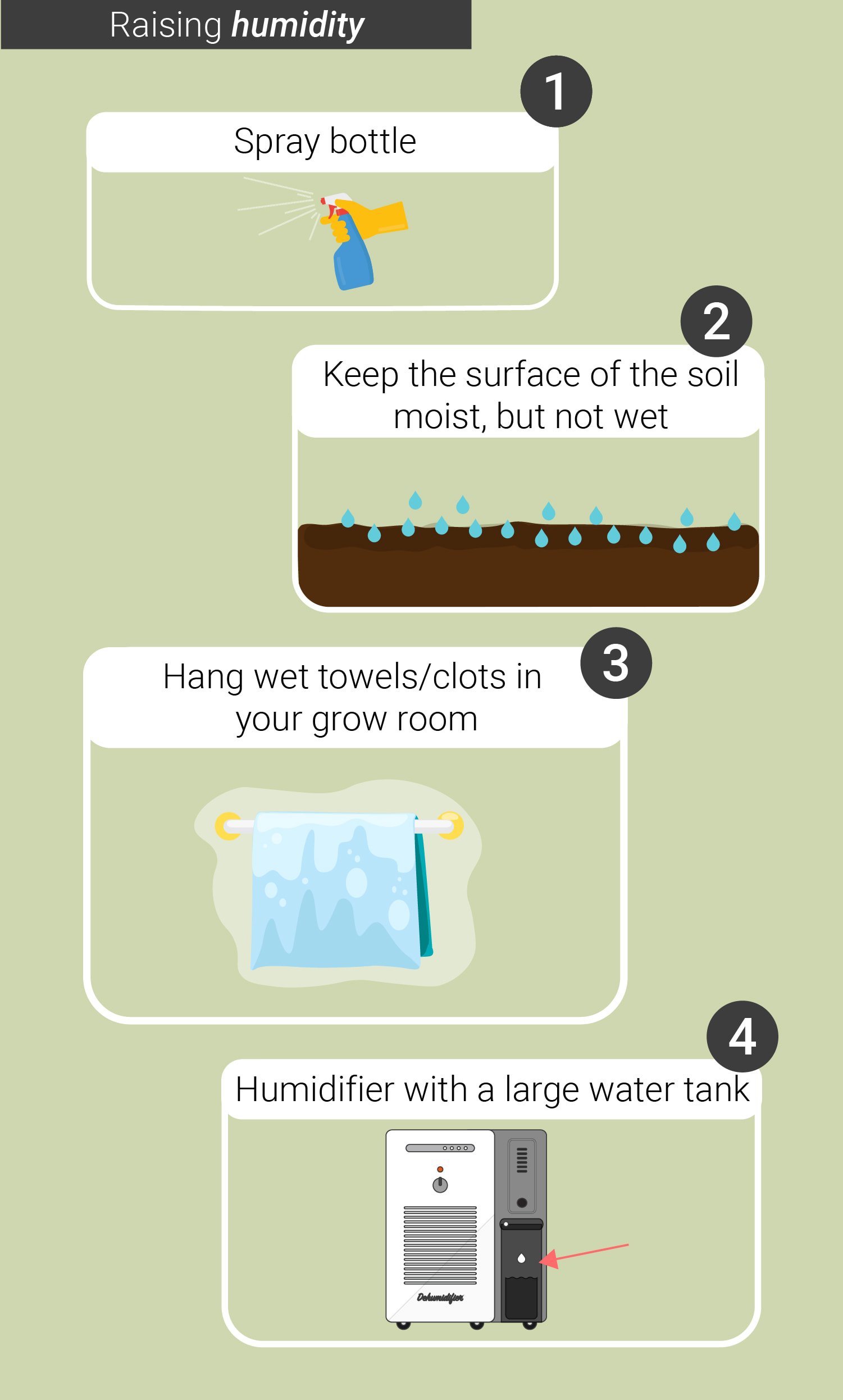 D. RAISING TEMPERATURES
You can always upgrade to a bigger grow light (more watts = more heat)
Place a heating mat at the bottom of your tent or grow room
Isolate your grow room with materials from the hardware store
Use a simple space heater with a thermostat