Haze Berry: Sativa Energy And Indica Sweetness
Haze Berry is a sativa-dominant hybrid that combines the uplifting high of Shining Silver Haze with the sweet berry flavor of Blueberry. Cherished by cannabis enthusiasts of all types, Haze Berry is also popular among growers, as she provides a good yield and has a relatively short flowering time.
By
---
Haze Berry belongs to the popular line of "Blue" cannabis strains. Like Blue Mystic or Blue Cheese, it is a cross of the mouth-watering Blueberry strain with a popular cannabis favorite, in this case Shining Silver Haze. Haze Berry has become popular among cannabis enthusiasts who appreciate its potency, invigorating effect, and great taste. For growers, Haze Berry also has a lot to offer, as it provides good yields and doesn't take as long to flower as most sativas.
ORIGINS AND GENETIC HISTORY OF HAZE BERRY
Haze Berry was created by the Dutch breeders at Royal Queen Seeds, who successfully hybridised Shining Silver Haze with the original Blueberry by DJ Short.
Shining Silver Haze, aka the "king of sativas", comprises one half of Haze Berry's parentage, and originates from Silver Haze, one of the first varieties cultivated by the "Haze brothers" in the late 1960s. The genetics behind this strain originated from the jungles of Thailand and the tropics of Mexico and Colombia, and were further enhanced with a robust Skunk cultivar and the connoisseur favorite, Northern Lights.
Haze Berry's other parent, Blueberry, is another cannabis legend and a three-way cross between Afghani, Sativa Thai, and Purple Thai parents. It was originally developed in the 1970s or '80s by the mysterious, prolific breeder DJ Short from Oregon, a pioneer in cannabis breeding who has also been dubbed the "Willy Wonka of pot".
The combination of these legendary cannabis genetics has produced one of the most sought-after Haze strains on the market, cherished by both medicinal and recreational marijuana users alike.
GROWING TRAITS OF HAZE BERRY: DOESN'T KEEP YOU WAITING
Haze Berry is 60% sativa and 40% indica, although the exact ratio can vary. Yet, it will always be sativa-dominant, which is evident in the way she grows. In typical sativa fashion, the plant develops long, thin leaves on medium-long branches. Indoors, however, she will only reach a manageable 2 – 3.3 feet in height. Depending on the phenotype and environmental conditions, some plants can develop purple or blue hues, which gives them an alluring appearance.
Haze Berry doesn't grow very large buds. Its flowers mature to a medium size and—quite uncommon for a sativa—hold together in dense clusters. Owing to Shining Silver Haze, this lady is also a very good resin producer. As it flowers, an abundance of white trichomes will endow buds with a shiny, silvery appearance and very sticky texture, easily making up for what they lack in size.
For a sativa, Haze Berry has a relatively short flowering time of about 9–10 weeks. Outdoors, it can get as tall as 70.2 inches. Here, harvest month is late October. For Haze-loving indoor growers, Haze Berry is a very attractive strain due to its moderate height. Then again, growers looking to push production to the max should consider outdoor growing if at all possible, as she really thrives with an abundance of sunshine.
Kept under a 600W light, you can expect Haze Berry to yield in the realm of 18.5 – 20.3 oz/m². Outdoors, depending on growing conditions, a single Haze Berry plant can yield as much as 22.9 oz.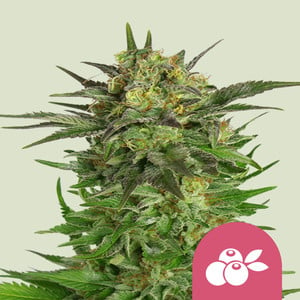 | | |
| --- | --- |
| | Blueberry x Shining Silver Haze |
| | 18 to 20 oz/m² |
| | 2 to 3 feet |
| | 9 - 11 weeks |
| | THC: 20% |
| | |
| --- | --- |
| | Sativa 60% Indica 40% |
| | 21 to 23 oz/plant |
| | 5 to 6 feet |
| | Late October |
| | Long Lasting , Physically Relaxing, Powerful |
EFFECTS OF HAZE BERRY: EUPHORIA AND RELAXATION IN ONE
Haze Berry is quite a potent strain, which isn't surprising given its powerful parents. This wunderkind routinely tests at 20% THC or more, with some variants containing a good portion of CBD to boot.
Haze Berry has an effect that begins with an energising and euphoric bang. Just like that, you'll be inspired to take on forgotten creative projects or to go to the gym. But keep in mind, after more and more tokes, the energetic Haze high turns into a more chill, but still uplifting, stone. All the while, happiness abounds and motivation is given a temporary boost. This makes it an excellent daytime smoke, and one for camping trips, festivals, and gatherings.
Some medicinal cannabis users appreciate the uplifting and energetic experience that Haze Berry provides, as it gifts them with a greater ability to tackle daily challenges. Others, however, find the sativa-heavy effects of this strain to be capable of causing anxiety or paranoia in large doses.
AROMA AND FLAVOR OF HAZE BERRY: BERRIES, BERRIES EVERYWHERE
Blueberry is known as one of the fruitiest strains of all time, so it will come as no surprise that her progeny inherited a unique mouth-watering flavor. Haze Berry goes all out, offering a rich and creamy flavor of blueberries, vanilla, and earth, with just a hint of spice. When the smoker is finally able to grind up and enjoy their buds, it will immediately become clear that this is no ordinary Blue strain. Set Haze Berry ablaze, and its smoke is pleasantly smooth. Your palate will immediately take delight in the sweet and fruity flavors of Blueberry on the inhale, while on the exhale, the distinct herbal flavors of Haze shine through. Being an extraordinarily resinous and very aromatic strain, Haze Berry is also an excellent choice for hash/concentrate production.
HAZE BERRY: A TOP SATIVA THAT DOESN'T DISAPPOINT
Royal Queen Seeds' Haze Berry is a fabulous strain (not just) for Haze lovers. It is a welcome change for those who can't be without their Haze, yet want to taste something different. It is also a great choice for those who love an energising sativa effect that gradually turns into a pleasant stone. And because Haze Berry is perfectly suited for growing indoors—something that isn't often the case with Haze varieties—sativa-loving indoor growers can't go wrong with putting Haze Berry high on their list of stains to grow.
HAZE BERRY AUTOMATIC
Witnessing the sheer success of Haze Berry, RQS breeders decided to create an autoflowering version of the popular strain. After playing around with several pairings, they settled on a delicious and productive cross between Haze Berry and Blueberry Auto. The progeny offers some of the best traits of the original strain, such as an immense taste of blueberry, as well as a much shorter growing cycle.
Haze Berry Automatic also retained its parent's sativa-dominant genetic profile, with 65% sativa genetics, 30% indica, and 5% ruderalis. She produces slightly more compact but equally frosty colas as the original. Her glimmering flowers produce a THC content of around 13%, enough to feel her energetic effect without being overwhelmed. This functional and stimulating high makes her a perfect wake-and-bake variety. Her sweet and tantalising tastes of blueberry go down particularly well when vaporized.
As well as being super easy to grow, Haze Berry Automatic offers good productivity. Indoor plants grow to between 3 – 4.3 feet and produce 12.3 – 14.1 oz/m². Expect to harvest her aromatic buds 10–11 weeks after germinating seeds. Outdoor plants grow to a similar height and produce between 3.5 – 5.3 oz.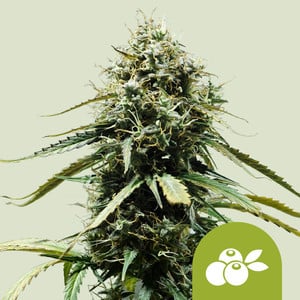 | | |
| --- | --- |
| | Haze Berry x Blueberry Auto |
| | 12 to 14 oz/m² |
| | 3 to 4 feet |
| | 8 - 9 weeks |
| | THC: 13% |
| | |
| --- | --- |
| | Sativa 65% Indica 30% Ruderalis 5% |
| | 3 to 5 oz/plant |
| | 3 to 4 feet |
| | 10 – 11 weeks after sprouting |
| | Long Lasting , Physically Relaxing, Powerful |