Cannabis Plant Anatomy: Nodes And Internodes
The importance of knowing how to read the signs your cannabis plants are sending you the grower is invaluable. We focus on nodes and internodes to assist you interpreting those marijuana messages.
By
---
---
In the wild, the cannabis lifecycle begins when a seed germinates and begins to burrow into the soil with a root. A stem will develop, and a sprout with a pair of leaves will emerge. During the seedling stage, the baby plant is literally finding its feet. Only as the infant plant begins to transition to vegetative growth does the cannabis grower begins to notice nodes and internode spacing. More so, as the vegetative stage progresses.
In ordinary decent grower terms, nodes are the intersection or joint between branches and the main stem or between a branch and new secondary shoots. While an internode is simply the gap between nodes. So far so simple. However, thoroughly understanding the nodes and internodes and knowing what to look for can be enormously advantageous to the cannabis grower.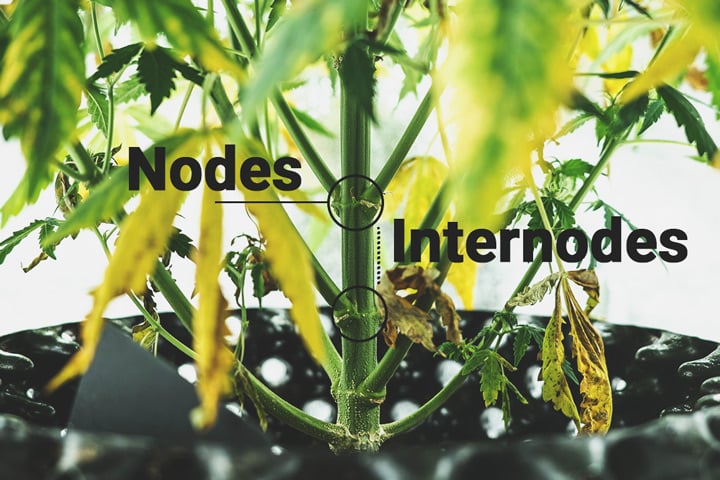 What Can Nodes and Internodes Tell the Grower?
Indica Vs Sativa
Indica cannabis plants are characterised by their short stature and densely branching structure. This is because they develop more nodes with tight internode spacing. In contrast, sativa cannabis plants are far taller and less branchy. Stretching is common to sativa varieties. Typically, plants develop fewer nodes with large internodal spaces between sets of branches. Of course, hybrids will exhibit a mix of both indica and sativa traits. Some will lean towards the indica side, others to the sativa side.
Determine Plant Sex
Usually, after weeks 3-6 of vegetative growth, cannabis plants will begin to display pre-flowers. For the grower with a keen eye and knows what to look for, this is invaluable information - especially if you happen to be cropping regular seeds with the potential for 50% males.
Pre-flowers emerge from the nodes of both male and female cannabis plants. Close eye-ball inspection of the higher nodes close to the top of the main stem is the easiest way to identify emerging pre-flowers. Essentially, you are looking for two very fine white hairs protruding from a tiny growth on the node. These hairs are really pistils emerging from a calyx just like what happens later in bloom with the flowers.
On the other hand, if you see a bump that resembles a cluster of grapes, this is a red flag for a male in the grow-op. Moreover, in rare cases or if the plants have been stressed, some may display both male and female pre-flowers. Intersex plants are commonly referred to as "hermies" by growers, short for hermaphrodite. Just like males, they too must be removed to ensure a pure sinsemilla harvest. The diligent grower regularly checks for growth on the nodes even if he/she is cultivating from feminized seeds, just in case.

Temperature and Light
Stretchy growth and large internodal spacing are not always due to genetics. Wide temperature fluctuations and lights either too weak or too far away from plants can cause plant stretching. Cold nights and hot days will induce stretchy growth. To keep internode spacing to a minimum and avoid branches snapping later it's critical to maintain consistent environmental control of the grow-op. Outdoors, this is more challenging, and plants may need to be taken inside at night if temperatures plummet.
Applying Your Knowledge
Trimming and Pruning
In order to prune for yield or trim plants for a tidy, you need to make the right cuts in the right places at the right time. A clean cut is one made close to the node with a sterile scissors. The the most common pruning techniques to increase yield are Topping and Fimming; make sure you apply these high yield pruning practices during vegetative growth. During bloom, trimming should be kept to a minimum to avoid stressing plants.
Both the Topping and Fimming methods involve removing a portion of the apical bud or main stem. Topping is a clean cut made to the tip, entirely removing it. Fimming is not so clean and tidy, and pinching is probably more appropriate than using a scissors. Simply pinch off 75% of the main growing tip between your fingers. Whichever method you choose to apply, the number of colas will be increased as the shoots emerging from the nodes below the cut will become the new main colas.

Cloning
Taking a cutting or cloning your marijuana is the best way to preserve winning grow-op genetics. Generally, the oldest most mature branches make for the most successful clones. These are to be found closer to the bottom of the plant rather than the top. Plants grow up so that the newest freshest tips are towards the top and rarely root well when clipped for clones.
Cuttings are mostly taken during vegetative growth. Although, monster cropping requires taking cuttings from plants 4 weeks into the bloom cycle and re-vegging the cuts. Regardless, the method is the same and growers enjoy the greatest success cloning from the bottom up.