Which Cannabis Strains Do Women Prefer?
Women and men do differ when it comes to their cannabis preferences. This post looks at what kinds of cannabis women research and buy, and the strains we at RQS recommend our customers (of all genders) try out!
By
---
---
The cannabis industry is expanding, no matter the hurdles. However, one demographic in particular that is gaining steam is women. Half the population. No more is the stereotype of the stoner a 25–35-year-old white guy! Women are increasingly turning to cannabis for many reasons. Whether as a recreational herb to boost the mood, increase sociability, and inspire creativity, or as a holistic way to soothe the body and relieve tension—or both—women are finding a friend in a herb that has largely been marketed to men, at least up until this point.
But what kind of cannabis do women want? As various regions of the world continue to greenlight legal cannabis, it's become apparent that women do indeed have different preferences than men. Generally, women appear to prefer hybrids that produce uplifting and euphoric effects, as well as some physical relaxation. Women also tend to like strains with a significant CBD presence. In particular, women seem to enjoy CBD autoflowering strains.
Read on for more intriguing strain research as it relates to our woman customers.
Most Popular Cannabis Strains Among Women
The women have spoken, and the strains they purchased the most come in the form of some of our heaviest hitters. Although the following three cultivars represent just a snapshot of the strains women gravitate toward, they point to an overall desire for potency among customers of all genders.
1. Green Gelato Automatic: This high-THC (24%) strain delivers a clear, physically relaxing high with fruity and earthy tastes and aromas.
2. Royal Runtz: Royal Runtz features a 27% THC content, resulting in a euphoric and uplifting high alongside tastes of fruity candy.
3. Royal Gorilla: This strain has a high THC content of 27%, making it one of our most powerful strains. It gives rise to a heavy, relaxing high with chocolate, diesel, fruity, and pine odours—a thoroughly pungent herb!
Top-Searched Strains at RQS
Women are clearly doing their research before they buy! The following list represents the top 10 cannabis strains searched for by our customers. While the men tend to gravitate toward the newest releases, women go in both directions; embracing the new, and holding onto tried and tested strains as well.
1. Amnesia Haze: This 22% THC strain produces a long-lasting cerebral high with a citrusy, herbal, and earthy scent.
2. White Widow: Also at 22% THC, this lovely, ever-popular hybrid creates a powerful stone with a bouquet of earth, pepper, and pine notes.
3. Green Gelato: A powerhouse bearing 27% THC, Green Gelato is all about relaxing the body and stimulating the mind. Tastes of citrus, mint, pepper, vanilla, and earth make each hit go down a treat.
4. OG Kush: A West Coast classic, OGK bears a respectable THC level of 19%, resulting in an uplifting high flavoured with fruity citrus and pine.
5. Royal Gorilla: A high THC content of 27% makes for a robust high indeed. Its tastes and aromas include a pungent mix of chocolate, diesel, fruit, and pine.
6. Critical: With 18% THC, this strain delivers a heavy, relaxing body stone and a fruity aroma with earthy, pine, and skunk notes.
7. Fat Banana: A fruity classic with 25% THC, this perennial favourite has to be tried to be believed. Gear up for a tropical taste explosion.
8. Skunk XL: This fabulous strain has a 17% THC level, culminating in a balanced body stone and cerebral stimulation. Expect a delicious taste of candy mixed with fruity, earthy, pine, and skunk notes.
9. HulkBerry: There is nothing wimpy about this strain, which clocks in at 27% THC. HulkBerry induces a clear and uplifting high like no other, with a citrusy, diesel taste that invigorates the senses.
10. Royal Runtz: This 27% THC whopper creates a euphoric high with a fruity, candy taste.
Top-Searched Strains at RQS

Amnesia Haze


THC: 22% | CBD: Medium

White Widow


THC: 19% | CBD: Low

Green Gelato


THC: 27% | CBD: Low

OG Kush


THC: 19% | CBD: Medium
Royal Gorilla
THC: 27% | CBD: Low
Critical
THC: 18% | CBD: Low
Fat Banana
THC: 25% | CBD: Low

Skunk XL


THC: 17 % | CBD: Medium

Hulkberry


THC: 27% | CBD: Low
Royal Runtz
THC: 27% | CBD: Low
Looking at our most-searched strains, it seems women tend to seek cultivars that are relaxing and soothing, but not without a welcome bit of euphoria. Moreover, iconic cannabis strains, such as Amnesia Haze and White Widow, continue to reign supreme among this population. That said, women continue to try newer, more potent releases, such as HulkBerry, Royal Gorilla, Green Gelato, and Royal Runtz.
Although there is certainly some interest in CBD, the searches on our site indicate that women do not shy away from high levels of THC—on the contrary!
When it comes to flavour, women's taste preferences seem to lean toward herbal, earthy, and pine notes—or cannabis that features myrcene, pinene, terpineol, and humulene terpenes in larger quantities. This is followed closely by a preference for candy and fruity tastes, and thus terpenes such as limonene, nerolidol, and linalool. Citrus tastes are also popular, leading women to search for cannabis containing borneol.
Women do not seem to be as keen on highly pungent strains or those with heavy diesel tastes, which are chiefly produced by caryophyllene and myrcene.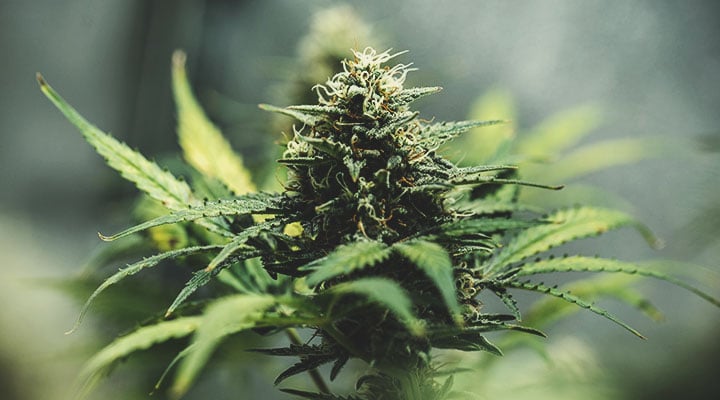 Top Strain Searches by Women
As opposed to men, women tend to research strains with lower THC levels and milder effects that relax the body but leave the mind clear and content. Women also seem to be more interested in strains with fruity, citrusy, and sweet tastes.
Here are the top five strains searched for by women over men.
1. Purple Queen: This 22% THC hybrid delivers a chilled, blissful high alongside a citrusy taste and earthy aroma.
2. Northern Light Automatic: With 14% THC, this strain induces a clear and uplifting high. It features a fruity, citrus taste with an aroma of earth, pepper, and pine.
3. Skunk XL: Skunk XL features 17% THC and inflicts a deep, meditative stone. Indulge in fruity tastes mixed with an earthy-pine and skunk aroma.
4. Do-Si-Dos Automatic: At 20% THC, it is no surprise that this lovely auto produces a super relaxing body high. Combined with a sweet citrus and earthy flavour and aroma, this is one decadent little strain!
5. Quick One: This hybrid has a lower THC level than the other strains on this list, but it races to harvest faster than almost any other strain. Moreover, it creates a lovely and relaxing high that feels awesome.
Suggested Strains for Women
Although it's clear that, like men, women are interested in high-flying strains with potent THC concentrations, it's also apparent that there is a growing interest in CBD and other cannabinoids. Therefore, below is a list of recommended strains for women that offer something a little different than your average THC-rich strain. Everyone wants a bit of variety now and again; after all, this is the spice of life! The following picks have lower THC levels, but mix it up with other cannabinoids and tastes women love!
1. Medical Mass: MM has a 1:1 ratio of CBD to THC, containing around 10% of each. This strain tastes like fruity candy with a peppery twist. Prepare for a chilled-out, physically relaxing effect.
2. Royal CBDV Automatic: This strain has no THC, but contains 5% CBD and 5% CBDV. It bears wonderful scents and aromas of pine and earth, and produces a relaxing, non-psychotropic experience.
3. Painkiller XL: This lovely strain features 9% THC and a similar amount of CBD. Mixing a fruity, sweet, and citrusy flavour with earthy notes, she offers a complex taste experience. Expect a clear-headed, balanced, and physically relaxing effect.
4. Euphoria: This strain proves the point that you do not need a lot of THC to feel great! With a 9% THC level and equal amounts of CBD, this strain has a permeating fruity smell and taste. She creates a balanced, physically relaxing stone that will put you at ease.
Women of Weed, Let Your Voice Be Heard
Though this article has shed light on how women at Royal Queen Seeds shop, and what kind of strains they're interested in, this is only the beginning. As this demographic of cannabis growers and consumers becomes more active, we're bound to see additional insights regarding what women want from their weed. So make your voice be heard, and keep on growing!