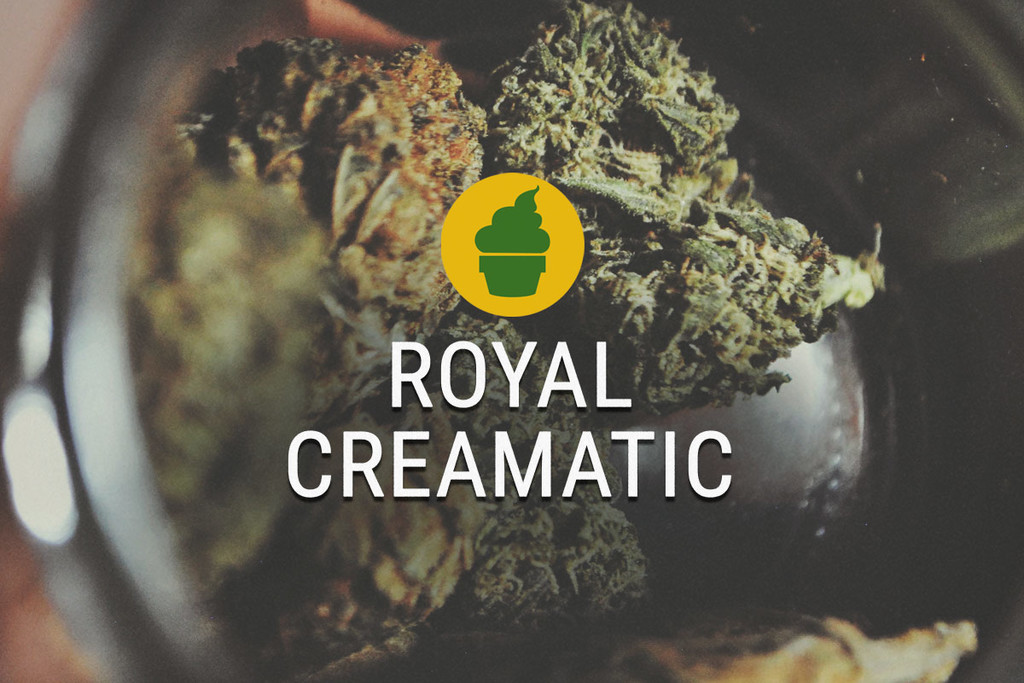 Royal Creamatic Smoke Report
Sweet tastes, a mellow indica high, a manageable size, and large yields. Royal Creamatic covers all the bases of reliable and productive auto-flowering strains. Check out the smoke report below for a full breakdown of what it's like to pop open a stash jar of these buds. To sum things up, she tastes superb, offers a subtle yet enjoyable high.
By
---
Choosing which cannabis strain to grow often proves difficult. With so many varieties out there, dedicating your efforts towards one cultivar follows many hours of comparisons and decision making.
Should you go for that high-THC cultivar? Wait, what about that mellow CBD variety? Or should you go for that terp-loaded strain that will leave a taste of candy on your tongue?
To help you through this selection process, we've created an archive of detailed smoke reports. At Royal Queen Seeds, we know a thing or two about weed, and we thoroughly enjoy sampling our own genetics!
Below, we'll take you along for the journey as we smoke up some Royal Creamatic flowers. Check out our in-depth analysis of the experience, and see if this strain belongs in your grow room or garden.
Along the way, we'll touch on its genetic line and break down what to expect when growing this variety.
A Look At the Roots of Royal Creamatic
Royal Creamatic stems from a delicious lineage. Our skilful breeding team set out to combine a tantalising terpene profile with the hardy and quick genetics of cannabis ruderalis.
They selected parent strain Cream Caramel to lay the foundation of the breeding project. As its name suggests, this tasty cultivar puts out buds loaded with sugary sweet terpenes. It descends from equally as delicious parents BlueBlack, Maple Leaf Indica, and White Rhino. This combination passed down indica genetics, scrumptious terpenes, and brief flowering times to what would become one of the tastiest strains available.
Along with all of the positive traits mentioned above, our breeders also selected Cream Caramel for its pleasant effects. It exerts a deep body high that melts the muscles and sinks the body into a state of calm and euphoria.
After sampling Cream Caramel and playing around with its genetics, they realised there wasn't much room for improvement. Its impeccable taste and satisfying high ticked all their boxes. However, they realised they could make it a lot easier to grow and accessible to beginners.
So, with that in mind, they bred this yummy strain with a reliable cannabis ruderalis variety. After several generations of crossing, it emerged as a fast-flowering and sturdy auto, capable of delivering good yields in a matter of weeks.
Overall, Royal Creamatic possesses 60% indica, 10% sativa, and 30% ruderalis genetics.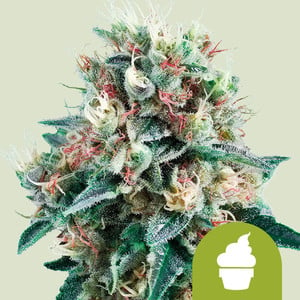 | | |
| --- | --- |
| | Cream Caramel x Ruderalis |
| | 400 - 450 gr/m2 |
| | 60 - 80 cm |
| | 8 - 9 weeks |
| | THC: 15% |
| | |
| --- | --- |
| | Sativa 10% Indica 60% Ruderalis 30% |
| | 115 - 165 gr/plant |
| | 80 - 100 cm |
| | 12 - 13 after sprouting |
| | Calming, Physically Relaxing |
Royal Creamatic Offers A Delicious Smoking Experience
Novice smokers might fall under the impression that all cannabis taste the same. However, it doesn't take long to realise just how many aromatic variations different terpene profiles can offer. Sure, some strains taste similar, but different categories firmly stand out from each other.
At Royal Queen Seeds, we've smoked our fair share of weed over the years. With all that experience under our belt, we can confidently tell you Royal Creamatic offers a terpene profile seldom experienced elsewhere.
When we smoked it for the first time, the tempting scent was the first thing we noticed. Removing it from the stash jar released a strong smell of sweetness and spice into the room.
Its strong smell triggered a few smiles and got us even more excited for what was to come. After unscrewing the jar, we passed a few of the buds around to give them a close look. Our growing team had skillfully manicured these flowers, giving them a smooth and compact appearance.
Each bud featured a thick layer of cannabinoid-rich resin, an abundance of trichomes, and splatters of red-orange pistils. The sugar leaves and flower tissue form a dark green canvas that almost spans into the purple spectrum.

We proceeded to grind the buds up into a fine powder using three-chambered metal grinders, allowing some of the trichomes to fall to a collection chamber to sample later on. We used natural hemp papers to roll an equal-sizes joint each to ensure we'd feel similar effects.
Upon lighting the ends and taking the first inhale, we agreed that tastes of sweetness, sugar, and candy immediately came to the fore. After lighting up, the sweet taste floats along on the tip of the tongue, the buds exert a fast-acting yet mellow effect.
A few hits later, we all felt a chilled-out sensation set in. Royal Creamatic flowers produce a THC content of 15%, alongside medium levels of CBD. This well-balanced cannabinoid profile serves up a subtle high that enhances the mood without causing any paranoia or anxiety.
Even after smoking half a joint each, we still felt fully functional, productive, and relatively clear-headed. However, the high still provides a feeling of euphoria and an increased mood, just without edging the mind towards and overwhelmed state. Good levels of cannabidiol help to curb the peak of the high and keep it easy to control.
High levels of terpenes caryophyllene and myrcene synergise with THC to create a mildly sedating effect that makes the body feel heavy and relaxed. A small percentage of limonene in the terpene profile keeps the mind aware enough to avoid drifting off to sleep too early.
How To Grow Royal Creamatic
Novice and veteran growers alike will enjoy growing this easy variety.
Royal Creamatic boasts hardy genetics suitable for most growing environments. Although it'll tolerate cold snaps and temperature fluctuations well, it provides the best results in a consistently warm climate.
Plants rarely exceed 100cm in height, making them ideal for stealthy indoor growing operations and secretive outdoor guerrilla grows. Plants grown indoors peak at 80cm, yet will top out at only 60cm when grown in smaller pots. Expect rewarding yields of 400-450g/m².
Plants grown outdoors do well in both containers and pots and will grow especially fast in greenhouses and polytunnels. Sow companion plants such as yarrow and dill in close proximity to your crop as a buffer against pest insects.
Expect your plants to grow to a height of 80-100cm and produce up to 165g/plant. These speedy specimens will be ready to harvest a mere 10-12 weeks after the seeds germinate.
Royal Creamatic in Summary
Royal Creamatic offers delicious tastes of sugar, candy, and sweetness with every hit. Its beautiful buds produce medium levels of THC and CBD, resulting in a functional and clear-headed high that won't blast your mind to the moon. It's easy to grow, tastes great, and offers in indica high without the overwhelm.