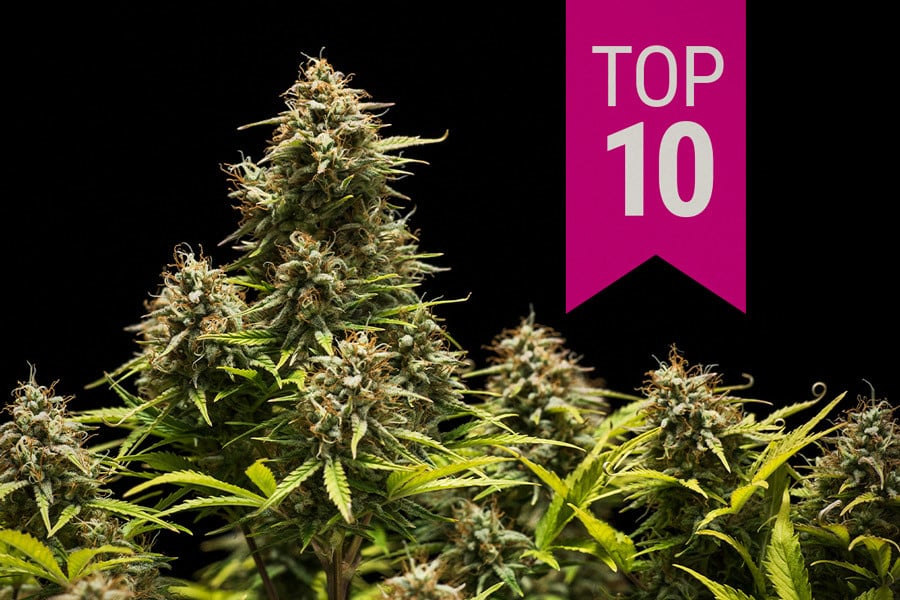 Top 10 Indica Strains of 2023
Indica strains hit the spot when you're looking to relax. They're the perfect choice for quiet evenings in or nights spent by the campfire under the stars. But with so many available, choosing the ideal specimen can be quite the task. To help you out, we've compiled our best indica strains of 2023. All are loaded with taste and packed with THC.
By
---
RQS cannabis cultivars that fall into the "indica" category exhibit high levels of THC and relaxing, flavourful terpenes. This chemical cocktail produces a blissful effect perfect for lazy afternoons and time spent zoning into creative projects. Expect nothing less than waves of euphoria, peace, and giggles. Want to experience them for yourself? Then check out our top 10 indica strains of 2023 for the best genetics out there.
1. ICE
One of the most notable indica strains we carry is ICE. An acronym for Indica Crystal Extreme, it will seem as though your plants are covered in an icy frost once harvest rolls around. ICE matures its bountiful, sparkling buds in as little as 8 weeks of bloom, but many growers prefer to extend the phase to 10 weeks. ICE is a hybrid of Northern Lights, Afghan, and Skunk, a marriage that culminates in a spicy, earthy, and herbaceous aroma alongside a decadent high.

2. Blue Gelato
As one of our most popular indica strains, Blue Gelato encompasses all of the classic indica traits. This variety produces compact buds that are packed with a THC content of 23% and moreish tastes of earth and diesel. She ticks all of the boxes, but what else would you expect from the progeny of Blueberry, Thin Mint Girl Scout Cookies, and Sunset Sherbet? After harvesting this strain, you'll get to savour her mentally uplifting and physically relaxing effect for weeks to come. Expect a yield of 550–600g/m² from indoor specimens and a bounty of up to 600g/plant from those cultivated outdoors.
3. Sweet ZZ
Sweet ZZ is a cross between Grape Ape and Grapefruit that really lives up to its name. It has an incredibly sweet aroma and flavour, with many users reporting a smoke laced with hints of candy. Although Sweet ZZ is indica-dominant, you will definitely feel some of the sativa effects of this strain. Typically, relaxation, creativity, and mild feelings of euphoria are reported.

4. Sherbet Queen
Sherbet Queen breaks the mould when it comes to conventional indica highs. She exerts an impactful body high alongside stimulating cerebral effects, making for a well-rounded high. An 85% indica strain that shares genetics with the ever-popular Girl Scout Cookies, you can expect a characteristically sweet and earthy flavour and aroma.

5. Bubble Kush
Our sweet Bubble Kush is an indica-dominant hybrid with a touch of sativa and 19% THC. This magical blend of Bubble Gum and OG Kush inspires a relaxing, natural bliss as you explore the corners of your mind. Our Bubble Kush grows up to 140cm indoors and 200cm outdoors, producing large yields in both settings.

6. Blue Cheese
This beloved indica-dominant hybrid was created by crossbreeding Oregon Blueberry with the popular Original Cheese (UK Cheese). Cheese strains have a pretty distinct taste and smell, and this definitely applies to Blue Cheese, although it does have an extra hint of sweetness from the Blueberry. Aside from its wonderful taste, it also induces some very strong effects.

7. Watermelon
Watermelon easily ranks as one of our top indica strains. This delicious cultivar stems from Watermelon OG S1 and features 80% indica genetics. Her potent THC content of 22% synergises with fruity terpenes to cast a heavy physical high over every muscle in the body. You'll experience a wave of relaxation crash over you mere minutes after taking a hit. Effect aside, this variety also delivers big yields. Indoor plants churn out up to 500g/m² after a flowering time of just 7–8 weeks. Their outdoor counterparts provide a return of 400–500g/plant ready to harvest in October.
8. Fat Banana
The distinctly sweet flavour of banana is appealing to many cannabis smokers. Crossing Banana with OG Kush created just the right combination in Fat Banana. This sticky green indica is called "fat" for a reason. Under the sun, it's been shown to yield up to 500g/plant after 8 weeks of flowering. The result is a dense, generous specimen with over 25% THC in its yellow-tinged buds. Enjoy an arresting couch-lock only the best indica can deliver.

9. Purple Queen
Purple strains aren't only pretty to look at; they also pack some serious heat within their majestic buds. Purple Queen exerts powerful effects on both the mind and body. It's smooth to smoke, with a full-bodied Kush flavour and a hint of lemon. This is a wonderful strain to unwind with after a long day at work. On top of all that, the heavy-yielder will leave you in awe of her canopy of glittering violet buds.

10. Royal Skywalker
If you've experienced Royal Skywalker, you'll know why she made it on our list of top indica strains for 2021. If you've yet to taste this American strain, then we have two words for you: "Blueberry" and "Mazar". These parent strains endowed Royal Skywalker with pungent notes of blueberry and pepper, as well as a THC content of 25%—enough to keep you mellow and red-eyed for hours to come. Grow this bushy cultivar indoors for a return of 550–600g/m², or out in the garden for a yield of 500–600g/plant.