Northern Lights: A Cannabis Classic And True Indica Legend
Northern Lights is a cherished and multi-award winning indica strain with genetic roots stretching to Afghanistan.
By
---
Not many indicas, maybe with the exception of the legendary G-13, have achieved such widespread fame and recognition as Northern Lights. Considered a staple strain among indoor cannabis cultivators, and having laid down her mark for many of today's cannabis genetics, Northern Lights is still widely popular among cannabis cultivators and smokers. If you like cannabis, chances are you have tried Northern Lights or one of her variants.
Ever since Northern Lights came to the scene in the mid-'80s, she has won countless cannabis awards all over the world. Her outstanding qualities have earned her the reputation as one of the most acclaimed cannabis strains of all time. The genetics of Northern Lights have provided the foundation for many of today's popular indica-dominant strains such as White Widow, Chronic, Haze, Special Kush, and many more. Let us take a closer look at this famed indica classic and a truly legendary cannabis strain.
---
The History and Origins of Northern Lights
As is often the case when looking into the history of legendary strains such as Northern Lights, the exact origins of the strain are shrouded in mystery. It is said that the strain was originally bred by a person known as "The Indian", somewhere on an island near Seattle, Washington in the United States. Some say that the plant may have come to the mysterious Indian from the West Coast, maybe from California or Oregon.
"The Indian" is said to have grown 11 plants, possibly from Afghani landraces, which he named Northern Lights #1–11. He carefully compared his plants for their yields, effects, and other qualities. This left him with two plants that stood out due to their large buds, good yields, and excellent resin production: Northern Lights #5 and #1.
It's possible no one would ever know about Northern Lights if it wasn't for the "King of Cannabis" and founder of the very first seed bank in the Netherlands, Nevil Schoenmakers.
According to some, it was him who discovered the strain on one of his trips to the US in the early 1980s. As the story goes, he brought back female clones of the plant to the Netherlands, where he was experimenting with cannabis genetics from all over the world.
In 1985, he introduced the first variety of the newly discovered strain in his "The Seed Bank of Holland". Northern Lights #1, which he marketed as a pure Afghani inbred indica, flew off the shelves and quickly became a bestseller. He crossbred some of the other varieties of Northern Lights with a Thai sativa, which is also the reason that many Northern Lights varieties today are sold as Afghani indica and Thai sativa crosses.
After the introduction of Northern Lights to the scene, it didn't take long before the strain started to rake in countless awards all over the world.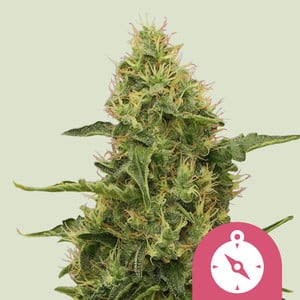 | | |
| --- | --- |
| | Northern Light S1 |
| | 500 - 550 gr/m2 |
| | 100 - 160 cm |
| | 8 - 9 weeks |
| | THC: 18% |
| | |
| --- | --- |
| | Sativa 0% Indica 100% |
| | 575 - 625 gr/plant |
| | 180 - 220 cm |
| | Late September |
| | Balanced, Clear, Stoned |
Growing a Legend: Why Cannabis Cultivators Love Northern Lights
Northern Lights is regarded as a staple indica plant by indoor cannabis cultivators for many reasons. They love the plant because she is easy to grow and finishes her flowering in eight weeks. Grown in hydro, she is even faster, with the wait cut down to around six weeks. This way, cultivators can always rely on excellent production value with this strain.
Northern Lights grows into a conveniently compact and bushy plant with buds that are firm and easy to trim, thanks to ample space between nodes. Some phenotypes of the strain, such as the original NL #1 pheno, may only grow one single cola, resulting in a tall and leggy plant, giving her a "weed on a stick" appearance. But it's more common for the strain to appear in the shape of a small evergreen tree with one large central stalk that is surrounded by four or five lateral branches akin to the original Northern Lights #2.
Despite the buds of the strain being sizeable and firmly packed, they are not too dense for mould to become a problem. This makes Northern Lights a very good strain to grow in humid conditions too. As the plant matures her dark green buds, they will become covered with a thick and sparkling coat of trichomes.
When you get Northern Lights seeds from Royal Queen Seeds, all seeds come feminised. This way, you ensure that you grow females only, which makes growing the strain even easier.
You can expect Northern Lights to flower for around 7–8 weeks before she is ready to harvest. Depending on factors such as temperature, light, and nutrients, this can take a bit longer.
Due to the Afghani heritage of Northern Lights, it shouldn't be surprising that the plant loves plenty of sun. She has a good resistance to dry climates and drought, and also does exceptionally well as an outdoor plant under harsher conditions. Planted in good soil with only gentle feeding and water, she can reach a respectable height. Compared to some other strains, Northern Lights is very sturdy and robust, which makes her easy to grow in many different environments.
Although you can find many variants of Northern Lights today, the plant will usually reach a height of 100–160cm in a typical indoor setting. With this convenient height, you can easily manage the plant, yet she will still reward you with excellent yields. On average, you can expect to get as much as 550g/m². Plant your seed outdoors, and she may reach a height of 180–220cm with yields of up to 625g/plant, ready at the end of September.

Northern Lights: Effect and Taste of a Cannabis Legend
Northern Lights wouldn't have her legendary status if it wasn't for the incredible mind and body experience she induces, thanks to her true Afghani indica roots. With 18% THC, she is not overwhelmingly strong, but potent enough that she relaxes you from head to toe. Her effect isn't just deeply relaxing, it will also give you a nice bout of euphoria, which makes her a great herb for stress relief. No wonder she's still a favourite among indica lovers everywhere!
What's more, her balanced effect can also provide good therapeutic potential for medicinal users. Northern Lights can help with pain relief, soothing sore muscles, and offering relief from insomnia. With her relaxing, happy effect she's also an excellent smoke that can help with anxiety and other mood disorders.
Smoking Northern Lights isn't just a great experience thanks to the strain's superb indica effect. Her flavour is equally top-notch and won't disappoint even very spoiled cannabis connoisseurs. She blends earthy flavours with notes of pine and delicious sweetness for that awesome old-school flavour that has become quite rare to find these days.
Northern Lights: a True Classic That is Still Rewarding Today
Some cannabis strains are famous, but it takes a little more to make a strain into a legend like Northern Lights. What makes a cannabis strain a true classic is its ability to be just as impressive when it debuts as it is today. Northern Lights can already look back on more than three decades of success, yet the strain still continues to be as fun and rewarding as ever.
Autoflowering Variety of Northern Lights
Breeders successfully crossed Northern Lights with a robust ruderalis variety to give birth to Northern Light Automatic—a small strain that's easy to grow. It still provides a fantastic yield and features many of the impressive traits of its world-renowned predecessors.
Moreover, NLA boasts a couple unique advantages of its own. Its autoflowering genetics mean it flowers without a change in the light cycle. What's more, it's highly resistant to fluctuating temperatures, pest insects, and fungal pathogens—perfect for beginners looking for a taste of Northern Lights, or experienced growers in the mood for an easy harvest.
Most autoflowering strains don't really compete with their photoperiod counterparts when it comes to yield. Northern Light Automatic goes against the grain here. For a small specimen, it pumps out quite the harvest.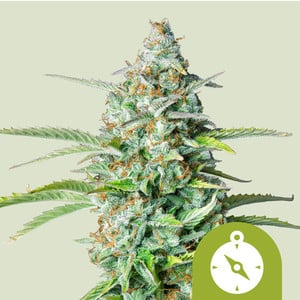 | | |
| --- | --- |
| | Northern Light x Ruderalis |
| | 500 - 550 gr/m2 |
| | 80 - 120 cm |
| | 6 - 8 weeks |
| | THC: 14% |
| | |
| --- | --- |
| | Sativa 0% Indica 80% Ruderalis 20% |
| | 170 - 220 gr/plant |
| | 130 - 160 cm |
| | 10 - 12 weeks after sprouting |
| | Clear, Uplifting |
Indoor plants maintain a medium height. Let them unleash their full potential if you have the room to accommodate. If not, simply prune and train them to keep plants at around 80cm. Prepare your stash jars for a weighty harvest. Expect a yield of up to 550g/m² after a flowering time of 5–7 weeks, and an entire life cycle of 9–10 weeks.
Outdoor plants grow to a considerably taller height of 160cm and are capable of pumping out up to 200g/plant. You might need stakes to keep their heavy canopies upright, especially in strong wind. This strain prefers a warmer climate but can handle the occasional cold snap.
Northern Light Automatic features a genetic profile of 80% indica and 20% ruderalis. It delivers a warm and soothing high that relaxes the body while keeping the mind clear. Its compact, green-blue buds generate a subtle but effective THC content of 14%—just enough to feel the euphoria without becoming overwhelmed or mentally compromised.
Overall, it makes a superb selection after a hard day's work. Enjoy this smoke in the evening before settling down to a good film and a hearty meal. Tastes of earth, pine, and sweetness infuse every hit.