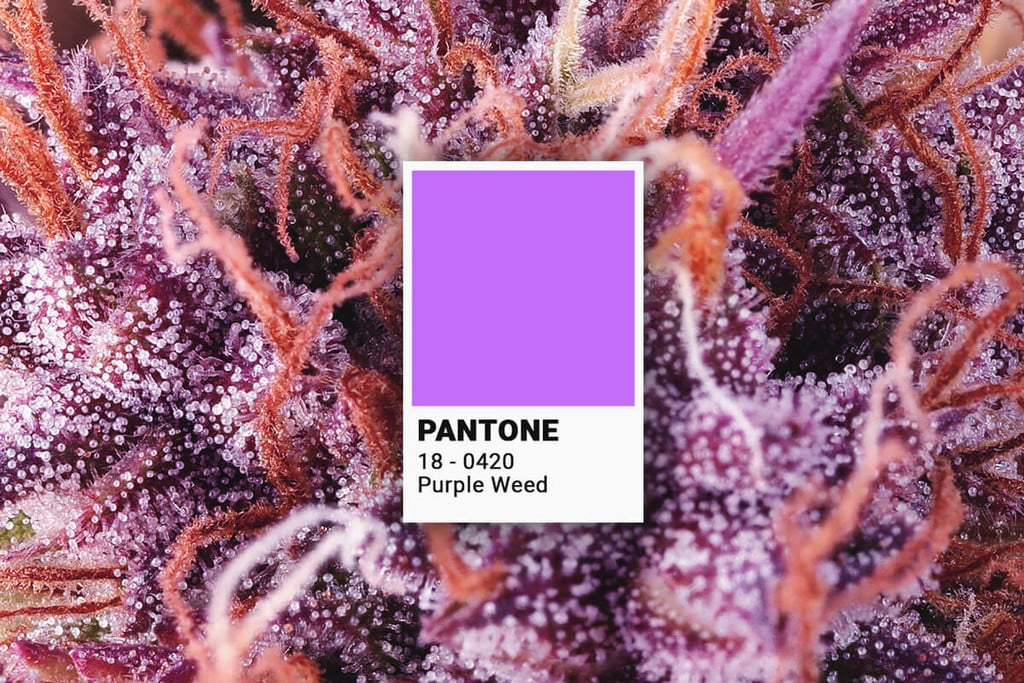 How to Grow Purple Cannabis
Every grower has fantasised about harvesting big, purple buds at home. But what exactly can you do to manipulate the colour of your weed?
By
---
Purple cannabis certainly does exist, but there's a right way to turn your pot purple, and a wrong way.
---
What Causes Cannabis to Turn Purple?
All plants have naturally occurring pigments. The most dominant pigment in most plants (including cannabis) is chlorophyll, which, apart from helping plants photosynthesise, also gives them their green colour.
However, plants also have many other active pigments, including carotenoids and anthocyanins. In the absence of chlorophyll, plants may use pigments like anthocyanins to absorb sunlight and photosynthesise. Unlike chlorophyll, anthocyanins naturally absorb all wavelengths from the sun except those in the indigo spectrum, which is what gives plants their purple colour.
Hence, purple cannabis plants (or any purple plant for that matter) get their colour because the dominant pigment in their leaves and flowers are anthocyanins, rather than chlorophyll.

What Parts of Cannabis Can Turn Purple?
There are four main parts of your cannabis plant that can turn purple:
• Pistils: Pistils are the fine hairs that pop out of your buds, letting you know they're female. Pistils generally start off a creamy white colour and turn orange/red/brown as plants mature. However, it is possible for your plant's pistils to turn pink or purple, and this colour will remain after you harvest, dry, and cure your buds.
• Calyxes: Calyxes are the small pods that make up your buds. Cannabis flowers are actually made up of hundreds of these small calyxes stacked on top of one another. As the flowers mature, the calyxes open and reveal their pistils, which are designed to catch pollen from male cannabis plants.
• Leaves: The fan and sugar leaves of your cannabis plant can also turn purple. However, they usually won't have a large effect on the final colour of your buds, as you'll likely trim away most of the leaves during your post-harvest work.
• Trichomes: Trichomes are the tiny crystals that cover your buds. While they usually start off clear and become opaque and then amber later on, it is possible for them to turn purple, too.
Ways to Turn Your Weed Purple
Now that you know how NOT to go about growing purple weed, here are a few pointers to help you maximise your chances of harvesting some eye-catching purple buds this season:
1. Start With the Right Genetics
Genetics are going to have the biggest impact on the final colour of your plants. So, if you're set on growing purple weed, shop around for purple strains, as they'll have been specifically bred for their unique colour. Remember that your buds are going to lose some colour after trimming, so opt for strains with the most vibrant purple pigmentation you can find.
Keep reading through to the end of this article for some top recommendations on purple strains to grow at home.
2. Adjust Your Temperatures
While you might be eager to watch your plants turn purple, this will usually only happen once they've finished vegetative growth and start flowering. Once your plants have entered their flowering stage, try dropping your nighttime temperatures. Colder temperatures cause chlorophyll to break down and can encourage your plants to produce more anthocyanins. Ideally, you'll want there to be a difference of 10–15°C between your daytime and nighttime temperatures.
The Wrong Ways to Turn Your Pot Purple
There are some other ways to manipulate the colour of your plants. Most of these techniques, however, involve depriving your plants of certain nutrients, which, of course, we do not recommend doing. Even if you are able to achieve some purple colouration using these alternative methods, it will likely be to the detriment of quality, flavour, and potency.
Many people mistakenly believe that the best way to turn cannabis purple is to deprive their plants of oxygen. However, depriving your plants of oxygen, carbon dioxide, or any other gas will not improve your chances of harvesting purple buds. Feeding your plants more nitrogen also won't change the colour of your plants, at least not unless you overdo it and end up burning them to a crispy shade of brown.
Some growers also use food colouring to dye their plants. And while it might work, we definitely do not recommend trying it. Finally, changing your plant's light cycle, watering schedule, or grow medium also won't increase its chances of turning purple, nor will yelling, screaming, or singing to your plants.
Genetics: the #1 Reason Weed Turns Purple
Remember, the two main factors affecting the colour of your cannabis plants are genetics and temperature. If you're really set on growing purple weed, make sure to invest in the right genetics from the get-go.
At Royal Queen Seeds, our expert breeders have bred some killer purple strains. Make sure to check them out and add a splash of colour to your next harvest:
1. Purple Queen

Purple Queen is an almost pure indica variety bred from Hindu Kush and Purple Afghani genetics. She flowers over 9–11 weeks and produces big, purple buds with a uniquely pungent aroma that combines hints of both pine and fuel. Purple Queen also boasts a THC concentration of up to 22% and produces a nice, relaxing body stone that's perfect for whenever you need to unwind and relax.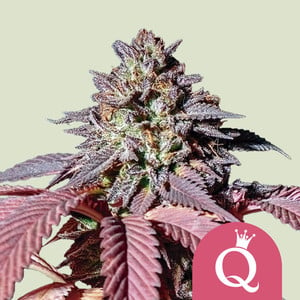 | | |
| --- | --- |
| | Hindu Kush x Purple Afghani |
| | 450 - 500 gr/m2 |
| | 80 - 120 cm |
| | 8 - 9 weeks |
| | THC: 22% |
| | |
| --- | --- |
| | Sativa 25% Indica 75% |
| | 650 - 700 gr/plant |
| | 175 - 210 cm |
| | October |
| | Calming, Euphoric |
2. Blue Mystic

Blue Mystic is a unique hybrid bred from two powerhouse US strains: Oregon Blueberry and Northern Light. The result is an extremely potent indica-dominant hybrid that boasts a THC level of up to 18% and delivers a super relaxing body stone. Blue Mystic has a deliciously sweet fruit aroma and, given the right conditions, can produce dense, eye-catching purple buds that'll impress even the pickiest weed connoisseur.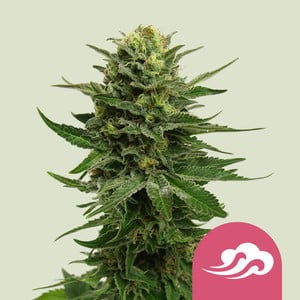 | | |
| --- | --- |
| | Oregon Blueberry x Northern Light |
| | 375 - 425 gr/m2 |
| | 60 - 100 cm |
| | 8 - 9 weeks |
| | THC: 18% |
| | |
| --- | --- |
| | Sativa 20% Indica 80% |
| | 400 - 450 gr/plant |
| | 180 - 220 cm |
| | October |
| | Stoned |
3. Purplematic CBD

Purplematic CBD delivers high levels of cannabidiol wrapped in a stunning purple package. Minute levels of THC—around 0.5%—mean she produces no psychotropic effects. Instead, her purple buds exert a pleasant effect that clears the mind, enhances focus, and jump-starts motivation. Blaze these flowers all day long to feel fantastic while remaining functional. Her enjoyable sensations are made even more memorable by tantalising tastes of tropical fruits and sugary sweetness.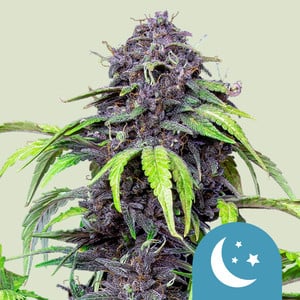 | | |
| --- | --- |
| | Kush Rose Auto CBD x Afghan Rose Auto CBD |
| | 375 - 450 gr/m2 |
| | 70 - 120 cm |
| | 7 - 8 weeks |
| | THC: 0,5% |
| | |
| --- | --- |
| | Sativa 5% Indica 90% Ruderalis 5% |
| | 110 - 150 gr/plant |
| | 100 - 140 cm |
| | 8 - 9 weeks after sprouting |
| | Calming, Clear |