Purple Kush: Indica Bliss From the Hindu Kush Mountains
Looking for a new cannabis strain to grow? If you're searching for stoning terpenes, big yields, and small plants with little demand for space, then Purple Kush is an ideal candidate. She descends from legendary genetics and produces gorgeous purple-green buds. On top of this, her hardy genetics means she thrives almost anywhere.
By
---
---
Any time you see the word "Kush" in the name of a strain, you can pretty much guarantee you're in for a good time. This certainly rings true in the case of Purple Kush. This pure indica specimen delivers a hard-hitting high that primarily targets the body. Expect to sink into the couch while enjoying notes of sandalwood and fruit. When it comes to cultivation, she provides a large yield both indoors and out.
Purple Kush: A Descendant of Hindu Kush and Purple Afghani
As a pure indica variety, Purple Kush attracts cannabis smokers and growers that love nothing more than to bask in the effects of stoning strains. To sustain such an indica-heavy genetic profile, breeders recruited indica landraces from the Middle East. Shrewdly, they selected Hindu Kush and Afghani as parent strains. The former has gained a reputation for her hardiness, compact morphology, and heavy physical high, while the latter is beloved for flourishing in almost any environment.
As a hybrid, Purple Kush exhibits the best traits of each parent strain. Alongside a 100% indica genetic profile, she produces good levels of THC and diverse terpenes, and possesses a medium-sized stature that's easy to manage.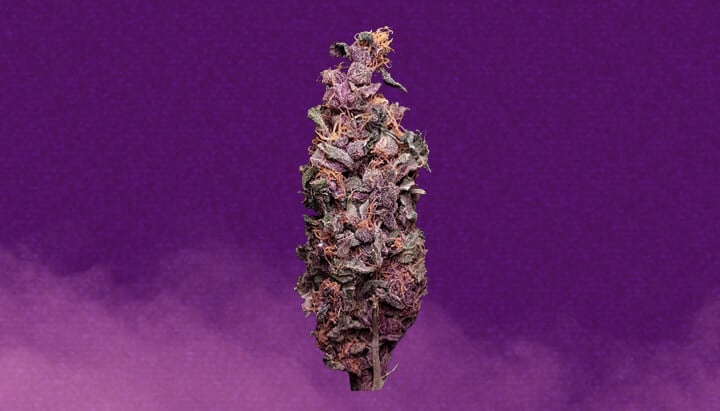 Why Did Purple Kush Become So Popular?
Once you grind up, roll up, and smoke up some Purple Kush flowers for yourself, you won't have a hard time figuring out why this cultivar has soared to such great heights of prestige. Perhaps most notably, the deeply relaxing high she induces has made her one of the more sought-after night-time smokes around.
On top of her effects, Purple Kush has become a firm favourite due to her exotic appearance. Different phenotypes express varying amounts of green and purple during the later stages of the flowering phase. The chemical components underpinning this regal look, known as anthocyanins, are more likely to occur when plants are exposed to colder nights.
Originally bred in Oakland, California, during the 1960s or 1970s, Purple Kush also shares genetic connections with the Hindu Kush mountains that stretch between Afghanistan and Pakistan. It is said to be a descendant of the original Kush landrace strain
After establishing impressive popularity through word of mouth alone, Purple Kush gained an even larger growership after appearing on the High Times Top 10 Kush Strains list in 2016, alongside the likes of Vanilla Kush, Sour Kush, and OG Kush.
Effects of Purple Kush
Purple Kush weed delivers a heavy physical blow to the body. Don't expect a slow and gradual transition into feeling stoned; this variety hits hard and fast. For this reason, you'll want to resist smoking this bud on the way to an event or gathering in order to avoid getting accidentally blitzed once you arrive. This heavy high comes into its own during quiet evenings and lazy days off, when you can really indulge in the nuances of the experience. Furthermore, if you're someone who struggles to fall asleep at night, you may find that Purple Kush helps to promote a peaceful slumber.
THC levels vary widely in this cultivar. Depending on the phenotype, and environmental conditions such as stress and light exposure, Purple Kush can produce THC levels up to and exceeding 30%—though this is rare. On average, plants produce a still-impressive THC level of 22%.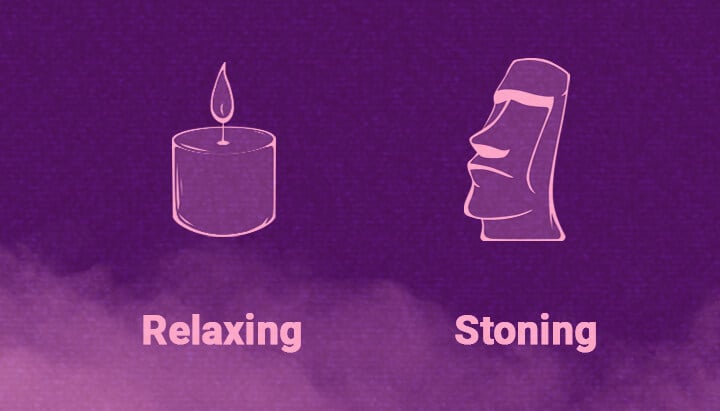 Flavour and Aroma of Purple Kush
In true Kush fashion, this strain features pungent hash-like aromas that are found in both the raw and dried flowers, as well as the smoke following combustion. While this aroma forms the foundation of the profile, hints of sandalwood, grape, and other fruit also make an appearance. Overall, Purple Kush serves up a balanced taste and aroma that showcases notes of fruit and musk, without being overly sweet or savoury.
The Terpene Profile of Purple Kush
The aroma of Purple Kush cannabis stems from the complex terpenes found within the flowers. Among a long list of compounds, the following three terps are the most abundant:
Linalool: This terpene produces a floral and citrusy taste and aroma. Strains high in this compound often possess a strong lemony scent. When it comes to effects, linalool produces a relaxing sensation that synergises with THC to induce a stoning high.
Caryophyllene: Spicy and savoury, caryophyllene adds a peppery element to many strains. Much like THC and CBD, caryophyllene works as a phytocannabinoid and produces a soothing effect on the body.
Myrcene: Found in high quantities in mango and hops, myrcene adds a fruity flavour to select cultivars. On top of this, it works alongside THC to relax the body and mind.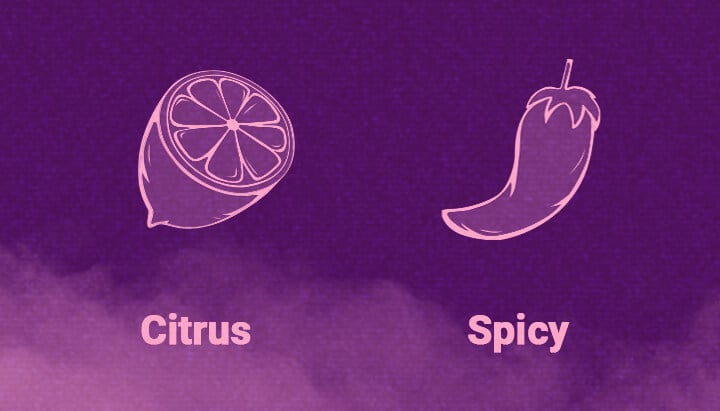 Purple Kush Growing Characteristics
Purple Kush maintains a small and bushy morphology, rarely exceeding a height of 90cm. This makes her ideal for growers looking to maintain a low profile, especially when cultivating weed plants outdoors. This cultivar also responds well to training; top her early to promote more lateral growth and more uniform bud development. Moreover, her natural mould resistance makes her suitable for growing outdoors without shelter, even in somewhat rainy environments.
Purple Kush charges through the flowering stage in only eight weeks, making her attractive to growers looking for a relatively quick stash. Once fully mature, expect to harvest up to 500g/m² indoors and 800g/plant outdoors.
Purple Kush Growing Difficulties
Generally speaking, Purple Kush poses few issues during the growing cycle. However, germination can sometimes go awry. To remedy this and up your odds of success, soak the seeds for 12–24 hours before placing them in the soil. You can also treat seeds with lactic acid bacteria to reduce the chance of fungal pathogens.
Purple Kush: A Sturdy and Reliable Pure Indica Strain
Thanks to her prestigious pure indica lineage, Purple Kush serves up a pleasant stoning high and maintains a small stature throughout the growing cycle. Her fruity and musky terpene profile offers unique flavours, and high levels of THC ensure a fast-acting effect. If you're looking for a big yield in a small time frame, and don't have much space available, then you should consider getting these seeds in the soil. To experience Royal Queen Seeds' own delicious take on Purple Kush, try Purple Queen—a pleasantly couch-locking indica-dominant feminized specimen.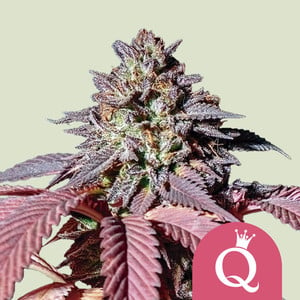 | | |
| --- | --- |
| | Hindu Kush x Purple Afghani |
| | 450 - 500 gr/m2 |
| | 80 - 120 cm |
| | 8 - 9 weeks |
| | THC: 22% |
| | |
| --- | --- |
| | Sativa 25% Indica 75% |
| | 650 - 700 gr/plant |
| | 175 - 210 cm |
| | October |
| | Calming, Euphoric |