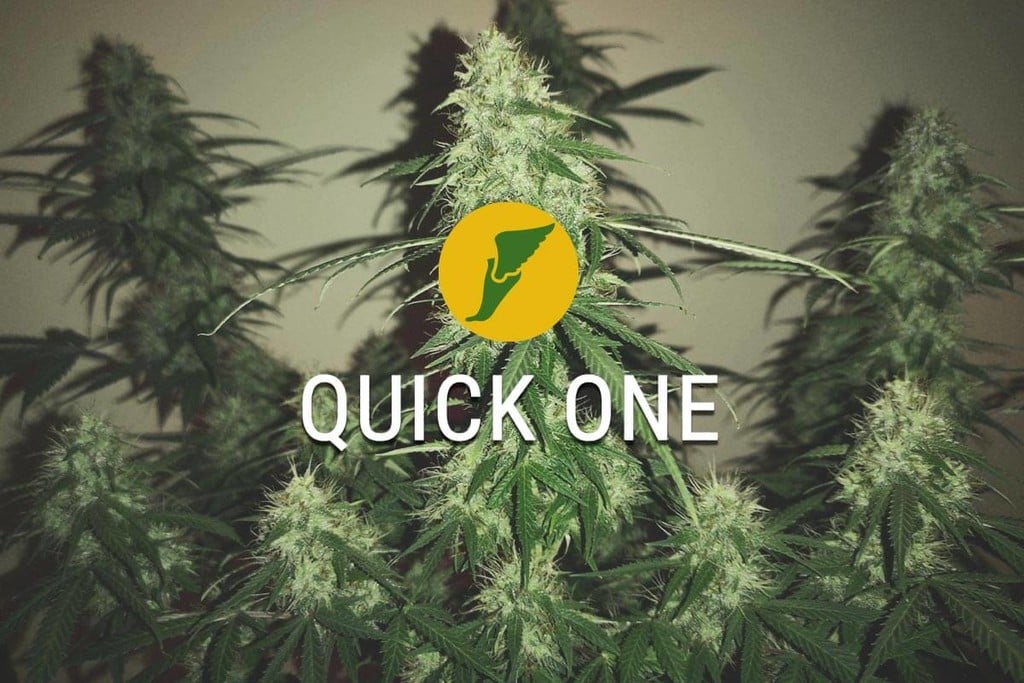 Quick One: First At The Finish Line
Quick One carries the legacy of Lowryder to new heights. Find out more about this speedy cannabis cultivar, including its genetics, effects, aromas, and how to grow it indoors and out!
By
---
ON YOUR MARKS: INTRODUCING QUICK ONE
Blink and you'll miss it! OK, maybe it doesn't grow that quickly, but Quick One didn't earn her name for being slow.
As autoflowering and fast-growing cannabis plants increase in popularity, Quick One has remained a tried and true favorite built upon legendary genetics. As a robust, low-maintenance plant, growers of all levels can experience what it's like to cultivate autoflowering magic. Need a compact plant you can grow basically anywhere? Let's get into why this could be the (quick) one for you…
GET SET: GENETICS OF QUICK ONE
Quick One is an indica-dominant (60% indica, 30% ruderalis, 10% sativa) autoflowering cannabis plant derived from Lowryder genetics, known to be the original commercial autoflowering strain. The word "iconic" comes to mind when summing up the significance of Lowryder in the cannabis cultivation world.
When taking an even closer look at her genetic foundation, Quick One combines Northern Light, William's Wonder, and Mexican ruderalis to deliver an easy autoflower par excellence.
Drawing upon the undeniable indica influence of Northern Light and William's Wonder, tempered by the autoflowering nature of Mexican ruderalis, Quick One is built for speed and practicality, whether you're growing indoors or out.
The breeders at Royal Queen Seeds took their efforts seriously by creating a reliable performer that doesn't shirk any of its duties.
GROW: GROWING QUICK ONE
As the name suggests, Quick One was born to zoom. Just how fast is she? By the time your seeds germinate, it should take only 8–9 weeks before a mature canopy of shimmering buds appears before your very eyes. Compared to other strains, even other autos, that is a super-fast growing cycle.
When Quick One was first released, it was one of the fastest autoflowers on the market to ever exist—one that also churned out top results.
Of course, because Quick One is autoflowering, it moves seamlessly from the vegetative phase to the flowering phase. After just a few short weeks, once her predetermined veg phase is up, her internal clock will tell her to start blooming. This way, growers don't need to worry about altering light cycles to support a specific phase.
Growing Quick One outdoors has its perks, as sunlight will allow for bigger buds and potentially higher returns. Fortunately, since Quick One's life cycle is so short, she is less at risk of being plagued by pests and pathogens. Moreover, the shrewd grower can plan their time right to achieve multiple harvests per season.
You can also grow Quick One indoors to great success. In terms of light cycle, you can simply keep her under 18–20 hours of light per day throughout each phase.
Thanks to its small, discreet stature, reaching heights of 1.6 – 2 feet indoors and 2 – 3.3 feet outdoors, Quick One does not need a lot of room to flower to its max capacity. She is capable of yielding up to 11.5 oz/m² indoors and 5.3 oz under the blazing sun.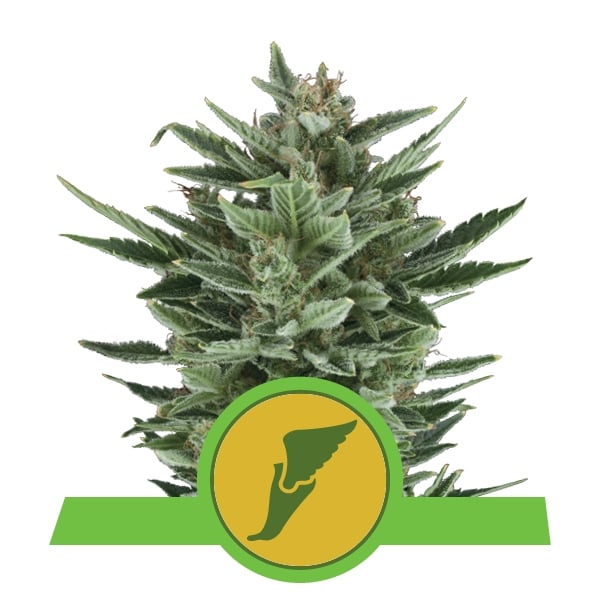 Quick One
Strong Indica x Ruderalis
9.7 - 11.5 oz/m2
1.6 - 2 feet
5 - 6 weeks
THC: 13% (aprox.) / CBD: Low
| | |
| --- | --- |
| | 10% Sativa, 60% Indica, 20% Ruderalis |
| | 3.5 - 5.3 oz/per plant (dried) |
| | 2 - 3.3 feet |
| | 8 - 9 weeks after germination |
| | Physical |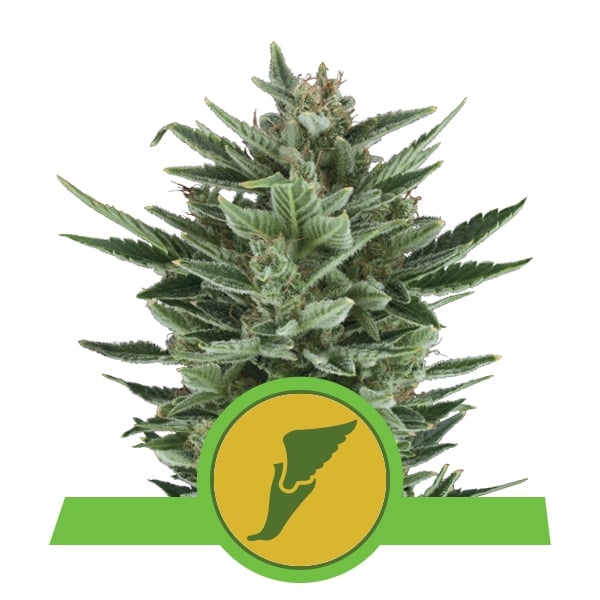 | | |
| --- | --- |
| | Strong Indica x Ruderalis |
| | 9.7 - 11.5 oz/m2 |
| | 1.6 - 2 feet |
| | 5 - 6 weeks |
| | THC: 13% (aprox.) / CBD: Low |
| | |
| --- | --- |
| | 10% Sativa, 60% Indica, 30% Ruderalis |
| | 3.5 - 5.3 oz/per plant (dried) |
| | 2 - 3.3 feet |
| | 8 - 9 weeks after germination |
| | Physical |
FLAVOR, AROMA, AND EFFECTS OF QUICK ONE
As buds mature during the flowering phase, Quick One takes on a fresh, herbal aroma with hints of citrus. This scent intensifies slightly after a good cure, making for an invigorating sensory experience every time.
This translates over nicely to the taste buds; with its easy-going, gentle, and mild taste, Quick One carefully eases you into a relaxing body high. Still, this is not a couch-lock variety; clocking in at 13% THC, she's just potent enough to smoke during the day without falling asleep.
Quick One offers holistic mind-body relaxation, with euphoric undertones designed to relieve stress and depression as well as promote restful sleep.
SUMMARY OF QUICK ONE: A SPEED DEMON FOR THE AGES
Being so versatile, low-maintenance, and quick to flower, all while producing pleasantly potent buds, there isn't much Quick One can't do. Surely ideal for first-timers seeking a successful harvest, as well as those seeking fast turnover, there's a reason Quick One continues to dominate the autoflowering scene.