How to Make the Best Space Cakes
Nothing is quite as scrumptious as a well-prepared space cake, combining tasty ingredients and great weed. Luckily, we know exactly how to make them, so keep reading for a step-by-step recipe.
By
---
A space cake is as awesome as it sounds. Imagine your favorite cake, but it's infused with the unbridled power of cannabis! Pretty much every coffeeshop in Amsterdam offers space cakes in one form or another, and they have become increasingly popular among those who want to experience an edible high in a discreet and tasty manner.
Fortunately, you don't have to travel far and wide to get your hands on one. With a few simple ingredients and roughly two hours of your time, you can craft this cannabis delicacy in your own home!
---
What Is Inside a Space Cake?
As we've already highlighted, the main ingredient in space cakes is none other than good ol' Mary Jane—that, and a load of milk, sugar, and butter. While the actual cake part of the recipe is simple enough, what many people struggle with is the amount of weed to use. It's very much a matter of personal preference, but the ratios we've outlined below are an excellent starting point.
Don't forget, you can always start by eating a smaller portion, especially if you're concerned about the potency. We'll cover the finer points of space cake potency later on, but an edible high is notorious for knocking even the most seasoned stoners on their backs. If in doubt, take it slow!
Cannabis Space Cake Recipe
The total recipe time is approximately two hours, so gather your ingredients and equipment, and get ready to craft a luscious weed cake.
Ingredients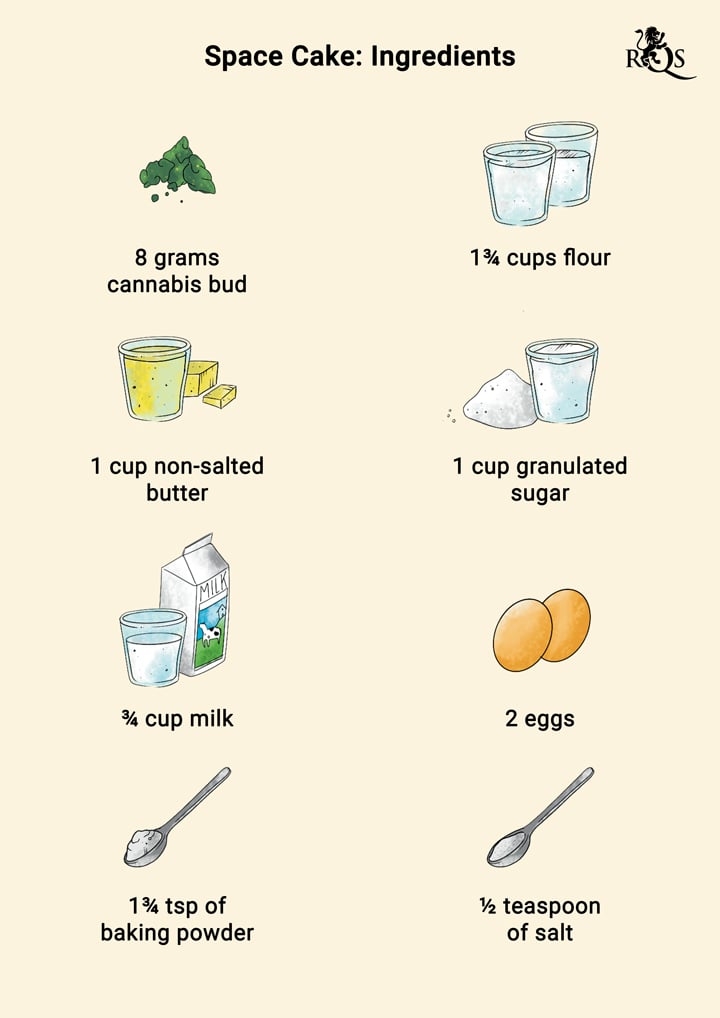 0.3 oz cannabis flower, or the equivalent strength in trim or hash
1¾ cups flour
1 cup unsalted butter
1 cup granulated sugar
¾ cup milk
2 eggs
1¾ tsp baking powder
½ tsp salt
You can also include any ingredients you want to improve the cake, such as cocoa powder, vanilla extract, dried fruit, buttercream, and chocolate chips—your imagination is the limit.
Equipment
Grinder
Mixing bowl
Spatula or mixing spoon
Cake oven tin
Non-stick spray or lining paper
Oven
Microwave
Small bowl
Skewer
Wire rack (optional)
Directions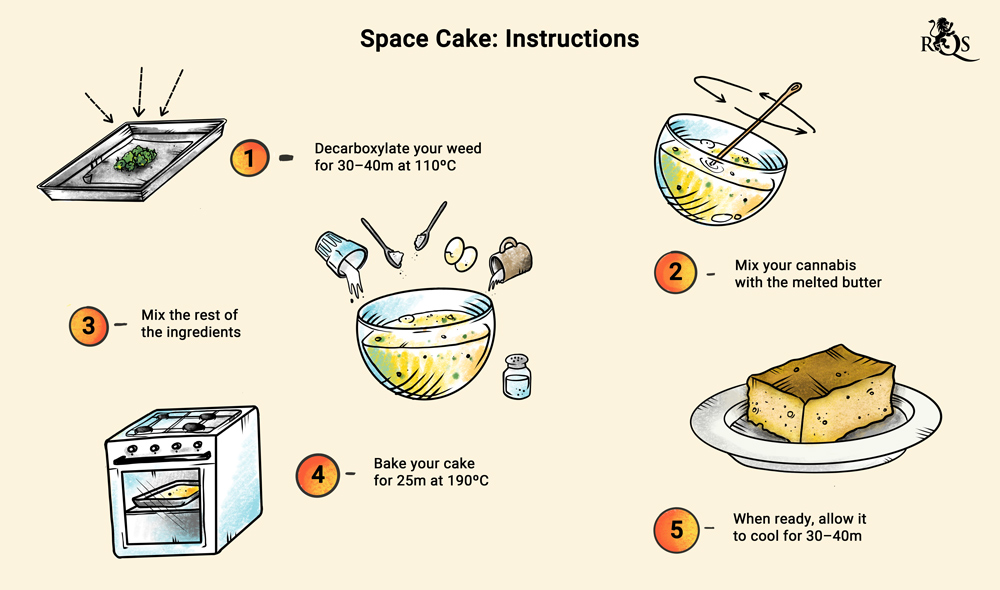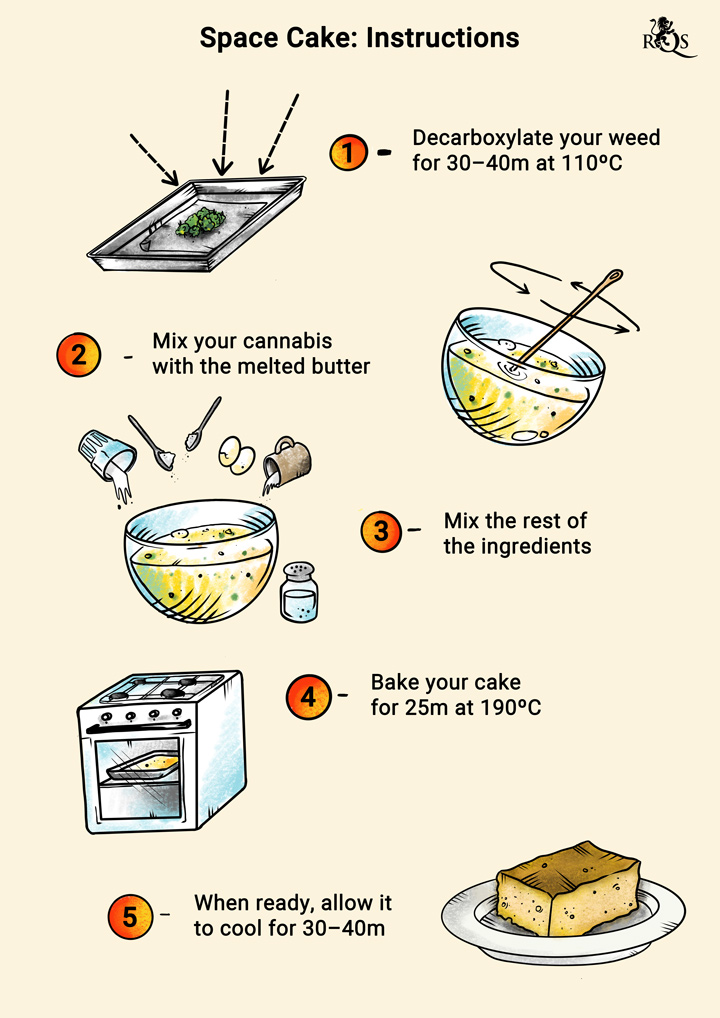 Step 1: Preheat your oven to 110°C. Place your weed (ground) in an oven-safe container. Heat it in the oven for 30–40 minutes. This will decarboxylate your cannabis, meaning that all cannabinoids become bioavailable.
Step 2: Remove the decarbed weed and leave it to cool. In the meantime, turn the oven up to 190°C.
Step 3: While waiting for the oven to reach temperature, put the butter in a bowl and place it in the microwave for 20 seconds. You want it to melt into a gloopy, pasty consistency.
Step 4: Mix your freshly decarbed cannabis into the butter.
Step 5: Add all of the sugar, flour, milk, cannabutter, eggs, plus anything else you want to your mixing bowl. Mix everything together until you get a batter with a nice, even consistency. This may take a few minutes, but it will ensure your cannabis is spread as evenly as possible throughout the cake mix.
NOTE: If the mix is too dry, add a splash of extra milk; if it's too wet, add some extra flour.
Step 6: Grease your cake tin with non-stick spray or line it with non-stick baking paper.
Step 7: Carefully pour your cake batter into the tin, spreading it around to distribute evenly.
Step 8: Place your tin in the oven and leave it to bake for 25 minutes.
Step 9: After the 25 minutes, pierce the center of the cake with a skewer. If it comes out clean, it is ready; if the batter sticks to it, leave the cake in the oven for another 5 minutes. Repeat as necessary.
Step 10: Allow the cake to cool for about 20 minutes in the tin; then, place it upside down on the wire rack and remove the tin, allowing it to cool for a further 30 minutes.
Step 11: Once cooled, decorate the cake with anything you want. Buttercream icing is a fan favorite.
Step 12: Marvel at the beauty of your space cake, and get ready to enjoy one of the tastiest and trippiest edibles around.
Making space cakes might be simple, but consuming them can be a little trickier. Here are some answers to your most commonly asked questions.
Cannabis Space Cake: FAQ
How long do space cakes take to set in?

Cannabis edibles (including space cakes) take roughly 40–60 minutes for the effects to come on. Even after the initial buzz hits, the sensation builds for several hours. Because of the way THC is processed in our digestive system and liver, it's crucial you allow at least an hour (if not two) between portions. Doubling down on space cakes is a surefire way to end up greening out.

How much space cake should you eat?

Even if you're experienced with edibles, starting with a single portion is recommended. If (and only if) you aren't feeling it after two hours should you eat some more. For most people, a single portion of a well-mixed cake will be plenty. For more advice on portion control, potency, and the strength of your space cakes, our edibles calculator explains all.

How do you stop the effect of space cakes?

If events take a turn for the worse, unfortunately, there isn't anything you can do to stop the effects of space cakes immediately. The good news, however, is that any unwanted side effects will pass in time. You can also try drinking plenty of water, staying distracted, and eating some sugary foods to lessen the overall intensity.

How long do space cakes last?

Space cakes use lots of fresh ingredients, so you'll only have about a week to finish all portions, unless you freeze them. You should also ensure the cake is stored in an airtight container in the fridge to maintain its freshness. Given the short shelf-life, it's better to focus on baking smaller cakes and focusing on quality over quantity.
Making Space Cakes? These 4 Strains Will Perfect Them
Lemon Shining Silver Haze
Lemon Shining Silver Haze is a fine addition to any space cake. This potent strain gives off a scent of fresh lemon when smoked, a quality that enhances the taste of any delicacy with a citrus tinge. This sativa strain sets the mind into overdrive, opening the gates to creative ideas and increasing mood and focus. Eating a Lemon Haze space cake is a great idea before long periods of work and creative activity. Levels of THC range from 15–20% in this strain, with highs ranging from moderate to very intense. Within the first hour of polishing off a slice of Lemon Haze cake, the user will begin to experience the euphoric, uplifting, happy, and energetic high that the strain has to offer.
Lemon Haze is a fairly easy strain to grow and offers rewarding yields. She reaches a height of just under 78 inches and features a flowering time of 7–9 weeks. Her flowers are truly stunning and feature a shiny layer of resin alongside bright orange calyxes.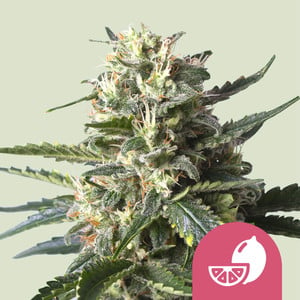 | | |
| --- | --- |
| | Lemon Skunk x Shining Silver Haze |
| | 21 to 23 oz/m² |
| | 3 to 5 feet |
| | 9 - 10 weeks |
| | THC: 21% |
| | |
| --- | --- |
| | Sativa 75% Indica 25% |
| | 23 to 25 oz/plant |
| | 4 to 6 feet |
| | Middle of October |
| | Balanced, Clear, Stoned |
Purple Queen
Purple Queen gets her name from the stunning purple shades that are displayed upon her flowers and sugar leaves. The lineage of this indica-dominant hybrid stems from the Hindu Kush mountains and was introduced to the cannabis world by exploring strain-hunters. She is the offspring of parent strains Hindu Kush and Purple Afghani, and features a genetic makeup of 75% indica genetics and 25% sativa genetics. The powerful scents and tastes of citrus present within this variety add serious flavor to space cakes, giving them a fruity and zesty theme. Purple Queen produces THC levels of 22%, which makes for quite the experience when consumed in edible form. Her effects are primarily relaxing and euphoric, mellowing out into a full-body stone.
Purple Queen favors a mild to warm climate and performs great both indoors and outdoors. Indoor plants yield between 15.9 – 17.6 oz/m² and grow to heights of 2.6 – 3.9 feet. Plants cultivated outdoors within gardens will produce heavy yields of up to 24.7 oz and grow to towering heights of 81.9 inches. Purple Queen features an indoor flowering time of 7–8 weeks, with outdoor plants ready to harvest during October.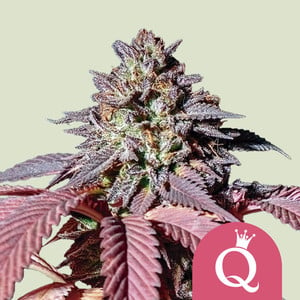 | | |
| --- | --- |
| | Hindu Kush x Purple Afghani |
| | 16 to 19 oz/m² |
| | 3 to 4 feet |
| | 8 - 9 weeks |
| | THC: 22% |
| | |
| --- | --- |
| | Sativa 25% Indica 75% |
| | 23 to 25 oz/plant |
| | 6 to 7 feet |
| | October |
| | Calming, Euphoric |
Royal Cookies
Royal Cookies will add some serious kick to your space cakes. This potent lady produces THC levels of 23%, enough to satisfy the most veteran of cannabis users. This indica-dominant specimen is the result of a breeding project involving parent strain Cookies Forum, and contains 80% indica genetics and 20% sativa genetics. Her flowers give off scents of sweet nectar, adding such sugary tastes to the mix when used in baking. Eating a space cake loaded with Royal Cookies will produce a deeply stoning high that is both relaxing and euphoric—effects that will last for hours.
Royal Cookies yields up to 18.5 oz/m² when grown indoors, reaching a height of between 2.6 – 3.6 feet. Outdoor plants will achieve 17.6 oz and stretch taller to 70.2 inches, with flowers ready to harvest during the middle of October. She has an indoor flowering time of 8–9 weeks.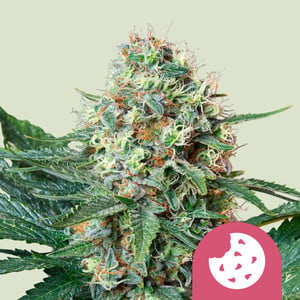 | | |
| --- | --- |
| | Forum Cookies S1 |
| | 16 to 18 oz/m² |
| | 3 to 4 feet |
| | 8 - 9 weeks |
| | THC: 23% |
| | |
| --- | --- |
| | Sativa 20% Indica 80% |
| | 16 to 18 oz/plant |
| | 5 to 6 feet |
| | Middle of October |
| | Euphoric, Physically Relaxing |
Solomatic CBD
Eating space cakes isn't just about getting super high, it's also about therapeutic effects for many users. This is where strains like Solomatic CBD come in. This interesting specimen is incredibly rich in CBD, with almost no THC present. She features around 21% CBD alongside 1% THC, allowing users to experience the beneficial effects of CBD without getting high in the process. These values have created an industry-leading CBD:THC ratio of 21:1. Eating these space cakes will offer a clear and relaxing sensation. Solomatic CBD flowers contain terpenes that create scents and flavors of sweetness, fruit, ginger, and pine—amazing additions to any space cake.
Solomatic CBD is very easy to grow and, as an autoflowering variety, does not require a change in the light cycle to induce flowering. Growers will be rapidly rewarded with a handsome yield as this strain springs from sprout to harvest in as little as 9 weeks.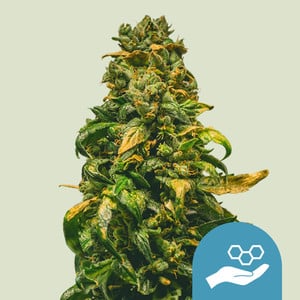 | | |
| --- | --- |
| | Diesel CBD x Asia CBD Auto |
| | 5 to 7 oz/m² |
| | 2 to 3 feet |
| | 7 - 8 weeks |
| | THC: 1% |
| | |
| --- | --- |
| | Sativa 20% 70% Indica 10% Ruderalis |
| | 1 to 3 oz/plant |
| | 2 to 3 feet |
| | 10 – 11 weeks after sprouting |
| | Clear, Light |
There you have it—a super easy way to make an irresistible space cake (and several strains to get you started). Just remember to enjoy it responsibly and let anyone you share it with know what they're signing up for. You'll be on your way to the outer reaches of bliss in no time at all!