Green Crack Punch: A New Spin On Classic US Genetics
Green Crack Punch combines Green Crack and Purple Punch to bring you a new, exciting twist on classic US genetics. She's suitable for indoor and outdoor growers of all skill levels, and makes a super social and exciting smoke to enjoy with friends.
By
---
Green Crack Punch is our sensational cross of Green Crack and Purple Punch. The combination of an uplifting, cerebral kickstarter and a warm, cuddly indica makes for a powerhouse strain that produces an extremely energetic high. Prepare for mental clarity and physical relaxation to come your way and stay for a while. Roll her up, breathe her in, and get ready to let Green Crack Punch send you into all-day autopilot.
Ignite Your Neurones With This Fusion of Green Crack and Purple Punch
Green Crack, despite its controversial name, is a renowned strain born and bred on the West Coast of the USA. A cross between a unique Skunk #1 phenotype (which some rumour dates back to the late 1980s) and a mystery indica, Green Crack brought Americans (and now the world) a completely new cannabis experience, one characterised by an incredible uplifting euphoria that leaves the smoker riddled with energy all day long.
And it wasn't just the high that left people craving Green Crack; growers loved it too. While originally a sativa-dominant hybrid, Green Crack is super adaptable to both indoor and outdoor growing and produces very dense buds. It grows quickly and, come flowering time, looks almost white due to its thick coat of resinous trichomes.
Green Crack's aroma and flavor profile are also loved by cannabis users across the globe. Its aroma is best described as fruity, combining citrus tones and tropical fruit with hints of mint and earth.
At RQS, we crossed Green Crack with Purple Punch, a cross of Larry Bird and GDP that lands a heavy-handed indica body blow that'll instantly leave you feeling relaxed and happy. The complete opposite of Green Crack, Purple Punch is best used in the evenings or after work when you can put your responsibilities aside and simply unwind.
In the grow room, Purple Punch is a small, bushy indica with deep green foliage and short internodes. But don't let her size fool you; Purple Punch is capable of delivering spectacular yields even in small setups. Come harvest time, she will reward you with thick, resinous buds that smell of grape Kool-Aid and blueberry muffins.
By combining the genetics of these two polar opposite powerhouses, we created Green Crack Punch, a lovely hybrid with an invigorating scent, great growing traits, and enough THC to power a long-lasting, uplifting high reminiscent of both of its parents.
Growing traits of Green Crack Punch
Green Crack Punch delivers on all fronts. In the grow room, this strain is reliable, easy to handle, and consistently produces great yields of top-shelf flower.
With an average height of roughly 62.4 inches, these plants are easy to manage even for beginner growers. Plus, they are hardy enough to tolerate underwatering or underfeeding as well as fluctuations in temperature or humidity.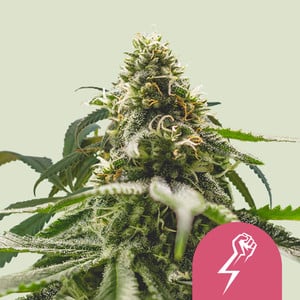 | | |
| --- | --- |
| | Green Crack x Purple Punch |
| | 16 to 19 oz/m² |
| | 3 to 5 feet |
| | 8 - 9 weeks |
| | THC: 18% |
| | |
| --- | --- |
| | Sativa 60% Indica 40% |
| | 19 to 21 oz/plant |
| | 6 to 7 feet |
| | Late September |
| | Calming, Euphoric |
If you're a beginner grower, this is one of those strains that can deliver great results with little-to-no intervention. A good fertiliser and watering schedule plus some strong lights are all Green Crack Punch needs to develop spectacular bud. Best of all, her flowering time is nice and short, clocking in between 55 and 60 days on average. This short flowering time is perfect for inexperienced growers.
Even if you've got a few harvests under your belt, Green Crack Punch is still a great addition to your garden. Thanks to her short stature, Green Crack Punch is perfectly suited to sea of green and screen of green setups. She also responds really well to a combination of LST, super cropping, and main-lining, which can help these short plants grow nice and strong as they prepare to support the weight of their buds—up to 15.9 – 17.6 oz/m² of them!
Outdoors, plants tend to grow a bit larger, maxing out at around 2m or so. Under the natural power of the sun, you can expect Green Crack Punch to grow extra bushy and deliver even bigger buds. Like indoors, we recommend using a combination of low and high-stress training to really boost the yield potential of this strain. In optimal conditions, you can expect to rake in a highly respectable 19.4 – 21.2 oz.
When they start flowering, Green Crack Punch plants fatten up very quickly, so it's a good idea to step up the ventilation in your grow room and keep your temperatures just a little cooler than you would normally. Not only will this help protect your plants against mold or other humidity issues, but it may also bring out some of the darker hues this strain inherited from its Purple Punch parent.
Aroma, flavor, and effects of Green Crack Punch
Post-harvest and after a solid two-week cure, these buds will be ripe and ready to enjoy. Expect delicious flowers with thick, bulging calyxes coated in a sticky layer of trichomes, spotted with fiery pistils and bright green sugar leaves.
A fresh batch of cured Green Crack Punch buds will boast a very pungent aroma combining citrus overtones with hints of grape and berries. And once you light up, get ready for a long-lasting, euphoric high.
Powered by 18–20% THC, this strain packs a real punch. After just a few hits, you'll experience a strong wave of euphoria and energy—great for when you need to get productive or creative. If you like to wake and bake, this strain is perfect. It's also ideal for smoking during the day or when taking care of errands and chores around the house. If you paint, compose, write, or design, Green Crack Punch may also help you get inspired and stay focused while you create.
Green Crack Punch: a unique twist on some usa classics
Green Crack Punch is an invigorating strain like no other. Regardless of your skills as a grower, these hardy plants can deliver exceptional results time and time again. If you're looking for some top-shelf USA genetics to add to your garden or grow room, Green Crack Punch is the way to go.