Royal Gorilla, The Dankest Marijuana Of All Time

---
ORIGINS: WINNING THE GENETIC LOTTERY
These are interesting times to cultivate cannabis. Few accidental creations or inventions are outstanding. Most pass by unnoticed like a rainbow in the night. But those wonderful few, like Coca Cola, Chocolate Chip Cookies, Corn Flakes and Potato Chips, changed the world. Gorilla Glue is the marijuana that's rapidly becoming the first accidental iconoclast.
Gorilla Glue #1 is the sativa leaning phenotype of the Gorilla Glue family in appearance, which is the product of hermie pollen fertilising select Diesel varieties. Instead of spoiling the genetics elite ultra potent progeny emerged. Thus far Gorilla Glue #4 is the most potent of all phenotypes to be discovered.
All Gorilla Glue pheno's share the same Chems Sis, Sour Dubb and Chocolate Diesel lineage. However, some hybrids are more extraordinary than others.The numbers matter and with 32% THC test results in Denver Colorado labs Gorilla Glue has redefined high potency cannabis. Our Royal Gorilla is straight up Fire!
Unsurprisingly, Gorilla Glue has been stacking up plenty of accolades and awards. Most notably, two High Times Cannabis Cups in 2014, winning 1st place in LA and Michigan. Gorilla Glue cuts became the hottest cannabis commodity overnight. Now the is available in seed for the first time. Home growers can now crop the dankest dope on planet earth
GROWTH CHARACTERISTICS: KING KONG CANNABIS PLANTS
Royal Gorilla grows like a vine and will rapidly grow vertically. Training is highly recommended to contain this King Kong sized indica-sativa hybrid. The ScrOG method is preferred to crop the maximum quantity of fireweed. 4-way LST is another preferred cultivation technique to get the heaviest harvest from Royal Gorilla.
Flowering is fast and furious with 60 days or less typically all that's required. Seemingly limitless resin production and an earthy pine odour are quintessential Royal Gorilla traits. Buds are small to medium sized, very dense and gooey with resin.
By late bloom, nuggs and colas will resemble snowballs with the orange hairs beneath barely visible. Trichomes will accumulate so thickly that to the touch these frosty buds will be adhesive just like Royal Gorilla. Very tolerant to high doses of nutrients and performs well in both organic and hydroponic grow-ops.
Outdoors the Royal Gorilla has the potential for tremendous yields with great big sticky ganja trees possible in warm to temperate climates. Plus that layering of trichs is advantageous to the outdoor grower if pests and dry conditions present. This vigorous hybrid will be ready in time for Croptober as the short 8-week bloom cycle usually ensures a September harvest.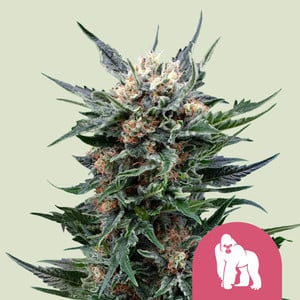 | | |
| --- | --- |
| | Sour Dubb x Chem Sis x Chocolate Diesel |
| | 500 - 550 gr/m2 |
| | 90 - 160 cm |
| | 8 - 10 weeks |
| | THC: 27% |
| | |
| --- | --- |
| | Sativa 50% Indica 50% |
| | 550 - 600 gr/plant |
| | 130 - 170 cm |
| | Middle of October |
| | Calming, Clear |
ROYAL GORILLA EFFECTS: NEXT STOP DREAMLAND
Royal Gorilla is truly a cannabis strain without peers. This marijuana is in a league of its own. 25%+ THC levels are to be expected and even exceeding 30% is possible. This is not for weed for the uninitiated. Similar to Sour Diesel, only she tastes earthy with a more subtle sweet aftertaste, the cerebral high comes on strong.
The huge difference is the full body indica effect tends to kick in simultaneously. This can be overwhelming for the novice. But for the seasoned stoner, this is a beautiful euphoric couch locking experience not to be missed.
ROYAL GORILLA AUTOMATIC IS HERE TO DOMINATE
Our breeders took legendary genetics and made them available as an autoflowering strain. Now, growers can enjoy the profound effects and delicious tastes of Gorilla in much less time. We created Royal Gorilla Automatic by breeding the original strain with a ruderalis cultivar. The result? An indica-dominant strain that's easy to grow and fast to flower. Autoflowering strains usually require the grower to sacrifice potency for speed. That's not the case here. Royal Gorilla Automatic offers both!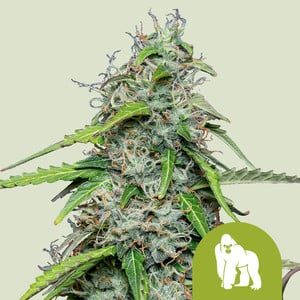 | | |
| --- | --- |
| | Gorilla x Cookies x Ruderalis |
| | 325 - 400 gr/m2 |
| | 70 - 100 cm |
| | 6 - 8 weeks |
| | THC: 20% |
| | |
| --- | --- |
| | Sativa 30% Indica 50% Ruderalis 20% |
| | 120 - 170 gr/plant |
| | 80 - 140 cm |
| | 10 - 12 weeks after sprouting |
| | Heavy, Physically Relaxing, Stoned |
GROWING ROYAL GORILLA AUTOMATIC
Beginner growers won't have any trouble cultivating Royal Gorilla Automatic. If you're new to growing, she's your ticket to success. She can handle temperature fluctuations, periods of over- and under-watering, and has no trouble fending off mould. When grown indoors, she'll reach 60–120cm in height and produce 325–400g/m². Outdoor plants peak at a taller height of 140cm and produce 120–170g/plant. Expect to harvest these buds 8–10 weeks after germination.
SMOKING ROYAL GORILLA AUTOMATIC
Royal Gorilla Automatic boasts a THC level of 20%—quite potent for an autoflowering strain. Her indica-dominant high immediately relaxes the body and lightly sedates the mind. She's an ideal recreational strain in the evenings when it's time to relax and forget about the outside world. Her physical effects also make her a good medicinal strain for pain, low appetite, and low mood. Her high banishes stress and takes the edge off chronic aches and ailments. These effects go hand in hand with pleasant aromas and flavours of citrus, pine, and fruit.
By