Gorilla Strains — The Royal Queen Seeds Collection

---
Origins of Gorilla Strains: Winning the Genetic Lottery
Gorilla strains are modern classics. Much like Haze, Kush, and Skunk, Gorilla will go down in history as an era-defining strain family. However, unlike the other strains, Gorilla varieties possess far greater quantities of THC, more pungent terpene profiles, and superior productivity. There are many Gorilla strains now available, but they all hinge on the success of the first. So, where did it all begin? Let's dive into it!
The many different Gorilla cultivars available today stem from Gorilla Glue, otherwise known as Original Glue and GG4. Breeders created this strain by crossing Chem's Sister, Sour Dubb, and Chocolate Diesel. Little did they know that, in doing so, they just won the genetic lottery, creating a cultivar with a colossal THC content of 27%. At the time, this made Gorilla Glue one of the strongest strains to ever emerge into the world of weed. Naturally, she soon became the center of attention and casually won two High Times Cannabis Cups in 2014.
Gorilla Glue also became a firm favorite among cannabis breeders looking to create the next best strain. Both hobbyist home growers and commercial breeders used her to create a long list of incredible cultivars. Here at Royal Queen Seeds, we put this genome to work to create the likes of Shogun, Triple G, Mother Gorilla, and other cultivars! Get to know these offspring of the Gorilla Glue strain below, and find out why they belong in your grow tent or greenhouse!
Growth Characteristics: King Kong Cannabis Plants

Royal Gorilla grows like a vine and will rapidly grow vertically. Training is highly recommended to contain this King Kong sized indica-sativa hybrid. The ScrOG method is preferred to crop the maximum quantity of fireweed. 4-way LST is another preferred cultivation technique to get the heaviest harvest from Royal Gorilla.
Flowering is fast and furious with 60 days or less typically all that's required. Seemingly limitless resin production and an earthy pine odour are quintessential Royal Gorilla traits. Buds are small to medium sized, very dense and gooey with resin.
By late bloom, nuggs and colas will resemble snowballs with the orange hairs beneath barely visible. Trichomes will accumulate so thickly that to the touch these frosty buds will be adhesive just like Royal Gorilla. Very tolerant to high doses of nutrients and performs well in both organic and hydroponic grow-ops.
Outdoors the Royal Gorilla has the potential for tremendous yields with great big sticky ganja trees possible in warm to temperate climates. Plus that layering of trichs is advantageous to the outdoor grower if pests and dry conditions present. This vigorous hybrid will be ready in time for Croptober as the short 8-week bloom cycle usually ensures a September harvest.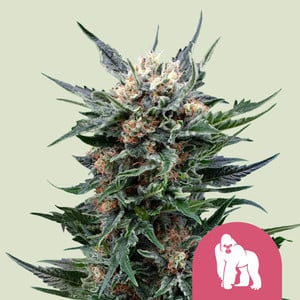 | | |
| --- | --- |
| | Sour Dubb x Chem Sis x Chocolate Diesel |
| | 18 to 19 oz/m² |
| | 3 to 5 feet |
| | 8 - 10 weeks |
| | THC: 27% |
| | |
| --- | --- |
| | Sativa 50% Indica 50% |
| | 19 to 21 oz/plant |
| | 4 to 6 feet |
| | Middle of October |
| | Calming, Clear |
Royal Gorilla Effects: Next Stop Dreamland
Royal Gorilla is truly a cannabis strain without peers. This marijuana is in a league of its own. 25%+ THC levels are to be expected and even exceeding 30% is possible. This is not for weed for the uninitiated. Similar to Sour Diesel, only she tastes earthy with a more subtle sweet aftertaste, the cerebral high comes on strong.
The huge difference is the full body indica effect tends to kick in simultaneously. This can be overwhelming for the novice. But for the seasoned stoner, this is a beautiful euphoric couch locking experience not to be missed.
Royal Gorilla Automatic is Here to Dominate

Our breeders took legendary genetics and made them available as an autoflowering strain. Now, growers can enjoy the profound effects and delicious tastes of Gorilla in much less time. We created Royal Gorilla Automatic by breeding the original strain with a ruderalis cultivar. The result? An indica-dominant strain that's easy to grow and fast to flower. Autoflowering strains usually require the grower to sacrifice potency for speed. That's not the case here. Royal Gorilla Automatic offers both!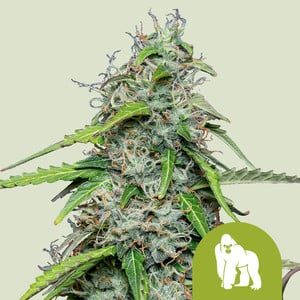 | | |
| --- | --- |
| | Gorilla x Cookies x Ruderalis |
| | 11 to 14 oz/m² |
| | 2 to 3 feet |
| | 6 - 8 weeks |
| | THC: 20% |
| | |
| --- | --- |
| | Sativa 30% Indica 50% Ruderalis 20% |
| | 4 to 6 oz/plant |
| | 3 to 5 feet |
| | 10 - 12 weeks after sprouting |
| | Heavy, Physically Relaxing, Stoned |
Growing Royal Gorilla Automatic
Beginner growers won't have any trouble cultivating Royal Gorilla Automatic. If you're new to growing, she's your ticket to success. She can handle temperature fluctuations, periods of over- and under-watering, and has no trouble fending off mold. When grown indoors, she'll reach 60–120cm in height and produce 325–400g/m². Outdoor plants peak at a taller height of 140cm and produce 120–170g/plant. Expect to harvest these buds 8–10 weeks after germination.
Smoking Royal Gorilla Automatic
Royal Gorilla Automatic boasts a THC level of 20%—quite potent for an autoflowering strain. Her indica-dominant high immediately relaxes the body and lightly sedates the mind. She's an ideal recreational strain in the evenings when it's time to relax and forget about the outside world. Her physical effects also make her a good medicinal strain for pain, low appetite, and low mood. Her high banishes stress and takes the edge off chronic aches and ailments. These effects go hand in hand with pleasant aromas and flavors of citrus, pine, and fruit.
Shogun: Gorilla Weed Meets Haze

Shogun pulls absolutely no punches when it comes to turning a sober mind into a high one. As a descendant of both Gorilla Glue #4 and Amnesia Haze, this powerful cultivar possesses a somewhat intimidating THC content of 25%. It takes little more than a couple of hits to feel an uplifting, creative, and laughter-inducing high take hold. Shogun's enlivening effects make her a good candidate for daytime smoking sessions, and even waking and baking. However, tread carefully—her potency could send you back to bed sooner than intended!
When it comes to growing Shogun, make sure you have enough stash jars to store the bounty she provides at the end of the cultivation cycle. Indoor plants, when left untrained, grow to a relatively tall height of 140cm and produce up to 600g/m². Outdoors, Shogun surges to 190cm and produces up to a massive 750g/plant.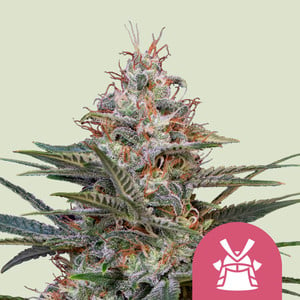 | | |
| --- | --- |
| | Amnesia Haze x Gorilla Glue 4 |
| | 19 to 21 oz/m² |
| | 3 to 4 feet |
| | 9 - 11 weeks |
| | THC: 25% |
| | |
| --- | --- |
| | Sativa 70% Indica 30% |
| | 23 to 26 oz/plant |
| | 5 to 6 feet |
| | Late October |
| | Calming, Clear, Laughter, Uplifting |
Triple G: The Prized Offspring of Gorilla Glue #4 and Gelato 33

Talk about strong genetics! This variety boasts one of the most potent pairings of parent strains. Both Gorilla Glue #4 and Gelato 33 are known for their formidable strength, delicious terpenes, and excellent productivity, and Triple G possesses a mix of their very best traits. This indica-dominant hybrid boasts an outlandish THC content of 26%. Take a couple of hits and prepare to feel a stoning and muscle-melting high sweep across your entire body. Scrumptious tastes of chocolate, citrus, diesel, and earthiness make this strain particularly moreish.
Triple G has a rather compact morphology and responds well to training to keep her even more condensed. Indoor plants grow to 90–140cm and produce up to 575g/m². Even growers working with small spaces can achieve a great end result with this strain. Outdoor plants, when grown in a sunny position and in fertile soil, will top out at 180cm and produce 600–650g/plant.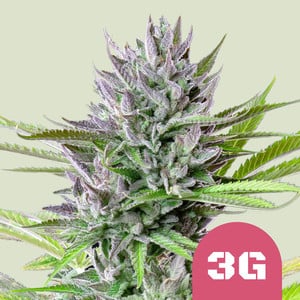 | | |
| --- | --- |
| | Gorilla Glue 4 x Gelato 33 |
| | 18 to 20 oz/m² |
| | 3 to 4 feet |
| | 8 - 9 weeks |
| | THC: 26% |
| | |
| --- | --- |
| | Sativa 15% Indica 85% |
| | 21 to 23 oz/plant |
| | 5 to 6 feet |
| | Middle of October |
| | Clear, Euphoric, Fast Thinking, Motivating |
Triple G Auto: For Growers With a Need for Speed

Are you craving all of the delights that Triple G has to offer, but don't have the time to bring a large photoperiod plant all the way to maturity? Well, fret not fellow grower. Let us introduce you to Triple G Auto! This cultivar serves up some of the best traits of Triple G, but in a fast-growing autoflowering format. Our skilled breeders created this strain by crossing Triple G herself with Big Skunk Auto. After taking some time to refine this strain and stabilise a consistent phenotype, they created one of the most potent autos going. This strain features a THC content of 20% and, in true Gorilla fashion, lands a hard-hitting high ideal for quiet evenings at home. Much like the photoperiod Triple G, she also serves up tastes of candy, chocolate, and earthiness.
Although Triple G Auto provides a similar high to the original, she behaves much differently in the grow room and garden. With a touch of training, indoor plants remain as small as 60cm and produce up to 500g/m² in as little as 10 weeks after germination. Outdoors, plants grow to 80–140cm depending on pot size and sunlight exposure. Ensure fertile soil, and you'll harvest up to 140g/plant.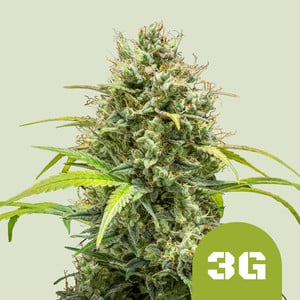 | | |
| --- | --- |
| | Triple G x Big Skunk Auto |
| | 16 to 19 oz/m² |
| | 2 to 4 feet |
| | 8 - 9 weeks |
| | THC: 20% |
| | |
| --- | --- |
| | Sativa 15% Indica 80% Ruderalis 5% |
| | 3 to 5 oz/plant |
| | 3 to 5 feet |
| | 10 - 12 weeks after sprouting |
| | Clear, Fast Thinking, Motivating |
Mother Gorilla: A Potent Gorilla Strain With Tastes of Chocolate

If you decide to grow Mother Gorilla, you might find yourself thumping your chest with excitement when harvest time swings around. Formerly known as Royal Madre, this stunning sativa-dominant specimen puts on quite the show during the flowering phase. As her colas mature, they become all the more purple, aromatic, and resin-laden. Our breeders managed to create such a spectacle by crossing parent strains Reina Madre and Gorilla Glue #4. Overall, these sticky buds harbour a THC content of 23% and a battery of terpenes that unleash flavors and aromas of chocolate, earthiness, skunk, and sourness.
Despite her sativa-dominant genetic profile, Mother Gorilla adheres to an indica morphology. Plants are bushy, compact, and attractive to growers looking to remain stealthy. Indoor plants remain at 60–100cm and are highly productive in ScrOG systems, yielding up to 500g/m² after a flowering time of 9–10 weeks. Outdoors, Mother Gorilla grows to a taller height of 140–180cm and produces up to 550g/plant ready to harvest during early October.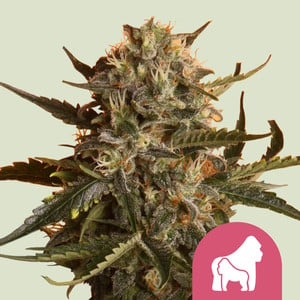 | | |
| --- | --- |
| | Gorilla Glue 4 x Reina Madre |
| | 16 to 19 oz/m² |
| | 2 to 3 feet |
| | 9 - 10 weeks |
| | THC: 23% |
| | |
| --- | --- |
| | Sativa 70% Indica 30% |
| | 18 to 19 oz/plant |
| | 5 to 6 feet |
| | Early October |
| | Calming, Euphoric |
Buy Mother Gorilla (Formerly Royal Madre)
By