North Thunderfuck: New And Improved Version Of MTF
Matanuska Thunderfuck, or MTF, is an Alaskan heirloom strain that went off the radar in the 1990s. Forty years later, our expert breeders have created North Thunderfuck, an homage to the Alaskan classic that left cannabis lovers everywhere drooling.
By
---
Inspired by Matanuska Thunderfuck (MTF), a mysterious Alaskan classic dating back to the 80s, North Thunderfuck's exact genetic lineage is still shrouded in mystery. One thing is very clear, though; this lemony THC monster will hit you like a train and leave you in a euphoric daydream for hours.
NORTH THUNDERFUCK: GENETIC ANALYSIS
North Thunderfuck is our version of MTF, an iconic Alaskan cannabis variety that first crept into the spotlight in the 1970s.
MTF's frosty buds delivered a strong, euphoric body buzz, and it's aroma combined pungent notes of pine and earth with underlying hints of Skunk and mint. These plants grew short and thick, developing dark green fan leaves with up to eight fingers. They flowered extremely quickly and were perfect for growers working in cramped spaces. But even outdoors in the short, mild Matanuska summer, MTF could still produce exceptional bud.
Those cannabis aficionados lucky enough to try MTF during the late 1980s were dying for more of the strain, which, unfortunately, disappeared after the re-criminalisation of cannabis in 1990. After Alaska legalized and regulated the commercial market for cannabis in 2015, however, the search for MTF was back on. Now, over 40 years since it first popped its head out of the snow, we're excited to bring back the glory of MTF.
Our North Thunderfuck was bred directly from MTF; after finding the phenotype with the right aroma, effects, bud structure, and growth traits, we backcrossed it over three generations to create a variety of MTF with a unique aroma and improved THC production.
GROWING NORTH THUNDERFUCK: EXPERIENCE THE TRAITS OF MATANUSKA THUNDERFUCK
In the grow room, North Thunderfuck is a complete treat; whether you're a rookie about to sprout your first seeds or a veteran looking for a new A-grade strain to bring into your grow room, North Thunderfuck won't disappoint.
Originating from the Matanuska Valley, known for its long, cold winters and short, chilly summers, this strain is extremely hardy; it flourishes in slightly colder temperatures and has a natural resilience to pests and diseases. Its flowering time is roughly 65 days.
If you're just starting out as a grower, feel free to let your plants grow as they choose, feeding them with a regular fertiliser during veg and a bloom booster during flowering. Flush for the final 1–2 weeks of flowering, then get ready to harvest some of the best bud you've ever seen.
If you're an experienced grower, on the other hand, we recommend using a combination of LST, HST, lollipopping, and defoliation to really push this strain's potential. Reaching heights of 80–120cm, North Thunderfuck is ideal for indoor growing. Her short, stocky structure also makes her an ideal candidate for a sea of green setup.
If you really want to let North Thunderfuck blow you away, move her outdoors. With enough soil and space, these plants can grow up to 190cm tall, producing tons of nodes that, come harvest time, will be heavy with thick, frosty buds. Yields average about 450–500g/m² indoors and 500g/plant outdoors.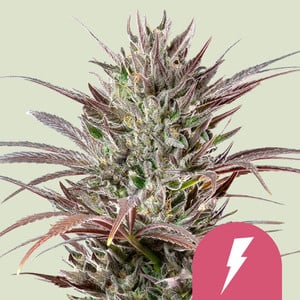 | | |
| --- | --- |
| | Matanuska Thunderfuck Bx3 |
| | 450 - 500 gr/m2 |
| | 80 - 120 cm |
| | 8 - 9 weeks |
| | THC: 22% |
| | |
| --- | --- |
| | Sativa 50% Indica 50% |
| | 500 - 550 gr/plant |
| | 160 - 190 cm |
| | Middle of October |
| | Euphoric |
EFFECTS, FLAVOUR, AND AROMA OF NORTH THUNDERFUCK
Capable of producing up to 23% THC, North Thunderfuck is a step up from the original MTF when it comes to potency. Within just minutes of your first hit, you'll feel your hands and feet get warm and tingly. Give it a few more minutes, and you'll be fully immersed in a euphoric stone, with waves of optimism knocking you back in your chair. Whether you're at a party with friends or home alone, North Thunderfuck will leave a lasting smile on your face and a cool sense of relaxation running through your body for hours.
To really harness the chill euphoria of North Thunderfuck, light her up after a long day at the office or on a lazy weekend afternoon. Put on your favourite movie or record and kick up your heels, or go for a slow stroll in the sun; regardless of the activity, it'll be 10x better after a few hits of North Thunderfuck. Just remember, this strain is known to induce couch-lock with enough hits, so it's best reserved for moments where you can unwind completely without having to deal with work or other commitments.
With its complex terpene profile, North Thunderfuck boasts a delicious aroma with pronounced earthy pine overtones and hints of mint and citrus. While flowering, plants give off very pungent aromas that'll reach every corner of your grow room. Then, after curing, you'll be hard-pressed to find a container that can hold the smell of these buds; expect your friends to go wild the minute you pop the lid off your grinder before rolling up.
Its high concentrations of limonene give North Thunderfuck a unique lemon flavour that'll dominate your palate after a single hit. On the exhale, you may pick up more earthy pine flavours, but they'll be subtle compared to the big citrus note.
NORTH THUNDERFUCK: AN HEIRLOOM STRAIN FOR ROOKIE AND VETERAN GROWERS
Whether you were around to try the original MTF or you're new to cannabis, North Thunderfuck is a revamped classic worth trying. She's easy to grow, delivers big yields of exceptional bud, and, most importantly, offers a delicious and potent smoke. Order your feminised seeds today to see for yourself.