Mother Gorilla Cannabis Seeds Review
Royal Madre was great. Mother Gorilla is better. Meet this improved version of one of our classics. Enjoy her improved THC production, mesmerising terps, and improved productivity—a natural evolution in prowess.
By
---
What is better than a Royal Queen Seeds classic cannabis strain? The next step in the strain's family evolution—that's what!
ROYAL MADRE HAS EVOLVED — MEET MOTHER GORILLA
Evolution is a natural process. It's the action of an organism becoming stronger and more efficient over time. At Royal Queen Seeds, our breeders decided to take Royal Madre and take her to the next level. They sped up the evolutionary process by removing one of the original parent strains and replacing her with a more potent variety. The new progeny packs a notorious sativa punch. This monster produces huge levels of THC, purplish flowers, and satisfying yields. Get to know the natural successor to Royal Madre: Mother Gorilla.
A LOOK AT MOTHER GORILLA'S GENETICS
So, what changed? Well, Mother Gorilla is a new and improved version of Royal Madre — a variety known for her therapeutic sativa high and delicious terps. She was the progeny of Jack the Ripper and Reina Madre and provided many hours of pleasure to her die-hard fans. However, our breeders decided she was missing something. She was good but could have the potential to be so much better. They completely revamped the strain into a high-THC beast by simply tweaking her genetics. The aim was to boost her psychoactive potency, aroma, and output. Jack the Ripper was swapped out for Gorilla Glue (GG #4), and the cultivar truly evolved.
Upon her arrival, Gorilla Glue took the cannabis world by storm. Smokers had rarely encountered such a potent strain, and she still stands as one of the strongest cultivars available. Her hefty THC content of 27-30% landed her success at the 2014 Los Angeles and Michigan High Times Cannabis Cups, and the 2015 High Times World Cup in Jamaica. But Gorilla Glue is more than just a mind-bending high. Her sticky flowers produce a terpene profile that offers stunning scents of pine and chocolate, and strangely satisfying tastes of diesel. Breeders knew Gorilla Glue would elevate Royal Madre to the next level.
After crossbreeding Reina Madre and Gorilla Glue, Mother Gorilla materialised as a sativa-dominant hybrid with 70% sativa genetics and 30% indica.
EFFECTS OF MOTHER GORILLA
Handle Mother Gorilla with care. Veteran cannabis users will be shocked at her strength. Novice users should take matters one toke at a time to avoid becoming overwhelmed. Her bulbous buds produce a THC content of 25%. The high comes on rapidly and linger for hours afterwards. During this time, users will experience her sativa and indica elements in succession. The high starts are a cerebral experience that boosts neuronal firing, floods the brain with dopamine, and elevates the mood. Mother Gorilla will bring an instant smile to your face and inspire you to get up and do things. Maybe you want to go hiking? Or perhaps focus on a creative project?
Regardless of your plans, aim to complete them within the next two hours. After this time, Mother Gorilla's indica effects arrive at the party. Her comforting physical high sweeps across the body as the cognitive effects decline. She'll dissolve muscular tension, redden the eyes, and ramp up your appetite. Gather some snacks and put on a good film.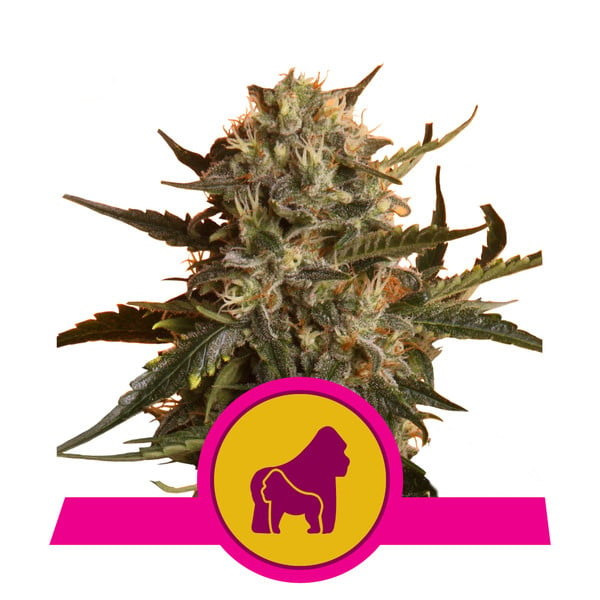 Mother Gorilla
Gorilla Glue 4 x Reina Madre
450 - 500 g/m2
60 - 100 cm
8 - 9 weeks
THC: 25% (aprox.) / CBD: Low
| | |
| --- | --- |
| | 70% Sativa, 30% Indica |
| | 600 - 650 g/per plant (dried) |
| | 140 - 180 cm |
| | Early October |
| | Relaxed and Euphoric |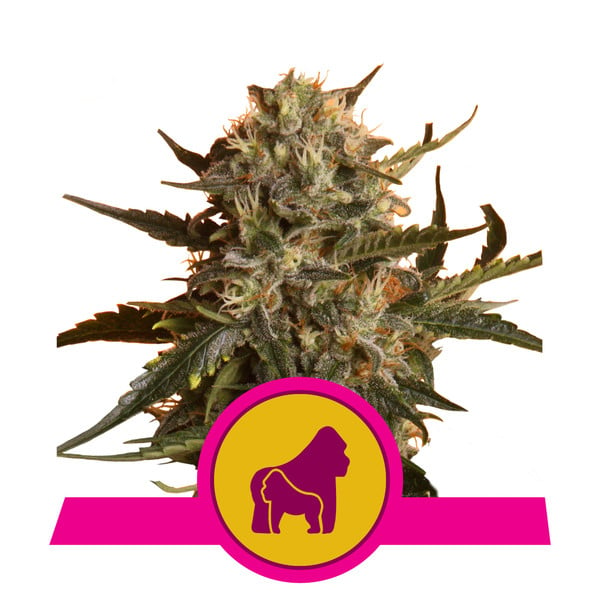 | | |
| --- | --- |
| | Gorilla Glue 4 x Reina Madre |
| | 450 - 500 g/m2 |
| | 60 - 100 cm |
| | 8 - 9 weeks |
| | THC: 25% (aprox.) / CBD: Low |
| | |
| --- | --- |
| | 70% Sativa, 30% Indica |
| | 600 - 650 g/per plant (dried) |
| | 140 - 180 cm |
| | Early October |
| | Relaxed and Euphoric |
FLAVOUR AND AROMAS OF MOTHER GORILLA
Mother Gorilla inherited a large portion of her terpene profile from Gorilla Glue. Distinct notes of pepper, citrus, and herbs underpin her taste and smell. If you really want to preserve her complex flavour, inhale these flowers through a vape. You'll experience hints of chocolate, diesel, and citrus fruits.
Her flowers produce high levels of caryophyllene. Also classed as a dietary cannabinoid, the molecule binds to the CB2 receptor of the endocannabinoid system and produces an anti-inflammatory effect. It's also responsible for Mother Gorilla's spicy and peppery notes.
High levels of limonene also occupy these buds. This terpene is known for its anti-anxiety effects and citrusy tastes. Finally, myrcene is the third most abundant terpene in the mix. It exerts a sedating and relaxing effect and offers earthy tastes.
GROWING TRAITS OF MOTHER GORILLA
Despite her vast sativa dominance, Mother Gorilla exhibits more of an indica growing pattern. She maintains a medium height and produces compact colas. Plants cultivated indoors grow to between 60–100cm and produce 450–500g/m². Use low-stress training to open up her bushy canopy and achieve an optimal yield. Prepare to chop after a flowering time of 8–9 weeks. Plants cultivated outdoors peak at a taller height of 180cm and produce a harvest of 600–650g/plant. They'll be ready to trim and dry during Early October.
ENJOY THIS EVOLVED CULTIVAR
If you're a fan of Royal Madre, you're going to autumn in love with Mother Gorilla. Our expert breeders took a great strain and perfected it. She's also an ideal strain for any smoker that loves high-THC varieties. Grow this cultivar for her tantalising terps, potent high, and therapeutic qualities. You won't be disappointed with the harvest, either!