Medical Cannabis for Dogs and Cats: Is It Worth a Try?
We're all aware of the beneficial effects of THC and CBD. Both of these molecules relax the mind and soothe the body through the endocannabinoid system. But can our pets receive the same benefits from these molecules? Read about cannabis and dogs, cats and other pets, including possible effects, legality and products available on the market.
By
---
---
Humans have a long history with cannabis plants. Over the years, we've used the species as a source of food, fibre, medicine, and recreational fun. In the modern era, more people use cannabis than ever before. More lenient legislation in some parts of the world means more households now have a jar of cannabis next to their culinary spices, and many people grow their own plants in spare rooms or outside in gardens.
Naturally, the sheer popularity of cannabis leads to a common question: What about cannabis and dogs or cats? We all know the herb boasts an impressive safety profile, especially when compared to other substances. But does that mean we can liberally dish it out to our furry friends?
Whether you're looking to ease your dog's firework anxiety or relieve the symptoms of your cat's health condition, here's what you need to know about weed for dogs and cats.
Cannabis for Dogs, Cats, and Other Pets
We've all heard stories of pets getting high, like dogs locating their owner's stash of edibles or cats getting suspiciously chill during particularly intense smoking sessions. While pets and recreational marijuana are a no go, can our household animals benefit from the therapeutic aspects of the plant?
Just like us, our dogs and cats get ill. Some of them develop severe acute illnesses, whereas others experience the typical signs of ageing, from aches and pains to arthritis. Before you consider giving cannabis to your dog or cat to aid their ailments, you need to know exactly how it works in animals.
The Endocannabinoid System in Animals
Cannabis works in a very similar way in pets and their owners. Cannabinoids interact with the receptors of many living creatures in an ultra-specific manner—via the endocannabinoid system (ECS). The ECS plays a regulatory role within mammals and other animals. It works to balance our internal systems and keep us in a state of homeostasis.
The ECS consists of two main receptor sites—CB1 and CB2—as well as enzymes, and our own endocannabinoids. External cannabinoids, such as THC, mimic our own internal cannabinoids on a molecule level, which allows them to bind to these sites and create changes in the body.
Almost all animals have an ECS[1], from horses and parrots to snakes and nematodes. Your dog or cat has an ECS, and so does your goldfish. By administering cannabis to our beloved animals, we cause a temporary shift in their biology. Although this may prove beneficial when it comes to combating certain ailments, it can pose a serious threat to their health in some cases.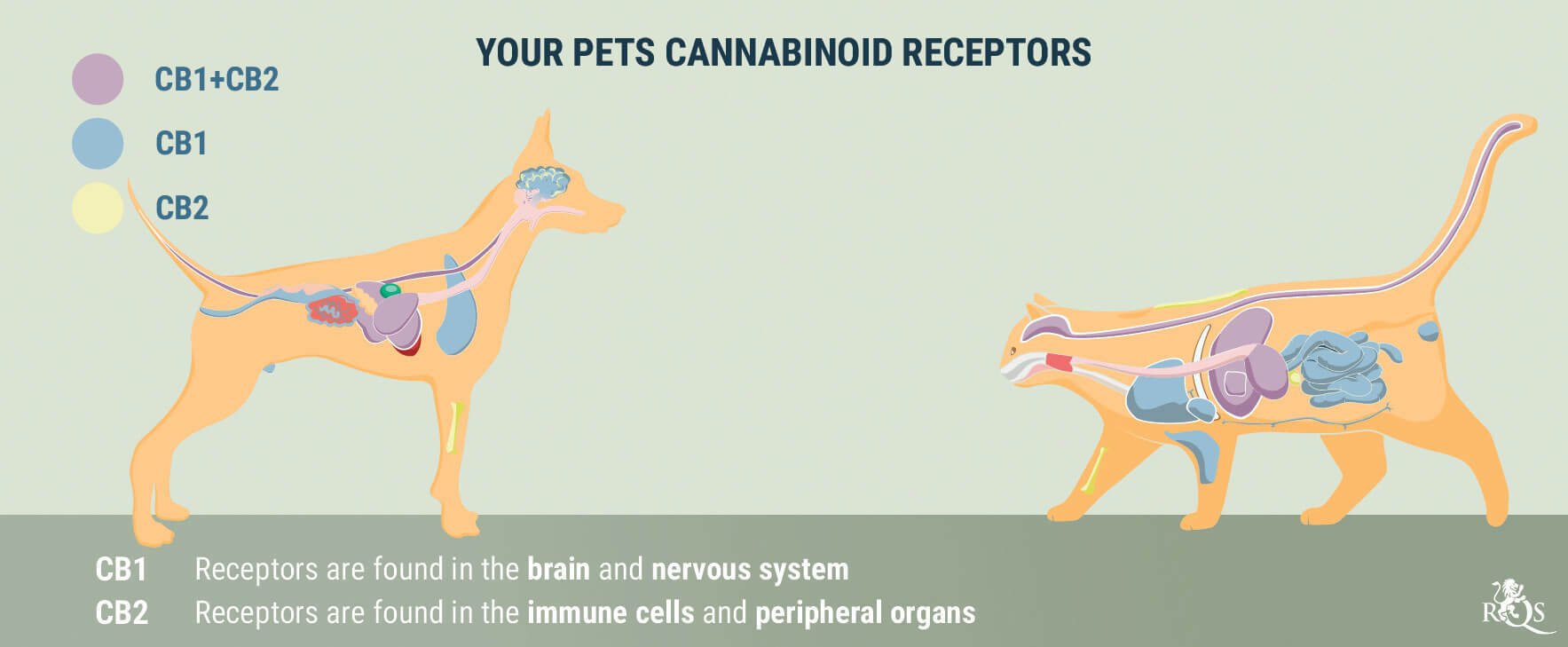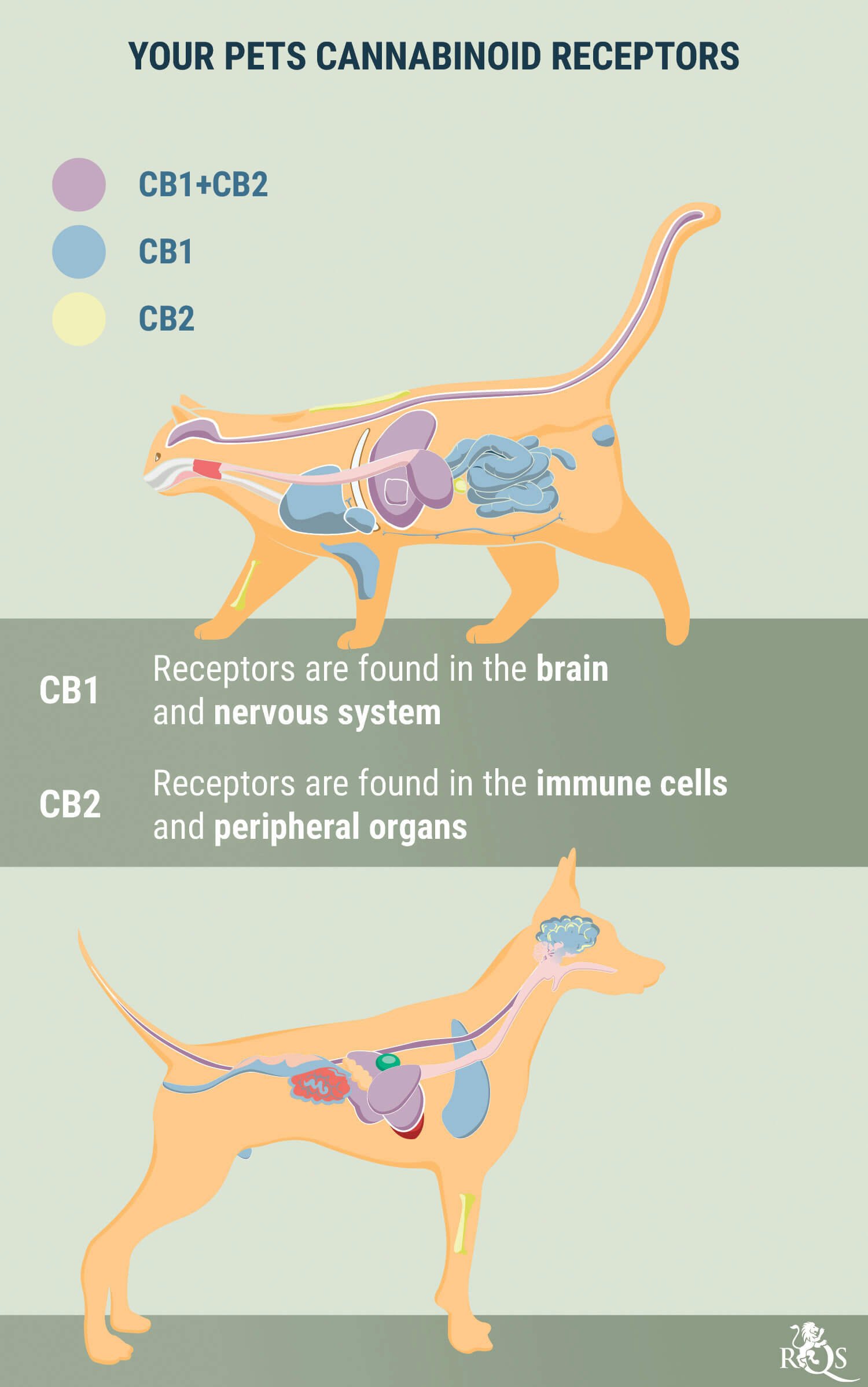 Cannabis Toxicity in Dogs, Cats, and Other Pets
We, as humans, are lucky. We have the luxury of being able to enjoy cannabis in a mostly safe manner. If we ever overindulge, we simply feel tired, hungry, and go to sleep. Unfortunately, the same doesn't apply to our dogs and cats.
Although the research remains scant around the effects of THC in dogs and cats, evidence suggests that they experience toxic effects quicker and after lower doses than humans. In a similar vein that dogs possess a greater number of nerve endings their noses, they also have a much higher concentration of CB1 receptors in their brains.
Most of the time, cannabis consumption in dogs or cats isn't fatal. The average joint contains around 150mg of THC, enough to possibly induce psychoactive effects when passively inhaled. Make sure though that your medical-grade THC stash is kept out of reach of your cat or dog, as if they were to sample those goodies, the consequences could be much more severe.
Is it Safe to Give CBD to Dogs, Cats, and Other Pets?
Cannabis plants feature a wealth of different phytochemicals, and THC represents one of over 100 cannabinoids. Many of these molecules need to be researched as their effect on dogs and cats remains unknown. However, CBD may present a viable option for your pet's ailments under the right circumstances.
As CBD is a non-psychoactive cannabinoid, many people use it on a daily basis to reduce nervousness, soothe the muscles, and bring about a clear-headed and relaxed state of mind. Although—again—the research remains early and scarce.
Cannabis and Dogs: The Effects of CBD in Dogs
There is anecdotal evidence, as well as some research on dogs and marijuana. One early example of research shows promising results. A paper published in the journal Frontiers in Veterinary Science explored the effects of CBD in dogs with osteoarthritis[2], age-related degeneration of joints. The results showed significant decreases in pain during the treatment. Interestingly, the researchers observed no side effects.
Another study performed at Colorado State University looked at the effect of CBD in epileptic dogs[3]. The initial findings showed that a massive 89% of dogs who received cannabidiol treatment in the clinical trial experienced a reduction in seizures.

Cannabis and Cats: The Effects of CBD in Cats
Clinical trials regarding the effects of CBD in cats are practically non-existent. Currently, we can only rely on anecdotal accounts and preliminary evidence when it comes to giving CBD to our feline companions. So far, these reports suggest that CBD might help to:
Reduce aggression
Increase appetite
Decrease anxiety and stress
CBD Treats for Dogs and Cats
As CBD continues to boom in popularity, many product lines for pets are becoming available. Although some people simply give CBD oil to their animals, different types of treats also exist, so owners are sure to find a product that their dog or cat will love. There are cookies, biscuits, bites, even tablets and capsules, and they deliver accurate doses of cannabidiol.
CBD treats come in a variety of flavours, from standard bacon and cheese to those more unusual, like sweet potato, pumpkin or peanut butter. Browse online pet shops or pop into your local specialised pet shop to pick up some yummy delicacies for your cat or dog.
In terms of dosage, it's generally recommended to start with 1mg of CBD per 10lbs of body weight for dogs and cats, with 3mg per 10lbs being the maximum. Current products contain safe cannabidiol levels for cats and dogs and they are available in a variety of concentrations per treat, depending on your pet's weight.
The cannabinoid works to soothe cats and dogs and may make them a little more relaxed and chilled out, or it may help with symptoms of their ailments.
Topicals
Several companies have also developed topical products for pets. These oils, balms and creams are designed to target the endocannabinoid system within the skin and alleviate symptoms of irritating skin conditions. They also contain other soothing ingredients, such as eucalyptus oil, shea butter, beeswax or grapeseed oil to name a few, which work together with CBD and exert their calming effects on your pet's skin.
Dogs and cats can experience a range of dermatological conditions, from rashes caused by food allergies to flea reactions and forms of eczema. CBD topicals help to reduce dryness, itchiness and soothe cracked noses and paws, caring for your furry friend's skin and consequently, their overall well-being.
Is It Legal to Give Medical Cannabis to Your Dog or Cat?
The fact that medical marijuana is legal in some places, doesn't mean that you can legally give it to your furry friend. CBD, on the other hand, continues to gain momentum as a viable option for dogs and cats. Many countries of the world have legalised this non-psychoactive cannabinoid in recent years. In these areas, pet owners can legally give CBD products to their dogs and cats.
What Is the Future of Medical Marijuana for Dogs, Cats, and Other Pets?
The use of medicinal marijuana for dogs and cats needs more research. Humans can legally use medical marihuana in many places of the world, and recreational cannabis is legal in some, for example Canada or parts of the US. This sparks interest, and naturally both pet owners and veterinarians start considering if weed can help treats dogs and cats as well. This will surely result in increased research on dogs and marijuana and development and introduction of new products.
Should You Give Cannabis to Your Dog or Cat?
Yes and no. We advise steering clear of giving your pet THC due to the potential for a toxic reaction. However, CBD might serve as a viable option for helping your dog or cat deal with a particular ailment. After speaking to your vet about the possibility, explore the ever-growing range of CBD products for pets to see which can be most beneficial.