CBD Oil For Cats: How Does It Work?
With CBD oil becoming popular among many humans, it's just logical to ask whether it can also be used by our feline friends. The short answer is a clear yes! Mr. Whiskers can enjoy CBD as much as we can. Find out about CBD oil for cats, why you'd use it, and how to dose it.
By
---
The non-psychotropic cannabinoid CBD has surged from a relatively unknown molecule to a superstar supplement. Now, people are also starting to administer this phytochemical to their feline and canine companions in hopes of easing tension and soothing pain. To meet this demand, hundreds of businesses now sell CBD pet treats for cats and dogs. However, the research supporting CBD for pets remains scant, and some owners are hesitant to give their pets CBD due to safety concerns.
So, should you give your pet CBD, and what research exists to support this decision? Find out everything you need to know below.
---
How Does CBD For Cats Work?
As is the case with humans, cats have an endocannabinoid system (ECS) that regulates important physiological functions such as immunity, mood, sleep, and pain. Cannabinoid receptors are found all throughout the body, including the brain, nervous system, and immune system. What makes cannabis so special is that its active compounds can bind or influence these receptors. Just as the human ECS can be affected by phytocannabinoids, so can that of cats.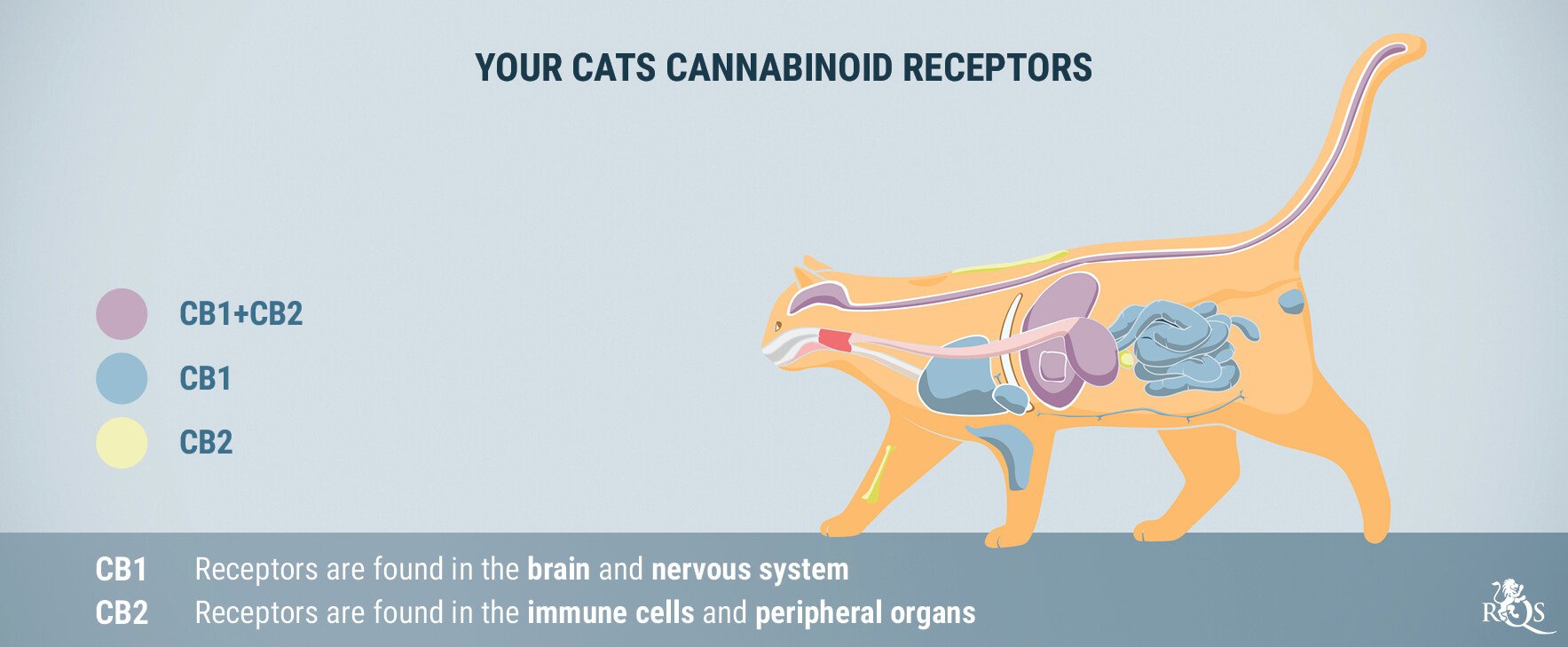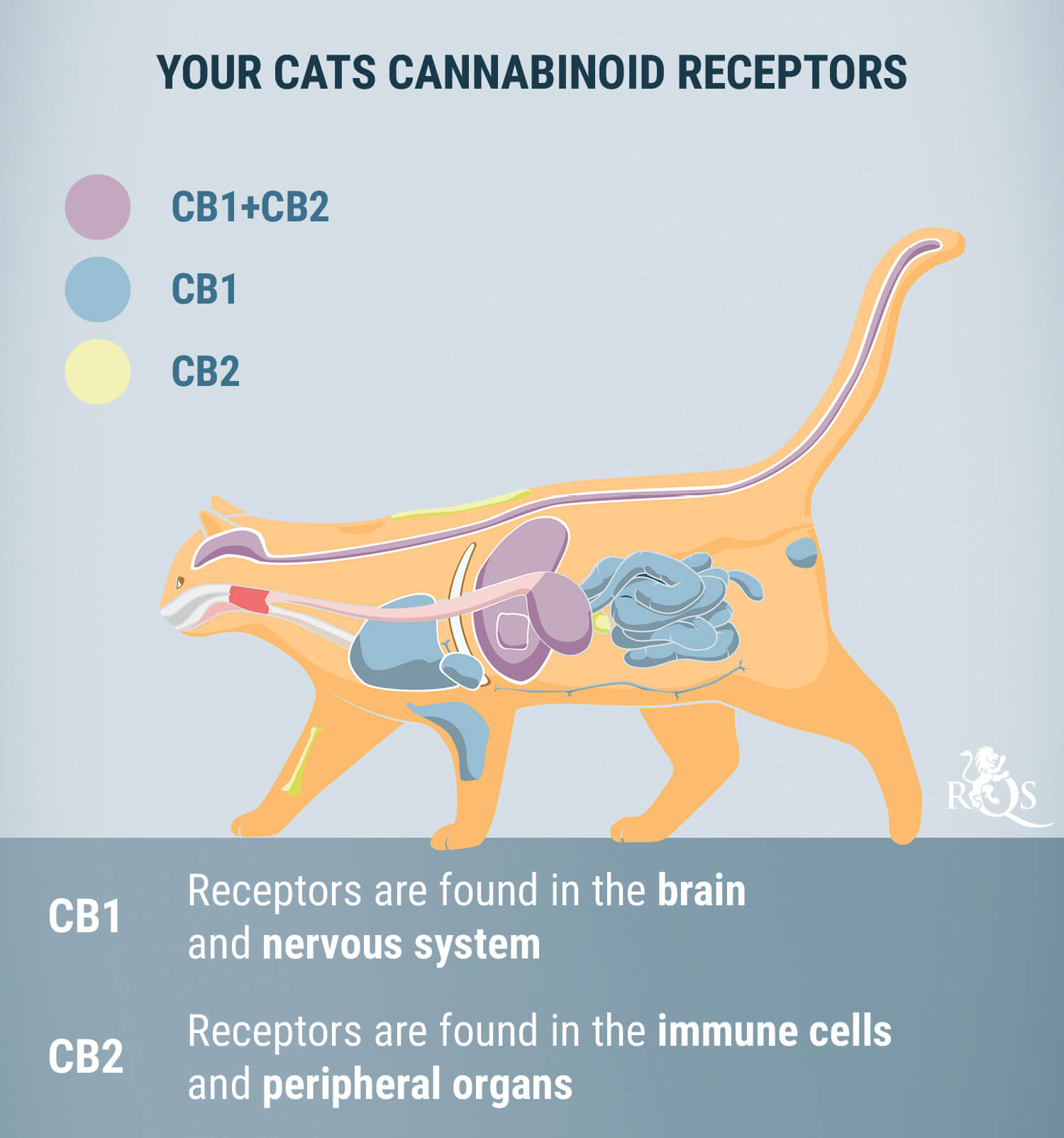 How Can CBD Help Your Cat?
Despite a mounting body of evidence on the potential applications of CBD, the field of cannabis-related medical research is still new. As such, there are few in vivo studies of CBD on cats; however, a growing legion of cat owners have indeed started giving the cannabinoid to their pets in the form of treats and oils.
CBD is currently being observed for its impact on the following conditions in cats:
Aggression
Loss of appetite
Anxiety
Stress
Lack of energy
Inflammation
Infections
CM
Though CBD is being studied for its effect on a wealth of conditions, researchers are perhaps most interested in its potential effects on inflammation and pain.
How To Dose CBD For Cats
Cats are obviously much smaller than humans, which means they will normally require much lower doses of CBD than we do.
According to some veterinarians, 0.1–0.5mg of CBD per kg of your cat is recommended. Individual doses may vary depending on the specific condition your cat is suffering from, among other factors. Remember, less can be more. It is always better to start with low doses first to see how your cat responds.

Is CBD Oil Safe for Cats?
Yes, CBD oil is safe for cats. Although generally considered safe and effective, there still remains a lack of scientific evidence documenting the impact of the cannabinoid on our feline friends. If you're considering giving your cat CBD oil, have a chat with your vet first about the decision and how to go about it safely.
Will CBD Oil Get Your Cat High?
No, CBD does not produce a high in cats. THC produces psychotropic effects by binding to CB1 receptors in the brain. CBD doesn't possess the same ability. Instead, it alters the levels of internal cannabinoids and acts on other receptor sites.
Side Effects of CBD Oil for Cats
CBD may cause a few side effects in cats. When administered in the appropriate dose, you shouldn't notice any major changes in your cat's behaviour.
You might notice that your pet becomes slightly more lethargic and less energetic after first introducing them to CBD.
To reduce any symptoms of lethargy, simply reduce the dosage. If need be, you can slowly work the dosage back up over time.
Rare side effects may include anxiety, nausea, vomiting, and changes in appetite. However, these effects are usually short-lived and mild.

CBD Treats for Cats
Giving CBD to cats has come a long way from dabbing some CBD oil onto a biscuit. Now, cats have the pleasure of chowing down on specially created products designed to enhance health and wellness.
Businesses within the United States—a country with a well-developed cannabis market—are setting the stage for the future of CBD products for cats. Here, hundreds of snacks, treats, and bites are available. Such products include salmon-flavoured treats containing 2mg of CBD per serving, tuna fish-infused offerings with 40mg of CBD, and a large range of relaxing chews.
CBD for Dogs: What We Know So Far
Very little laboratory research is conducted on companion animals like cats and dogs.
However, the fact that dogs have an endocannabinoid system means we can look to clinical trials for a better understanding of how CBD might impact our furry friends.
Research has shown that the endocannabinoid system plays a key role in mediating a wide variety of biological processes, including appetite, mood, sleep, stress response, metabolism, and more.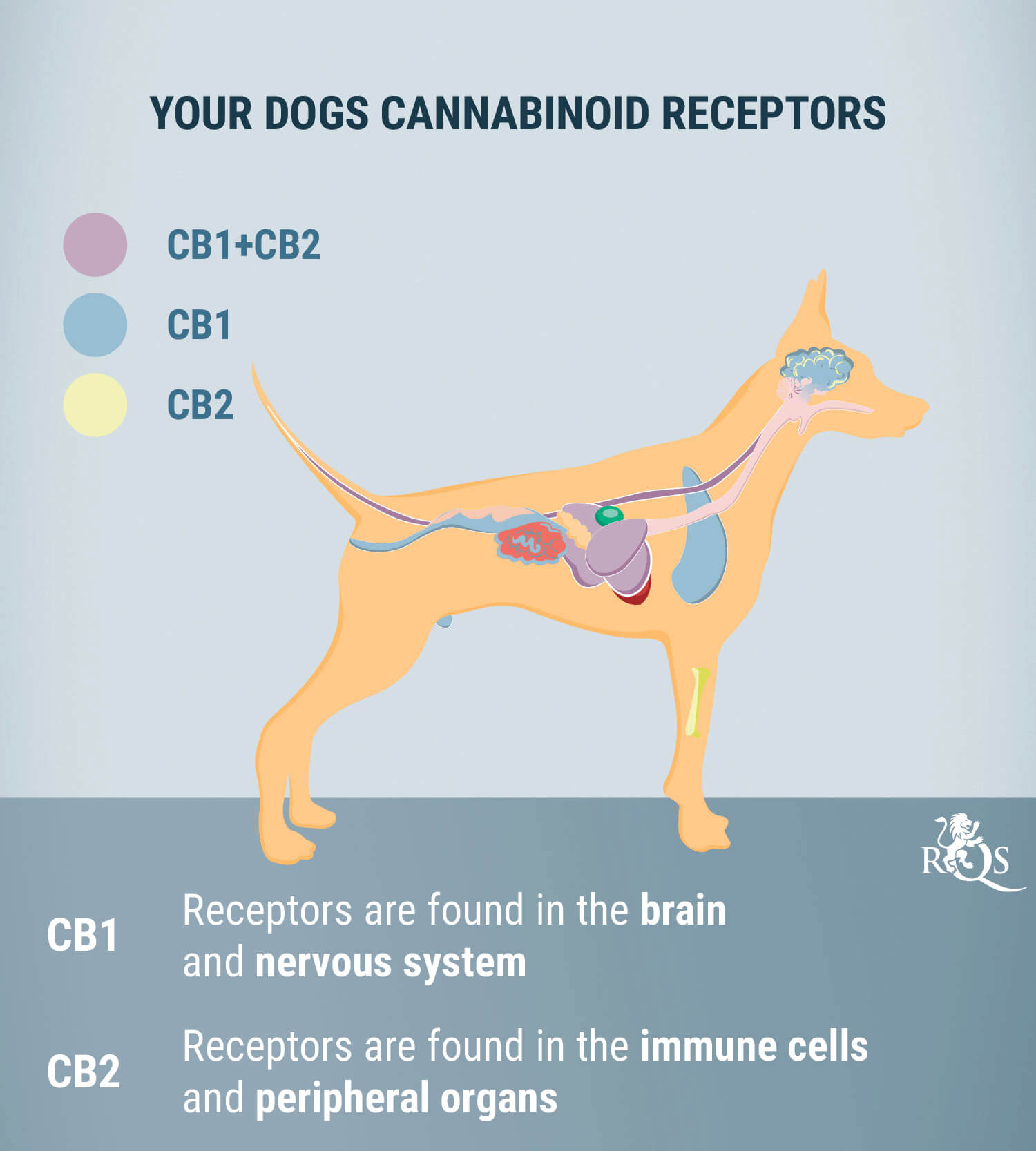 Studies are exploring the role of CBD in different areas of canine health, including:
Appetite and metabolism
Mood
Immune response
Skin health
What Do Veterinarians Say About CBD for Dogs?
More veterinarians are showing support for cannabis supplements. Unfortunately, many vets cannot prescribe or promote cannabis-derived pet products for legal reasons.
Regardless, myriad pet owners use CBD to help their dogs deal with daily challenges associated with ageing, certain conditions, or environmental stressors.
Dogs and Fireworks: Can CBD Help Chill Your Canine Out?
Dogs, like humans, can get nervous and stressed, especially during thunderstorms, while travelling in the car, on walks or trips to the park, when receiving guests, on visits to the vet, and, of course, when fireworks are blasting off in the distance. Might CBD be of benefit in this regard?
We can first look to this 2011 study[1] that tested the effects of CBD in patients with social phobia. Final results noted that patients who received CBD prior to the test exhibited reduced levels of anxiety, cognitive impairment, and discomfort in their speech performance compared to the placebo group.
Then there's this 2016 case report[2] that examined the effects of CBD on the symptoms of a 10-year-old girl with pediatric anxiety and insomnia due to post-traumatic stress disorder. While pharmaceutical drugs had provided her with some short-lived relief, they also caused a wide range of negative side effects. Given CBD's non-toxic nature and minimal side effects, researchers consider it worthy of study for PTSD treatment.

How Else Might CBD Benefit Your Dog?
Nonetheless, many pet owners swear by CBD as a supplement to benefit their beloved furry friend.
Below, you'll find additional ways in which CBD may affect your dog.
Many different conditions and situations can cause dogs to feel sick or vomit. Some common causes of nausea and vomiting in dogs include:
- Ingesting irritating substances like chocolate, food scraps, etc.
- Dietary changes
- Parasites
- Gastrointestinal issues, like gastritis or bloating
- Bacterial infections
- Old age
While nausea and vomiting may seem like pretty straightforward and common symptoms, they are both actually very complex physiological processes that involve the digestive tract and nervous system, and often come accompanied by other symptoms (such as appetite loss, anxiety, impaired concentration, and pain).
In fact, there's a solid body of research which demonstrates that the endocannabinoid system is very present in managing many aspects of nausea and vomiting. This was covered at length in a detailed review published in 2014, entitled "Regulation of nausea and vomiting by cannabinoids and the endocannabinoid system"[3]. Furthermore, a wide variety of animal studies have probed CBD and CBDA (cannabidiol's acidic precursor found in living cannabis) for their antiemetic potential.
Soothes Physical Discomfort
A multitude of ailments can cause pain and inflammation in pets, including arthritis, gastrointestinal problems, traumatic injuries, surgery, allergies, stress, and much more. In fact, some researchers and medical professionals have even gone so far as to label inflammation as the underlying cause of most common diseases[4].
A 2017 article from the European Journal of Rheumatology, for example, boasts a detailed review of how the endocannabinoid system is involved[5] in mediating our body's response to inflammatory disease.
Furthermore, research has started to explore how stimulating the endocannabinoid system with CBD and other cannabinoids might provide benefits specific to the treatment of a wide variety of inflammatory diseases, including pancreatitis[6], neuropathic or nerve pain[7] (often caused by trauma, neurological conditions, and viral infections), diabetes[8], and even skin conditions like acne and psoriasis.
The above represents just a few of the ways in which CBD may benefit the welfare of your dog. However, there is still a lot we don't know about CBD's effects on the body, so there's no guaranteeing CBD will ease specific symptoms your dog is facing.

CBD Oil for Dogs vs CBD Treats vs CBD Topicals
CBD pet products typically come in three main forms: CBD oils, infused-treats and edibles, and topical creams, balms, or sprays.
CBD oil for dogs comes in various formulas and concentrations. It works great as a reliable way to dose, and it's one of the easiest types of CBD pet products to find. Although some dogs may allow you to administer the oil directly in their mouth via the included dropper bottle, most will handle it better if added to food.
Each treat features a set amount of CBD, and usually helps to mask the taste of hemp (which can be bitter and unpleasant for dogs). CBD dog treats offer a slower release of CBD into the bloodstream with longer-lasting effects—ideal for those owners with busy lifestyles.
CBD topicals (such as balms, lotions, or sprays) are the perfect solution for soothing localised areas of sensitive, red, or chapped skin. They work by delivering CBD and other compounds to endocannabinoid receptors in the skin, offering comforting effects without the cannabinoid actually entering the bloodstream.
When buying CBD oil, treats, or topicals for dogs, look for products with:
- Natural and organic ingredients
- THC-free
- Clear dosage and/or potency information
- Veterinary-endorsed formula
- Natural flavours/terpene-free formulas (for better palatability)
CBD Dosage for Dogs
Properly dosing CBD for dogs depends on the animal's size and symptoms. Keep in mind that, just like humans, every dog is different, and what works for someone else's pet might not work as well for yours.
When giving your dog CBD, always follow the dosing instructions provided by the company you're buying from. Most brands recommend starting with roughly 0.25mg of CBD per pound of body weight, but you can start lower than that if you wish.
We recommend starting your dog off on a small dose of CBD taken 1–2 times daily for at least one week. From there, you can gradually increase your pet's dose according to their needs until you find that sweet spot.
The concentration of CBD in your oil will determine how much CBD there is per drop.
If the oil has a CBD concentration of 2.5%, then one drop will contain 1.25mg of CBD.
If it is 5%, one drop will contain 2.5mg of CBD.
If it is 10%, one drop will contain 5mg of CBD.
CBD for dogs - Dosing Chart per day

WEIGHT

(pounds)

Low dose

(0,1 mg / lb)

Medium dose

(0,25 mg / lb)

Strong dose

(0,5 mg / lb)

10 - 20 lb
1 - 2 mg

2,5 - 5 mg

5 - 10 mg

30 - 40 lb

3 - 4 mg

7,5 - 10 mg

15 - 20 mg

50 - 60 lb
5 - 6 mg
12,5 - 15 mg
25 - 30 mg
70 - 80 lb
7 - 8 mg
17,5 - 20 mg
35 - 40 mg
90 - 100 lb
9 - 10 mg
22,5 - 25 mg
45 - 50 mg
110 - 120 lb
11 - 12 mg

27,5 - 30 mg

55 - 60 mg
130 - 140 lb
13 - 14 mg
32,5 - 35 mg
65 - 70 mg
150 - 160 lb

15 - 16 mg

37,5 - 40 mg

75 - 80 mg

170 - 180 lb

17 - 18 mg

42,5 - 45 mg

85 - 90 mg

190 - 200 lb

19 - 20 mg

47,5 - 50 mg

95 - 100 mg
CBD for dogs - Dosing Chart per day

WEIGHT

(pounds)

Low dose

(0,1 mg / lb)

Medium dose

(0,25 mg / lb)

Strong dose

(0,5 mg / lb)

10 - 20 lb
1 - 2 mg

2,5 - 5 mg

5 - 10 mg

30 - 40 lb

3 - 4 mg

7,5 - 10 mg

15 - 20 mg

50 - 60 lb
5 - 6 mg
12,5 - 15 mg
25 - 30 mg
70 - 80 lb
7 - 8 mg
17,5 - 20 mg
35 - 40 mg
90 - 100 lb
9 - 10 mg
22,5 - 25 mg
45 - 50 mg
110 - 120 lb
11 - 12 mg

27,5 - 30 mg

55 - 60 mg
130 - 140 lb
13 - 14 mg
32,5 - 35 mg
65 - 70 mg
150 - 160 lb

15 - 16 mg

37,5 - 40 mg

75 - 80 mg

170 - 180 lb

17 - 18 mg

42,5 - 45 mg

85 - 90 mg

190 - 200 lb

19 - 20 mg

47,5 - 50 mg

95 - 100 mg
Is CBD Safe for Dogs?
CBD is generally regarded as a very safe substance, and has never caused a lethal overdose (in humans or animals). Nonetheless, it is very important to pay close attention when giving your pet CBD, as dose plays a major role in the effects your dog may experience.
Can CBD Cause Side Effects in Dogs?
CBD isn't known to cause significant side effects in pets. However, drowsiness can occur, particularly when taking very large daily doses of the cannabinoid. Keep in mind, however, that many CBD pet supplements contain secondary ingredients (such as flavouring agents, emulsifiers, and more), so make sure to read the ingredients in whatever product you buy to ensure your pet isn't allergic to any of them.
How To Legally Obtain CBD Oil for Your Pet

Cat owners can legally purchase CBD pet products from specialised online and brick-and-mortar shops. However, CBD products for cats remain relatively rare outside of the United States. If you can't access these items, you can administer other products, such as CBD oils. Just make sure you stay within the dosage guidelines recommended above.
There's a Burgeoning CBD Market for Cats and Dogs
Much like us humans, cats and dogs possess an endocannabinoid system. This means that cannabis-derived molecules can influence different aspects of their physiology, from the nervous system to the digestive system. The science remains early, but pet owners and vets are likely to have access to a much greater diversity of CBD-infused products shortly. You can expect to see more chews and treats, as well as grooming products and possibly even prescribed medications. In the meantime, if you're looking to give CBD to your cat or dog, always consult a veterinarian first. We know you want the very best for your pet, so it pays to be cautious and informed.